Best Battle Royale Games for PlayStation 4 in 2022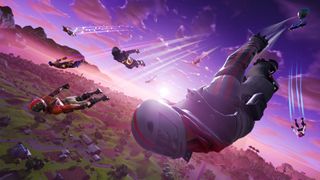 (Image credit: Epic)
Battle royale has become one of the most popular video game genres, letting large numbers of players show off their skills as individuals or small teams by eliminating all their enemies. Like a digital version of The Hunger Games, these games see players competing for equipment and fighting to survive even as the terrain itself can turn against them. The genre's popularity is led by a few games with an all-ages appeal, but major titles from other genres have sought to capitalize on it by adding battle royale modes. Get into the action with these top PlayStation 4 titles. And more to come on PlayStation 5.
A ton of great choices
Each of the above battle royale titles provides a distinct way to experience the genre. Leading titles like Red Dead (opens in new tab) and Apex Legends (opens in new tab) will give you an appreciation of the genre and its competitive spirit, and you can spend countless hours mastering your skills and playing with friends.
If you want to get acquainted with battle royale's roots, you should pick up PlayerUnknown's Battlegrounds (opens in new tab), which remains a top esports title. If you prefer to ease yourself in by trying the mode as part of a franchise you're familiar with, Battlefield V Firestorm (opens in new tab) gives first-person shooter players a new way to fight it out in a chaotic and destructible environment.
The popularity of battle royale games shows no signs of waning, dominating streaming feeds and video game tournaments. Find out what all the hype is about by jumping into one of these titles and making some new friends and enemies.
Android Central Newsletter
Get the best of Android Central in in your inbox, every day!
Thank you for signing up to Android Central. You will receive a verification email shortly.
There was a problem. Please refresh the page and try again.