If you have a Qi-compatible device already, your home should be stocked up with wireless chargers! There are plenty of affordable options at Amazon these days, like this UGREEN Fast Wireless Charging Pad that drops to $9.74 when you clip the on-page coupon for 5% off and then enter code UGOCT278 during checkout. With the price over a third off, you really have no excuse for not adding one of these to your desk or nightstand (or both).
Wireless ⚡️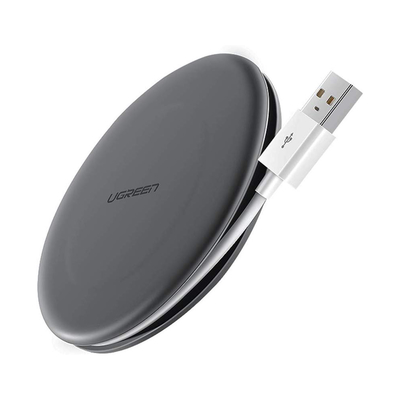 UGREEN Fast Wireless Charging Pad
Wireless charging is simple and inexpensive. Clipping the on-page coupon and using the code below can save you $5 off the purchase of this fast wireless charging pad that powers your phone at up to 10W.
$9.74 $14.99 $5 off
This wireless charger powers devices at their optimal speeds, so the latest Samsung Galaxy devices receive a 10W charge while the Qi-enabled iPhone models like the iPhone 11 and others receive a 7.5W charge. It's able to charge through phone cases up to 3mm thick and is equipped with safeguards to protect your devices against over-voltage, short-circuiting, high temperatures, and more. There's even an integrated groove for cable management that keeps the included 3-foot USB cable hidden away when the charger isn't being used, as well as a detachable non-slip silicone case that helps your phone stay in place through all the notification vibrations it might receive.
The best part about this charger is that it doesn't have a blinking LED on it. When you turn your bedroom lights off for the night, your Qi charger shouldn't light up the whole room and UGREEN's device makes sure of that. Your phone lets you know it is charging correctly when it is laid down, so there's actually no need for an LED at all.
UGREEN backs up this charger with an 18-month warranty. It's worth noting that it doesn't come with a USB wall charger, so you'll have to use your existing one or pick up an extra to use with this.
If the UGREEN charger isn't for you, be sure to check out our list of the best wireless charging pads in 2019.
We may earn a commission for purchases using our links. Learn more.