Advertisement Feature
Get a hold of your phone with PopGrips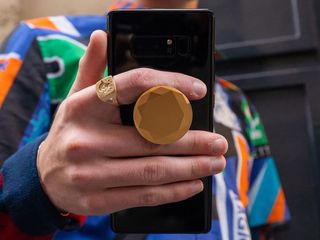 For every time you've been lying down, reading your phone, losing your grip, and smacking yourself in the face, you'll wish you had a PopGrip (opens in new tab). These brilliantly simple universal accessories add a compact grip to the back of your phone. Pop it out and your fingers have a firm grip to stop you from dropping it. When it's not in use, it collapses flat against your device so it's still easily pocketable. Best of all, it acts as a stand, so you can prop up your phone to a comfortable viewing angle when watching videos.
While that's quite useful in and of itself, PopGrips (opens in new tab) have gone above and beyond mere utility. With swappable PopTops, you can make a fine fashion statement too. These PopTops can be a simple design, a solid color, a specialized material, a logo of your favorite sports team, even a mirror, or whatever image you want to upload to PopGrip.
PopSockets have expanded to a wider range of accessories, too. For example, you've got their Otterbox partnership. This family of cases has a PopSocket mount and indentation built in, so it's perfectly flush with the case when collapsed. There's also the PopWallet+, which lets you stash away up to three credit cards directly on your phone. They also have a variety of mounts that PopGrips slide into to use in the car or at home so you can go hands-free.
PopGrips are a simple, useful addition to any phone, and the wide range of designs and materials available make it an especially fashionable one, too.
PopGrips
PopGrips are a fun way to kit out any phone! Pop it out so you have extra grip on your phone, or as a stand. When you're done, collapse it flat against your device.
Android Central Newsletter
Get the best of Android Central in in your inbox, every day!
Thank you for signing up to Android Central. You will receive a verification email shortly.
There was a problem. Please refresh the page and try again.