Best Tempered Glass Screen Protectors for LG G6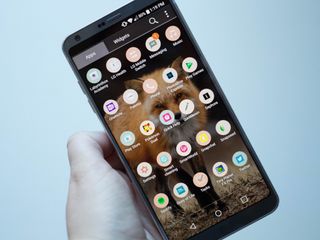 Your LG G6's screen is extra long, so there's more to get scratched and scuffed. A tempered glass screen protector is the perfect way to keep the most important part of your phone safe and blemish-free. Here are the best you can buy.
Yootech
Why you can trust Android Central Our expert reviewers spend hours testing and comparing products and services so you can choose the best for you. Find out more about how we test.
Yootech's two-pack of tempered glass screen protectors is a great value for around $8. Yootech guarantees bubble-free installation and promises 99.9% clarity, meaning you shouldn't notice the protector on your screen at all. It also won't mess with touch sensitivity, which is awesome because you don't want to have to reach your thumb all the way up your phone twice.
See at Amazon (opens in new tab)
Omoton
Omoton's tempered glass screen protectors are always highly rated on Amazon, and that's because they're easy to install and reliable. And for $7 for a two-pack, you really can't go wrong. These protectors are scratch-resistant and feature a hydrophobic and oleophobic coating to repel water and fingerprints.
See at Amazon (opens in new tab)
Spigen
Spigen, maker of fine phone cases, makes a great tempered glass screen protector for your LG G6. This is a two-pack of case-friendly tempered glass screen protectors for $8 that leave a little room around the edges so that you can, presumably, pop a Spigen case on your phone without worrying about it peeling up at the edges (other cases will still work, of course)q.
Spigen's protectors get a lifetime replacement warrant, so if anything goes wrong, let them know and they'll send you a new one.
See at Amazon (opens in new tab)
Supershieldz
If you're looking for the best value, then the Supershieldz three-pack is where it's at — only $8. These protectors also come with a hydrophobic/oleophobic coating, so water will bead and roll off and you shouldn't have to constantly be wiping your screen with your shirt to get the fingerprints off.
See at Amazon (opens in new tab)
Got a favorite?
Tell us about it in the comments below.
Updated July 2017: These are still your best options for keeping your LG G6's screen scratch-free.
Mick is a writer and duty editor for Android Central. When he's not on the job, he can usually be found vacuuming up pet hair or trying to convince his wife that he needs more guitars.
Can vouch for the Yootech. Easy install and precise cut. Nice and clear.

I love the Yootech as well [URL="1"]1[/URL]

WRONG! The best TG Screen Protector for the LG G6 is...GPEL Real Tempered Glass, Edge to Edge-HD Clear, Bubble Free, Premium Japanese Asahi Glass. $9.99 right here: https://www.amazon.com/gp/product/B06X9M5GNN/ref=oh_aui_detailpage_o00_s... I use this and it is flawless, plus it's strong and good looking. I have 6 of these on stand-by. Haven't needed to use more than 1 since I got the phone.

Another company that I've been using for years is Skinomi. They provide a lifetime warranty also. The customer service is nice too. They only ask for a picture of the broken Screen protector in an email and they send you another one free with fast shipping.

I'm a big fan of iCarez! Good quality protectors that I've never had an issue with when applying. They also have great customer service with their warranty replacement.

I will always buy Icarez protectors. They have proven to me that that they are extremely durable. I know that this may sound hard to believe but I swear that it is true. My wife had lost her LG G3 phone and the battery was dead. We looked everywhere for it until we finally gave up. Three days later she misplaced the tv remote. When we moved the recliner to look for the remote we found her phone. It was under the front corner foot of the chair. The weight of the chair and her had been resting on the screen of that phone. The protector was cracked but the phone's screen was intact. I was amazed that the Icarez protector had saved the screen ! My phone's protector saved my screen when I had forgotten to take my belt clip holster off while welding. The hot sparks left the protector pitted and slightly rough. Thankfully I had that protector on or that would have been my phone's glass screen.

I got the Xtreme guards for mine but I sent the phone back because it wouldn't hold a signal.

My thing is why would you suggest a tempered glass screen protector for the LG G6 when you guys are completely pushing the Samsung Galaxy S8. I'm​ not mad or disappointed at all, I just feel if your pushing the S8, give them the information that they need for glass screen protectors. The G6 is a flat screen so finding a glass screen protector for it won't be hard to do. So i believe this article was a waist of your time.

I have the yootech and it's a great choice. I especially like how the top cutouts are shaped to fit, better than the others imo.

I've been rocking the film that came on the front out of the box lol.
...Works well so far, since launch.

Ailun for a 3pack is 5.89 on Amazon..We have 4 lgg6 in the house. So we bought 2 packs..they fit fine and look good

I had a Yootech on my G4 and was happy with it, but I have a Sparin on my G6......it fits and works perfectly.

Supershieldz has been on mine since day 1. two so far have chipped along the edge of the phone, I'm on my third now but they are doing exactly what they are designed to do, prevent the phone screen from being damaged.

My LG G6 has a built-in glass screen protector
Android Central Newsletter
Thank you for signing up to Android Central. You will receive a verification email shortly.
There was a problem. Please refresh the page and try again.