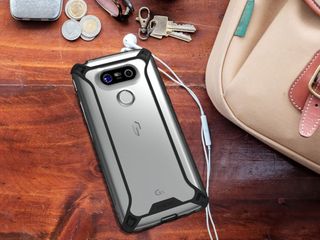 Looking for a way to keep your new LG G5 safe for the long haul? Go with a protective case that suits your lifestyle, whether that means a slim cover, clear case, or something more rugged to handle a harsh outdoor environment. Here are a handful of excellent cases for LG G5 to consider scooping up to steer clear of damage.
Caseology Wavelength Case
Offering dual-layer protection against impacts is Caseology's Wavelength case that features a unique design with plenty of texture to help prevent drops. The smooth bumper leaves easy access to the ports and buttons of the LG G5, and there's a large opening for the camera and power button on the back. The Wavelength case is available for pre-order in navy blue, black, gold, pink, and mint, starting at $16.
PLESON Crystal Clear Case
Designed for those that love to sport the original look of their phone, the Pleson crystal clear case for LG G5 offers durable protection that you can see through. The transparent TPU case features a special dotted texture design that is anti-fingerprint and anti-watermark. It offers complete access to the ports, buttons, and camera features of the phone. You can order this clear case right now for just $8.
Poetic Affinity Series Case
Poetic's Affinity Series case for the LG G5 combines a shock-absorbent rubber on all for corners with a clear polycarbonate shell to better handle impacts. Both layers enhance overall grip while showing off the original design of the LG G5. The textured side grips add a unique feel and keep the side buttons raised for an easier press. This hybrid case features a solid construction that makes it a great daily driver for protecting the LG G5. You can pre-order the case today for just $10.
Spigen Rugged Armor Case
This flexible, yet thick skin case for the LG G5 sports carbon fiber-like panels on the back for a more rugged appearance. The smooth TPU material is easy to grip and can slide in and out of pockets without getting stuck. All 4 corners of the case feature Spigen's Air Cushion Technology that handles harsh impacts. Side buttons are raised for an enhanced press while the ports and camera features are left open. You can pre-order the Rugged Armor case for $18.
Supcase Rugged Unicorn Beetle Pro Combo
For serious protection against drops and scratches, the Unicorn Beetle Pro combo from Supcase is a great choice. This heavy duty LG G5 case packs a thick polycarbonate shell with plenty of texture and a shock-absorbent TPU. On the front is a built-in plastic screen protector for extra scratch protection. Port plugs help keep out dirt and debris while the camera features are left open, but kept safe from scuffing on flat surfaces. Also included with the Unicorn Beetle Pro case is a rugged swivel clip holster that can be worn for easy access at your side. This combo is currently up for pre-order for only $10.
Jared started off writing about mobile phones back when BlackBerry ruled the market, and Windows Mobile was kinda cool. Now, with a family, mortgage and other responsibilities he has no choice but to look for the best deals, and he's here to share them with you.
... And suddenly, you need to replace a module. :o

i was just thinking the same thing LoL, will be cool if the "Supcase Rugged Unicorn Beetle Pro Combo Case " ," Spigen Rugged Armor Case " and " Caseology Wavelength Case " had removable bottom section of the case for easy module replace.

Fumbling around with cases and "friends" yeah, ok, another reason not to get this phone.
Not only is it fugly, you'll need to carry three cases with you.
I'll be passing on this one! Posted via the Android Central App using my LG G4

These aren't the "best" cases, these are the craptastic cases first to market on Amazon. To be adjudged the best, shouldn't you have the phone in hand along with the crap cases?! Android Central, you're better than this even on a slow news day after MWC wraps up. Posted via the Android Central App

Lol yeah we dont even know if these cases are good Posted from my Nexus 6/Nexus 7 2013/Surface Pro 3

To be fair, these are among the more reputable brands. Posted via Nexus 6P

True Posted from my Nexus 6/Nexus 7 2013/Surface Pro 3

No, you just need an Amazon affiliate link

Based on history from previous phone releases these guys do deliver top notch "best" cases. So, this article is valid imo. I came from the gutta now it's all butta

You know what a company needs to make? A case that fits around the B&O DAC people can at least have a headphone jack o the bottom at al times.

Agreed Posted via the Android Central App

So if you go back to stock, you need a new case...

but why would i want to do that?

That would be the most logical option. Posted via the Android Central App

Prefer clear cases; protects but doesn't take away too much from the phones design and aesthetics. Yes, I'm in the minority who likes the G5 design better than the S7. Posted via the Android Central App

I agee I got the S7 had it for a week and turn it in. It gotvery warm and the battery really was short lived. Got the G5 and am very pleased. So glad I made the switch.

That caseology looks slick! Posted via LG H815

That's what I thought as well. The Caseology and a couple others look better than the phone itself. Posted via the Android Central App

With cases, this ugly phone looks pretty good and appealing especially caseology. But if anyone have to change the module that would be embarrassing. from shamu/mako

"The best computer renderings of cases that don't actually exist yet, for a phone that has no release date" Brent, I fixed your headline ;)

It looks good inside the case Posted via the Android Central App

Some nice cases, however its a catch 22, on one hand you want the best protection for your £650 phone, and on the other you don't want a case spoiling the look of your £650 phone. I'm in latter camp, £10 tempered glass screen and just be careful. Posted via the Android Central App

I have to take the case off my G4 to change battery. Not really seeing the big deal about modules. Oh, if you are using the camera module you are most likely using it specifically for a photo shoot. I wouldn't walk around daily with that module. Posted via the Android Central App

If I were to get this phone, I would enjoy the phone. I wouldn't be changing modules very often anyway. Posted via the Android Central App

Cases are meh! Only case which i really love: LG Quick Circle Case, man that thing looks stunning on my Flex 2 via LG Flex2 with BlackBerry VKB

So you own a gflex 2? Posted from my Nexus 6/Nexus 7 2013/Surface Pro 3

He does. His old avatar was his Flex 2. And he's super-obsessed with it for some odd reason.

I think thatguy97 knows it lol

If I go for a G5, S7, or Nexus, my phone will only grace once case: OtterBox Defender!

I just realised that I wrote 'once' instead of "one"....

I knew using a case with this model would an issue pass, but I don't see way people are concerned with phone design when they just stick it in a case anyway Posted via the Android Central App

Incipio Dual Pro case in black is my go to for the past 3 years. Best case for impact protection!

Well, if I were to recommend a case, I'd say go with one that's colored black alongside the dark grey option for the phone color. I'll be honest. The phone isn't a looker, even in person, but this is the best-looking combo for me.

Is it just me, our does the Unicorn Beetle case make it look like a Galaxy S6 Active? Posted via the Android Central App
Android Central Newsletter
Get the best of Android Central in in your inbox, every day!
Thank you for signing up to Android Central. You will receive a verification email shortly.
There was a problem. Please refresh the page and try again.