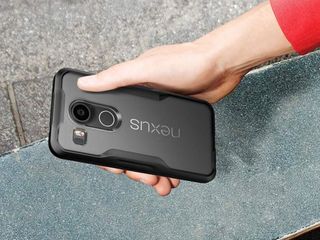 If you're after a quality case for your Nexus 5X that will handle the occasional drop and shield against device wear, you've come to the right place. Whether you need heavy duty protection that can take a beating or just a simple slim cover that adds extra grip without bulking up your Nexus 5X, choices are available. There are quite a number of great options available to browse between, and we took some time to break down the best ones.
So, which ones made the list? Let's take a look now.
TUDIA TPU Bumper Case
Why you can trust Android Central Our expert reviewers spend hours testing and comparing products and services so you can choose the best for you. Find out more about how we test.
Tudia's TPU bumper case offers a thin layer of protection to the Nexus 5X and is perfect for those who don't really prefer cases. It won't make your phone big and bulky, nor will it make it harder to hold. It offers quick and easy access to all the ports, and the slightly raised lip on the front allows you to place the phone screen down and not worry about the surface scratching it.
Coming in at just under $10 at Amazon, you really can't go wrong with having one of these around. It is available in a variety of colors, so check it out and see which one is best for you.
See at Amazon (opens in new tab)
Verus High Pro Shield
If you want a protective case that doesn't look like a standard protective case, this one from Verus may be the option for you. The case offers military grade protection without the bulk and ugliness of what you would expect from it. With its snug fit you will have quick and easy access to all ports, and still remain protected if your phone happens to slip out of your hands and fall on the ground.
You can pick one up in silver, red, black, or blue for just over $15 at Amazon, which is quite a deal.
See at Amazon (opens in new tab)
Supcase Unicorn Beetle Pro
The Unicorn Beetle Pro is no stranger to the case market and it's making a return for the new Nexus 5X. This crafty case rocks a design that's hard not to love, featuring a fused hybrid build using both TPU and polycarbonate materials. The bumper has cutouts for the ports of the Nexus 5X while the side buttons are raised for a more comfortable press.
Take your pick of black, blue, or frost for only $7, which is quite a steal for how much protection you are getting here. If you are looking for protective without the huge bulk, this may be the best option for you.
See at Amazon (opens in new tab)
Spigen Air Cushion Crystal Case
For a completely clear look, the Spigen Air Cushion Crystal Case for Nexus 5X is slim and see-through, allowing your phone to truly shine while staying protected from impacts. The back shell is made of a durable polycarbonate, but the bumper is a transparent TPU that has embossed side buttons with cutouts for the ports. If you want to connect a lanyard, there's a small opening on the left corner.
Don't hide your color choice behind an ugly case to just to keep it protected. Spigen's Air Cushio case offers great protection without getting in the way of showing off your phone, and all for just around $15.
See at Amazon (opens in new tab)
Cruzerlite Bugdroid TPU
Cruzerlite has been making its Bugdroid cases for a number of years now, and many people seem to like them. The case is just a pretty simple TPU case that offers a bit of protection without any bulk, but the big thing here is the design. On the back you've got the Android figurine with a bunch of lines running around it in a unique and fun pattern. You can easily access all your ports, and installing or removing it takes just a few seconds.
This case is available in a variety of colors to fit your personal style, and at just under $10 each you may want to pick up a few for your collection.
See at Amazon (opens in new tab)
What's your favorite?
Have you already decided on what case you're slapping on your new Nexus 5X? Maybe one from our list sparks your interest — either way, sound off in the comments and share what cases and covers you're looking into to shield your device from damage. Folks in the forums have already started sharing their favorite cases, so feel free to join the discussion and get additional feedback.
Jared started off writing about mobile phones back when BlackBerry ruled the market, and Windows Mobile was kinda cool. Now, with a family, mortgage and other responsibilities he has no choice but to look for the best deals, and he's here to share them with you.
Is there a Best 5 cases for Nexus 6P up next?

I ma interested in the Adopted microfiber one for the 6p. Got the frosted one on order, but I like the Star Wars look of the 6p and think this case will highlight that design. Guess I know what my next move is,

Frost 6P = Stormtrooper phone. #frostgiant

Probably the same or very close. Posted via the Android Central App

Diztronic TPU cases (~$10/ea). Have used one on every phone for the last handful of years, and it has saved my phones from numerous falls, drops, and bumps.

This is the only correct choice. Posted via the Android Central App

except ... they don't seem to be available?

Yup I love Diztronic cases they almost feel as if you don't have a case on your phone, but unfortunately they offer little protection. I would also recommend Ringke Fusion. More protection and add a lot of grip. Posted via the Android Central App

Incipio NGP Posted via the GS6 Active, aka GS6 M.E. (Manly Edition)

Do NOT order the Tudia case, it doesn't have a cutout for the microphone on the bottom of the phone. A lot of cases seem to have this problem (going by Amazon product photos/renders), including the Unicorn Beetle Slim and Pro versions. Diztronic had a case up for pre-order but it's now listed as "unavailable", my guess is that they are fixing this problem on their cases. Cruzerlite also had this problem and they are re-tooling. Seems like Google must have sent the wrong specs to some manufacturers. FYI the mic on the phone is between the USB and headphone ports, so if you're looking for a case, check out the product photos and see if it has a hole there.

Well that is a bummer. I bought the Tudia case and phone arrives today...I wonder if I could just cut an opening with an exacto knife?

I may do that on mine, the beveled openings for the fingerprint reader and flash are nice, and it fits well otherwise. Plus like I said, most other cases out there right now seem to have the same problem so unless you want to carry the phone without a case, your options are very limited for now.

The case fits fine and does not cover any of the speakers.

Here's the best case for the Nexus 5X: http://www.amazon.com/Rolodex-Round-Wastebasket-Diameter-22351/dp/B00006...

Yawn. Posted via the Android Central App

Rofl Posted from my Nexus 6/Nexus 7 2013/Surface Pro 3

Armor protection or nothing at all! Dam It Feels Good To Be A Google Gangster

Just picked up this one. Maybe not the most protective case, but clear and VERY slim...and comes with a screen protector http://www.amazon.com/Ringke-Essential-Protector-Scratch-Resistant-Prote...

I found it odd there wasn't a ringke in there... Hopefully they're still decent cause I've just ordered a fusion for my phone! Posted via the Android Central App

isnt it a bit hard to do a "best case" thread for some of these that have not been released yet? I mean button feedback and tpu textures play a major role in deciding a case. I pre-ordered the poetic case "http://www.amazon.com/Affinity-Premium-protection-material-Protective/dp... because i trust poetic....surprised they did not make the "possible" best case list

They should make a wireless charging case..

There a BIG market right now for a extended battery + wireless charging combo case. I really don't know why manufacturers aren't jumping on this. I would buy it real quick no question ask. Come on Mophie! Posted via the Android Central App

Even without the extended battery I'd take. A nice slim case with a Qi receiver slipped in and a flexible plug on bottom.. I rarely need to plug my phone into anything. File transfer I use SuperBeam.. The only time I need it is using navigation in the car. But I can get a wireless charging cradle too.

They all are adding a lot of thickness :( Posted via the Android Central App

Official case still looks the best so far. Posted via the Android Central App

I have the Unicorn Beetle case for the Moto X 2014, and I really like it. The entire case is matted for grip, especially the sides, and those protrusions on the back also help a lot with grip. It's surprisingly high quality for a case under 10 dollars. Posted via the Android Central App

My wife has one on her Moto X OG.. Excellent quality and protection.. But not very nice looking.. But cases are slim pickings for that phone

I can certainly speak to the overall quality of the Supcase. Posted from my Nexus 6 via the Android Central App

If an OTTERBOX comes out for this phone i am there!!! Love the fingerprint reader. Super fast ans takes you straight to the home screen. Its faster than the one on the iPhone and Samsung Galaxy series. Love the one hand action on the phone.

Cimo Wave is the ONLY case worth having. It is the only one that is slim TPU with RIDGES ON THE SIDES!!! MOTHER EFFING RIDGES ARE REQUIRED PEOPLE!!! https://www.amazon.com/dp/B015EH6BTW/ref=cm_sw_su_dp?tag=hawk-future-20&...
Android Central Newsletter
Thank you for signing up to Android Central. You will receive a verification email shortly.
There was a problem. Please refresh the page and try again.