Best cases for Galaxy Note 5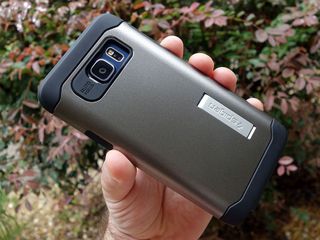 Your Galaxy Note 5 is a big phone, which means more phone to love, but more phone to break. Protect it with a decent case - from rugged, armored types to thin, low-profile cases, there are a ton to choose from.
We've curated the best of the best, just for you.
UPDATE: We're constant researching the absolute best cases for the Galaxy Note 5. This latest update on August 30th, 2016, represents the best of the best.
Abacus 24-7 wallet case
Your Note 5 is a BIG phone and there isn't much sense in carrying around both a wallet and your phone, so combine the two with the Abacus 24-7 wallet case!
You have three spots for cards and a little slot for some cash, so grab your essentials and ditch the extra bulk in your pockets. The Abacus 24-7 is made of synthetic leather, which makes it nice and flexible, so folding it back into a stand is easy and hands-free viewing is comfortable – you won't have to constantly adjust.
Comes in black, brown, blue, or purple.
For around $10, you really can't go wrong with this one from Abacus.
See at Amazon (opens in new tab)
Ringke Fusion Crystal
The Ringke Fusion comes out on top for a solid clear case for the Galaxy Note 5. Not only is this hard case slim, but it shows off the Note 5's good looks through its transparent plastic. Although it features a scratch resistant coating, it's likely you're going to pick up some imperfections on the case over time, but better on the case than your Note! You'll find TPU plugs on the bottom that keep debris from infiltrating your ports, and a bonus screen protector is included in case you haven't picked one up yet.
See at Amazon (opens in new tab)
Poetic Affinity
Poetic's hybrid Affinity case has a hard polycarbonate back with a TPU bumper around the edge, so you're covered from bumps, dings, scratches, and drops all around. The raised bezel on the front prevents your Note 5's screen from getting scratched if you lay it face-down, and you still have access to all buttons, ports, and the S Pen.
You can also add a sense of your personal style to your Affinity, since you can opt for black, blue, pink, or clear TPU.
The TPU bumper around the edge of your Note 5 is ridged, allowing you to securely grip the phone and making it pretty hard for it to slide out of your hand.
If you want to maintain your Note 5's natural beauty, but also want a protective case with a little something extra in terms of style, go for the Poetic Affinity.
See at Amazon (opens in new tab)
SUPCASE Heavy Duty Case and Holster
Just because you want superior protection for your Galaxy Note 5 doesn't mean you need to drop big bucks on an OtterBox. SUPCASE's Heavy Duty Combo provides that next-level protection at a fraction of the price. A built-in screen protector shields your display from scratches and the polycarbonate shell with a flexible TPU enhances grip while handling impacts like a boss. Its rugged design looks tough in any color — especially matched with the included belt clip holster.
See at Amazon (opens in new tab)
Spigen Slim Armor Case
Rocking a built-in kickstand and dual-layers that do a lot for impact control, the Spigen Slim Armor Case for Galaxy Note 5 is a great choice for protection and functionality. The TPU core helps to enhance grip around the edges while the smooth polycarbonate shell looks and feels great in the hand. While side buttons are raised, they sit flush with the rest of the case to retain a slim design. The Slim Armor Case comes in gunmetal, champagne gold, metal slate, or violet.
See at Amazon (opens in new tab)
Urban Armor Gear Case
Offering a rugged design that doesn't bulk up your Galaxy Note 5 any more than it should is the Urban Armor Gear Case. This slim hard cover snaps around your new Note and features a feather-light way to protect against even some of the harshest drops. Constructed to meet military standards, the hybrid design features both TPU and polycarbonate materials fused into one solid solution. There's plenty of texture to enjoy on this case along with reinforced corners for optimal impact control. Colors include black, clear, gray, orange, red, and white.
See at Amazon (opens in new tab)
Spigen Ultra Hybrid
The Spigen Ultra Hybrid case is the perfect blend of a hard polycarbonate back and flexible TPU bumper that makes for excellent protection from bumps and scratches and helps to prevent shattering, thanks to the shock-absorbing air cushions in each of its corners.
The best part of this clear case is how well it fits – it feels sturdy and strong on your Note 5 and fits very snugly, so you don't feel your phone moving around inside.
Don't worry about the smooth polycarbonate either – the TPU bumper is textured and won't slip out of your hand.
If you're after a well-fitting clear case that amps up protection better than some other clear cases, then check out the Spigen Ultra Hybrid.
See at Amazon (opens in new tab)
Caseology Wavelength Series
This unique hybrid cover has grip written all over it. The Caseology Wavelength Series Case for Galaxy Note 5 adds a bit of flare to your device while shielding it from impacts and scratches. There's a durable polycarbonate frame that's smooth to the touch, but the matching TPU that surrounds most of it is what adds a firm grip when held. Side buttons are raised through the plastic frame for an easier press, while the camera and ports are left open. The Wavelength Case comes in black, pink, navy blue, or mint.
See at Amazon (opens in new tab)
What's on your Note 5?
Are you using a great case for your Note 5 that I didn't mention? Let us know in the comments below!
Mick is a writer and duty editor for Android Central. When he's not on the job, he can usually be found vacuuming up pet hair or trying to convince his wife that he needs more guitars.
The Ringke Fusion case is very nice and feels great in the hand. But for those of you that have short fingernails, the opening for the S-Pen leaves little room to grip it when compared to other cases. I also have the Ringke Rebel and I can grab the S-Pen with no issues, but it is difficult on the Ringke Fusion for me. Posted via the Android Central App

I just want a bumper case that has no back. Like the free one you get with the new Moto X Pure. That way I can feel the back of it. :)

I was thinking the same. Posted via the Android Central App

I got one from eBay for my S6 edge and it was my favorite case out of the 14 I had, lol!!

I'm thinking the same since I'm getting a leather back but my concern is that they are not replaceable and if it gets messed up you're screwed and the same for the accent piece on the back. Don't know what to decide about this.

Love me the Diztronic case Posted via the Android Central App

Is this good? I have a Diztronic for my OnePlus One and I'm very happy with it. I might give it a go for my new Note 5.

The Urban Armor Gear cases are always outstanding! Posted via the Android Central App

UAG cases are definitely awesome as well. Haven't tried one on the Note 5 yet

Not if you own a g4 I dropped mine on concrete cracked the screen and all the only way to go is with ballistic type case

It's not mentioned here but I'm probably going to go with an Otterbox for my Note 5. Posted via the Android Central App

I've been using the Defender off and on since I got it. It's okay, but it's finicky with my wireless chargers around the house.

Save yourself 50 and get the SUPCASE Heavy Duty Case. I've had an Otterbox Defender on each of my Notes, but will probably never get another after this case. Posted via the Android Central App

Because of the saggy rubber? Posted via the Android Central App

I got the SUPCASE Heavy Duty Case to compare with my Otterbox Defender. I returned the Otterbox within 20 minutes of putting it on. It's slimmer, allows for wireless charge (9 times out of 10) and slides into and out of my pocket MUCH easier. Posted via the Android Central App

What and cover up that beautiful glass back? I want it to get noticed before it gets shattered and then these will come in handy. Man I am cynical today +++ Insert witty signature, watch as others not get it, profit +++

You are LoL it's okay though, we need it. Posted via the Android Central App

I wonder why Otterbox never makes these lists? Quriosity more than anything. Posted via the Android Central App

I'm wondering the same thing. Posted via the Android Central App

Sometimes they do, but the Defender's inability to fully cooperate with my wireless chargers is what kept it from making the list this time around.

Big fan of the spiken thin clear case .wouldn't want to hide the gs6 edge plus in gold no doubt. Posted via the Android Central App

Suprised the official samsung case isn't included. It's seriously the thinnest case that feels the best in hand. Since it only grips on the corners it adds no width or height to the phone. It keeps the stock feel so well. I absolutly love this case. It covers just enough to protect from a small drop without adding anything it feels. Posted via the Android Central App

It's also ridiculously expensive, roughly $100 (by which I actually mean $40). Very nice looking case though. ~ SM-N920T ~

$100 !!! Helllll no, I'm a ebay man myself .I'm to cheap for that hahah . My spigen case is thin enough and I like there prices Posted via the Android Central App

I'm sorry I think I confused everyone. I'm talking about the protective cover.
https://www.androidcentral.com/e?link=https%3A%2F%2Fshop-links.co%2Flink...
I picked one up in Seoul at Samsungs flagship store for ₩20,000 which is like $17. I also purchased a spigen neo ultra and rinke but keep coming back to the samsung one. It feels like you don't even have a case on. Posted via the Android Central App

I'm actually writing up a review for that cover right now. I agree, it's got a nice look and feel to it, but as already mentioned — it's too pricey for what it is.

Yes because when I buy an 800$ phone I need to compliment it with a 12$ case. When I buy a 20k car, I still pay 1k per year for insurance. I think that spending 1/16th the price of the phone is not a bad deal if it does everything you want. I don't really care much but the quarrel should not really be the price, but the protection. +++ Insert witty signature, watch as others not get it, profit +++

Exactly. Nothing less than defender type protection for me. Posted via the Android Central App

I am so glad to see this. That is the case I'm leaning towards but couldn't really find any personal reviews on it. I am so far 0 for 2 on cases for my note 5. I'm hoping the third one is the charm! Maybe it's just me- but I feel like there aren't a lot of choices available for Note 5 cases.

Are you talking bout the s view case? I had the s view case on my note 5, i had it on my lap, i continued to get out of my car and you already know it fell off my lap, cracked my screen glass saver, the corner of my screen, nicked up my metal frame of phone, anD runied the led sceen and sensors. Samsung wants 183.00$ to fix it. I told them send it back broke lmao, but was a nice case up till then if yur super super super carefull lol

I have a blue body glove from Att for $20 and went ahead and got a black one from Amazon for about $16. It is the best case I ever had on a phone period and I have at least 5 cases for each phone that I buy and plan to keep so I have seen many. The case fits so snug and perfectly that it makes the phone seem even smaller but it's well protected. I often feel like I am using a galaxy s4 instead of a Note. Plus the back of the case is amazingly grippy and prevents the phone from ever sliding from your fingers. Posted via the Android Central App

I think Amzer is alright. I got two cases from Amzer which is not impress and rubber loose. Caseology is definitely solid for me. I got it one for cousin recently and test it. It's absolutely grip and solid fit. Super look great! Posted via the Android Central App

WHAR KEYBOARD CASE WHAR! +++ Insert witty signature, watch as others not get it, profit +++

Haha at $89 no thanks already have a blackberry bold around here somewhere. If I want to get my keyboard thing on . Posted via the Android Central App

:-) +++ Insert witty signature, watch as others not get it, profit +++

Diztronic and tempered glass. Close thread. Posted via the Android Central App

Exactly my setup on the Note3. And after almost two years of use my tempered glass screen protector finally "paid for itself" by getting a tiny scratch at the beach. SAND = BAD. should've put it in a ziplock.

I have the Obliq slim case in blue and black. Does not add any bulk, protects the back and has grippy sides. Posted via the Android Central App

Tech 21 and it fits perfectly in my Platinum holster Posted via the Android Central App

I got the Supcase Unicorn Beetle Pro https://youtu.be/I7b5GIzMQ7g

My vote goes to Diztronic. Love their slim TPU case on my Note3 (got it after Incipio's hybrid case started cracking at the corners).

Eww... Get a Spigen case. Why aren't they listed here? By far the best. Posted via the Android Central App

I have had a Note 2 and Note 4..... just got my Note 5..... had this case for my Note 2 and 4 and the only time my screen shattered was when I had it out of its case. I ride horses, this case is awesome, it is bulkier however its raised edge protects no matter what height or angle the phone was dropped from or lands on, and the grip is perfectly comfortable..... bonus.... comes in tons of colors, dual layer protection, $6.99 @ handheld.com I think. HHI Dual Armor Composite Case with Stand for Samsung Galaxy Note 5 - Purple

Do you find the Spigen Slim Armor case Slippery at all? Same question about the Dilex?

Man, I fell in love with my Lifeproof case for my S5. The fact that I "was" able to have the option to take it in the shower or out in the rain without having to worry about my phone was great (can't any more, my wife broke the ear phone plug). Was looking into getting a Note 5 soon and was very sad to see that Lifeproof doesn't make cases for the Note is saddening. This doesn't mean I am not getting one, but just sad I can't get my Lifeproof, because I have never been so impressed with a case until now. Have to look for alternatives now, until Lifeproof gets their stuff together lol

My note 5 is on the way... For my note 3, that I drop more than 2x on average daily, I've used the otterbox commuter case. I don't like the built in screen protector on the defender. Also, I only use one of those cheap stick on screen protectors. I must add, that after every drop, on any surface, from varying distances, the phone is still in perfect condition.

I have both Ringke fusion and Arozell both are clear tpu crystal series, yet personally favor of Arozell case which is more delicate with tiny dot line,whats' more important, my Ringke TPU case become dark yellow 20 days later, and the arozell case keeps the same crystal clear.

LOL,appreciated to your pretty professional and detailed review about the top Samsung galaxy note 5 cases,we guys really know what the differences between the top ones and knock offs and how to pick a really quality Samsung galaxy note 5 case preferred.
Googling how to pick a phone case preferred,I also found a pretty useful blog at blog.onu-mall filled with tons of useful publications including how to pick the quality phone case, tracking the blog,i was surprised by a online shop with huge collections of various affordable amazing Samsung galaxy note 5 cases, i bought a really fashionable snake skin pattern flip leather case for samsung galaxy note 5 with card slots for my gf,she is so satisfied with the stylish, lightweight wild leather case with wallet to put her cash and cards in and with flip stand to watch movies etc conveniently, making your case more multi-functional & convenient,i am so happy making she surprising and would like to share the online store named ONU-MALL ONLINE STORE

After using Otterbox, Obliq and UAG (urban armor gear) for my previous phones. In my opinion, the uviyo cloak case is the best choice for the galaxy note 5 provided by uViyo https://uviyo.com/

I am looking for a battery case for my Note 5. One that has raised edges along the screen bezel. Almost all of the battery cases that I am seeing for this phone are raised at the corners but, leaves the entire sides of the phone exposed. I want something that if the phone drops on a hard surface, it will have some protection of the screen. Any ideas? Thanks in advance.

It's a shame to cover the design of the Note7 with any of those thick garish cases. For me, the clear minimal ones are the only way to go.

Except that this article is about the Note 5.

Oops, my bad. The same applies to the 7 or 5.

I have the Ultra Hybrid and the Rugged Armor from Spigen. I don't believe I would ever buy from another company again. They always have awesome prices and even better customer service.

I am rocking the UAG and I love the feel, but this new edge'd note gives me an uneasy feeling for that nasty drop that's inevitable. I don't have a screen protector and MIGHT breakdown for ankthe case. Perfectly fine with losing edge functionality for a 900$ INVESTMENT

When I first got the Note 5 I went with the The Ringke Fusion. Loved it. Made it easy to hold and let the phone be seen. There was one problem. It left the upper edge of my Zagg glass screen protector exposed and it chipped several times before could figure out why. I then moved to the High - Pro Shield. It offers up much more protection and had a bumper lip on the screen side that protects my Zagg glass while still allowing full screen viewing and touch. I occasionally bounce back and fourth as the Ringke is slimmer when I feel I need that.

I have a pelican case or a casemate and sometimes the s view

I would love to have a chrome/polished silver case for my Note 5. Why aren't there any pretty cases for the Note 5? iphones and S series Galaxy have all the pretty cases. Sure did like the look of the Note 7.... : ( I'm holding out for the next spen phone.

Great Cases. But for all those who have opposed the non-removable battery and no SD-card features, that is easily fixable. I got myself a modular I-blades case. It solves these problems, adds no bulk to the phone and gives the platform space for further improvement and customization :)
Android Central Newsletter
Get the best of Android Central in in your inbox, every day!
Thank you for signing up to Android Central. You will receive a verification email shortly.
There was a problem. Please refresh the page and try again.