Best Accessories For Galaxy S7 And Galaxy S7 edge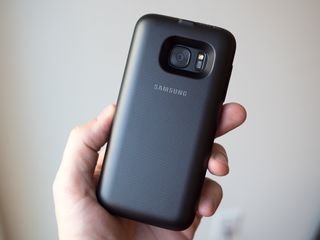 Samsung's best-selling phones of the year, the Galaxy S line, always command attention from accessory makers. Samsung itself has stepped up its game in first-party accessories as well, with lots of great Galaxy S7 and S7 edge options. From batteries to cases to car mounts, we have narrowed things down to a solid handful of accessories that you should consider for your phone.
Samsung Wireless Charging Battery Pack
Why you can trust Android Central Our expert reviewers spend hours testing and comparing products and services so you can choose the best for you. Find out more about how we test.
I know, it doesn't really look like much — but when it comes to battery cases, that's absolutely a good thing. Samsung's own Wireless Charging Battery Pack slides right on your Galaxy S7 (or S7 edge) and wirelessly charges it while you keep using your phone as usual. Of course it adds thickness and weight, but it doesn't have any unnecessary attachments or coverings — it does its best to get out of the way and just charge your phone.
The battery pack will give your phone about a 50% charge over the course of two hours, but it's well integrated enough to the phone that it doesn't inhibit your use much. The nice part about the design is that it very easily pops on and off when you need it — when your battery gets low, toss it on for an hour and keep using your phone, and then take it back off.
In general battery cases offer an unnecessary compromise and most people will be better off with an external battery that offers faster charging and more flexibility. But if you just have to use a battery case to keep on the go while charging, Samsung's own wireless charging battery case is the way to go.
Anker PowerCore 10000 Quick Charge battery
While it's enticing to buy Samsung's own portable batteries, there's better value to be had from looking at a third-party solution. Anker can give you the same 10000 mAh capacity as Samsung's batteries at nearly half the price with its PowerCore battery.
This compact unit only offers a single USB output, but you can plug in any cable of your choosing to it and quickly top up your Galaxy S7 — there will easily be enough charge left over to power up a friend's phone or a small tablet afterward, too. It's even more amazing when you keep in mind the tiny size of this thing — it's smaller and lighter than Samsung's own battery by a good margin.
Samsung's phones only support Quick Charge 2.0 at this point, but this Quick Charge 3.0 battery from Anker can properly scale down to the max speeds that the Galaxy S7 and S7 edge can take, so there's nothing to worry about there. At about $30, it's tough to beat the value in this portable battery.
Samsung Gear VR
Samsung's latest Gear VR iteration changed on the outside, moving to a black plastic build, but also improved in a few different areas internally. The experience is much the same, though — you can game, view media and get some great experiences inside this little headset by just snapping your phone into it.
Many of the experiences from Samsung and Oculus are free, but if you're willing to spend a few dollars and get yourself a good game controller it can also be a capable gaming rig for new experiences you don't get from a standard console or PC game.
At about $80, if you're at all interested in checking out the latest mobile virtual reality experiences, it's worth considering picking up a Gear VR.
iOttie Easy One Touch 3 car mount
It's never a good idea to be holding your phone while driving — the only way to do things nowadays is with a car mount for your phone.
iOttie's Easy One Touch 3 car mount is robust enough to even hold a larger Galaxy S7 edge, and its soft foam inserts will go easy on its rounded glass corners. It has versatile placement options thanks to its rotating base, adjustable phone clamp and extending arm, meaning it'll fit just about any dashboard or windshield.
Another great thing about this car mount is that if you need to re-locate it, you can return the suction cup to mint-condition by rinsing it in warm water and letting it air dry. A final note: be sure to select the right size for your phone when buying.
Samsung S-View Flip Cover
Samsung's S-View cases are a mainstay accessory for its high-end phones, and the latest version is no exception.
Using the Samsung ID chip, the phone understands when the case is closed and displays specific information that can be viewed through the frosted front of the case — it also lets you interact with the phone through it. This lets you to cool things like answer calls without having to flip the front cover open. All of the important notifications, like text message and calendar alerts are just a swipe away, too. You can even access the camera from the front cover.
The case installs with a snap and protects the vulnerable corners of your device with hard plastic bumpers. It isn't the smallest out there, but it offers full protection and gives you a few neat features at the same time.
See for Galaxy S7 edge at Amazon
Samsung Gear S3
Samsung's Gear S3 smartwatches work with any Android phone, but of course feel most at home paired to a Samsung. The Gear S3 — in both Frontier and Classic designs — offers a nice-looking, well-built case filled with every spec and feature you could ask for. The bands are also removable so you can swap in something that better fits your style if you want.
You get a big screen surrounded by a rotating bezel that makes it super easy to navigate without touching the display, plus great multi-day battery life and Samsung Pay that'll work anywhere you can swipe a card. The software can be a little daunting at first, but there's a feature or app in here for everyone.
See Gear S3 Frontier at Amazon
Samsung Fast Charge Wireless Charging Stand
Samsung makes a big deal about the fact that its phones can charge wirelessly, but the biggest part about this is that they have faster wireless charging than other phones. When paired up with a so-called "Fast Charge" wireless charger, a Galaxy S7 or S7 edge can charge twice as fast as a standard Qi charger.
It still isn't as fast as just plugging in, but the convenience of just setting it on a stand and having it charge is definitely worth. it in some cases. There are a few companies offering Fast Charge wireless chargers, but Samsung's are the best out there — its latest is this stand-up model, which makes placement a breeze and puts your phone on a bit of a display stand while it's topping up.
If you don't like the angled look of this stand, you can always opt for the flat version, which charges at the same rate — it may also be a bit cheaper since it's an older model.
UAG Feather-Light Composite [ICE] case
This case isn't nearly as sleek as the S-View model recommended above, but then again some people are a bit tougher on their phones. If you're one of those people, consider the UAG Feather-Light Composite case.
As its name implies, this case is very light, but extremely durable. It features an armored shell combined with a soft internal sleeve to protect your expensive phone from impacts. In addition to this, the case is quite grippy, which is helpful especially if you have a Galaxy S7 edge that's a bit tougher than most to keep your hand on.
You can pick from one of a few different colors to match your style, and the case is available for both versions of the phone.
Sign up for Black Friday email alerts!
Get the hottest deals available in your inbox plus news, reviews, opinion, analysis and more from the Android Central team.
Andrew was an Executive Editor, U.S. at Android Central between 2012 and 2020.