Best ways to use your Android phone with your PC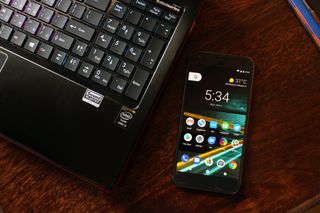 Getting your Android phone to seamlessly connect to your PC isn't as daunting as it used to be. There are several services that let you mirror notifications, reply to messages, and sync data between your phone and PC. Here are some of the best options currently available on both platforms.
Pushbullet
Why you can trust Android Central Our expert reviewers spend hours testing and comparing products and services so you can choose the best for you. Find out more about how we test.
Pushbullet is the easiest way to send files between your Android phone to your PC. The app started out as a way to "push" links, files, and documents between devices, but has since evolved into a robust messaging platform. Along with the ability to mirror notifications from your phone onto your PC, Pushbullet lets you view and send text messages from your computer.
Pushbullet also lets you send files and links to your friends. All you need to do is add the email ID your friend used to register for the service, and you'll be able to share messages, links, and files with ease. Then there's the Channels feature, which offers notification feeds across categories, including news, sports, gaming, entertainment, and tech.
Pushbullet is available as an extension for Chrome, Firefox, and Opera (opens in new tab), and you can download the Android app from the Play Store (opens in new tab). The browser extensions let you access most of the functionality that Pushbullet has to offer, but if you want to access files on your computer remotely via your phone, then you need to install the Windows client.
Using the native Windows client lets you remotely access files on your computer through your phone, and vice versa. Setting it up is easy: all you need to do is enable Remote Files access on both the Windows client and Android app, and you'll be able to access files on your computer through your phone.
The service is now offered in two tiers — a free option that has most of the features you're likely to use, and a pro version that costs $4.99 a month or $39.99 yearly that comes with universal copy and paste across all your devices, actionable notifications, and increased storage and file transfer limits. The free tier lets you send files up to 25MB in size and has a storage limit of 2GB, while the paid service lets you transfer files up to 1GB and offers 100GB of storage. You'll also be able to send unlimited SMS messages on the paid plan, whereas in the free tier you're limited to 100 per month.
Of all the pro features, the one that stands out is actionable notifications, which lets you reply to WhatsApp, Facebook Messenger, or Allo messages directly from your computer. Regardless of the tier, Pushbullet offers end-to-end encryption using AES-256 for notification mirroring, SMSes, and universal copy and paste.
Pushbullet offers tremendous value, and while its pricing leaves a lot to be desired, the free tier should be adequate for a majority of users interested in transferring files and syncing notifications between devices.
Download Pushbullet (free/$4.99 monthly) (opens in new tab)
Join
Join is very similar in functionality to Pushbullet, with the service also offering notification mirroring, the ability to reply to notifications from your computer, send and receive texts, share links, files and documents, as well as a universal clipboard. Tasker and Google Assistant integration is baked in as well, letting you extend the functionality of the service.
Join also offers end-to-end encryption, and you can locate your device remotely by making it ring. Join is available as a Chrome extension, a Windows 10 native client (opens in new tab), and an Android app.
The main difference is that unlike Pushbullet's yearly or monthly subscription plans, Join requires a one-time fee of $4.99 to unlock all the features. If you'd like to take a look, Join offers a 30-day trial with all the features enabled.
Download Join (free for 30 days) (opens in new tab)
Syncthing
Syncthing is similar to Lenovo's ShareIt in that both services let you transfer files across devices. That's where the similarities come to an end. Syncthing is a decentralized file sharing service that relies on an open source framework and encryption to secure your data.
With Syncthing, you essentially set up a server, and use it to connect to other devices. For instance, you can run a server on your phone, and connect to the server from your desktop computer to sync files between the two devices. Best of all, Syncthing is a free service, and its interface isn't riddled with ads. You don't even have to create a user account with the service, as it relies on unique identifiers for each device. Just enter the ID of the device you want to connect to, and you'll be able to transfer files between the two with ease.
Download Syncthing (free) (opens in new tab)
Cloud storage services
Cloud storage services are different from utilities like Syncthing in that they act as centralized repositories of data. You can pick from a multitude of services based on your needs, including the likes of Dropbox, Google Drive, Box, OneDrive, and so on. Each service has a free tier that gives you a certain amount of storage, and you can upgrade your storage quota by paying a monthly or annual fee.
A free Dropbox account comes with 2GB of storage, and Dropbox Pro offers 1TB of storage for $9.99 a month or $99.99 yearly. You get 15GB of free cloud storage with Google Drive, and you can increase your quota to 100GB for $1.99 a month or $19.99 yearly. If you have more storage requirements, you can get 1TB of storage for $9.99 a month or $99.99 yearly.
All services mentioned above have robust native clients for Windows, as well as feature-rich Android versions. If you're looking for a hassle-free way to sync files across several devices, a public cloud storage service is a good place to start.
Your turn
What service do you rely on to transfer data from your Android device to your computer? Let us know in the comments.
Harish Jonnalagadda is a Senior Editor overseeing Asia at Android Central. He leads the site's coverage of Chinese phone brands, contributing to reviews, features, and buying guides. He also writes about storage servers, audio products, and the semiconductor industry. Contact him on Twitter at @chunkynerd.
Well I use mysms for text synching which also does it with the tablet. And cable or es file Explorer or onedrive to transfer files. Oh yes cortana to mirror other notifications. I might try pushbullet which happens to do all of these.

Push bullet used to b good. Now it's junk.

I just have a network drive/share setup on my PC. I used to use ES File Explorer to get to that drive until that app was purchased and became suspect in their practices. I now use the new app that the original ES developer has created (FooView).

For Google drive I use drive sync
https://www.androidcentral.com/e?link=https2F2F...

I use mightytext for SMS/SMS syncing. Simple and easy. I found this solution after PushBullet went to a paid service, for what I used it for.

Same here, felt it was a cleaner setup than pushbullet, course I don't want my notifications or anything on my phone, just send/receive sms! I still remember the SMS2PC days.

Same here. Been using mighty text for years.

Yep, MightyText is a great little extension and been using it for years also.

I miss blend on BlackBerry 10. That was a great application

I find SuperBeam to be my file exchanging tool of choice. Makes sharing between any computer/phone or phone/phone a snap (especially transferring files between phones of different manufacturers)!

I have a pro sub to Pushbullet, and I like it for the most part. I'm finding that it's all kinds of screwed up on the SMS front with my S7 Edge, though (ex- duplicate messages in history when sent from PC PB client, don't see all messages sent from phone on the PC client, etc.) Dev thinks it's due to having AT&T's "Advanced Messaging" turned on, but it sucks to have to choose between being that feature set and using PB reliably.

Google Drive is my friend

Hardly every turn the laptop on these days. I drag photos across to laptop via usb to back them up and maybe some music to the phone from ripped cd...

Cortana Preview , Onedrive, OneNote, Dropbox. I also use Send Anywhere to transfer files to my Windows 10 laptop.

No mention of Resilio Sync? P2P full encrypted file syncing with nothing in the cloud.

Will have to check that out!

I've tried all the file transfer products - ES File Transfer, Superbeam, etc. Those are all limited to transferring files when my phone is on the same WIFI as my PC. The PCtoMobile Transfer app lets me connect from my PC to my phone no matter where my phone is or which network the phone is on or how many firewalls are in between.

Airdroid works pretty well for me. I'll definitely check out the other ones though!

Airdroid works pretty well for me. I'll definitely check out the other ones! Those with Samsung phones should also check out SideSync.

You must be kidding with no OneDrive mention. The value for money itself puts OneDrive above all other services. Cortana is really good with cross notifications and messaging reply. I understand if you are fan of Google services but if you think you are a journalist then unbiased opinions do matter.

join is the best as join will store all notifications and sms data to my google drive also join is a one off payment and not monthly subscription

I use OneDrive, OneNote and Paper for syncing files, documents, articles, etc.
And Cortana for syncing notifications, reminders and sms.
Works really great with Windows 10!

Send Anywhere, app to Chrome extension. https://send-anywhere.com

I use mysms for handling remote texting. It works extremely well and is easy to use. I'll be happier when (if ever) it supports RCS attachments.
Android Central Newsletter
Thank you for signing up to Android Central. You will receive a verification email shortly.
There was a problem. Please refresh the page and try again.