These are Android Central's favorite laptop bags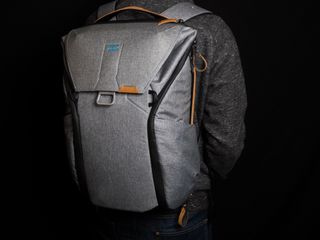 Everyone carries a bag of some sort of bag, from tiny leather shoulder bags to massive 40L rucksacks that can carry everything one needs for a week-long getaway.
Being a remote company, we're always ready to work, either with a laptop, a tablet, or just a phone and a prayer.
The bag one wears is important: it speaks a lot about a person's lifestyle, and about their priorities. Given that we spend a lot of time reviewing gadgets, it's really important that we have the right bag to carry all of our gadgets, cameras, and other accessories.
So without further ado, here are the Bags of Android Central.
Hayato Huseman, Associate Editor
Why you can trust Android Central Our expert reviewers spend hours testing and comparing products and services so you can choose the best for you. Find out more about how we test.
What Hayato loves about this bag: Whenever I travel for work, I need to bring a few things that help me write, film, and edit videos. The Everyday Backpack has enough room to fit my 15-inch MacBook Pro, camera, and various accessories like spare batteries, an ND filter, a wireless mic kit, Bluetooth headphones, and even a portable slider. The side pockets expand out enough to hold my travel tripod, and there are plenty of hidden compartments to stow away keys, passports, or anything else.
What Hayato doesn't love about this bag: The straps are pretty stiff and poorly padded, so if you tend to overstuff your bag, it'll wear on your shoulders pretty quickly. There's not much protecting your laptop from impact either, and while the bag's side access design can be great, it also puts all of your things on display — expensive gadgets and dirty laundry alike.
The ideal user for this bag: Anyone can enjoy the Everyday Backpack, but it's specially geared towards photographers. If you're a frequent traveler who never goes anywhere without a camera and a spare lens or two, this bag is probably a good fit. If you need a bit more space, there's also a larger 30L version available.
Price: $259.95
Tom Westrick, Freelance Writer
What Tom loves about this bag: My favorite thing about this bag is how small it is when it's relatively empty. Other bags I had were issued to me when I was in the Air Force, and they were gigantic and unwieldy even when they were completely empty. I can stuff this one to the brim with clothes, laptops, and other equipment and it all fits comfortably, but it shrinks back down when I just have one or two things inside. The most I've held inside has been six Dell Latitude 3330 laptops, and while my back didn't enjoy that, this backpack held up with no issues.
Another thing I love is that despite all the abuse I've put this bag through for the past year and a half, it still looks like the day I bought it. This bag has been by my side through pouring rain, on the floor of a moving van, and countless day trips, and it still looks brand new. And if something ever does go wrong, the bag has a lifetime warranty.
What Tom doesn't love about this bag: I do wish the compartments were designed a little better. The two big compartments are great for just piling laptops into, but I wish there was a bit more organization available within those pockets. The bag also doesn't stand up on its own, meaning it always has to lean against a wall or just lay flat on the ground.
The ideal user for this bag: While this isn't as expensive as the Peak Design bag, $120 is still a hefty chunk of change. If you're willing to invest in a durable bag for day trips, and you need something that can grow with the amount of stuff you're carrying, this bag is for you.
Price: $120
Marc Lagace, Gaming Editor
What Marc loves about this bag: Straight up, I bought this bag because it matched my grey gym bag and because it was among the cheapest options that was well-reviewed on Amazon.ca — and for just $30, it's a heck of a deal. What I've come to love about it after using it is the plethora of zipper compartments and pockets for storing all my stuff, the built-in support for a portable battery pack that I actually make use of, and the overall look and feel of it. It's comfortable to wear even when it's jam-packed full of gear and compact enough to be stowed under an airplane seat for travel.
The branding for the Amazon.ca model is slightly different than the Amazon.com bag I've listed below, but it's essentially the same look and style as the one I'm rocking.
What Marc doesn't like about this bag: I've owned this backpack for just about a year and it's held up fine... but I still can't help but think of the old adage "you get what you pay for" and expect it to fail me at some point down the line. I've gone through a number of backpacks in my life — and gotten less use out of bags I've spent more money on — so there's a side of me that still thinks this thing is going to let me down at some point. The surprising part is that it hasn't, despite its "disposal" price point.
The ideal user for this bag: This is a great utilitarian bag for anyone who needs a functional backpack to store their laptop and other gear — whether you're in University or work a job that has you travelling a lot. At just $30, frankly I don't think you could find a better deal for a laptop backpack.
Price: $30 for grey / $36 for other color styles
Ara Wagoner, Writer
What Ara loves about this bag: Just like the Dungeons and Dragons item the bag is named for, the Handbag of Holding can fit an ungodly amount of things within its muted canvas covers. I can easily fit two Chromebooks, their chargers, their sleeves, a Bluetooth mouse, six Android phones, two portable batteries, six charging cables, my big noise-cancelling Bluetooth headphones, my smaller backup Bluetooth headphones, my backup backup wired earbuds, a journal, some pens, two pill bottles, and four different kinds of snacks in the lavender-lined tote-com-messenger bag.
I have stuffed this thing to the gills before severe weather shifts and cross-country flights, but it still maintains its shape and stability whether light or heavy. Four metal feet help keep the bag stable even on shag carpet, and so long as you've packed the bag relatively evenly, it should stay upright.
While the Handbag of Holding comes with a detachable shoulder strap, I find it far easier to carry day-to-day via its sturdy, heavily reinforced tote straps. Carrying it as a tote allows me to better handle the weight and doesn't snag my shoulder holster the way messenger bags and backpacks do.
What Ara doesn't love about this bag: While the Handbag of holding can easily fit a laptop — or three — it lacks a dedicated laptop sleeve, so I bent and shoved a quilted Rapha House laptop sleeve into one side of the main compartment to fill the role. It's also quite easy to lose items in all of the pouches and pocket dimensions of the Handbag of Holding; I've forgotten items in here for months a time. It's like a TARDIS with tote straps: you can fit everything in here somewhere, but things disappear in its space every now and then.
The biggest downside to the Handbag of Holding right now is that you can't buy one anymore.
The Handbag of Holding is currently discontinued, but we'll pass along your resurrection request to the Overlords!The Handbag of Holding is currently discontinued, but we'll pass along your resurrection request to the Overlords!— ThinkGeek (@thinkgeek) June 6, 2018June 6, 2018
There are other bags in the Bag of Holding line available at ThinkGeek right now, but all versions of the Handbag of Holding are Out of Stock forever. I can only hope that there's a new, improved model on the way, but there's really no way to know. If you're interested in buying one, tell ThinkGeek to bring it back!
The ideal user for this bag: This is a bag for tech-savvy women who want one bag for light days and heavy-duty work trips, nerdy to its d20 core but sophisticated enough to pass as a business bag — especially if you spring for the vegan leather Deluxe Handbag of Holding. It's highly adaptable so long as you pack it properly, and over a year into its use I am still genuinely surprised at how much I can fit in my Handbag of Holding at a moment's notice.
Price: When it was in stock, the Handbag of Holding ran from $50 for the standard canvas model to over $100 for some of the vegan leather models, but it's priceless now. If you still want a Bag of Holding, there is a slightly smaller satchel-style Con Survival Edition available for $35, as well as a Convertible Fast Travel Bag of Holding that can switch from a messenger bag to a backpack and can everything for your weekend trip into a carry-on bag that will fit easily under your seat for a neat $30.
Harish Jonnalagadda, Regional Editor
What Harish loves about this bag: I picked up the Mi Travel Backpack for the amount of space it offers. The bag doesn't look huge at first glance, but it fits all my gear with ease, and has space left over for a change of clothes — which comes in handy for overnight travel.
There's a padded section that comfortably slots in a 15-inch MacBook, and you get a sleeve for a tablet as well. I particularly like the fact that it has more than enough compartments, which makes it convenient to store the plethora of accessories I carry around.
The shoulder straps and the back are adequately padded, and it's comfortable to wear with a full loadout of gear. I've been using the bag for close to a year now, and it has held up very well to the usual wear and tear.
What I don't love about this bag: The one quibble I have with the Mi Travel bag is that it doesn't have a water bottle holder. There are lined pockets on either side of the bag, and the compact size means there's no room to store a water bottle.
The ideal user for this bag: What I like about the Mi Travel Backpack is that there's no branding anywhere, and it looks like a regular bag. If you want an affordable bag to store all your gear, then this is the one to get.
Price: $55
Joe Maring, News Editor
What Joe loves about this bag: I initially picked up this Ibagbar backpack to get me through my last semester of college at the beginning of the year, but even after I graduated in May, it's served me well for packing up my things and heading out to the nearest Starbucks to scope out news for the day.
What I love the most about this backpack is how it looks. It's not flashy and isn't as modern-looking as the famous Peak Design Everyday Carry, but I'm a sucker for this vintage aesthetic. It's clean, simple, and the fabric it's made out of has held up nicely after about 6 months of regular use.
Something else I'm a fan of is the interior. The main compartment is great for housing headphones and notebooks while a sectioned off area at the very back holds by Pixelbook like a glove. There are also two small pockets near the front that work great for stowing away a charging cable and AC adapter.
Lastly, it's hard to argue with that price. $26.99 is a steal considering the quality and function this bag offers, and for a cheapskate like me, that's what got me to pull the trigger on buying it in the first place.
What Joe doesn't love about this bag: As well as this backpack has served me, I do have on minor complaint. Although I usually don't carry a ton of stuff with me, I do wish this bag offered a better way to organize my belongings. The two zippered areas on the front work well in conjunction with the main part of the bag, but the lack of any extra compartments in these make it hard to sort smaller gadgets and gizmos.
The ideal user for this bag: If all you need is an affordable, simple backpack for lugging around a laptop, notebook, headphones, and more, Ibagbar has a great solution here for doing just that. The bag's stylish, is comfortable to wear, and does a good job at holding all your junk. Plus, for under 30 bucks, it offers a tremendous value proposition for the budget-savvy out there.
Price: $26.99
Daniel Bader, Managing Editor
What Daniel loves about the Pack Pro: The Booq Pack Pro is, according to the company that makes it, "a tank," and that couldn't be more accurate. I've taken this backpack to half a dozen countries, subjected it to every abuse imaginable — trade shows are not bag-friendly — and it still looks new. Like, brand new.
What I love is how versatile this bag is. There's a place for everything inside the spacious interior, with a number of obvious and hidden compartments ready to stow the most valuable of possessions. Behind it, a dedicated padded laptop sleeve can carry up to a 17-inch MacBook Pro or larger Surface Book 2, and there's even a tertiary tablet/ebook reader compartment around back.
The exterior is made of 1680 denier ballistic nylon, and the zippers are fully waterproof. I don't think I could damage them even if I wanted to.
Finally, and perhaps most importantly, the shoulder straps are supremely comfortable; I wore the Pack Pro for upwards of 6-hours straight walking around CES this past January, and my back was perfectly fine. (My feet on the other hand…)
What Daniel doesn't like about the Pack Pro: For all of its benefits, the Pack Pro is for a certain kind of traveler; this isn't a weekend getaway bag (too small) or a hiker's bag (too heavy). It's for people who travel on airplanes and subject their stuff to the hardships of travel. It's also not designed for camera equipment, as the single main pocket is a little tight for the average DSLR.
It's also expensive, at $249, and may be a bit overkill for the average city slicker. It's also a little plain-looking, opting for sparse branding and only a single color, black.
The ideal user for this bag: The average traveler doesn't need a bag like this. Instead, the Pack Pro is for the workhorse, someone who stuffs backpacks under airplane seats and into trade show corners. It's for people with valuables they don't want crushed or broken.
Price: $249
Quentyn Kennemer, Freelance Writer
What Quentyn loves about this bag: Being one of the last holdouts to the messenger bag craze, I knew my options for a great tech backpack were slim. Thankfully, Thule's Crossover 32L backpack fits my needs almost perfectly. Seeing as I have a glutton of camera equipment, a massive 17-inch gaming laptop, a smaller work laptop, a tablet, headphones, a portable battery pack, and my phone with me (and all the associated cables I need) on any given trip, the biggest thing I need is massive capacity.
And yes, the Crossover can hold all of that, and then some. It's not just the sheer size of the thing, though. The innards are expertly crafted with multiple compartments, some of which are elevated by aluminum to ensure no one area of the bag becomes unusable.
There's also a healthy amount of padding to protect all your stuff, including a crush-proof compartment to protect your phone or other small valuables. And while I'm no textile materials expert, I can say that the Crossover has held up far longer than any other ordinary bag I've owned. I haven't seen a single rip or tear in the two years I've owned it. Oh, and it also looks really, really nice.
What Quentyn doesn't love about this bag: I do wish the crush-proof compartment was a bit bigger. I'm the kind of guy who loves big headphones with massive drivers, and I'd love to be able to take them with me without having to bring a dedicated carrying case.
I'd have loved it more with a built-in roller for when my back needs a break, especially considering it can reach the size of a small carry-on when filled to the brim.
The ideal user for this bag: If you have tons of stuff you have to carry around on a regular basis or if your equipment is just more bulky than most ordinary bags can handle, this is for you. If you have a bad back, however, then you'll want to look for something with wheels on it.
Price: $129
Andrew Martonik, Executive Editor
What Andrew loves about the Everyday Sling: I enjoy the security of having necessary gear (think laptop, battery, cables, camera) everywhere I go, and I understand that that means I also have to deal with that gear — typically in a bag. Size, comfort, flexibility (physically and conceptually) and style are all factors when choosing one. I've tried a lot of different bags for this sort of "daily essentials" set of stuff I carry, and for this duty I love the the Peak Design Everyday Sling — particularly, the larger 10L size.
What I love about the Everyday Sling is that it isn't a large multi-purpose oriented messenger bag — it's small, structured and doesn't have a ton of expandability. It's just the right size for the things I need to carry every day, and nothing more.
To that point, the Everyday Sling snugly holds my 13-inch MacBook Pro, plus a small camera, a backup phone and a few extra accessories like cables and batteries. And that's it. The movable divider system inside lets you tightly organize items to keep them from crashing around as you move, and small zipper areas on the inside and outside hold onto smaller items. There's a tiny bit of expandability with the outside pouch, but not much.
It's a small thing, but I love how the top of the bag both zips closed and hinges away from you — as compared to almost all messengers that hinge toward you. This makes it incredibly simple to pull the Sling around to your front, zip it open and have quick access to everything. And the full zipper gives the inside water resistance from all angles, unlike the fold-and-clip style open bags.
If you've ever seen or used a Peak Design product, you know the kind of fantastic quality you'll get with the Everyday Sling. Zipper are firm and close snugly. The fabrics are extremely tough and well-stitched. It feels like you could pull a truck with the metal clasps. The fabric on the back provides just a little grip to keep it from sliding on your back. And there are two side mounting points for Peak Design's Capture camera clip system, which I love to use.
What Andrew doesn't love about the Everyday Sling: The main downside to this bag is the strap, which really isn't as wide or comfortable as I'd like it to be, and doesn't really compare well to my Timbuk2 messenger bag. To be fair to the Everyday Sling this isn't intended to be a carry-everything-everywhere messenger, and is built for lighter duties, but the strap still disappoints in its padding. It also has the habit of loosening ever-so-slightly, but consistently, over time and needs shortened back up to the proper length.
Being compact and light cuts both ways, and that makes the Everyday Sling a poor choice for people who need to carry a lot with them. One of the biggest upsides for me is how small the Sling is because it means it won't ever get too heavy, but that's a big restriction for a lot of people. It can barely fit a 13-inch MacBook Pro, so larger laptop users are instantly ruled out.
The ideal user for this bag: If you've tried to find a small, compact bag to carry the essentials and nothing more, the Peak Design Everyday Sling 10L is for you. It's built out of fantastic materials that won't let you down, and is filled with genius little design touches that make it functional and practical for any sort of profession or adventure. The Everyday Sling isn't for long trips or heavy gear, but if you don't need that much space this bag is great.
Price: $149
What's your favorite bag?
Everyone needs to carry stuff, and whether that container is big, small, expensive or cheap-and-cheerful, we'd love to know what you carry with you on the go!
Get the Android Central Newsletter
Instant access to breaking news, the hottest reviews, great deals and helpful tips.