The benefits of being multilingual are numerous. Not only will your networking capabilities skyrocket, but you'll be able to travel more freely in countries where you would regularly struggle to get around and you'll have another skill to list on your resumé. Today only, Amazon is blowing out Rosetta Stone lifetime subscription bonus packs that give you access to its language-learning programs on your computer or phone and it is also throwing in a free Fire 7 tablet. At $149.99, the Rosetta Stone packs are over half off their MSRP and lower than we've ever seen them go before. Not to mention the $50 value of the tablet that you can use to help learn the language you choose.
Let's talk
It's never a bad thing to know more than one language, and these deals don't come around often. The subscription alone would cost you $200 and up most days plus the tablet is worth $50. Choose between French, Italian, Spanish, and more today only.
$149.99 $249.99 $100 off
The deal given is no longer valid and we do not have a better one. However, we have found some similar deals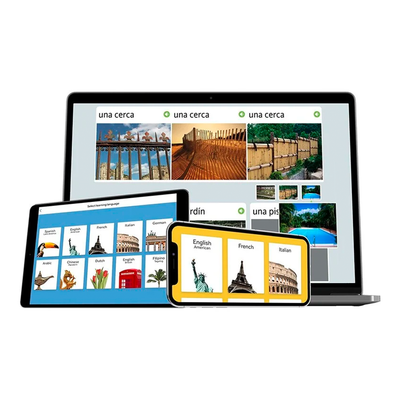 Rosetta Stone is helping make your New Year's resolution just a bit more affordable with a sale on its language software! You can score 12 months of access for as low as $7.99 monthly or grab a lifetime subscription for $179.
$199.00
$299.00
Save $100
$199.00
$299.00
Save $100
There are a few popular languages to chose from, including Italian, German, French, Spanish, and English. With each pack, you not only get lifetime access to the Rosetta Stone desktop and mobile apps, but you also get a grammar guide and dictionary in the box.
Through its own site, Rosetta Stone only offers a few different price points for app access, but each of them is for a set duration of time. You can sign up for 3 months, 6 months, 12 months, or 24 months of access, with prices ranging from $79 to $249 (though there are some holiday deals there too). Amazon's offer gets you lifetime access to the service for less than what you'd normally spend for just 12 months, plus the extra books and the Fire tablet, making this a no-brainer.
Rosetta Stone has made a name for itself when it comes to learning new languages, and there's a good reason for it. It uses "Dynamic Immersion" to help you grasp the new language, which means that you'll not only hear the words, but see signs and symbols that represent it, and learn to read and write it as well. It helps you not only learn new words, but also phrases based on real-world content, which means you'll actually be prepared for natural conversations.
With 16GB of storage (expandable up to 512GB), 7 hours of battery life, and now with hands-free Alexa, the new Amazon Fire 7 tablet is a great device to have around your home as well as using for your language learning.
Whether you're looking for a great gift idea, or have always wanted to learn a new language on your own, you won't want to miss out on this rare discount.
We may earn a commission for purchases using our links. Learn more.