Anker knows charging devices. This Black Friday you'll find several of Anker's best down to super low prices. For example, the Anker PowerCore 26800mAh triple port portable charger and battery pack is down to $37.49 with code ANKERCO6 on Amazon. Without the code, the charger goes for $66, and it has not dropped from that price directly ever.
Power Up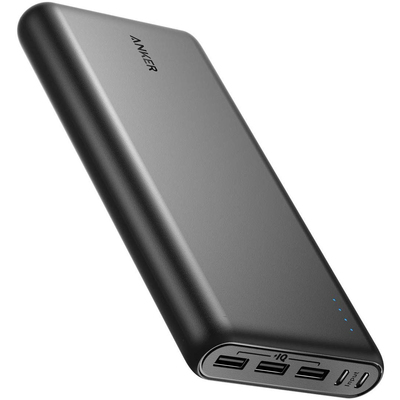 The PowerCore has three USB outputs and a large enough capacity that you can not only charge three devices at once but provide enough power to get them all topped off. Also has two inputs for double the recharge speed.
$37.49 $66.00 $29 off
That PowerCore is a huge capacity battery, and it has three USB outputs. You can plug in three devices and charge them all simultaneously, which means getting everything topped off when you need it instead of waiting. The device uses Anker PowerIQ and Voltage Boost tech to help detect what's plugged in and provide as fast a charge as possible (although things like Quick Charge aren't supported). It also has two micro USB inputs so it can recharge twice as fast.
One of the other charging options on sale is the Anker PowerCore Slim 10000mAh Power Delivery USB-C portable charger down to $25.99 with code ANKER3PD. While not as large as the PowerCore above, this version uses USB-C and Power Delivery so it can charge much larger devices very quickly. Fully charge an iPad Pro with this power bank.
You can also get the Anker Powerhouse 200 rechargeable generator down to $194.99 with code ANKERPH7. That's a $105 discount and one of the best prices we've ever seen. The generator includes a USB-C port with Power Delivery, two USB-A ports, a DC outlet, and an AC outlet.
Grab the Anker PowerCore 20100mAh portable charger for $30.79 with code ANKERCO7. This is similar to the top deal but with asmaller capacity. It has two USB outputs and a single input. Anker's devices also have a MultiProtect safety system to keep your gear safe.
All of these devices are protected by Anker's 18-month warranty.
We may earn a commission for purchases using our links. Learn more.