Moto G7, G7 Plus, and G7 Play: Everything you need to know!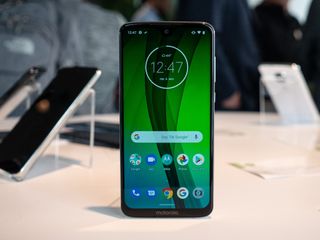 (Image credit: Android Central)
Ever since the first Moto G was released back in 2013, Motorola's G series of smartphones has been one of the go-to options for people that want a good-looking and performing handset without spending a ton of cash.
For 2019, Motorola has returned with the Moto G7 lineup and launching more G phones at once than ever before.
Whether you're looking for official specs, accessories that work with the phones, or anything else, here's everything you need to know!
Budget beast
(opens in new tab)
A sleek, stylish, and powerful budget phone.
The Moto G7 is a perfect example of what an affordable smartphone should look like. It has a sleek glass back, a large Full HD+ display with slim bezels, clean software, and capable specs. For the price Motorola's asking, the value proposition here is incredible.
Check out our hands-on coverage
Motorola's Moto G phones are consistently some of the best in the budget smartphone space each year, and with the G7, things aren't any different. In fact, they may be better than ever.
The Moto G7 brings a lot to the table for its modest $300 retail price tag. The build quality is fantastic, its large display with minimal bezels is a treat to use, and it works on every carrier in the U.S.
You can check out our full review of the regular G7 below, in addition to some initial hands-on impressions of the G7 Power and G7 Play.
There are four different models to choose from
The Moto G7 series consists of four different phones. In order of least to most expensive/powerful, they include:
Moto G7 Play
Moto G7 Power
Moto G7
Moto G7 Plus
The G7 Play is clearly at the bottom of the barrel and delivers pretty basic specifications and features for less than $200. As the name suggests for the G7 Power, this is a phone designed around offering unrivaled battery life.
Motorola's base G7 falls in the middle of everything else with a nicer design, a smaller notch, and improved performance.
Lastly, the G7 Plus aims to deliver much-improved cameras, stereo speakers, and incredibly fast 27W charging.
Should you upgrade from an older Moto G phone?
Motorola's G series has been home to some of the best budget phones over the last few years. As such, owners of older G devices might be looking over at the new G7 series with envy.
If you have a Moto G6 or G5, is it worth your time and money to upgrade to one of this year's new phones?
Check out some of our comparisons below to see what the best move for you is.
Comparing the G7 series to other phones
Alternatively, if your current phone is on its last breath and you know you need to get something to replace it, you might be aware that there is a lot of competition in the budget smartphone space right now.
The Moto G7 series is great, but it's far from existing in a bubble. Do just a little bit of research, and you'll find tons of other quality handsets that are also worth a look.
To help make your buying decision as stress-free as possible, we've pitted the Moto G7 against some of its closest competition so you can see exactly how it stacks up.
Here are the specs
Moto G phones never have the most impressive specifications, but they're good enough to deliver an experience that's still enjoyable for the end user.
Here's a quick snapshot of what we have to look forward to with the Moto G7 lineup.
Category
Moto G7 Play
Moto G7 Power
Moto G7
Moto G7 Plus
Operating System
Android 9 Pie
Android 9 Pie
Android 9 Pie
Android 9 Pie
Display
5.7-inch IPS LCD
1512x720
19:9 aspect ratio
6.2-inch IPS LCD
1520x720
19:9 aspect ratio
6.2-inch IPS LCD
2270x1080
19:9 aspect ratio
6.2-inch IPS LCD
2270x1080
19:9 aspect ratio
Processor
Snapdragon 632 1.8GHz octa-core
Adreno 506 GPU
Snapdragon 632 1.8GHz octa-core
Adreno 506 GPU
Snapdragon 632 1.8GHz octa-core
Adreno 506 GPU
Snapdragon 636 1.8GHz octa-core
Adreno 509 GPU
Storage
32GB
32GB
64GB
64/128GB
Expandable
Yes
Yes
Yes
Yes
RAM
2GB
3GB
4GB
4GB / 6GB
Rear Camera - Main
13MP, ƒ/2.0
12MP, ƒ/2.0
12MP, ƒ/1.8 Dual Autofocus Pixel
16MP ƒ/1.7, OIS
Rear Camera - Secondary
N/A
N/A
5MP (for depth)
5MP (for depth)
Video
1080p @ 30 fps
1080p @ 30fps
4K @ 30 fps
4K @ 30 fps
Front Camera
8MP
selfie light
8MP
8MP
12MP
Battery
3000mAh
5000mAh
3200mAh
3200mAh
Security
Fingerprint sensor (rear)
Fingerprint sensor (rear)
Fingerprint sensor (rear)
Face unlock
Fingerprint sensor (rear)
Face unlock
For the entire spec list, check out the link below. 👇
Moto G7 specifications: 2019 is a good year for budget phones
When and where can you buy the phones?
If you're interested in picking up a Moto G7 for yourself, you can buy the phones right now. The G7, G7 Power, and G7 Play are all available for immediate purchase in the U.S. and cost the following at their retail prices:
Unfortunately, the Moto G7 Plus (opens in new tab) is not being sold in the country. While you can still technically get your hands on it by importing an international model, you'll pay a premium and have to deal with a missing manufacturer warranty and limited LTE band support.
Also, now that the Moto G7 phones have been available for a while, it's pretty easy to find steep discounts on all of them.
You'll want to pick up some accessories
Any of the Moto G7 phones are great on their own, but if you want to take things to the next level, we recommend buying a few accessories.
A case is a must, especially considering the glass back on the G7. Screen protectors are great, too, as are microSD cards for expanding your internal storage.
Need help sifting through everything that's available? Here are our top picks.
Moto G7
Moto G7 Power
Moto G7 Play
Moto G7 Plus
Budget beast
(opens in new tab)
A sleek, stylish, and powerful budget phone.
The Moto G7 is a perfect example of what an affordable smartphone should look like. It has a sleek glass back, a large Full HD+ display with slim bezels, clean software, and capable specs. For the price Motorola's asking, the value proposition here is incredible.
Joe Maring was a Senior Editor for Android Central between 2017 and 2021. You can reach him on Twitter at @JoeMaring1.
I've been using a Moto for almost 3 years and really like the UI (chop-flashlight, twist-camera). I'm using the X4 which is a good phone but I miss the big screen of my old X Pure. The G7 looks like it would work for me but my 2 concerns are the camera (the X4's is worse than the X Pure's) and the possible lack of updates. The X4 got Pie before the end of 2018, which was good, and I'm downloading the Jan. security update now, if the G7 doesn't get updates like the X4, I'm not sure if I would want it. Then there's the rumored Pixel lites. I'd like to see how those compare to the G7 before I decide what to buy. The Pixel camera alone may be the reason I'd shy away from the G7.

Bingo. Also a X4 owner. The G7 Plus would be a perfect replacement for the X series. I may try to get an international version, but have to see if it will have the US LTE bands. The regular G7 camera would be a step down from the X4. I am curious as to why Motorola never releases the Plus variants in the US. It's really a sweet spot for people who want a good camera in a budget/midrange phone.

I love my Moto X4 because it's an Android One phone. Motorola takes too damn long on updates unless it is an Android One phone. If the Moto G7 came out as an Android One phone, that is the only way I would buy one. *As anyone can tell I am seriously spoiled by Android One's timely updates!!!

Yeah, def try for the Plus international version. I did that with the G6 Plus. Love it. although, idk if they carried over the NFC from the G6 Plus, I'd check that out. after having NFC, i dont wanna go back.

I don't get not selling the Plus in the US. It would literally be my go to device every year but they stopped selling it here. For that reason, the G series isn't even in consideration for me anymore.

I'd be willing to bet those prices will be accurate at first for unlocked models but when these hit the mvnos they wont be that high. For sure the play model wont be $200.

The 7plus is the best of all but no US release. Why does Lenovo do this thing. Plus the biggest processor is the 636? Why not the 660 or 710. And the cheaper model has only 2gb's? Still messing around with 720p displays, in 2019? No wonder their sales suck!

Everything that I need to know about Lenovorola's G7 series is that they withhold the best model from the US, as usual. So, p*ss off Lenovorola.

I've had a G4 Plus for a few years, and it's given very good service. I'm now considering an upgrade, and there are a couple of things steering me toward something like a Nokia 7.1 instead. First, the G7 Plus won't be available in the US. Why not?? Second, despite the promises, the G4 has never gotten upgraded from Android 7.0, and I'm leaning toward something that's kept a bit more up to date.

All I know is that I like the Lenovo phones but thanks to Mororola..... now they don't certify and import them to Europe, so we now only have this old junk from Motorola instead the good phones Lenovo Z5, Z5 Pro and Z5 Pro GT.

The only reason why the g7+ isn't coming to the USA is they think most people in the us has money will not be supporting this brand after the moto g6 I am a poor person and will have to keep this older phone hope it get some custom 64 bit roms so that I can root and get google camera and I will be ok lenova don't understand most adults in the US are not gaming on their phones I guess this was the wrong company for google to sale the moto brand to Nokia, ZTE or Xioami need to bring a phone to the USA that supports NFC at a reasonable price and the best midrange snapdragon chip with 5000mah battery and can support every carrier including sprint then I will have a company to spend my money with most americans are keeping they phones longer anyways

Moto, what the heck is wrong with you?!?!?!?! Release the 7 plus to USA!!! I promise to buy 1! Bet many others will too! Come on!

They always do. It just will take a little longer...

Just get the international version which they are currently selling on Amazon if you want it that bad... I'm sure it doesn't have a warranty though.

It won't have the same bands. Connectivity will be worse.

Lenovo is clearly run by idiots. Not releasing the Plus model in the U.S. is a mistake. They did this last year with the 6 Plus and that's exactly why I went with a used OnePlus 5T instead.

Y'all the reason why the G7 Plus isn't releasing here is because the X5 will be coming to the US and not going to other markets. A lot of markets care much more about raw specs than design while the US market is more centered on design. A lot of people (not y'all here) won't bother paying extra for the Plus when the standard G7 is cheaper while basically having the same specs minus the processor which nobody here cares about. Watch the X5 is going to be a design boosted G7 Plus for the US just like the X4 compared to the G5(S)(Plus) set of phones.

At least their using the 632processer instead of the 450. That should help alot!

I was planning to purchase a G7 Play for my daughter as it covered all the basics without breaking the bank, but then I happened upon a refurbished LG G6 for $155. Comparable size with better specs and price, ended up getting two of them. The G7 still seems like a great phone, but not next to a premium phone even if it is over a year old

So will the G8 likely be 5G?

just know that to get an update on security or OS, you have to throw this in the garbage and buy the G8
this is the Bic of cell phones.

My wife is Loving her G7 (US Unlocked)
$229 @ BestBuy .......on Prime.Day(s) !!

Still on Jan 2019 security....
HELLOMOTO! Give us some security updates for crying out loud!
Don't give a s h i t about Android 10.
I just want security updates.

Cricket Wireless sells the Moto G7 Power as the Moto G7 Supra. They have dropped it to $59.99 or $119.99
The only disadvantage is that these Motorolo's don't have NFC that the Nokia 3.1 Plus has and Motorola is slow with Android updates.
https://www.cricketwireless.com/cell-phones/smartphones/moto-g7-supra-bl...

Another article on this site shows the various manufacturers and their upgrade stats. I looked for Motorola and they weren't listed. Lenovo was ;) They were about middle of the road.
Android Central Newsletter
Get the best of Android Central in in your inbox, every day!