Moto G7, Power and Play Hands-on: Why even buy an expensive phone anymore?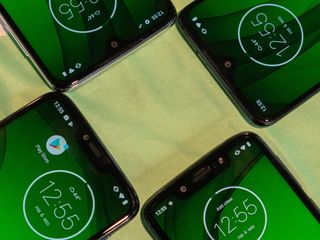 (Image credit: Android Central)
If you sought out a budget phone in 2018, you probably came across the Moto G6. Motorola barely plays in the expensive phone segment anymore, but when it comes to budget devices, the company owns almost the entire pot.
The Moto G7 series is about as conservative an update to the company's lineup as we've seen in years, but there's a swagger to Motorola's actions — it's expanding the suite to four phones, each catered to a very particular set of customers and demographics.
So we have the Moto G7, G7 Play, G7 Power, and G7 Plus, though the latter won't be available in the U.S., and Android Central wasn't given a chance to go hands on with it. That said, it's definitely the most flagship-like of these devices, and I'll do my best to get a unit so I can see what all the fuss is about.
A brief history of Moto G
If you cast your mind back to 2013 when the original Moto G was announced, it was little more than a boring slab of black plastic that happened to be a good-enough phone for millions of people. Whereas the Moto X was heralded as the future of smartphones, the Moto G was the worker bee, and turned into a tidy little business for Google at the time and, when it sold Motorola to Lenovo, its new parent.
Lenovo took the Moto G series and did exactly what it did with its laptop lineup: it sliced and diced it into as many iterations as the market would allow, beginning with the Moto G4 and G4 Plus in 2016, the Moto G5, G5 Plus, and G5 Play in 2017, and the G6, G6 Plus, and G6 Play in 2018.
Along the way, the series went from plastic to metal to glass, and from a budget in appearance to merely budget in price.
Moto G7 in 2019
While the specs still vary significantly between devices, Motorola has invested in performance this year, giving every Moto G7 phone at least a Snapdragon 632 (the Plus has a Snapdragon 636) platform, which should significantly reduce, or outright eliminate, lag and stuttering across the board.
In fact, you probably think of each Moto G7 as the same car, with each model gaining a few niceties with each minor price bump.
Moto G7 Play
For starters, the Moto G7 Play has a 5.7-inch 720p display, just 2GB of RAM and 32GB of storage, a single rear camera, a 3000mAh battery, and a sizeable notch up front to house the 8MP shooter and selfie flash (no face unlock here).
At $199, it's the entry point into Motorola's 2019 budget lineup, and it's the first Play-branded phone to launch with USB-C, which is fantastic.
As with previous generations, the G7 Play has a grippy plastic back patterned with concentric circles, and a fingerprint scanner embedded lovingly in the Motorola 'Batwing' logo.
Interestingly, despite a screen of the same size, the Moto G7 is considerably shorter and slightly narrower and thinner than its predecessor. This is because Moto was able to fit more screen in the same surface area — a side effect of the new 19:9 aspect ratio and the notch — and it's a direct result of people telling the company that it still values compact phones.
Whereas the more expensive devices in the series got screen size bumps to 6.2 inches, the Moto G7 Play maintains Motorola's commitment to addressing the small-but-mighty set of people clamoring for one hand-usable phones.
Moto G7 Power
A direct offshoot of last year's India-only Motorola One Power, the eponymous G7 Power sits in between the G7 Play and G7 and yields the biggest battery the company's ever put into a phone: a 5,000mAh cell that reportedly lasts two days on a charge.
While the screen is bumped to 6.2 inches, though still at a 720p resolution, there's a Snapdragon 632 processor, 3GB of RAM and 32GB storage, along with a single 12MP camera an 8MP front shooter. The G7 Power is roughly the same size as the mainline G7, just 16% thicker.
Image 1 of 4
At $249, it's probably going to be pretty popular given the trend of bigger-battery-better these days, but I'll have to put it to the test to make sure. Unlike the G7 Play, there's a glossy plastic back on the G7 Power, which should be ready to show every fingerprint you've ever had and ever will have. You've been warned.
Oh, and despite the G7 Play and Power not having a secondary rear sensor, Motorola's using software to provide a portrait mode, similar (in theory) to what you'll find on the Pixel lineup. Whether it will translate to decent portrait photos remains to be seen, but given Motorola's track record for these kinds of features I'm not holding out much hope.
Moto G7
The one that most people will probably buy, the $299 Moto G7 shares the same platform as its cheaper counterparts but makes some smart upgrades where it matters. For starters, there's 4GB of RAM and 64GB of storage in here, which should keep this thing performing well into 2020 and beyond.
Then there's the waterdrop notch at the top, which looks chef's kiss so much better than the wider notches on the G7 Play and Power. Around the back, there's real Gorilla Glass — just like the phones that cost twice or even triple this much — along with a dual camera setup.
Gone is the front fingerprint sensor of the G6, which I will miss but only because I thought it suited the aesthetic.
Still, there's no arguing that this is a good-looking handset irrespective of price. There is a pretty big chin, though, so you'll have to get used to that asymmetry.
Motorola isn't saying much about the camera upgrades — it's still a 12MP rear sensor with an f/1.8 aperture paired with a 5MP secondary sensor for depth — but the software has been improved. There's a new "auto smile capture" mode that detects beaming faces in a frame and automatically snaps the photo. Another feature "borrowed" from the Pixel 3 is High-Res Zoom, which stacks frames to better the quality of photos upon zooming in. Given that the sensor itself isn't of the highest quality, I'm skeptical about how well this works, but I'll have to try it.
Oh, and like all other devices in the G7 lineup, this one comes with a headphone jack. And conversely, like all the other Moto G7 products coming to the U.S., it doesn't support NFC. That's not great, especially for a $300 phone — it's slightly more forgivable on a $200 or $250 product, but barely — and continues Motorola's attempt to retcon the growing needs of mobile payments for many customers around the world.
The company raises price as the biggest factor here, which is a fair point, but no Moto G product released in the U.S. has had NFC for a number of years, and we've reached the point where all phones, even budget ones, probably need it.
That being said, I'm nonplussed about the omission, largely because over the past few years my mobile payment usage has subsided considerably — I always have my credit card nearby, and I find tap-to-pay faster and more reliable with it. I'm probably in the minority, though, and Motorola's going to have a lot of very frustrated people asking them where their NFC is — especially since it's available on the more expensive Moto G7 Plus in some markets.
Moto G7 Plus
While I didn't get to use the most expensive G7 at the company's New York briefing — Motorola's decision to omit the G Plus line from North America is truly vexing — I can point out where it differs from the mainline G7. First, it has a 16MP rear camera with OIS, a first in the Moto G line. Second, it supports 27W USB-PD charging, which is very, very fast. Finally, it has stereo speakers, which has been absent from the Moto G line for a few years now. Great to see it make its return.
At €299, it's definitely competing with products from Huawei, Honor, Sony, and others, but Motorola's products tend to attract their own loyal following.
Software
Running Android 9 Pie, all of these Moto G7 phones should look and feel very similar to previous Motorola devices — and today's Pixel phones, too. Motorola's "Experiences" haven't received any major updates in years, and while the company says that its One Button Nav — basically its gesture system — has received some love and works more reliably, it's one of a handful of notable improvements to Motorola's custom additions.
I wouldn't be concerned about this but for the fact that my Moto G6 is still on Android 8 Oreo and has been sitting with a July 2018 security patch for over six months now. Motorola's once-sterling reputation for software updates has not just abated but been obliterated. If you care at all about receiving regular security and platform patches, I'd warn you off Motorola (or most budget phones for that matter). In this particular case, you get what you pay for.
Which Moto G7 should you buy?
With all of the Moto G7 devices appearing closer than ever in features and price, it may be difficult to decide which one to buy. I've always said that if you can afford the mainline G series phone you should get that one, but this year I'm not so convinced.
While I still think the G7 is probably the best for someone who keeps their phone for two years or more, the Moto G7 Power, with its 5,000mAh battery, is incredibly compelling. As long the at 3GB of RAM doesn't hurt its performance in the long-run, the prospect of using a phone continually for two days is irresistible. And the Moto G7 Play, with its smaller stature and textured back, is so, so comfortable to use.
Any of these devices are good options for someone in the market for a budget phone in 2019, and I'll have all of them into the labs to review in the coming weeks.
See at Motorola (opens in new tab)
Nirave Gondhia contributed to this article.
Get the Android Central Newsletter
Instant access to breaking news, the hottest reviews, great deals and helpful tips.
Daniel Bader was a former Android Central Editor-in-Chief and Executive Editor for iMore and Windows Central.
I no longer waste my money on them anymore and it's been over five years since I have.

July of 2018? Are you sure? My G6 was just updated on 02/02. I'm looking forward to the G7, as my G6 has been almost perfect. I say almost, because there is one site, that continually hangs. Other than that its a great phone

If it's only the one site it's probably the site not the phone. Sites certainly aren't all created equal. Reminds me of the old joke " What do you call the guy who graduated last in his class at medical school"? The answer? Doctor. I never said it was a funny joke but it's apt.

Ive always love the Moto G line. They are the OnePlus of their price range.

Glass back on the G7. Does it support Qi charging?

Certainly not at that price point.

If Lenovo keeps producing phones with 720p resolution's consumers will hesitate to purchase. I don't care how cheap they are. More & more people are becoming more tech savvy in today's market!

That, and you can't use 720p for VR. Well, you COULD, if you don't mind looking through a fence ;)

I think your going to see those models as carrier exclusives and/or amazon.

David you troll every single Moto post I've ever read. Let it go Bruh, don't know why it troubles you so much that you have to negative comment with such consistency but it's time to get over it and move on. I've had various Motorola devices for the past 15 years and the build quality has always been good.

David you have to let it go and move on Bruh. Every Motorola post I have ever seen has negative comments from you. Personally I have owned various Motorola phones for the last 16 years and other than an old Nextel flip phone that I abused the hell out when working my construction job they have all been more than satisfactory. As far as the 720p, that's pretty hard to notice on a 6 inch screen yet increases battery life .

I'll keep my Moto X4 Android One for now, thank you.

I left after the G5s+ they left behind so now they are a never was in my book

Well, I had my experience with Moto budget phones, and it's not saving money if it ends up in a drawer after 2 months and you have to buy something better.

The moto G was my first touch screen phone. I have 2 of them 'in a drawer' from upgrades. What a waste. I'm not upgrading anymore.

Too bad about the upgrades. Mine is in the drawer because it was fragile. Even Metro PCS admits you HAVE to have a case or else. Contrast that with an HTC U11 that's been dropped a dozen times and and still works and looks great.

$199 translates to 15k INR. And 15k for HD+ and basic build?
C'mom even Nokia is doing well these days. What's up with Moto.
I had bought G5 around 10k in 2017 which had 1080p screen. Prices are skyrocketing. :/

Of the 3 the Power stands out, though I do like the 4/64. The 720 screen isn't a deal breaker for me. A little disappointed overall, I thought there was some early speculation over stereo speakers on the g7? Anyway I'll keep rocking the G5+ and when it quits I'll probably grab the Power.

Take my $$$$ again. looking forward to the larger display, RAM and storage. Now if they just enabled USB teethering..

PdaNet+ works great for usb tethering.

The spec bump is good, too bad the price has jumped higher too from around $200 range to $300 for the regular G7. One problem is that Moto is kind of slow to release new versions of Android, but at least you get regular security updates of the older version of android.

If you want the absolute best performance and guaranteed updates then Pixel is the way to go but if you care about gimmicks then Samsung or every other flagship option is for you. For me. I'd sooner pick Nokia than anything Motorola. They suck under Lenovo. For me. Pixel is my number 1 choice as no other phone offers me what the Pixel can.

Well, I don't want to spend $700 to $1000 for PIxel 3. It does not belong in the same conversation as $300 to sub-$300 phones. Someone give me the money for a Pixel 3 I will get one, otherwise I am looking for something good in the $230 to $300 range. For the moment I am still using a Moto G4 so I am one of "those" people. But it is past time for a new phone. I don't want to spend more than $300 and I want Band 71 support. From the specs I have seen the G7 does not have Band 71 but the Power and Play do... which if true makes no sense at all.

You are worse than the Apple faithful. I cringe whenever I see your blatant shilling for Pixel devices. Like what you like but by putting down every other device on the market by saying the Pixel is the end all be all device is just ignorant. And.....get a damn haircut.

Seriously you can get Chinese phones with better specs than the entire Moto G7 series, oh wait my Elephone P8 3D DOES has better specs than the entire Moto G7 line: Mediatek MTM6750 octa core SoC and 4GB RAM and a 1080p screen for just £105 while the Moto G7 line is twice the price. Although you get a bigger battery (5000mAh) compared to the 4050mAh battery I have on my P8 3D

I'm not understanding the decision to omit the G7 Plus from the US market. Last year I could understand, because the G6 Plus came into direct competition with the Moto X4, which is still a really good phone in 2019, especially the Android One version. But this year, there is no direct competition since they got rid of the X line. The G7 Plus would have been the only one of these four I would have been remotely interested in, and now that it's not coming to the US, I won't be looking at any of the G7 line.

For similar money you can get something from the new line of Nokias and get OS/security updates for 2-3 years (respectively).

Yeah exactly...why would you buy this when Nokia is putting out better looking phones with more features for not that much more in price?

I used to like the moto g line but the scene has changed. There are a lot more phones out there that offer better specs for the price and/or more frequent security updates and at least two significant OS updates. Motorola really hasn't changed to keep up with the competition. Instead it seems to focus on markets that have minimal phone competition through oppressive tariffs or markets that think that in order to get a decent phone you need to get it on a phone plan.

How does One Touch Nav work with no front fingerprint sensor??

My G6 gets pretty regular updates and is now on the January 2019 security patch.

These Moto phones will sell good in some parts of the world, However, in the Asian market, they have no chance with the likes of Huawei/Honor, Oppo/Vivo/Realme, Nokia and Xiaomi churning out much better smartphones at a much better price range.

Brazil and India is where Moto makes their money. They are huge in both markets I believe. I believe they do well in the US to. I wouldn't even consider a higher end device if I could get the G7+ as I bet the camera will be as good as my OP6T

I took the SIM out of my Moto G 2 (2015) and gave it to my kids for them to use as a camera, photo viewer and YouTube streaming device. It's screen is cracked and it has virtually no resale value since it's stuck on Android 5.0 Lollipop and can never be updated but otherwise it works fine.

I guess the last year's E5+ is this year's G7 Power (with a SoC upgrade?)

Compared to the Huawei 8X it's kinda a no contest. Instead of the 660 or 710 moto goes with the 632 & 636processers. The 8X is 250USD compared to the 299.00 g7plus. Which would you prefer? Plus no US release on the moto7plus, that sucks!

I'd buy a moto if I could get the G7+ in the US. I suspect the processor bump and camera bump would be worth the extra price. But since they aren't bringing it here, I won't buy moto most likely.

« the prospect of using a phone continually for two days is irresistible« Not really honestly, it is convenient for long trips or long days spent outside but you will charge your phone overnight anyway. If you don't you have the risk to be out of juice the following evening...

The rest of the specs are fine, but if you don't have a top tier camera it will never be my daily driver.