Best Wall Outlets with Charging Ports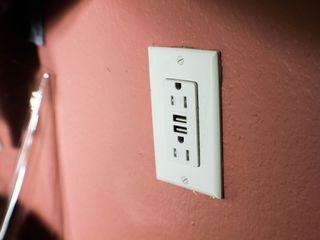 At this point, most households have some sort of portable device that requires charging, whether it's a smartphone, tablet, laptop, or vape (AKA douche flute). Sometimes you have to negotiate between leaving a lamp and TV plugged in or having a charged phone. You can save yourself the annoyance by picking up a wall outlet with USB ports. That way you can charge your devices while leaving all the appliances and other electronics plugged in.
Here are the best wall outlets with charging ports.
Topgreener TU21548A Smart Dual USB Charger Outlet
Why you can trust Android Central Our expert reviewers spend hours testing and comparing products and services so you can choose the best for you. Find out more about how we test.
Topgreener's USB wall outlet is The Wirecutter's number one pick and one of the best-reviewed USB outlets on Amazon. This 4.8A/5V, 24W outlet features two USB-A ports that are able to read the power needs of your devices and maximize charging accordingly in order to charge them as quickly as possible (up to Quick Charge C 3.0 speeds).
Each power outlet is tamper-resistant, preventing objects from being jammed inside, meeting safety standards. As a bonus, these outlets come with three click-on colored faceplates in black, white, and almond.
Leviton T5632-W
Leviton's USB outlets are available in seven colors and offer 3.6A of charging power from each USB port. These ports recognize device and optimize charging speeds accordingly. The Leviton T5632-W is easy to install, thanks to its back and side wiring, and you can buy them individually, in a two-pack, or in an eight-pack.
Sunco Lighting USB charger and duplex receptacle
Sunco's outlets push 3.1A (not quite Quick Charge 3.0 speeds), allowing you to charge two devices at the same time. They're back- and side-wired for easy installation and come with a five-year warranty. The main power outlets are tamper-resistant, so young'uns won't be able to shove forks in.
Sunco outlets come in packs of 2, 4, 6, and 10.
Seckatech LD-U001
Seckatech's outlets offer 4.2A at 5V (up to Quick Charge 3.0 speeds) from the USB ports, offering optimal charging conditions for Quick Charge and regular devices, thanks to their ability to read charging needs from each device. The 15A power outlets are tamper-resistant and Seckatech provides you with free wall plates. A two-year warranty is included should anything go awry.
Topgreener TU21548AC
If you'd like an outlet with a USB-C port, then go with Topgreener's TU21548AC. It features one USB-C port and a USB-A port, each capable of charging at up to 4.8A/5V (up to Quick Charge 3.0 speeds), as well as two 15A/125V power outlets. Each USB port is able to discern the charging needs of each device you plug in, and Topgreener even provides you with a free 3.3-foot USB-C to USB-C cable.
Cable Matters 6-outlet wall mount
If you don't want to replace your in-wall sockets and just want something you can plug in on the fly, check out Cable Matters' 6-outlet wall mount, which features six power outlets and two USB-A ports, which provide up to 2.4A (up to Quick Charge 2.0 speeds) and are protected by a surge suppressor. All outlets are powered by a single connection to your wall outlet, and you get a two-pack of Micro-USB cables for free.
Belkin BSV300ttCW
Belkin's plug-in outlet features three power outlets and two USB-A ports, which can charge at 2.4A (up to Quick Charge 2.0 speeds). You can charge two devices simultaneously, and you can rest one on top of the outlet in the built-in groove, so you don't have to awkwardly prop your phone up against the wall or leave it precariously on the floor.
You can also choose one power outlets, two outlets, or six.
Do you have wall outlets with USB ports in them?
Which ones? Let us know in the comments below.
Be an expert in 5 minutes
Get the latest news from Android Central, your trusted companion in the world of Android
Mick is a writer and duty editor for Android Central. When he's not on the job, he can usually be found vacuuming up pet hair or trying to convince his wife that he needs more guitars.