Instagram bug fixing update live in Google Play, app crashing issues fixed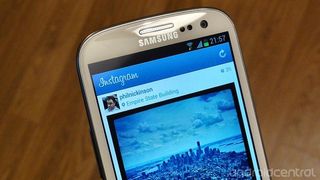 Photo sharing social network Instagram, has pushed out an update to its Android application which is live in the Google Play store now. It doesn't bring anything new to the table, but does promise to fix an issue with user images that was causing the app to crash.
While small, judging by a couple of threads started down in the Android Central forums only this morning, it could be a valuable update. There seemed to be instances of sporadic crashing on the Galaxy S III, HTC One X and HTC Evo 4G LTE in particular. Hopefully any issues have now been fixed, but head on down to the forums or shout on the comments below and let us know how it's working for you guys. [Google Play Link (opens in new tab)]
It just started on my One S last night also. Glad to hear there may be a quick fix for it.

It's still crashing on my sensation running 4.0.3. It worked fine on GB. I'm finding it crashing most when going from the line tilt shift to the circular one. It doesn't happen every time but I have to pull the battery when it does

@IB0399- Have you looked at this thread? http://forum.xda-developers.com/showthread.php?t=1651913 The updated 218 version of the GL driver fixed most of my Instagram crashes.

Am I the only person that doesn't use instagram?

No I think the only one's that do are the one's that forgot to uninstall it :P

I think the fact that there is a front page story every few days (about instagram)makes it seen like everyone uses it.

http://weknowmemes.com/wp-content/uploads/2012/03/condescending-wonka-in...

Instagram !!!!!!!!!!!!!!! why...Has this world gone mad.....or is the Apple App invasion so ingrained we have to use what they do.......Use Pocket and its free Rant over
Android Central Newsletter
Get the best of Android Central in in your inbox, every day!
Thank you for signing up to Android Central. You will receive a verification email shortly.
There was a problem. Please refresh the page and try again.