Best Pixel 5 deals of August 2021: Free Pixel Buds, $100 back, and more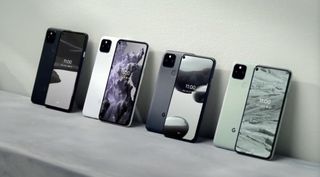 (Image credit: Google)
Sure, the Google Pixel 5 will be soon upstaged by the Google Pixel 6, but that doesn't mean it's no longer worth purchasing. In fact, it's still one of our favorite devices on the market. Pixel 5 deals can be a bit tough to find at times, especially if you prefer unlocked deals rather than offers from carriers like Verizon or AT&T, but we're expecting to see more discounts as the next iteration of Google's Pixel is released.
The Google Pixel 5 offers a number of solid improvements upon the Pixel 4. Though its predecessor received some flak for its bad battery life, the Pixel 5 includes a 4080mAh battery that's miles better than the 2800mAh battery found in the Pixel 4. The cameras are receiving an upgrade as well; the telephoto lens from the Pixel 4 has been replaced with a standard and ultra-wide camera, along with a new motion blur mode and an audio zoom feature.
The Pixel 5 is also equipped with a Snapdragon 765G chipset, similar to the one found in devices like the LG Velvet and Motorola Edge, along with 8GB RAM, 128GB storage, and a 6-inch OLED Full HD+ display with 90Hz refresh rate. There's even an integrated fingerprint sensor for added security.
Of course, if the Pixel 5 is out of your price range, there are also some stellar Pixel 4a deals available right now.
Best Google Pixel 5 Carrier Deals
Carrier deals aren't as hard to come by as deals on unlocked devices, though they tend to have a few stipulations you'll want to consider before making any purchases. Those who are willing to switch to a new carrier generally receive the best offers, giving you the chance to save hundreds on devices like the Pixel 5.
Learn more about the Google Pixel 5
Why you can trust Android Central Our expert reviewers spend hours testing and comparing products and services so you can choose the best for you. Find out more about how we test.
Unsure whether the Google Pixel 5 is the right device for you? Take a look at our review on the Google Pixel 5 and find more information on the device in our guide to the Google Pixel 5 which covers news, device specs, comparisons to the Pixel 4, and more.
Keep in Touch
Sign up now to get the latest news, deals & more from Android Central!
I would like to receive news and offers from other Future brands.
I would like to receive mail from Future partners.
No spam, we promise. You can unsubscribe at any time and we'll never share your details without your permission.
Android Central Newsletter
Get instant access to breaking news, the hottest reviews, great deals and helpful tips
Alex is a graduate from the University of North Florida with a background in sales and merchandising. When he's not hunting down the next great deals to post on Thrifter, he can be found making music and working on his eBay business.
Google what, huh? 7oo.oo bucks for the 765processer, too much? I just ordered the S20 FE for 599.00, the 865, 120hz display & a 4500mamp battery, now that's a no- brainer? Here I thought you learned something about pricing with the 4a at 349.00, I guess not!

But you're stuck with a Samsung.

Rather be stuck by Samsung than shafted by Google.

I've had the S20 FE two weeks now, coming from a Pixel 3 XL, as I got a deal where I effectively got it for free. The standouts are an incredibly bright display that is fully useable in direct sunlight and insane battery life (I'm getting over 8 hours SOT before it needs a charge). That said, if the Pixel 5 is bright enough to be viable in sunlight (the 3 XL wasn't), I'd prefer it in a heartbeat. The S20 FE is. a great phone, but the Pixels - even my 3 XL - are simply effortless to operate. I'll likely stick with the Samsung for a couple of years, but unless things change I anticipate I'll still be looking forward to the Pixel 7 down the road. Virtually anyone who has ever used a Pixel will tell you they give truth to the adage that the whole can be greater than the sum of its parts. S20 FE is a collection of better parts nearly across the board; Pixel 5 looks like it's lesser parts but superbly finessed in Google's software

bad thing about the S20 FE is that it has a hardware defect regarding the touchscreen and samsung refuses to acknowledge it's a hardware issue. mine is affected but since i don't game on it i hardly notice the issue

I agree it should have been 549 or at most 599. They would have killed it.

"Best Buy is one of the few places where you can actually find a deal on the Pixel 5 right now. These devices are unlocked, though if you activate today you can save up to $100 on the purchase. " How can we activate it today if it's not even available? Or are you saying we have to activate the cell phone plan and pay for a month of service on a device that we don't have yet?

I can't even figure out how to get it to show that price. For the unlocked it shows 699, or 649 with activation today. Umm.. it's unlocked. Buying it unlocked because you don't sell it on my carrier... so how can I "activate"?

"Conversely, the Pixel's still photo lead is no longer assured, either." Truth. Just watched Danny Winget's comparison against the 8T and S20FE, and the Pixel 5 was not a clear winner...if the winner at all. That's how close it is.

I've had the S20 FE for two days. The camera is pretty great. Better specs coupled with this camera?! I'll take the FE everyday.

Costco is selling the Galaxy S20 FE for $350 on Black Friday...

I get it, you're s UD based service, but you have many UK/EU followers. Please help us out and add in a sprinkling of deals for us

Sooo we jus going to keep excluding LG V60

in case anyone wants to buy the S20 FE read this first https://www.reddit.com/r/Galaxy_S20/comments/jau31s/s20_fe_touchscreen_i...

I'm glad I pre-ordered my pixel 5, the free Bose QC35 ii's are being delivered soon! I only have an old pair of uncomfortable budget sennheisers, so it'll be a nice upgrade. I like the phone and it's more compact size, I have more to try out with the camera and have no regrets.

No cheap deals here in the UK.

i bought my pixel 5 for $480 on offer up.

Why anyone would buy a iPixel 5 over much better phones from Samsung, especially or from any other OEM is beyond me, only iPixel fanboys would but this boring, featureless and inferior phone.

Because of the resource hogging and useless Bixby. Samsung overloads their phones with so much useless and non compatible apps. Maybe if they would really dump Bixby I might consider Samsung again.

Want to update this post Beno? 😂😂😂

No if you go to link you DO NOT SAVE 100.00 this article is from 10 months ago... And if you do want a discount you have to be a new customer And if you do the monthy payment plan you pay more for the phone plus tax... And ....
Android Central Newsletter
Get instant access to breaking news, the hottest reviews, great deals and helpful tips
Thank you for signing up to Android Central. You will receive a verification email shortly.
There was a problem. Please refresh the page and try again.