Best Google Pixel 2 Deals for May 2018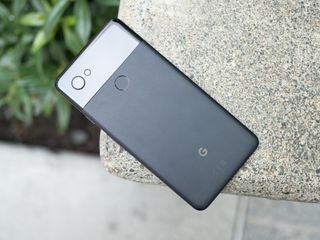 Shopping for a new phone, like the Google Pixel 2 and Google Pixel 2 XL can be an expensive proposition, but there are ways that you can make it a little easier on your budget. Hunting down the best deals can be difficult since most retailers change them weekly — but don't worry, we've got you covered. Whether you are looking to finance your purchase, get some freebies with it, or try and save some money on the purchase there are a few places to check out.
Let's take a look at some of the best deals on Google's Pixel and Pixel XL that are available right now.
Check out the best deals on the original Pixel and Pixel XL
Google Pixel 2
Want to pick up the smaller of the two Pixels but avoid paying full price? It's not extemely often to find great deals on the Pixel phones. Google hardly ever discounts them, and sometimes you'll see a few dollars off each month through Verizon, or a random deal at a retailer. Here's all the best deals right now.
Google Pixel 2 XL
If you are looking for the larger version, you'll want to check out the deals on the Pixel 2 XL. Most of the time you'll find the a similar deal on the Pixel 2 XL as you would on the Pixel 2, but somtimes the discounts are a little larger because it costs more. The current deals include:
Other deals
As time passes you'll start to see these appear on other sites like eBay (opens in new tab) and Swappa (opens in new tab), offering great deals on second-hand units. Some people may turn around and sell theirs at launch for a profit, but if you are looking to save you'll have to wait a bit longer.
Have you noticed any other deals on the Pixel 2 or Pixel 2 XL? If so, be sure to drop a line in the comments letting us know where the deal is and why other people may be interested.
I'm waiting for Black Friday. They were Hella cheap last year and that was WITHOUT all the bad press they've been getting this year. Might be another good deal this year too.

Exactly bought my wife's Pixel last year will be getting my Pixel 2 XL on Black Friday as well.

where did you get it from ?

Wish I could have waited but bought it anyway. No regret other than the money.

Still waiting on my Google credit from last year's pixel XL... They say within 5 days of receiving the device, don't count on it! :-)

Exactly mine has was received the 27th of October and I'm still waiting

With a new crop of devices being announced at MWC with the SD 845, I see no reason to spend a grand on a problematic Pixel 2 XL. I'll content myself with my Nexus 6P until I see what OEM's have in store for 2018. I was all for importing the U11+, but maybe HTC's follow up to the U11 in the States will be similar to the U11+, with the new processor in tow, where I can get it unlocked. No phone this year has stood out to me as *the* phone to have, so I'll wait. Hopefully Google learns from this fiasco of a launch and does it better next time.

The next new processor will always be a few months out after Google release. Every time.

While that's true, I'm just not willing to risk my money on the 2 XL this year, especially since learning that the HTC U11+ could have been the 2 XL. The U11+ is literally my dream phone in terms of specs, from the near-4, 000mAh battery, to the BoomSound audio, which to me is the best sounding audio on a smartphone. The only thing keeping me from getting it is the lack of a U.S. release. While I could import it, I'd still have no warranty on it in case of something going wrong. And there's no guarantee I'd get LTE, even though it supports band 4. If the U11+ ran stock Android like it was supposed to, I'd have bought it happily. If someone decided to call me bitter, they'd be right, because I am. Google is f'ing us over twice now. Once for scratching HTC's planned phone in the first place, and again for not allowing HTC to sell it in the U.S., for fear that it would outsell the 2 XL, which it certainly would, given its issues and especially now that it was reported that it was supposed to be a Pixel.

I think a lot of us have gotten on the Nexus/Pixel cycle so this is the time we buy our phones. I already have the Pixel 2 XL and most likely won't have an SD 845 phone until October of next year when the next Pixel is released. The performance jump is so minimal nowadays that there's no need wait for newer processors.

no deal in canada, the XL is still not shipping in her...

Verizon actually gave me more than $300 for my 6s Plus. I got $320. Not much more, but the day before the Pixel 2 XL was available for order the estimated trade-in value they were showing for my phone was less than $280.

These are not deals. A deal is when you pay less, not when you simply don't pay more for financing. A deal certainly is not trading in your old phone for well below it's resale value either.

Deal as in "an agreement entered into by two or more parties for their mutual benefit". (Queue the jokes about there being no benefits to owning a Pixel 2). It is not when "you pay less". That is a discount. Maybe "deal" has been so misused that it is now in common usage to mean discount.

This. There are no real deals on a brand new smartphone. You either want it and get it or you don't. The only choice is who you want to make your monthly payments to. And if you want the true unlocked model directly from Google with updates directly from Google, or the Verizon one with updates from Verizon.

The updates are the same on both of them though. Only difference is the bootloader.

Be patient, before long they'll be paying you to take these things.

If I buy the Verizon one on payments can I put my at&t sim in it I have Verizon for work but would like to use it as personal also?

Call google to verify this but this is how it was explained to me from a google rep. If you purchase the phone at the google store it will ship unlocked no matter what provider you choose but if you purchase the phone directly from verizon it will only work with verizon. You are able to choose a verizon payment plan though google store also.

I'm pretty sure no matter where you buy it the Verizon version will be unlocked, I believe all there phones are required to be (forget what the reason for this is). I bought a pixel 2 (with Verizon SIM) from Best Buy and it works fine with my AT&T sim.

It all sounds too good to be true. I have had problems with my Android since after buying it. Storage fills quickly and is not easy to get uncluttered. I hope it's as easy as that.

Or, the TMobile thing if you're on TMobile. They give you $325 or whatever back.

What deals did they have for the pixel last year? Tried looking it up online without success

I know Verizon was selling the Pixel 1 for $10/mo for 24 months. Combined with tax and the stupid upgrade fee, you come out to something like 300 bucks.
Android Central Newsletter
Get the best of Android Central in in your inbox, every day!
Thank you for signing up to Android Central. You will receive a verification email shortly.
There was a problem. Please refresh the page and try again.