Best Smart Home Bathroom Gadgets 2020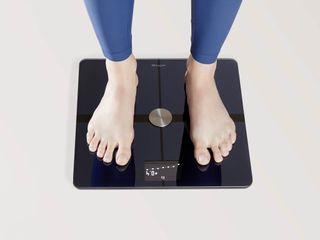 (Image credit: Withings)
When folks think about a "smart home," the first thing that may come to mind is entertainment, smart speakers, security cameras, and lighting. But there's one room of the home that could benefit from an intelligence upgrade: the bathroom. And these gadgets can not only help you get through early mornings more comfortably, but they might also help you save money and practice better hygiene, too.
Singin' and talkin'
JBL Link 10 Smart Bluetooth Speaker
Who doesn't love singing in the shower? With this waterproof portable Bluetooth speaker, you can not only play tunes to belt out as you wash up for the morning, but you can also shout reminders to Google Assistant to plan out your day. Whether it's calendar appointments, a to-do list, or items you need to pick up for groceries, you can multitask easily, scrubbing your body while easing your mind.
Monitor your weight
Withings Body+ Wi-Fi Digital Scale
Smart scales are nothing new, but the Withings Body+ Smart Scale is pretty impressive. The scale monitors weight, body fat, water percentage, and even muscle and bone mass. The ability to sync with your smartphone makes it easy to keep track of your stats, and there is integration with Amazon's Alexa to help manage your weight even easier.
Brush smarter, not harder
Oral-B Pro 5000 SmartSeries Electric Toothbrush
Smart toothbrushes are in, and the Oral-B Pro 5000 SmartSeries version does just about everything you could want it to and more. There are 5-different brushing modes, a built-in 2-minute timer, and an accompanying app that helps keep track of your brushing habits. Plus, there is integration with Amazon Dash Replenishment, so your toothbrush will automatically order new brush heads when the old ones are done.
Keep track of water usage
Keep track of and help reduce your water usage with this smart water monitor that can attach to any fixture in your bathroom, like your showerhead or toilet, connect via Wi-Fi, and report data you can view in the app. It measures water usage in real-time and, when connected to a toilet, can even detect leaks. Take proactive steps by following coaching provided on how to use less water in the home.
Save toilet paper
TUSHY Bidet Toilet Attachment
Transform almost any standard two-piece toilet into a fancy bidet that will spray jets of water to clean your derriere, helping you reduce toilet paper usage and making you feel squeaky clean. It can be attached to a toilet in a jiffy without any need to mess with plumbing. Then, use the knob to control the spray angle and water pressure until you get it just right.
Looking good
iHome Reflect PRO Vanity Mirror
iHome makes a ton of cool smart and mobile gadgets and accessories, and one such item is this smart vanity. The iHome Reflect PRO is a portable, smart vanity with built-in LED lighting, Google Assistant support, 10x zoom, and telescoping height adjustment. It can even charge your phone, so you can continue a phone conversation on speakerphone while applying your lipstick and mascara.
Control everything
Moen Bathroom U Digital Shower Controller
If Google Assistant is the best way to control your smart home products, the Moen Bathroom U Controller may be the best way to control your smart bathroom. The U Controller works with your smartphone (and even Alexa) to provide the best shower experience possible. Moen included a digital display to help you keep an eye on the temperature, and this controller can be connected to showerheads, body sprays, and more.
Shower with sound
Kohler Moxie Showerhead and Wireless Speaker
Some folks don't like the idea of having a Bluetooth speaker in their bathroom, but they still want to listen to music, podcasts, or the news. Kohler solved this issue with the Moxie Showerhead, as it has a wireless speaker built into it. The speaker can even be removed from the showerhead and taken anywhere that you want some music to follow you.
Night sight
One of the most annoying things about using the bathroom is having to go at night. The eufy Lumi Night Light aims to fix that issue. This 4-pack of plug-in night lights will automatically turn on whenever the "ambient light becomes insufficient." Plus, you can plug these in your bedroom, hallway, and bathroom, to ensure that you don't stub your toes while you are half asleep.
Blast Off
Ultimate Ears BLAST Bluetooth Speaker
Finding the right Bluetooth speaker can be a pain, but Ultimate Ears makes life easy with its BLAST Portable speaker. This waterproof speaker features 360-degree sound, 12 hours of battery life, and even has Amazon Alexa voice controls. There is integration with music streaming services like Spotify, Amazon Music, and many others so that you can get the most out of this speaker.
Smart Bulbs
Philips is one of the best in the business when it comes to smart home lighting products. This smart bulb lets you adjust lighting; you can choose from 16 million colors, all controllable via your smartphone or voice. Use the Hue Hub to control up to 50 bulbs throughout your home, and make presets, so the light illuminates ever so slightly every night at midnight, for example, so you don't trip on your way to a late-night bathroom visit.
Smarter Vanity
Philips Adore Lighted Vanity Mirror
Rocking a smart vanity in your bathroom can be an awesome way to get yourself ready for the day or a night out on the town. The Philips Adore Smart Vanity is a large round mirror surrounded by a ring of adjustable lights. It can even be connected to the Philips Hue Bridge, so that you can control everything with the sound of your voice, or from your smartphone.
What we like
While there's no "best" gadget here, as this list covers many different categories, one of my favorites is the Oral-B Pro 5000 Toothbrush. The fact that this can pair with an app on your phone to inform you of your brushing habits is amazing, especially for those looking to practice better dental hygiene. Plus, the fact that Amazon Dash Replenishment is built-in so that you will never run out of brush heads for as long as you own your toothbrush is pretty awesome.
Next up would likely be the Kohler Moxie Showerhead, because who wouldn't want to be able just to have the Bluetooth speaker already playing music when you get into the shower? Plus, you can take the speaker out of the showerhead and keep the music bumping with you, as you proceed to get ready for the day.
But on the cool factor scale, while it isn't necessarily a smart "connected" device, the TUSHY Bidet is a pretty hilarious device that can make you feel like you're in a country like Japan where bidets are fairly common. And jokes aside, if you love using it, you could save a ton of money by reducing your toilet paper usage dramatically.
Get the Android Central Newsletter
Instant access to breaking news, the hottest reviews, great deals and helpful tips.
Christine Persaud has been writing about tech since long before the smartphone was even a "thing." When she isn't writing, she's working on her latest fitness program, binging a new TV series, tinkering with tech gadgets she's reviewing, or spending time with family and friends. A self-professed TV nerd, lover of red wine, and passionate home cook, she's immersed in tech in every facet of her life. Follow her at @christineTechCA.