Best Connected Security Cameras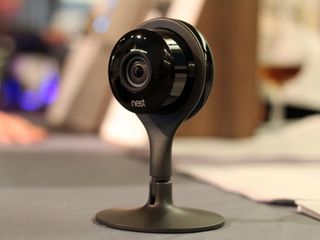 Peace of mind is not always the easiest thing to come by, but a great security camera can relieve anxiety by keeping an eye on things when you're not around. Each of these modern security cameras securely connects to the internet so you can even check out the feed from across town or across the globe.
Whether you want to keep an eye on your employees, your babysitter, or just your home while you're away, we've rounded up some of the best security cameras you can find, so you can rest easy.
Arlo Q
Recording in full 1080p, the Arlo Q will make sure you never miss a moment.
It's controlled by a handy free app that can connect to up to five cameras, allowing you to keep an eye on your whole home conveniently right from your Android phone.
Although the Arlo Q works via Wi-Fi and has 7 days of free cloud storage, it also has an SD card slot that can store your video (although an SD card is not included). If your internet goes down the camera will record your video to the SD card instead, ensuring you never have to worry about losing footage.
This security camera also has a built-in microphone and speaker. Not only can you hear what's going on, you can also speak through the Arlo Q to communicate with the anybody nearby, allowing you to say hello to your kids — or warn an intruder you're calling the police.
See at Amazon (opens in new tab)
Arlo Wire Free
The smaller cousin of the Arlo Q, the Arlo Wire Free has many same features. Seven days of free cloud storage, night vision mode, and smart alerts for motion and sound are all the familiar tricks, but there are a few key differences.
As its name suggests, the Arlo Wire Free is wireless and runs on CR123A batteries. The compact camera is easy to move around thanks to the handy magnetic mount, and small enough to be placed discreetly.
On top of being wireless, the Arlo Wire Free is also waterproof and certified for outdoor use, making it perfect to watch over your yard, garden, or garage without being damaged.
This little camera is a great option if you want to keep an eye on both the outside and inside of your home, plus they can work hand-in-hand with the bigger Arlo Q. They combine to create a great security network, though it's important to note that the wire-free model only records in 720p rather than 1080p.
Logi Circle
Logitech has been in the internet camera game for a long time and is known for making quality products, and when it comes to security cameras they live up to their reputation.
The Logitech Circle records video in 1080p and instantly uploads it all to a free cloud storage that stores 24 hours of video. With their convenient app you can replay the last 24 hours of recorded video and you can also live-stream your video feed 24/7, so you always have a way to see what is going on. Plus, you can also view a daily summary, which shows you a 30 second montage of all the footage you captured that day, making it easy to spot anything out of the ordinary from while you were gone.
Another great thing about the Logitech Circle; it's wireless. You can detach it from the charging dock and move it anywhere and it will record for about 12 hours on its battery alone, making it perfect for keeping an eye on the kids or pets while you are out for the evening.
Nest Cam
Recording in 1080p, the Nest Cam has a pivoting stand that allows you to rotate the camera 360 degrees. Plus, it even has a magnetic base making it easy to find the perfect place to set it up and get the best viewing angle. It also has a great night vision mode that will automatically turn on when it's dark, making sure you don't miss anything that goes bump in the night.
The Nest Cam does offer both sound and motion alerts, so if anyone comes into your home you will get a notification on your Android phone or tablet.
See at Amazon (opens in new tab)
Simplicam
The Simplicam has just about everything you could want in a home security camera: high definition video recording, sound and movements alerts, and a convenient app that allows you to monitor the stream and control the camera all from your Android device.
You can program the camera to recognize faces, so it will know who is in your home. You can then customize certain options and notifications based on who the camera recognizes. For example, you can tell the camera to stop recording when it recognizes your face, meaning whenever you are home the camera shuts off. Or, you can tell the Simplicam to alert you when your kids enter the house so you can welcome them home on the its built-in speaker. Programming the facial recognition is very simple, and the Simplicam guides you through the whole process.
One caveat of the Simplican is there is no free cloud storage, so you will have to dish out for at least the $5 monthly subscription in order to replay your recordings.
See at Amazon (opens in new tab)
Canary All-in-One
The Canary All-in-One is way more than just a camera; it's a whole security system wrapped up in one small package.
It records all video in 1080p and uploads it all to a free cloud storage space where you can view it for up to 30 days. It has a 147 degree wide-angle lens, night vision capability, and motion alerts so you always know what is going on in your home.
On top of being a fabulous camera, the Canary All-in-One also has a siren. You can set it up to automatically go off when it detects motion and/or sound — which is great if you're on vacation — or you can activate it at your discretion, so if you notice an intruder in your house you can simply blast them with the 90 decibel alarm.
With the added bonus of monitoring the air quality of your home, the Canary All-in-One is a fantastic choice for all your security needs.
SpotCam
With 720p video, a 110-degree viewing angle, and LED infrared night vision technology, the SpotCam will make sure you see everything you want.
SpotCam is not only good for home security, but it's also great for sharing video.
What makes SpotCam a little different from its competitors is the ability to make your stream public. You can share your video feed live with the world directly on SpotCam's website, giving you the ability to put on a show!
Of course, a more practical application of the feature is to have friends or family members look in on your stream while you're disconnected.
See at Amazon (opens in new tab)
What is your favorite security camera?
Do you keep an eye on your home or business? Tell us which camera you use and why you love it. Leave us a comment below!
I can't believe you left out Foscam/Amcrest. I have a couple of these at home and the pan/tilt feature is so worth it. This one is less than half of what most of yours cost. https://www.amazon.com/dp/B017L1JOX4/ref=cm_sw_su_dp?tag=hawk-future-20&... They have a 1080P version too.

The foscams i have had has had long term build quality issues. I have had 4 models.
Also no Samsung smartcam? No fees

We can't believe they have been omitted either! Have you checked out the Foscam OWLR app for your Foscam?

Have to agree. Have a fully wired and monitored home (older cameras without pan/tilt) but needed a new one for a new puppy. None of these have pan/tilt! SO, went with the amcrest and love it. Come on, its a camera that streams over the internet. Lets not pretend they are magical. They all set up easily. But, Id never get one without pan/tilt again.

"you can simply blast them with the 90 decibel alarm" umm... 90dB isn't exactly "blast them" volume.

That's what I was thinking. Posted via the Android Central App

How about the Yi Home Camera US Edition? It costs less than half of all these options, has free cloud storage, HD resolution, SD card, wide angle, IR night vision, 2 way talk, and can share the feed with different people. It works reliably as well, in my experience. Prime shipping FTMFW. https://www.amazon.com/dp/B016F3M7OM/ref=cm_sw_su_dp?tag=hawk-future-20&...

This is a nice quick review article. Although I would love to read something in line with Baby Monitors too. I am having my first one and just buying the #1 Amazon Baby monitor with no Smartphone app, doesnt seem right. I have friends with Nest, but the same issue that they have to have their phone on to viiew.

As a recent parent, what we did was get a $20 audio only monitor. That allowed us to listen in while he slept. We also got a DLink 5222 camera. With a device laying around (old cell phone or iPad) we could pull up the video if needed. When he's older we'll repurpose the camera for security.

Hey Rahul - Try giving the OWLR app a go. It is pretty simple to set up and best of all, it is free and supports these cameras https://owlr.uservoice.com/knowledgebase/articles/458563-owlr-confirmed-... . Happy viewing your new bundle of joy!

That's awesome. Posted via the Android Central App

Let us know what you think! Happy Viewing!

Thanks guys. Appreciate the feedback. I do like the Audio only idea with a IP cam to support. I was planning on using my Digital Life Camera, but it lacks audio. Will look in to Owlr as well. Thanks for the info.

I'm enjoying my Piper NV which, like Canary, is a full feature security system (only more so). The infrared camera and 180 degree lens are very practical and the 4-way split video is useful at times. Sound is excellent and I can also speak back through the system. Recording to the cloud is, I believe, a must for security cameras and not having to pay a fee is a plus. The 35 second maximum time for video clips may be a bit brief at times, but so far it serves my needs.

We use one with the ZSight app from Amazon - was like $40. Has infrared and motion sense. Works well!

why you say these work on iphone or ipad ? These do not work on Android phone ??

I was thinking the same thing... and for a moment I thought I was at the iMore site instead of the AC site... Posted via the Android Central App

I need to get one and point it at Santa...err I mean the UPS guy.

We're still clinging to our Logitech Alert webcams. No fees, free viewing. We started with 6, down to 4 now. They are randomly dying. Best product ever, sadly discontinued long ago. Night vision works incredibly well.

What about the software solutions? If you have an unused cell phone in the drawer, then something like WardenCam in the Playstore is work a look.
https://www.androidcentral.com/e?link=https2F2F...

What about if you have a camera already and the software solution is not that great from the manufacturer? That is where we fly in! - we support these cameras and best of all, we are free https://owlr.uservoice.com/knowledgebase/articles/458563-owlr-confirmed-...

Are any of these camera PoE (Power over Ethernet) cameras?

I think that POE generally has a limitation of 328 meters (I think it is) over Cat5/Cat6. For POE applications you'd need a home Router that has POE ports, which is generally something that most users do not have at home.

you can get something called an injector to push power through to the cameras. And yes, 100meters/328feet is about the limit afaik I dont think any of these will. Looks like they are more for a wireless set up. Something like the foscam/amcrest cameras do PoE

We feel a little bit left out in the cold here! DLink,Foscam and Axis cameras are missing from the list! How about also focussing on the apps to view these cameras - sure the hardware may be great but it is the user experience and functionality of the software that is either the hit or miss.
Come and discover the OWLR app that works with a range of inexpensive cameras and best of all, its free www.owlr.com

Is there a good camera that works with iSpy or that can record to a local hard drive? I want to be able to save and store locally deleting records whenever I feel like it. Most of these force you to use their services.

My nest cameras notify me immediately when motion or sound is detected. Posted via the Android Central App

I love my Amcrest PTZ 1080P home security camera. It has never failed me and above all tech support is top notch. They stick with you all the way through if you have an issue. Posted via the Android Central App

Why don't you list the Ring stick up cam? I like mine and they have some of the cheapest recording plans available plus an awesome solar panel.

Don't you have to subscribe to Nest Aware at $10/month for Nest Cam. Need to mention that if you did for Simplecam

Anyone use Blink cameras?
Android Central Newsletter
Get the best of Android Central in in your inbox, every day!
Thank you for signing up to Android Central. You will receive a verification email shortly.
There was a problem. Please refresh the page and try again.