Best Fitbit Black Friday Deals in 2019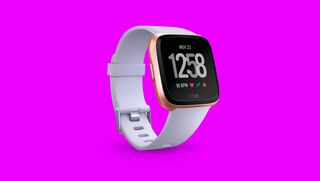 (Image credit: Android Central)
When it comes to fitness tracking, you can't go wrong with Fitbit. And when it comes to deals, you can't go wrong with Black Friday. Here are some of the best Fitbit deals you can get your hands on this Black Friday season.
Fitbit Versa 2 Deal: $149 ($50 off) at Amazon
Fitbit Versa Lite Deal: $99 ($60 off) at Amazon
Fitbit Charge 3 Deal: $99 ($50 off) at Amazon
Fitbit Inspire HR Deal: $70 ($30 off) at Amazon & Walmart
Fitbit Inspire Deal: $50 ($20 off) at Amazon
Fitbit Versa 2
We reckon that the Fibit Versa 2 (opens in new tab) is the best Fitbit going. It's got the most features and is significantly better than its predecessor. It features an always-on OLED-display, better battery life (up to five days) and compatibility with Alexa. And right now on Amazon, you can get one for just $150. The Versa 2 will also track your sleep quality. It can measure your heart rate 24/7, as well as your step count, distance traveled, calories burned and floors climbed for up to six days on one charge!
Fitbit Versa Lite
As you'd expect, the Versa Lite (opens in new tab) is a slimmed-down version of the Versa 2. It's got the same form factor, however, it lacks a couple of key features of the Versa 2, hence the big saving on price. The Versa Lite won't allow you to store local music files on your devices like the Versa 2. It also doesn't have on-screen workouts, the ability to track floors climbed, or swim lap tracking (but it is waterproof.) It also features a less premium LCD display, it doesn't look bad but lacks the vibrancy of the Versa 2. Otherwise, its the same watch, just cheaper.
Fitbit Charge 3
Fitbit Charge 3 (opens in new tab) is a great cheaper option if your focus is just activity tracking. The Charge doesn't have some of the features of the more expensive Fitbit models like apps and a big screen. However, it does come with over 15 exercise modes such as bike, run, swim, yoga, and circuit training. You can also use it to record your sleep and it's water-resistant up to 50 meters! When paired with a smartphone, it can use GPS to track real-time pace and distance when you're out and about on a bike or on the road. Despite its small form factor, it can still be used to check notifications such as texts and calls. A fantastic bit of kit for less than $100.
Fitbit Inspire HR
If you like the Charge, but it's out of your price range, then you can snag almost all of the Charge's feature in the Fitbit Inspire HR (opens in new tab) for less than $70. This is the lightest and most affordable Fitbit you can buy with a Heart Rate monitor. So if that's important to you, this might be the way to go. The Inspire HR can measure your heart rate during workout or at rest. It can also monitor your heart rate zones to help you exercise most effectively. Like other Fitbits, this also offers sleep monitoring, calorie tracking, and strong battery performance, up to 5 days depending on usage.
Fitbit Inspire
The Fitbit Inspire (opens in new tab) is the cheapest of the bunch. As mentioned, this one won't track your heart rate like the Inspire HR, however, it will still track all of your activity, including calories, steps, and distance. It can track your sleep, and be used to set silent alarms on your wrist to wake up at the optimum time for you. It will also track your workouts such as cycling, walks and swimming with SmartTrack. This would be great option as a gift, or perhaps for someone looking to take their first step into the world of wearable tech, smartwatches and activity tracking.
These deals won't last forever, so be sure to take advantage... the smart watch is ticking! If you haven't had your fill of Black Friday deals, check out the rest of the deals we've covered over at our Black Friday Hub
Android Central Newsletter
Get the best of Android Central in in your inbox, every day!
Thank you for signing up to Android Central. You will receive a verification email shortly.
There was a problem. Please refresh the page and try again.