87+ Must-see Cyber Monday smart home deals live now: Google Home, smart lights, plugs and more!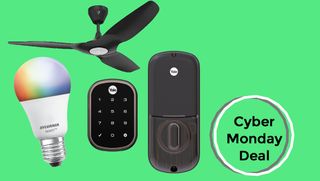 (Image credit: Android Central)
Smart home tech is everywhere you look in 2021. From being able to control light bulbs from your phone or adjusting your home's heater with your voice, there are smarter and easier ways to do just about anything.
We've seen a lot of this technology become more affordable than ever in recent years, though we'll certainly never complain about being able to save even more. Cyber Monday is officially in full swing, and as part of it, Amazon and other retailers are offering massive discounts on a wide array of popular smart home devices.
Whether you're in the market for smart bulbs, a door lock, or even a ceiling fan, there's a deal here for you.
Where to find the best Cyber Monday Smart Home deals
Smart home tech is becoming quite ubiquitous, and that means the number of retailers that offer products to add a bit of intelligence to your home operations is as well. Of course, the usual suspects like Amazon and Best Buy will be stepping up their efforts to entice you to spend your hard-earned money with them, but that doesn't mean other stores won't be pushing deals to get the sale. We'll be continuously updating this post with deals to make sure you get the be prices on the smart home gadgets you want.
Cyber Monday Smart Home deals: Google Home
Most Android smartphone users are quite familiar with Google Assistant, so going the route of a Nest Hub device makes sense for their smart home. In addition, because these devices use the same smart assistant that you have on your phone, there is virtually zero learning curve when using one of these hubs.
Google has done a great job of offering a variety of Google Assistant-enabled speakers for your home. If you are looking for something basic that can handle voice commands and control your smart home devices but isn't going to take up a lot of space — then a Nest Mini might be the best option for you.
However, if you want a display for touch screen controls, visual feedback and can act as a kitchen helper with recipes — the Nest Hub Max will be perfect. These are the biggest and smallest options available from Google, but there are more in between, and sure to be lots of amazing Google Assistant deals this Cyber Monday.
Belkin SoundForm Elite HiFi Smart Speaker + Wireless Charger | $70 off
Charge your phone while you listen with this Belkin smart speaker. You can even create a wide stereo Hi-Fi sound when you link two of them together.
The Nest Hub 2nd Gen is the ideal choice if you want a Google Assistant-enabled smart speaker with a screen. It does a fantastic job controlling your smart home products, the screen is ideal as a dashboard for controlling music or for getting a heads-up notification about upcoming calendar events or reminders.
One of the best smart displays available, the premium Nest Hub Max will cost you a little less for Cyber Monday.
(opens in new tab)
Take control over your home's temperatures from anywhere and save money with the Nest Thermostat's automated modes.
(opens in new tab)
Google Nest Thermostat and Trim Kit | 27% off
If you're replacing an old thermostat, it may have screw holes that stick out from behind the compact Nest Thermostat. Since no one wants to do drywall work on Christmas morning, grab a kit with a wall plate for a clean and fast installation.
(opens in new tab)
Built with great audio in mind, the Nest Audio is the way to go if you want an excellent sounding speaker that can play all of your favorite tunes and is a helpful digital assistant.
The Nest Mini's improved sound and fun colors are a welcomed bonus to the helpful Google Assistant built into the speaker.
Not only do you get a great smart speaker, but you also get a wireless charger and a night light, all in a compact package.
(opens in new tab)
Lenovo Smart Clock 2 (no wireless charging dock)
If you can live without the wireless charging dock, Walmart as the Smart Clock 2 for $30 less, and with a free Lenovo Smart Bulb thrown in.
(opens in new tab)
Chromecast (3rd gen) 2-pack | $20 off
Your TV will feel so much smarter with a Chromecast plugged in. It's the easiest way to send any video to your TV via your smartphone. You can even cast your latest vacation pictures to show off to your whole family at this year's Holiday get-together.
Lenovo Smart Clock | $45 off
This has the same 4-inch screen as the Smart Clock 2, but with a lesser quality speaker and no dock. But if you want a small screen smart speaker at a great price, this is a solid choice.
(opens in new tab)
Lenovo Smart Display 7 | $30 off
The Lenovo Smart Display 7 has a great-looking screen that is big enough to see from across the room but won't take up all of your counter space. Plus, with a front-facing speaker, you'll have great directional audio.
(opens in new tab)
Chromecast (3rd gen) | $10 off
If you only need a single Chromecast, Google has a great Cyber Monday sale for you. This Chromecast 3rd-gen will output up to 1080p resolution video at 60Hz, making it easy to cast just about anything to any TV you plug it into.
Chromecast with Google TV
The new Chromecast with Google TV is the perfect addition to any home with all the power of a Chromecast and your favorite streaming services in one. Then add in a dedicated Google Assistant button on the remote and you have the power of TV and a smart home all from the comfort of your couch.
Cyber Monday Smart Home deals: Amazon Alexa devices
Amazon kicked off the smart speaker battles with the first Echo speaker and continues up the ante each year with more options and excellent improvements. The small but surprisingly powerful Echo Dot received a complete redesign last year and continues to be a fan-favorite every year for those both expanding or just getting started with their smart homes, and that want to do so with Alexa devices.
If you want to add a big screen Amazon smart speaker to your home, consider looking at the Echo Show 10. This device was overhauled this year — and did it ever get some new tricks. It still has a fantastic 10.1-inch display, but it has new cameras, a booming new speaker, and most impressive of all is its ability to rotate. Yup, rotate. The display will spin around the speaker when you are talking to it or on a video call so that you can always see what's on-screen.