New leak confirms larger Pixel 6 'Pro', offers first Pixel 6 specs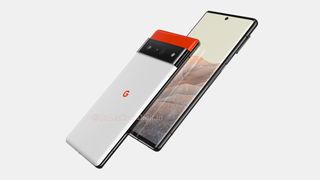 (Image credit: OnLeaks / Digit.in)
What you need to know
Another Google Pixel 6 "Pro" leak gives us a good look at Google's 2021 flagship.
These new leaks are accompanied by the first spec details.
The Pixel 6 and Pixel 6 Pro are expected to launch at this year's Made By Google event in the fall.
The Google Pixel 6 leaked for the first time last week, showing off a very distinct design when compared to the likes of the Pixel 5 or Pixel 4a 5G. Now, new renders shared by OnLeaks (via Digit.in) give us a clearer look at the upcoming flagship.
This set of renders specifically show off the Pixel 6 "Pro" — the name is currently unconfirmed — the successor to the XL variants every Pixel has had so far, with the exception of the Pixel 5. It is said to have a 6.6-7" curved AMOLED display with a centered hole-punch front-facing camera. The rear camera layout is said to consist of a primary wide-angle lens, a periscopic telephoto lens, and presumably an ultra-wide lens. The phone is estimated to measure at 163.9 x 75.8 x 8.9 mm. Other key specs include dual stereo speakers and wireless charging support.
We do not know the RAM and storage size options, but we can reasonably expect a minimum of 8GB of RAM and 128GB of storage based on the Pixel 5. There is also a strong possibility that it could come with a Google Whitechapel chip in lieu of a Snapdragon 888.
Google was thought to be abandoning the premium phone market with the launch of the very adequate Pixel 5 last year. The company's phones could not compete, on a hardware level, with even cheap Xiaomi phones. Google this year appears to be offering many of the things we would have liked to see in a Pixel 6. The display is larger, the design is anything but dull, and the cameras appear to be improved — even if just in terms of flexibility. Coupled with what we've seen from Android 12, the Pixel 6 is looking like one of the best Android phones of 2021 on paper.
The Google Pixel 6 and Pixel 6 Pro are expected to make their debut around October, going by the company's previous launch patterns. We'll see if Google can deliver then.
Pixel 5
While the Pixel 6 could be the phone of your dreams in the future, the Pixel 5 will do everything you want in a smartphone for a fairly inexpensive price right now. A smooth display, sharp cameras, and fast updates make this phone a winner.
Android Central Newsletter
Get instant access to breaking news, the hottest reviews, great deals and helpful tips
When we say "curved display" are we talking about like what the Galaxy S series has had for several generations (i.e. waterfall)? I hope not...I'm not a fan. Too many accidental touches when grabbing the phone.

If it's anything like the S21 line, it'll be great. Very subtle. I haven't had any accidental touches with my S21 Ultra. It happened multiple times a day with my S10.

Ok, that's good to know I guess. Last Galaxy I had was the S10

Now the Pixel becomes interesting! 👍

Now it's just a matter of Google not asking for $1k per unit.

I think Google should stick to a mid range SoC in term of power as Google's really good at optimisation of hardware, as seen with the Pixel 5's major improvement with the April security patch.

get rid of that curved screen edge.

"curved AMOLED"
Yuck. Samsung is moving away from them for a reason.

In typical Google fashion of copying Apple at everything they do, just like how Apple took a queue from the iPhone 4 for their latest design, Google decides to take a queue from the Nexus 6P. Going back in time I guess.

Of course every manufacturer wants to be like Apple. Google has been trying to make the Pixel to be the iPhone of Android. Their first Pixel was an iPhone without the front finger print sensor and since then they've been following alot of Apples moves especially making Android's look and feel more like iOS.

Which is honestly not a bad thing as long as you can always sideload apps and not be constrained to the Play Store like Apple does it with their App store which is hot garbage.

Not sure that I agree, yes Pixels are like iOS in that it's easy to use and has no bloatware apps (I know this is subjective) but Google's software is the one that I enjoyed the most (I've always been a pure Android person) but we're at a point where you can't go wrong with any Android phone nowadays but being first in line for updates really matters to me as well as the software experience which Samsung's software is kinda overwhelming at times with the sheer amount of customisation on offer which I feel isn't as important to me as it is for most people on here, and the Pixel I'd the only phone I've used where I've not felt the need to change anything as it is already the way I like it, I like the Pixel Launcher so much that I'm using Lawnchair as my home screen and have mostly got rid of, stopped using or disabled most of Samsung's apps because a lot of them aren't reliable like Google's apps and while I think Samsung Internet is a better browser than Chrome, I felt that the convenience and the fact that when I enlarge the text on Chrome (I'm visually impaired) that the headers or headings don't merge or get cropped into an unreadable mess like it does with Samsung Internet which hasn't been as reliable and has crashed a lot on both my S20 FE and Tab S7+, once my contract is up for renewal, I'll be getting a Pixel and sticking with it, if I don't get a 4a 5G to see me through until my upgrade.

First time in a long time I've been excited by a Pixel. This handset alongside Android 12 that's finally remedied some of Pixels biggest omissions like One Handed Mode make it a serious player in the making

Why do people that opt for a smaller phone always have to lose out on the camera aspect? With both smaller and larger versions of phones, it seems that even the smaller ones are getting larger that there should be no excuse in offering top of the line specs or cameras even with smaller models. Contrary to what one might think, not everyone wants a bigger phone
Android Central Newsletter
Get instant access to breaking news, the hottest reviews, great deals and helpful tips
Thank you for signing up to Android Central. You will receive a verification email shortly.
There was a problem. Please refresh the page and try again.