6 things we'd love to see in the Google Pixel 6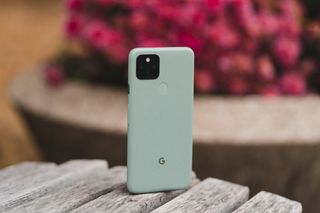 (Image credit: Hayato Huseman / Android Central)
The annual Pixel launch has become somewhat of a highlight for Android watchers ever since Google launched the line back in 2016. Love them or hate them, they are always some of the best Android phones and it's nice to see what Google's doing on the hardware front.
Last year's Pixel 5 for one was a bit of a strange phone. It was praised for being a good camera phone and offering a stripped down experience for less money (and it does do those things), but it also had too little setting it above the Pixel 4a or 4a 5G. Personally, I find the less is more approach Google took to the Pixel 5 can only go so far before you're just getting less, period. This year, it'd be nice to have the company offer a litle more with its hardware so that it doesn't need to be carried by software.
Curiously, while we had leaks of upcoming Pixels by this time last year and the year before, this hasn't happened at this point in the year. This means we have free rein to speculate on what could be coming down the line, and there are a couple of things I'd like to see from this year's Pixel 6 when it arrives towards the end of the year.
1. At least five years of software support
While Google already supports its Pixels with updates for 3 years, offering brisk releases and rolling them out with Apple-esque efficiency, the longevity of its support leaves a lot to be desired.
Sure you get fast updates, but you don't get them for very long. Apple for one, supports its phones for almost 6 years, with the iPhone 6s and iPhone 6s Plus running iOS 14. The first Pixel, launched to coincide with the iPhone 7, does not support the latest version of Android. The Pixel 2 and 2 XL similarly have received their last updates, not even benefiting from the December feature drop that came at the end of the year. In contrast, the iPhone 7 is running iOS 14 right now and can be expected to get iOS 15 later this year.
We don't need to go to Apple's side to find ridiculously long support times. The Samsung Galaxy S7 received its last updates in October 2020, four years after launch. In general, Samsung has announced at least three years of updates for its phones. This means that Google's phones will now be on par with Samsung's as far as updates go, but still far behind Apple.
If trends hold, we can expect that the Pixel 3 is next on the update chopping board in October 2021. But a Pixel 3 is a perfectly usable smartphone in 2021, and I'd argue the same goes for the Pixel 2 and 2 XL. There's no reason for Google not to support Pixels with OS updates for longer, especially when its smartphone hardware has genuinely gotten so good that Google doesn't see the need to change its camera hardware for years on end (more on that in a moment).
Google prides itself on its sustainability, even going as far as to tout the recycled aluminum that Pixel 5 uses. Giving users incentive to hold on to their existing phones for longer is also good for the environment, even if it is less flashy.
2. The Snapdragon 888 should power the Pixel 6
It's a little odd to list a flagship processor as a requirement for what should be a flagship phone, but Google still needs to put it in. While Google had typically shipped its flagship Pixel devices with the top-end processor for their launch years, it didn't do that with the Pixel 5. Instead, it took inspiration from Nokia and LG and opted for a weaker Snapdragon 765 processor. With the Pixel 6, Google should do the right thing and get the best silicon available. It is true that Google has been making the best of limited technical capabilities, relying on software optimization to deliver optimization, but how much more would it be able to do if it had more power available to work with?
To curtail the obvious objections, no one is going to praise Google for having a Snapdragon 888 or reward them with hundreds of millions of sales, and Google shouldn't expect accolades for doing so any more than people should expect applause for wearing pants to the grocery store. Having a flagship processor is just table-stakes to be competitive in the market. We don't need all that power all of the time, but it's better to have it and not need it than need it and not have it. If Google can ship a Chromebook with an i7, 16GB of RAM, and a QHD display, it can ship an Android phone with a powerful processor. People who want the bare minimum can look towards the A-series.
3. The Pixel 6 should come with a bigger screen option
The Pixel 5 was an outlier in Pixel history in many ways. Where every single preceding Pixel —and to some extent, the 4a —all shipped with an XL version, the 5 offered one size only. Either you liked it, or you went somewhere else.
There are people who like small phones (but not too small), and there are people who like big phones. Third-party OEMs understand this and offer variety. Google sorta does this with the Pixel 5, offering a smallish phone that's also biggish. It's not going to really satisfy you if you want a small phone, nor will it do so if you want a big phone. It's a perfectly fine way of doing things. But for the Pixel 6, it would be nice to see Google splitting the phones into two distinct sizes again.
4. A Better Display
Budget phones from Xiaomi's Mi 10T Lite to the upcoming Galaxy A52 and A75 5G adopt high refresh rates; it's time for Google to do the same. Google does have 90Hz on the Pixel 5, but in 2020 it should have been better if the Pixel 4a that shipped with 90Hz, while the Pixel 5 made the jump to 120Hz or 144Hz.
I don't think Google has to go that high. While phones like the ROG Phone 3 have 144Hz displays, those are more aimed at gamers. A 120Hz screen, on the other hand, is necessary to match offerings by Samsung to ensure that Google doesn't fall behind in a place where it had excelled in 2018.
If Google wanted to return to using a QHD display as it did on the Pixel 4 XL, that wouldn't be too bad either.
5. The Pixel 6 should be interesting to look at
There's no denying that while the Pixel 5 and 4a series have their charm, compared to previous Pixels, they are very, very bland. You don't get a nice two-toned rear, nor do you get a delightful Panda colorway, or even playful Purplish and Not-Pink tones. In most cases, you don't even get to pick between black and white. Google offers Just Black and you take it or leave it. It's kinda trying — US buyers can access the Barely Blue Pixel 4a model, Clearly White 4a 5G, or Pixel 5 Sorta Sage — but Google could do a lot better.
Where phones from Samsung, Nokia, Xiaomi, etc, all come with interesting, distinct designs and wild colors, Google currently presents the design equivalent of plain porridge, and that's something it should keep exclusive to its 2020 models.
6. The Pixel 6 should have flexible cameras
While the Pixel-line made its name as a camera-focused line of smartphones, recent Pixels have merely coasted on that reputation. The hardware improvements since the Pixel 3 have more or less focused on secondary cameras, with Google opting to keep the same primary sensor while testing out a different style of secondary camera. With the Pixel 3, it had an ultra-wide secondary front-facing camera. Google dropped that in the Pixel 4 but added a secondary rear-facing telephoto lens. It then dropped that for the Pixel 5 for an ultra-wide camera. It does strike as a bit of strategic indecision that isn't reflected in rivals who tend to be more additive rather than subtractive. Combined with the camera lens stagnation, Google's Pixels are on the cusp of pulling a Lumia and falling behind.
ALSO! Didn't really bother posting any head-to-head with the Pixel 5 because the S21 Ultra and iPhone 12 Pro Max are definitively better in almost all shooting conditions.

Google's insistence on using the same old camera sensor every single year has finally caught up to it.ALSO! Didn't really bother posting any head-to-head with the Pixel 5 because the S21 Ultra and iPhone 12 Pro Max are definitively better in almost all shooting conditions.

Google's insistence on using the same old camera sensor every single year has finally caught up to it.— Dieter Bohn (@backlon) January 21, 2021January 21, 2021
This is not to say that the cameras are bad. Google's Pixel 3 was years ahead in that department, but time marches on, and yesterday's years ahead is in danger of simply being yesterday. Google could consider dipping into its past and rolling all of these secondary cameras into a triple or quad-camera layout. It doesn't even have to go overboard with 2 MP macro cameras or 1MP infrared cameras or other ridiculousness that some OEMs saddle their phones with as part of a cynical ploy to inflate the camera count. It just has to match the market and then provide its value add-ons on top.
What do you want to see?
That's what I'm hoping to see in the Pixel 6. It's ridiculously unambitious in its 'faster horse' asks, but I'm a simple man sometimes. Google is aiming to launch a foldable pretty soon, but it'd be nice to see it nail a very good basic smartphone too. I now want to hear from you. What do you want to see in the Pixel 6? Should Google stay the course and keep making phones like the Pixel 5 or should it be grander with its handsets?
Share your thoughts in the comments below and let us know!
Android Central Newsletter
Get instant access to breaking news, the hottest reviews, great deals and helpful tips
Definitely the 888processer, improved cameras, bigger 🔋and maybe a 6.5in display. But I'm sure as rain it won't come cheap. But, I'd be willing to pay up for it!

Well I'm not willing to pay that much for only 4 years of software updates, the SoC in the Pixel 5 is good enough and keeps the price realistic, especially in these uncertain times, I'd only be willing to pay Apple's higher prices because the amazing software support helps to justify it.

Apple phones are 10 years behind Android. I have an all Apple household but their phones are so bad I just can't go there. I'd love to integrate all my devices but I just can't see using an archaic phone, updates are good but there's a whole lot more that is terrible.

while i dont mind some of apples software, i cant stand how much they charge for in reality a meh phone. fhd screen , 60 hz refresh.. they are always behind and when they actually come out with features android phones have already had for over 3 years they act like they invented it lol. compaired my wifes 12 pro to my s21 ultra its not even close.

I will never consider buying a Pixel phone until Google turns them into proper flagships. I don't even think or look at budget and mid-range phones so for Google to entice buyers like me, they need to really up the ante this year.

I agree with most everything.. but I would like to see an in house processor.. the rumored white chapel chip. Plus a bigger battery. My 4xl has an abysmal battery life. I also think it would be cool to do 3 cameras in a camera housing similar to the nexus 6p. I also thought that looked cool

That would seriously help with the long term update support too as it means Google is in the same position as Apple where they control the software and hardware.

#3 - Size
For me, the Pixel 5 is absolutely, 100%, the exact right size. I really really don't want to be carrying around a tablet in my pocket. So yes, make a larger size an option....please. #5 - Nice to look at
Most people put cases on their phones, right? So how important are looks really when all but the front is covered up? I don't know, maybe it's just me, but I don't really care that the Pixel 5 looks boring. It functions very well and has great battery life. Maybe I'm past the point in my life where my phone is a fashion statement 🤷‍♂️

Haha I came by to make exactly the same comment! I think the Pixel 5 size is spot on and always use a case so couldn't care less what the back of the phone is like!

It's not the right size, the Pixel 5 is too small, there should be an option for people like me who don't like small phones and while there is a market for smaller phones it's a minority market.

I don't want a huge tablet-sized phone. I want one that actually fits into my pocket where I can walk normally with it there. I'd love an updated camera, maybe with a wide-angle and a telephoto lens, but I do not want to sacrifice the excellent quality that Pixel cameras exhibit. And while you will see some "experts" tout the latest Apple and Samsung phones with their cameras, when you actually look at side-by-side photos taken with them and a Pixel 4, the Pixel still wins out in almost every scenario. And the Pixel doesn't look ridiculous with a bajillion camera lenses popping out all over like some electronic spider face.

I am very happy with my P4. Bring back face unlock and the squeezy side thing please. Oh, and a bigger battery!

Boring looks are absolutely fine. Make it boring, create a nice case for people who want to pay for that, and put the money saved on the phone body towards something else.

Flagship processor with the size of pixel 5 and updated camera sensors will be a great move.

All of the above plus some additions to the Pixel Launcher that make it easier to use. Steal some ideas from OnePlus like categories to search for in the app tray.

None of those 6 things matter to me. I went from P3XL to P5.. and LOVE it. I have no complaints about the phone, but I don't game or try to make movies. For me, it's a tool, and the looks dont' matter at all, (they usually have cases anyway). I love the display, but then I had no problem with the P3 display either.

I have a P3Xl and love it, the batter is starting to fade some, but still a great device. I have considered the p5 but the camera falling behind has me rethinking. I am currently thinking the G21ultra, but would wait if I knew the 6 was going to be a true flagship and have the features listed. I would also like to see a pixel duo, the MS one looks great, but it is too slow and the camera sucks. A pixel version with great power, cameras and screen would be amazing. Just need to add an epaper display to the outside for time and notifications.

Not having One Handed mode in 2021 is criminal. How about getting the basics right first?

Top of my list is reliable QI hardware. Google introduced wireless charging in the Nexus 5, then they dropped it, got it back in the Pixel 4XL. The wireless charging in my Pixel 4Xl just stopped working after a year. Dejavu, it died after a year with my Nexus 5 also. Better contrast on the display, the 4XL is noticably worse than the 2XL. This should be fixable with software, the customization isn't good enough. After that a better zoom lense, 2X doesn't do much, would like to see 5X or 10X. The test of good enough is to be able to take a picture of a bird in a tree.

It feels like Google never wanted pixels to be a "flagship killer" and they are happy with that. But we shall see...

#1 is right on point! I've just been forced to retire my Pixel 2 XL, which is every bit as capable as it was 3 years ago, simply because my company no longer accepts Android older than 2020-11 patch level to connect for emails and calendars. I see no way I'd be that fool again to spend over $800 on a phone that barely has 3 years' software update. I will either go with an iPhone if I have extra cash, or go with something like a Pixel 4a within 3 months of its launch (so the already-short 3 year support period will not be even shorter).

I agree about the lack of support for older pixel phones (mine was a pixel 2) and don't believe they will change their policy as that means less future sales for newer phones. This annual wish list of desirable features for upcoming new pixels is pointless as Google will do what Google wants and not necessarily what consumers want. So I have a iphone 12 pro max and use 3rd party apps to replace some clunky ios features. Would still be using pixel 2 if support was there.

What I'd like to see is a return of the bezel - no notches or hole punches. Regarding extended support, I suspect the reason for the lack of it on Pixels is due to the exorbitant fees Qualcomm charges (it's something that has been complained about by phone makers in the past).

I am very happy with my Pixel-G 4a 5G. Priced right, nice screen, great performance and battery. And tough too.

I want to see a phone without widespread hardware issues. No separating back panels, no screen/display issues, no bluetooth issues, no speaker, microphone or camera issues. I just want a reliable phone free of defects. Next I would like Google to get away from notches and camera holes. I hate then and they do not offer any worthwhile benefit. Give me bezels like the galaxy s9 and I'm happy. I also want to see the led notification light return. It's way more useful and customizable than the always on display and uses very little battery. I don't need a giant clock on the front of my phone all the time. Just a simple light showing a notification or nothing at all.

I think 3 years is good enough. if that means 3 more than the current OS. if released with 11 it should get 12, 13 and 14.
I do not want a bigger screen 5.7"-6" is perfect. but I agree there should be a larger device option.
it should have the 888, it's an absolute Beast ( have S21 ).
i just want a really really good point and shoot with that signature awesome color accuracy, but way way way faster. an iPhone can take 8 pictures while pixel processes one.
guess i'm one of the few that love the look of the 5, but, i get it, people want sexy. but 99% of the people wanting sexy glass sandwiches will throw a giant plastic case on it and never enjoy the raw phone. I never use cases. I get to feel my phone. not putting a case on it.
They should use the same back Samsung used on the S21.
feels Great. it is NOT cheap feeling (don't believe the cry babies that cry "but but but its not glass, whaaaaaa!)
Bring back plastic glass sandwiches break 10X easier.
12GB ram. Better speakers Not covered by the display.
90hz panel is fine. people get so worked up over numbers.... MOAR!
I want a display that's as good as the S21. the s21 screen is so stupid good. SO good.

6.3-6.5 option please, three proper cameras....standard, ultra wide, telephoto with that Google magic, also throw in a new standard camera. Center the selfie. Left or right makes the front seem off. Keep the same textured back as the 5, but offer more colors. The fingerprint sensor on the back is just fine, no need to add the cruft from the 4 series (which is still my favorite btw). That proper flagship processor as stated above. No less than 8 gigs ram, 128gb storage at a minimum. 120hz. FHD display is fine, no need for QHD. Wireless charging etc. Basically Googles version of the Galaxy S20 FE.

People care how a phone looks? Aren't we past that point? I have NEVER seen anyone looking at a phone with loving stares. You're not taking the figgin thing on a date, it's a PHONE, it's a tool (unless you're a 15 year old girl). Get over it. Sheesh...this place is weird sometimes.

Yet, we compromise our phones with holes and notches, and have curved screens that interfere with use for the sake of looks. I won't buy a phone for looks alone, but if all else were equal and I I had to pick between a phone that was nice looking, and one that was intentionally ugly...

You don't buy a Pixel for how it looks, you buy amd Pixel for the software, the camera and the timely updates, I'm in the market to replace my OnePlus 7T and my nex phone must have at least 3 years of software updates and security patches (Google should be on par with Apple with longer updates), I think Google going with a mid-range SoC is better if it keeps the price down plus the Snapdragon 765g is pretty decent, so in my opinion, the Pixel 6 doesn't need the Qualcomm flagships SoC and should stick with the 700 series of SoCs for all it's Pixel phones.

Yeah, who needs boyfriend/girlfriend when you can have a pretty and handsome phone that is more reliable!

They do need to update the camera hardware, and if they are going to do updates for 5 years, they should not be using a processor with performance equal to three years ago.

Below is what I would like to see in Android 12:
1) Scrolling screen capture
2) Camera tech/software integration that can capture a picture of a moving target (e.g. a toddler, pets etc) blurry free (i.e. >=95% of the time)
3) A Theme Engine
4) Excellent battery standby time optimization
5) Lockscreen weather animation (e.g. like flagship LG phones)
6) An End-to-End encrypted RCS application w/ Link Previews
7) Better privacy overall (e.g. like iOS)
8) Battery charge animation options
9) A customizable Always-On-Display
10) A ringtone store (e.g. kinda like what iOS has)
11) TWRP:Teamwin type complete system backup and restore
12) Picture-in-Picture resizable windows for any application
13) Dual SIM support
14) Multi-user profile support
15) Parental Controls
16) >= 5 yrs of Android OS Upgrades & Monthly Security Updates
17) Native Samsung Stay and Samsung Dex type software
18) Ability to easily highlight and extract text from an image, without the need of a sPen

I agree with the 5 years of updates and the privacy suggestions for Android 12 and the next Pixel but don't care about the rest.

The last two alliterations have been a case of Google trying to be too clever. Pixel 4 with Soli and the Pixel 5 with its aluminium build and maintain under display speaker.
Next time give people what they want , good storage, great camera,great battery life , stereo sound and great screen .

Love to go back to Google but my Huawei P40 pro with Google services is the best phone I have ever had.
The Cameras are so good and the battery life lasts almost two days with always on display.
So come on Google sort out some killer cameras and great battery life and I might switch back.

I own a Pixel 4XL that I upgraded from the 2XL and was somewhat happy with it... Until the pandemic hit. In the age of of everyone mandated to wear face masks for safety, it rendered the face unlock completely useless. Was happy that the 5 and 4a series went back to fingerprint sensor and have considered getting the 4a 5G just for the fingerprint sensor but still have another $200 left to pay for this device. That said, my wish is for the 6 is to have an XL version AND DO NOT GO BACK TO FACE RECOGNITION! My wife has a 3XL with some battery stamina issues but still works nicely and she mocks me ab having to either pull down mask or enter pin to unlock in public. Google should eliminate the "gimmicks" from their devices and just build a stable, well-running device. Now that the ranting is done, I own a DSLR and 95% of photos I take are with it so camera is fine now as it is. Bezels do not bother me at all. Finally, I guess my final wish (one I know will be a miracle if they do it) is to once again put a microSD slot back on it, even if it takes away water-proofing. Again, I take a lot of high-res pics with DSLR and they take up most of my memory space. To summarize: 1. Keep the fingerprint sensor. 2. Looks ain't everything, and include an XL version 3. MicroSD support. Thanks for listening.

The comments about design always crack me up. Seriously? Who cares? A great feature packed phone does not need to look sexy, especially since it usually lives in a case. C'mon

I think this is something that matters to reviewers, because it puts them in a bind. A review is itself something to be criticised, and the most vocal critics in the audience are the "How could you..." mob. "How could you give this phone 10/10 when the body looks bad?" "How could you give this videogame 10/10 when the graphics aren't exceptional?" "How could you rate this Album of the Year when the lyrics are so-so?" They want to be able to tick the box for everything that could possibly matter to everyone, so the shell ends up being over-important.

Totally agree re longer software update period but disagree on most of the rest! Size is excellent (although fair enough have an XL option for those that want it), couldn't care less about looks as the phone will be in a case. Pixel 5 is good vfm and takes great photos, better than many other devices with theoretically better cameras.

So you want them to have an excuse to ask for $900. 🤦

I would like to see the Pixel 6 support wifi 6 and preferably wifi 6e. I have a Pixel 2 and keep a phone for 3 years. I won't buy a Pixel 5 because it doesn't support wifi6. Can't wait until Oct for the Pixel 6, so maybe OnePlus 9 or Galaxy S21.

I don't even know what color my wife's Pixel 3 is because it went into its Google case on day 1 and has never come out. Plain black boxes are fine. I can't see the need for an 888. It's like cars; it makes little difference if one has 200HP and the other has 400HP if they are both in the same traffic, and phones are basically connected devices and therefore stuck in the Internet traffic. More important are things like wifi standard, 5g bands, ease of charging and battery life, so if there is a 7 series SoC that does the job, use it and save the end user some money.
Proper loudspeakers both ends though, the Pixel 5 under screen speaker is the main reason I didn't buy on. I'm somewhat deaf and the audio just isn't good enough. Sony can produce superb speakers, Google can use them.
No gimmicks. Fingerprint reader. And stick with the form factor, it is big enough.

should be titled "6 things we wont get"

I just hope it isn't plastic like the Pixel 5. Google advertised that phone as being 100% aluminum when in reality the entirety of the phone is coated in plastic. Truly scummy marketing and it lead to a terribly cheap feeling product.

I am back on the Pixel 3 as it has the finger print sensor. With the MASK mandate, opening the pixel 4 is a pain, especial putting in a password for apps all the time. We need two face unlocks, normal and with MASK. If the P6 comes with finger print unlock or some thing simple that also unlocks apps requiring a password, then that will be my next phone. Battery life and charging is a biggie we have not had in a long time, other brands do, so Google why not bigger batteries?

A useable Samsung DeX alternative via USB-C to HDMI out would be awesome (Android Desktop mode). Google would need to spring the money for the USB Type C, HMDI Alt mode driver chip. Tom's Hardware quote:
"HDMI support
We appreciate that Google wants to encourage people to buy a Chromecast, but there is no excuse for the Pixel 6 not to support HDMI video out via a USB-C to HDMI connector. Being able to hook your phone up to a TV in this way is super convenient, especially when traveling. Having to use a Chromecast (not to mention having to buy one in the first place) to get content from your phone to a TV feels so archaic, so this is something that Google could easily fix."
Android Central Newsletter
Get instant access to breaking news, the hottest reviews, great deals and helpful tips
Thank you for signing up to Android Central. You will receive a verification email shortly.
There was a problem. Please refresh the page and try again.