Bottom line: The ASUS ROG Phone 3 is built for mobile gamers who crave performance, silky-smooth frame rates, and thunderous audio. As a result, it absolutely flies through any task you could possibly throw at it — including the most demanding mobile titles. But this gaming performance comes with some compromises. It's heavy and bulky, lacks water resistance, and includes a camera setup that's mediocre for the price.
Pros
+

Silky 144Hz display

+

Rich, boomy audio thanks to dual speakers

+

Big battery for marathon play sessions

+

Enviable gaming performance, especially with active cooling attachment

+

Clean, pleasant software (once you switch off the ROG theme)
Cons
-

Big, heavy, and slippery

-

Display grain and shadow crushing at low brightness levels

-

No water resistance

-

Middling camera for the price.

-

No wireless charging
Why you can trust Android Central Our expert reviewers spend hours testing and comparing products and services so you can choose the best for you. Find out more about how we test.
Of all the gaming smartphones to come and go in recent years, ASUS's ROG series has proven to have the most staying power. They're built on the same foundations as its Zenfone series, but tuned and tailored to mobile gamers with the features, insane hardware grunt, and (of course) gratuitous LEDs they've come to expect.
The third iteration in the series doesn't upend what made the first two ROG Phones such successes in some parts of the world. Instead, ASUS has refined the formula, bringing improved visuals, sound, performance, and thermals for 2020. It's an iterative update, but the changes add up to more than the sum of their parts.
The ASUS ROG Phone 3 isn't your typical smartphone — even though it's perfectly competent at most phone tasks, and excels at its mobile gaming focus. There are still some trade-offs, and if you're not a committed mobile gamer, you may find its priorities a little askew.
ASUS ROG Phone 3 Design, display, and audio
Pick up the ROG Phone 3 for the first time, and it's instantly clear that this is a serious piece of hardware. It's a sizable presence in the hand, and the weight of the metal frame and cooling apparatus are immediately apparent. At 240 grams, it surpasses even the Samsung Galaxy S20 Ultra in weight.
The screen size of 6.59 inches is on the large side for a modern phone, but the extra real estate taken up by the front-facing speakers and gigantic battery makes it feel even chunkier. This phone, quite obviously, prioritizes power over pure aesthetics.
That's not to say it's an unattractive handset — though the design is very much in line with the ROG brand's sci-fi, LED-heavy design language. The gunmetal trim sports a matte texture and engraved "ROG" logos over the pressure-sensitive air triggers near the corners. ASUS's side-charging port makes a return, protected by a (fiddly) rubber shield out of the box. That's where you'll plug in to charge while gaming, or attach accessories like the AeroActive cooler. Meanwhile, the back glass is stamped with oversized ROG branding that, naturally, is equipped to light up as part of the built-in LED system.
Image 1 of 2
The back panel also provides a transparent window onto the ROG Phone 3's unique cooling system — an enormous heat sink that's six times larger than its predecessor's, including a larger vapor chamber. Above that area, a real ventilation grille to aid with heat dissipation (as well as being the reason this phone isn't water-resistant.)
The rounded sides and curved rear panel make the ROG Phone 3 comfortable during long gaming sessions, but as a side effect, it's also a bit of a slippery fish. The back glass, in particular, tends to let the device slide its way off soft or uneven surfaces, much more so than the average glass smartphone.
But if you're a heavy mobile gamer, you probably care more about what's on the front. The 6.59-inch Full HD+ AMOLED panel sports a ludicrous 144Hz refresh rate with a 270Hz touch sampling rate, as well as 10-bit HDR10+ support. As you'd expect, the panel is gloriously smooth whether you're playing a game or scrolling through tweets. The phone is configured to tweak the refresh rate automatically by default, but for battery-conscious gamers, there's also a quick settings toggle to quickly hop between 144, 120, 90, 60Hz, or the default "auto" setting.
The display's stupendous refresh rate does come with a couple of trade-offs, though. At low brightness levels, there's a noticeable effect grain in certain areas, especially patches of white and light grey. Shadow details are also crushed, making details difficult to make out at that minimum brightness level.
Image 1 of 3
Also lurking within that superfast display is an in-screen fingerprint, which is slow to set up but fast and reliable to use. There's a fallback face unlock feature which works well, though this can't be used to authenticate payments through Google Pay.
The other major area of focus has been the ROG Phone's audio system. The device still has stereo front-facing speakers, but these have been upgraded with a new 7-magnet setup and tuned by Swedish audio firm Dirac. The result is a speaker setup that's not only loud, but rich and bassy — reminiscent of the glory days of HTC's BoomSound. Even some entry-level smart speakers will be put to shame by the ROG Phone 3's audio quality. For the device's target audience, this industry-leading sound system is well worth the extra vertical bezel space compared to the average flagship.
ASUS ROG Phone 3 Performance and battery life
ASUS has, once again, gone all out on sheer performance with the ROG Phone 3's spec sheet. It's one of the first phones to arrive with Qualcomm's Snapdragon 865+ processor, a higher-binned version of the 865 capable of reaching clock speeds of 3.1GHz in its high-performance cores.
While different SKUs offer varying storage and RAM configs, we've been reviewing the ROG Phone 3 in its top-end variant with 16GB of RAM and 512GB of storage.
ASUS ROG Phone 3 Specifications
Swipe to scroll horizontally
Category
Features
Processor
Snapdragon 865+, 3.1GHz
UI
Android 10 with ROG UI
Memory/Storage
LPDDR5/UFS3.1
12GB/128GB, 12GB/256GB, 12GB/512GB, 16GB/512GB
SD
No, but NTFS support for external HDD
Main Camera
64MP SONY IMX686 sensor, 0.8 μm pixel size - Quad Bayer technology with 16MP, 1.6 μm large effective pixel size, F1.8, 1/1.7" sensor, 2x1 OCL PDAF, LED flash
Second Camera
13MP, 125 ̊ ultra-wide, F2.4
Third Camera
5MP Macro, F2.0
Front Camera
24MP, 0.9μm, Quad Bayer Technology, F2.0, 27mm equivalent focal length in 35mm film camera
Speaker
Dual front-facing speakers with GameFX & Dirac HD Sound 7-magnet stereo speaker with dual NXP TFA9874 smart amplifier for louder, deeper and less distorted sound effect
Microphone
Quad microphones with ASUS Noise Reduction Technology
Wireless Technology
WLAN 802.11a/b/g/n/ac/ax 2.4 & 5GHz and Wi-Fi 6, 2x2 MIMO, Bluetooth 5.1, Wi-Fi Direct support
SIM Cards
Dual SIM dual standby. 5G/4G/3G/2G NanoSIM. 5G+4G or 4G dual SIM dual standby support; 5G services are only supported in 5G network-enabled locations in 5G-ready countries.
Interface
Side-port: 48 pin Customized/Type C connector USB3.1 gen2/DP 1.4(4K)/Fast Charging | (QC3.0+QC4.0/PD3.0) / Direct Charge / Bottom-port: Type C connector USB2.0/Fast Charging (QC3.0/PD3.0)/Direct Charge
Battery
6,000mAh
Charger
Output: 10V 3A, supports up to 30W QC4.0 / PD3.0 / Direct Charge adapter
Dimensions
171mm (6.73 inches), 78mm (3.07 inches), 9.85mm (0.39 inches)
Weight
240 grams (8.47 ounces)
Note: ASUS will also ship an ROG Phone 3 Strix Edition powered by a regular Snapdragon 865, with 8-12GB of RAM and 128-256GB storage.
ASUS isn't content to just use the most advanced mobile SoC available to Android phone makers, though. It's hoping its elaborate new cooling system will help the Snapdragon 865+ maintain those top clock speeds for longer while gaming — vanquishing (or at least mitigating) the evil of processor throttling. The company's GameCool 3 tech provides the most comprehensive cooling built into any Android phone we've tested, ensuring heat is quickly dissipated from the CPU, GPU, and 5G modem. During longer game sessions, the area around the heatsink and vent would heat up noticeably, a sure sign of that whole assembly doing its job.
If you want to take your battle against throttling to the next level, ASUS's AeroActive Cooler 3, which was included with our media kit, connects to the phone via its side port. Under lab conditions, it allows the phone to maintain its maximum clock speed of 3.1GHz indefinitely.
We tested it in Procedural Prophet's CPU Throttling Test app, and the phone ran at peak clock speeds for a total of an hour without throttling, staying in the green zone of between 80 and 100 percent performance based on that app's metrics. An impressive feat, though your mileage may vary based on ambient room temperature, signal strength, and other factors.
The accessory will be familiar to veteran ROG Phone fans, and the newest version of the AeroActive Cooler comes with the added bonus of having a built-in kickstand and headphone jack. (The 3.5mm port is absent from the phone itself.)
Maxing out a Snapdragon 865+, of course, is going to quickly take its toll on any smartphone battery. Fortunately, then, the ROG Phone 3 comes with the largest battery in any flagship smartphone — a capacious 6,000mAh cell that's total overkill for everyday smartphone stuff, and reassuringly beefy for gaming on the go.
With heavy everyday use, I was approaching nine hours of screen-on time across a full day of use. Throw heavy gaming into the mix, and you'll eat into that figure. Nevertheless, it takes some serious concerted effort to kill off the ROG Phone 3 in under a day.
When it's time to refill, ASUS includes a 30W charging brick in the box, which works over Qualcomm Quick Charge 4.0. In a briefing ahead of the phone's announcement, ASUS pointed out that the battery's enormous capacity and quick charging speeds allow the ROG Phone 3 to charge up to 4,510mAh in less time than a separate 4,510mAh-rated battery would take to reach that level of charge. If you're not gaming the entire time, chances are that's more than enough for a full day's use.
To make sure rapid charging doesn't diminish your battery's long-term health, the ASUS PowerMaster menu can let you set a battery charging limit — for example, at 80 percent to avoid the battery health impact of a full charge every day. Or you can set scheduled charging times for a slower overnight charge that'll still leave you with a full battery in the morning.
There's no wireless charging included though, somewhat disappointingly — a conscious decision on ASUS's part for thermal reasons.
ASUS ROG Phone 3 Software and features
The ROG Phone 3's software is every bit as gaming-focused as its hardware. It's based around Android 10 with ASUS's ROG UI — though the visual part of this somewhat jarring smartphone skin can easily be switched to the "classic" theme, which is basically the ZenUI interface seen on ASUS's Zenfone devices.
So if you're put off by a phone UI that looks like the bridge of a Klingon Bird of Prey, you'll probably be a lot more at home with this alternative, stock Android lookalike skin.
However you configure the ROG Phone 3's look and feel, you'll have the same loadout of gaming features at your disposal. The Armory Crate is where you'll be able to tweak and tune the attached LEDs, fans (if you're using the AeroActive Cooler), and even the clock speed of the Snapdragon 865+ processor through "X-Mode."
Profiles can be set on a per-game basis, or based on whether you've got the AeroActive Cooler attached. (The highest performance preset, which maxes out the CPU, can only be enabled with active cooling — probably because without it, it'd immediately throttle back down to a lower clock speed.)
When you're not using these gaming features, they fall pretty easily into the background, with quick settings controls for refresh rate, X-Mode, LEDs, and Air Triggers. These are the ultrasonic virtual buttons on the outer edge that work like shoulder buttons in games. Outside of games, Air Triggers serve as an extra programmable button, letting you bind an app or other function to a long or short squeeze of the lower portion of the phone.
For getting the most out of demanding games, you'll find plenty of tweaking options here. And for regular smartphone duties, the ROG Phone 3 can morph back into a fast, vanilla Android phone with all the software capabilities you'd expect.
ASUS ROG Phone 3 Cameras
By design, mobile photography is not the ROG Phone 3's specialty. If that's your main priority in a phone, ASUS will direct you towards its Zenfone line, which is due for an update pretty soon.
Nevertheless, the ROG Phone 3 includes a triple camera setup around the back, led by a 64-megapixel Sony IMX686 sensor behind an f/1.8 lens. Disappointingly, there's no optical image stabilization included, putting the phone at a disadvantage in darker conditions. Despite its optical deficiencies — at least compared to similarly priced mainstream phones like the OnePlus 8 Pro — the ROG Phone 3 puts in a decent showing. Photos are generally clear, with accurate colors and even exposure, though with some shadow crushing and underexposure in overcast outdoor scenes.
Image 1 of 8
In low light outdoors or dark indoor scenes, the lack of optical stabilization quickly becomes apparent, as the phone falls back on its software night mode to keep things clear.
That goes doubly for the relatively mediocre ultrawide camera, which was prone to vignetting and chroma noise when used in anything other than daylight. The phone does, however, benefit from 8K video recording, thanks to its beefy internals, as well as electronic video stabilization for your clips.
(If you're so inclined, the ROG Phone 3 works pretty well with many of the various hacked versions of GCam (Google Camera) available online.)
Selfie performance is more in line with the competition, with the ROG Phone's 24MP f/2.0 front-facing camera producing clear shots with ample dynamic range, though with some loss of fine detail.
Overall, if you're after a great camera phone around the €1000 mark, you should probably look elsewhere. The ROG Phone 3's setup misses out on table-stakes features like OIS and telephoto, which will feel like big omissions if you're a photo-centric buyer.
ASUS ROG Phone 3 The Competition
For around the ROG Phone 3's €1000 price point, you can take your pick of any number of dependable mainstream Android flagships, though none can match the hardware grunt of ASUS's device. If you're more of a casual gamer, or less concerned with maxing out frame rates or having the largest smartphone battery every at your disposal, the OnePlus 8 Pro or Galaxy S20 Plus both offer a more hand-friendly chassis and superior cameras.
In the mobile gaming, space, you have quirky outliers like the Nubia Redmagic 5G — not yet available in the West, and with software not really designed for use outside mainland China. But hey — there is a built-in cooling fan, meaning you get active cooling without the need for a clunky attachment.
Otherwise, it's likely you're looking at a discounted ROG Phone II. Last year's model lacks the sheer performance of its successor — and an inferior camera — but boasts similar features and a still silky 120Hz display.
ASUS ROG Phone 3 Should you buy it?
Who it's for
If you want the fastest mobile gaming experience.
If you want a gigantic battery more than features like wireless charging.
If performance is more important than a good camera.
If you want a supremely smooth display more than QHD resolution.
Who it isn't for
If you're a big mobile photographer.
If you're averse to gratuitous LED badges.
If you're just not that big on mobile gaming.
If you want something thin and light.
Make no mistake: The ASUS ROG Phone 3 is a specialist handset aimed at a niche audience. If you're not gaming on your phone almost every day, chances are you'll be better served by one of the other great Android flagships out there.
But if mobile gaming is a big part of your lifestyle, you'll find the ROG Phone 3 is a device catering to exactly that lifestyle — though with some necessary compromises to avoid a price tag running well into four figures.
4 out of 5
ROG Phone 3 buyers will get a capable pocket-sized gaming rig with smooth performance, silky visuals, booming audio, and easy all-day longevity. But in so doing, they'll sacrifice camera quality as well as features seen as table stakes elsewhere in the high-end space, like wireless charging and water resistance.
If that sounds like a fair trade-off to you, chances are you'll have a lot of fun with the ASUS ROG Phone 3.
Absolute unit
ASUS delivers a gaming powerhouse that cuts corners in some other areas.
The ASUS ROG Phone 3 is built for mobile gamers who crave performance, silky-smooth frame rates, and thunderous audio. As a result, it absolutely flies through any task you could possibly throw at it — including the most demanding mobile titles. But this gaming performance comes with some compromises. It's heavy and bulky, lacks water resistance, and includes a camera setup that's mediocre for the price.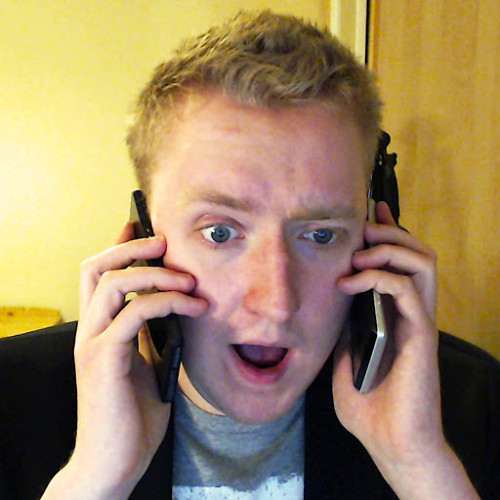 Alex was with Android Central for over a decade, producing written and video content for the site, and served as global Executive Editor from 2016 to 2022.