Samsung phones will now get three years of OS updates going back to Galaxy S10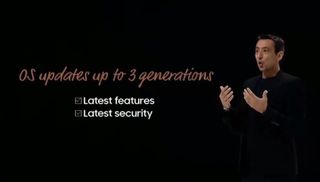 (Image credit: Samsung)
What you need to know
Samsung will begin keeping its phones updated with three years of OS updates.
Samsung's latest phones, the Galaxy S20 and Note 20 series, will get updated to Android 13.
The process will begin with the Galaxy S10, ensuring that the 2019 models get Android 12.
At its virtual Unpacked event today, Samsung announced that it would begin offering "three generations" of updates to its Samsung Galaxy phones. This means that newer devices like the Galaxy S20 and Note 20 series will likely get updated to Android 11, Android 12, and Android 13, along with three years of accompanying monthly or quarterly security patches. The promise goes back one generation to the Galaxy S10 line, which will get updated to Android 12 (since it started its life on Android 9 Pie).
Currently, most Samsung flagship phones get two OS updates and two years of monthly security patches, moving to quarterly patches in the third year. We awarded the company a B- during our latest Update Report Card for that reason.
The Note 20 will ship with One UI 2.5 when it launches on August 21, a minor update over the existing One UI 2.1 that's currently on the S20 series. Among other features, it will also support Android gestures in third-party launchers.
It's not clear when Samsung will update its 2020 lineup to Android 11, but Google is expected to release it to Pixel devices on September 8. It usually takes a few months for Samsung to port over One UI to the new version; it took until January 2020 for the S10 and Note 10 lineup to receive Android 10, for instance.
The one to get
(opens in new tab)
Samsung Galaxy Note 20 Ultra
It's more expensive, but you won't regret it
The Note 20 Ultra is the proper Note this year, with all of the latest specs and features you expect. It's also arguably a better buy than the Galaxy S20 Ultra.
Android Central Newsletter
Get instant access to breaking news, the hottest reviews, great deals and helpful tips
Daniel Bader was a former Android Central Editor-in-Chief and Executive Editor for iMore and Windows Central.
This is brilliant news and I know it doesn't match Apple support etc but I think 3 years of Android updates is fair! and the very least customers should expect when flagships such as these are hitting big bucks.

Agree, Android tends to move faster and need more hardware than iOS (not a ding on either side). This means fewer "new" things would be able to work on 3 year old hardware. Plus Apple updates for longer, but doesn't bring some features to old devices because they need some hardware that the old phones just don't have.
Most people update their phones in 3 to 4 years so 3 years of updates is pretty good.

Now this is good news. I have an S10E and Sammy has been updating on par with OnePlus.

This is fantastic! I'm paying top notch money for your phones, offer better support! People usually keep their phones for 3 years! Great job Samsung now if we can get faster updates

Great news. 3 years of OS updates should be the minimum

IDK call me cynical but the key words here are "up to" which, to me, translates to "maybe but no promises".

Wish it went back to the S9.

You and me both. I have the S9+

Me too. Hope they reconsider the S9. I prefer the way the display is, size, LED and headphone jack.

Is that just for the flagships, or does it include the A line?

Wow, that's the most exciting thing from my perspective in today's launch. This is LONG overdue. I may update my S8 to an S10.

Putting that into perspective and looking at the update support since the s7 that means that Samsung will have: 3 major OS updates.
3 years of monthly security patches.
4th year of quarterly security patches. That beats the like of Oneplus who give: 3 major OS updates
3 years of bi monthly security patches. And even Googles pixel devices who have: 3 major OS updates
3 years of monthly security patches. About time from the major OEM of Android. This applies to flagships not sure about the mid rangers 🤔. Not far off Apples 5 years of iOS updates. Potentially that means my Galaxy Note 10 plus will receive updates into 2022 👍😊

Indeed. Should be for every phone barring gas station burners etc. Very pleased with my A71, and it cost me $550 CAD. Not much to ask that it gets a couple years of OS and security updates I don't think.

Actually this is the biggest news regarding the Samsung-Microsoft partnership. This is the way to bring Android smart phones back on the table as option for enterprise. The biggest reason iPhones were gaining ground in Enterprise is the lack of official support from Android vendors.

Don't get too excited because while you will get the updates, eventually, Samsung will always prioritise they're current phones first while all iPhone users get the iOS updates together which is better.

Glad to know my Note 10+ will be supported for a few more years. It makes sense; we spend top dollar on these phones, they should be supported heavily.

Well it's a step in the right direction for Samsung with 3 years of OS updates but still nowhere near as good as Apple but it's a start at least, especially with how much Samsung flagships cost now. And of course Samsung will prioritise their current flagship with the updates unlike us iPhone users which will get the iOS update from day one worldwide.

Dude, I thought you would busy with your new phone today! Was there a delay, or did you get it all set up already?

There was an initial delay of my iPhone but it came eventually and I'm fully setup using the mover to iOS app and I'm super impressed with it, especially the camera and battery life which are both amazing but to be honest, iMore is having a slow news drought lol.

@Altema22, I've had no issues with my iPhone 11 Pro Max, well apart from when I get a FaceTime call, if I'm using my Bluetooth headphones, it gets disconnected even though they're still connected to my iPhone, and yet when I've finished my FaceTime call, it's fine oh and my iPhone gets warm even though I've just been browsing the web and watching YouTube but to be fair it's been hot over here in the UK lately but I'm sure that's not the reason but other than those things I'm really loving my iPhone, and cannot see myself going back to Android, especially as I'm getting an iPad and Apple Watch soon.

Your iPhone is getting warm because of that A45 bionic flux capacitor. Lol
Seriously though, my wife's iPhone was pretty darn hot when restoring. But after that, everything cooled down.

Ok, so now we have Google, OnePlus and Samsung offering 3 major updates (pending to see how well Nord is supported). Other OEMs need to pick up the slack.

I like this. My only concern is the carriers, they don't care what the phone companies want.

Finally! Samsung has heard my – both silent and loud – prayers and pleas, especially since I bought my Note10+. This is something I wrote about somewhere: A device like the Note, catering primarily(?) to the business crowd, should get 3 years' worth of OS updates, along with a minimal 3 years of security ones (which really should be 5, but I'll take the 3 – for now).
Added to that, there should always be better supports for your highest-cost tier models.

Some A series phones like A71 and A51 will get 3 years of updates like s20. Since A50 and A50s are popular, can we support A50/A50s, A60/A60s, A70/A70s and A80/A80s for 3 years?

I mean can we software update A50/A50s, A60/A60s, A70/A70s, A80/A80s for 3 generations too?

Please reply if u have read my comment and help me create a petition or sth so we can spread the message to Samsung. If we do this, Samsung may consider extending support to said A series phones
Android Central Newsletter
Get instant access to breaking news, the hottest reviews, great deals and helpful tips
Thank you for signing up to Android Central. You will receive a verification email shortly.
There was a problem. Please refresh the page and try again.