Alleged first look at the Google Pixel 6 reveals a drastic design change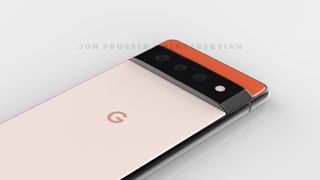 (Image credit: Jon Prosser)
What you need to know
Alleged renders of the Google Pixel 6 have emerged for the first time.
The images show a drastically different design language for the device.
The Pixel 6 is rumored to launch later this year towards the fall.
After rumors swirled for some time about Google's next flagship Pixel, leaker Jon Prosser revealed images of Google Pixel 6, giving us our first look at what the device will look like. The images (below) show a very different Pixel than what we've seen from the last few models, thanks to a fairly drastic change in design.
On the display side, Google has moved the selfie camera to the middle of the display, which matches previous rumors of the device. The Pixel 6 is also allegedly going to feature an in-display fingerprint sensor, moving away from the rear sensor.
The camera array has also been changed from the stove-like design found on its predecessors like the Google Pixel 5. It's now a protruding horizontal array with two or three camera sensors, depending on the model. The details of the cameras are unknown, but based on Google's track record, it can be expected that the sensors won't push the needle in terms of resolution.
Image 1 of 9
Apparently, Google is now only switching up its design but also its naming scheme. Instead of releasing an "XL" model, Google is releasing both a standard Pixel 6 and a Pixel 6 Pro, following the trend of some of the best Android phones released this year. At first glance, the major difference between the two models appears to be the number of rear cameras.
As with the Pixel Watch leak, Prosser notes that the renders are recreations based on images that he received of the device, so take them with a grain of salt, especially since the renders are likely somewhat exaggerated. That said, Android Central believes these renders to be accurate.
Another leaker, Max Weinbach, appears to validate the updated design to an extent:
I can independently confirm the Pixel 6 renders are accurate in design, but color isn't.I can independently confirm the Pixel 6 renders are accurate in design, but color isn't.— Max Weinbach (@MaxWinebach) May 13, 2021May 13, 2021
Google was not immediately available for a response.
The Google Pixel 6 is currently rumored to launch later this year, featuring a custom-built, in-house SoC from Google dubbed "Whitechapel." It is expected to launch alongside the rumored Pixel Watch.
How do you feel about these leaks? Do they get you excited for the Pixel 6?
Android Central Newsletter
Get instant access to breaking news, the hottest reviews, great deals and helpful tips
Derrek is a long-time Nokia and LG fanboy who loves astronomy, videography, and sci-fi movies. When he's not working, he's most likely working out or smoldering at the camera.
I can not stand Jon Prosser, that dude is an attention seeking blow hard, but if Max Weinbach is backing this up I might believe it.

He's never wrong, you know. Just ask him. 😉

Nobody cares about Pixel phones except for Android Central and Google fanboys.

Um ok...why even post your comment?

you couldn't be more wrong. as an iPhone 12 mini user. The pixel is the "Apple/iOS" of android. the OS is smooth and clean, like iOS. Zero bloat. has custom features that no other phone has.
i have the S21 and Love the mess out of it. One UI is fantastic. But Pixel OS is also very very good. My Pixel 5 is my favorite android phone since the original Moto X.
I love iOS too, but I don't have to hate google to like iOS. Android is a fantastic phone platform and I glad for the competition or Apple would never change anything.

You seem like a Samsung troll as your always pumping up how Samsung devices are so good and everything else is bad. That's your MO on most comments on multiple stories. Word of advice is give it a rest.

Can the phone even lay flat with a camera bump like that?

Maybe with an OtterBox. No slim case for this one, if real.

Do any of the 2021 flagships lay flat? At least this doesn't wobble I guess.

Many phones are now the same way. Apple, Samsung...all the camera humps are too big now. Funny thing is, people made fun of windows phones for that same reason back in the day....but now seem to have absolutely no problem with these massive cameras! 🤦

I had a yellow Nokia Lumia 1020 with huge camera bump on the back. I found it made it much easier to pick the phone up. I never put a case on that phone. Whatever it was made of seemed nearly indestructible. Turned in a Lumia 950 XL for a Pixel 2, now on a 4, and expecting to get a 6 when they're available.

Something to consider is that Google likely had multiple aesthetic design options, so while I don't doubt the images (mostly) realistically represent a prototype, the final product could be quite different. Though with how much I personally love the look (which would no doubt be polarizing, but at least they're looking to add some flair), if they chose a different design I'm only even more excited to see what that could be.

I'm in to it. Looks like it would lie nicely flat on a table.

Looks like something you use to play Pokémon Go.

That back is fugly, but I'm still very interested as I'm looking for a 5G phone and OnePlus has gone down the toilet. I hope the specs are a winner. I'll just slap a case on it so I won't see the ugly back. They will probably release a more conservative color scheme as well anyway.

I think this looks great! As Google seems to be taking inspiration from Samsung and Huawei. Finally a pro model...let's go!

I liked it. It is a little different design and it is good.

I've had pixel phones and OnePlus phones honestly I prefer my s21 ultra to all of them one ii is actually quite good.

Just play along. Beno was a massive Pixel fan a few years ago, LG before that, then OnePlus, iPhone last year and now onto Samsung. He just floats from device to device saying its the greatest ever and everything else sucks 🙂

I just think Pixel sucks next to Samsung and I like OnePlus except for their terrible updates policy but overall Samsung is the best and I wish I'd used Samsung sooner.

This has HTC design all over it.
Android Central Newsletter
Get instant access to breaking news, the hottest reviews, great deals and helpful tips
Thank you for signing up to Android Central. You will receive a verification email shortly.
There was a problem. Please refresh the page and try again.