Snapdragon 888 benchmarks: Here's why you should be excited for 2021 phones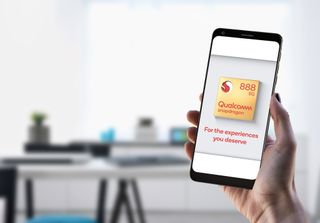 (Image credit: Qualcomm)
The Snapdragon 888 is all set to make its way into the best Android phones starting early next year, and there's a lot of reasons to be excited for the chipset.
Qualcomm detailed the changes at the launch of the Snapdragon 888, claiming that the chipset features a 25% uptick in CPU performance and a huge 35% uptick in GPU performance over the Snapdragon 865. The chipset also includes an integrated 5G modem, offers sizeable improvements to the ISP, and has an AI engine that's twice as fast.
Qualcomm is now backing up those claims by offering the first benchmark scores of the Snapdragon 888 reference design (QRD). The reference design is a phone that features the Snapdragon 888, and Qualcomm usually flies media out to its HQ to go hands-on with the device to get a first look at the performance on offer.
But seeing as how that's not possible this year, Qualcomm ran the benchmark scores itself and shared the findings. The reference design is running the Snapdragon 888 with the Cortex X1 core at 2.84GHz, three Cortex A78 cores at 2.42GHz, and four energy-efficient cores at 1.80GHz. It has a 6.65-inch FHD+ screen with 120Hz refresh rate, 12GB of LPDDR5 RAM, 512GB of UFS storage, and a 3780mAh battery.
Snapdragon 888 benchmarks: Evaluating CPU and GPU performance
The Qualcomm reference design gives us an early look at what the Snapdragon 888 can achieve, and while these scores will differ to consumer devices like the Galaxy S21 or Xiaomi's Mi 11 series, they serve as an initial baseline. I'm pitting the reference design against the Snapdragon 865, Snapdragon 765G, Exynos 990, A14 Bionic, and the older Snapdragon 855+ to give you an indication as to just what the Snapdragon 888 has to offer.
CPU
Geekbench 5.0 (Higher is better)
Swipe to scroll horizontally
| Device | Single core | Multi core |
| --- | --- | --- |
| QRD (SD888) | 1135 | 3794 |
| iPhone 12 (A14 Bionic) | 1591 | 3467 |
| OnePlus 8T (SD865) | 894 | 3337 |
| Note 20 Ultra (Exynos 990) | 928 | 2778 |
| OnePlus 7T (SD855+) | 785 | 2792 |
| OnePlus Nord (SD765G) | 620 | 1929 |
Geekbench is a great indicator of the CPU performance for both single- and multi-core workloads. Starting with the single-core scores, it's evident that Apple's A14 Bionic still has the lead in this particular area. That has been the case for several years now, and while the Snapdragon 888 has the new Cortex X1 core and delivers a 22% gain over the Snapdragon 865, it still doesn't quite measure up to the A14 Bionic.
The Exynos 990 tends to do well in these single-core tests because of the custom Mongoose M5 core. But where it falls short is the multi-core results, with the chipset on par with the Snapdragon 855+. On that subject, the Snapdragon 888 pulls out ahead of the A14 Bionic, and is 12% faster than the Snapdragon 865.
It's particularly interesting to see the gains offered by the Snapdragon 888 for multi-core workloads, and this bodes well for 2021 Android flagships.
AnTuTu 8.3.4 (Higher is better)
Swipe to scroll horizontally
| Device | Overall |
| --- | --- |
| QRD (SD888) | 735439 |
| iPhone 12 (A14 Bionic) | 568932 |
| OnePlus 8T (SD865) | 589662 |
| Note 20 Ultra (Exynos 990) | 527718 |
| OnePlus 7T (SD855+) | 496783 |
| OnePlus Nord (SD765G) | 329433 |
AnTuTu gives us a broad overview of the system-level performance across the CPU, GPU, memory, and UX. The Snapdragon 888 edges out the Exynos 990 and posts a score that's nearly twice as high as the Snapdragon 765G-powered Nord.
The Snapdragon 888 also handily beats out the A14 Bionic and Snapdragon 865, and is essentially in a league of its own. That said, I wouldn't put too much faith in AnTuTu numbers, and we'll have to wait and see if these gains make a tangible difference in real-world scenarios.
GPU
GFXBench Aztec Ruins (Higher is better)
Swipe to scroll horizontally
| Device | Vulkan 1080p (Offscreen) |
| --- | --- |
| QRD (SD888) | 86 |
| iPhone 12 (A14 Bionic) | 99 (Metal) |
| OnePlus 8T (SD865) | 57 |
| Note 20 Ultra (Exynos 990) | 50 |
| OnePlus 7T (SD855+) | 48 |
| OnePlus Nord (SD765G) | 23 |
GFXBench Manhattan 3.0 (Higher is better)
Swipe to scroll horizontally
| Device | 1080p (Offscreen) |
| --- | --- |
| QRD (SD888) | 169 |
| iPhone 12 (A14 Bionic) | 179 (Metal) |
| OnePlus 8T (SD865) | 128 |
| Note 20 Ultra (Exynos 990) | 120 |
| OnePlus 7T (SD855+) | 112 |
| OnePlus Nord (SD765G) | 53 |
We see a similar story play out with GPU performance. The Snapdragon 88 delivers anywhere from a 25% to 36% increase in performance over the Snapdragon 865, and is nearly twice as fast as the two-year-old Snapdragon 855. Apple's chipsets have dominated this area for nearly a decade, and the Snapdragon 888 comes closer than anything from Qualcomm to date.
That's just an early look at what's possible with the Snapdragon 888. Qualcomm has also shared similar gains around AI and machine learning workloads, and it looks like the Snapdragon 888 will be a standout option on Android flagships in 2021.
It is a big deal that the chipset beats out the mighty A14 Bionic in multi-core workloads. We'll obviously have to wait until we get our hands on retail devices running the Snapdragon 888, but for now it looks like the Snapdragon 888 delivers a decent performance boost in all key areas.
That brings us to another question: what do you do with all this power? Even the most intensive of Android games don't really leverage the full power on offer with the Snapdragon 865, so it stands to reason that the Snapdragon 888 won't be fully utilized. We're at a point where the hardware has more than enough headroom to run games with better visual fidelity, and the onus is now on game makers to realize the full potential of Qualcomm's latest chipset.
Phones with 90Hz refresh rates were first introduced nearly two years ago, but most mainstream titles on Android are still locked to 60fps. With the Snapdragon 888 unlocking console-quality gaming at 144fps, I'd like to see game manufacturers take better advantage of the hardware and start unlocking high framerates on visually-intensive games.
With the Galaxy S21 series slated to make its debut on January 14 and Xiaomi set to announce the Mi 11 in the next two weeks, we don't have to wait long to find out just how the Snapdragon 888 will hold up in real-world use. In the meantime, what do you make of the initial Snapdragon 888 benchmarks?
Get the Android Central Newsletter
Instant access to breaking news, the hottest reviews, great deals and helpful tips.
Harish Jonnalagadda is a Senior Editor overseeing Asia at Android Central. He leads the site's coverage of Chinese phone brands, contributing to reviews, features, and buying guides. He also writes about storage servers, audio products, and the semiconductor industry. Contact him on Twitter at @chunkynerd.
iPhone 11 doesn't have the A14 chip.

Well, that was embarrassing. Changed it to iPhone 12.

Who wants to spend $1k+ on a phone anymore? Sure, the performance is great but I question how many manufacturers are going to want to sell phones with this chip due to the cost. Also, take any benchmark claims by a manufacturer with a 20 ton chunk of salt. Wait for real reviews and benchmarks if that's your thing.

Always good to see some decent improvements. I'd like to see them produce a desktop-class version that can run even better with some cooling and slapped in a chromebook, or even an ARM-Windows laptop, just like Apple have done.

Premium! is correct; the iPhone 11 has the A13. I'm glad the 888 is stepping up the game, but honestly, my own iPhone 11 is no faster in real world use than my old HTC U12 with the SD 845. Not an insult to Apple because the U12 was faster than every Samsung ever made with that chip, but still. I'll reserve opinions on how fast it is until we get something in our hands. By the way, who runs their phone using only one of the cores? Yeah, thought so. Single core scores can be interesting, but are meaningless outside of benchmarks. Next week: road tests of cars with three wheels removed...

I used the iPhone 12 for the scores, but I wrote iPhone 11 in the charts. Fixed it now.

Kinda curious where Apple's M1 chip would land on these scales.

Hm seems it's still behind the A14. https://www.macrumors.com/2020/12/18/a14-compared-to-snapdragon-888-benchmarks/

Honestly everything since the 820 in my S7 and S7 Edge has been as fast as I have ever needed for my mobile phone. Even the 625 with 4GB RAM and 64GB storage in my Black Edition BlackBerry KeyOne is perfectly acceptable and good for my use. The 765G in my A71 5G seems every bit as fast, if not more so, as the 845 in my S9 and that was great. Shoot the Mediatek in my newer 8 and 10 in Amazon tablets work perfectly fine for what I use my tablets for. I have honestly always felt these "new and improved" annual chip performance increases were unnecessary. Just support the dang things longer!!! (As now more seem to be doing)

Why is it that as everything gets faster to speed up production that everyone seems to have less time and be more stressed?