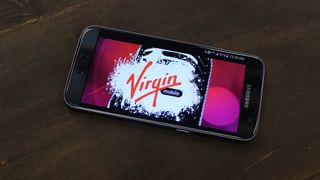 (Image credit: Android Central)
Virgin Mobile is one of the biggest names in the prepaid phone world and if you're making the switch, you want the best phone it has to offer.
Prepaid users are no longer relegated to outdated flip phones and low-power QWERTY keyboard phones. We've rounded up the best that Virgin has to offer. Check out our reviews to learn more about each device.
Samsung Galaxy S7
Why you can trust Android Central Our expert reviewers spend hours testing and comparing products and services so you can choose the best for you. Find out more about how we test.
Samsung's 2016 flagship, the Galaxy S7 is one of Android's top dogs and the best Android phone you can get from Virgin Mobile. It's got an excellent camera, great battery life, and is sized perfectly to fit in your hand and your pocket.
The Galaxy S7 has a Quad HD Super AMOLED display, which means you'll be watching YouTube, movies, and TV shows in 2560X1440 and loving every minute of it.
The fingerprint sensor is also the best it's ever been for Samsung, and you can use all of the fingerprint functionality that comes with Marshmallow, not just with Samsung phones.
If you want a well-rounded phone and the best that Virgin can offer you right now, then grab the Galaxy S7.
Samsung Galaxy J7
If you can't afford the $650 Samsung Galaxy S7, then the Galaxy J7 is your next best choice from Virgin. Think of it as the Galaxy S7 "Lite."
It's got an octa-core processor, 16GB of storage – which can be expanded by up to 128GB via the microSD slot – a 13MP rear-facing camera that can shoot in 1080p at 30FPS, and it runs on Marshmallow, meaning you're as up-to-date as it gets for Android (at least until Android N is released).
With a long-lasting battery and Super AMOLED display, the Galaxy J7 is a great option if you're wanting to stick with Samsung but the Galaxy S7 is just too much.
Moto G 2015
If you want an even more affordable phone that's as light on bloatware as it is on price, then check out the Moto G.
The main draw of the Moto G is its price, which is usually around $150 from Virgin. Promotional discounts have sometimes priced it as low as $85. It's also a solidly built phone with a decent 13MP rear-facing camera and a good-sized battery that should last all day, depending on your habits.
This sucker's also all but waterproof and can be submerged in up to 3 feet of fresh water for half an hour – no need for a bag of rice when you inevitably drop it in the toilet.
Virgin only sells the 8GB version, but that is expandable, thanks to a microSD slot.
Read our Moto G 2015
HTC Desire 626s
The HTC Desire 626s may only come with 16GB of storage, but that's expandable, thanks to a microSD slot.
It has an 8MP rear-facing camera and a 5MP front-facing camera, so you'll be churning out nice photos and decent selfies. Despite the battery's size (2,000 mAh), battery life is actually pretty solid, generally lasting a full day on a single charge.
If you're looking for a solid, affordable phone, then the HTC Desire 626s should be your choice from Virgin.
Read our HTC Desire 626 review
Android Central Newsletter
Get instant access to breaking news, the hottest reviews, great deals and helpful tips
Mick is a writer and duty editor for Android Central. When he's not on the job, he can usually be found vacuuming up pet hair or trying to convince his wife that he needs more guitars.
Lol had to do a double take with that title Posted from my Nexus 6/Nexus 7 2013/Surface Pro 3

Lol. Phone needs apparently change after that event. Posted via the Android Central App

I've never had a virgin. I want one though....but i think my wife would beat me to a bloody pulp.

I prefer experience ;) On a similar note, a buddy of mine went to the Virgin Islands for vacation, and I said "When you get back, I guess we'll just call them The Islands"

Are these phones virgin really?? Maybe not.... :-p
And by the way nice pun AC, I know why the title was written like that. Posted via the Android Central App

I'm a retard that guy 97 Posted via the Android Central App

Any carrier that you can't bring your own phone to is worthless in my mind - doubly so for prepaid. The fact that you have to chose from all too often substandard hardware with questionable (at best) support when there are so many fantastic budget and mid range options for less is unacceptable. Hardware limitations notwithstanding, the fact that you can pick up something like a Nexus that is fully compatible with Sprint's network and cannot use it on Virgin/Boost is shameful. Posted via something running something it's not supposed to...
Android Central Newsletter
Get instant access to breaking news, the hottest reviews, great deals and helpful tips
Thank you for signing up to Android Central. You will receive a verification email shortly.
There was a problem. Please refresh the page and try again.