Best travel cases for PS5 in 2022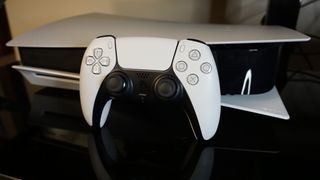 (Image credit: Jennifer Locke / Android Central)
It's no secret that the PS5 is one of, if not the biggest consoles to have ever released. Unfortunately, WIth its bulky and honestly weird shape, the system isn't the easiest to move around or fit in an entertainment center. However, if you happen to travel a lot or are simply going on vacation and want to take your console with you so you don't miss out on any of the best PS5 games, finding an excellent way to transport it while keeping the system safe might leave you scratching your head.
Thankfully, there are already a handful of great options available for finding the best travel cases for PS5 in 2022. These are our picks for the best around.
Tons of great PS5 travel case options
It might be hard to believe, but the PS5 already came out over a year ago. In that time, a surprising amount of travel cases have popped up across digital storefronts that help make playing the best PS5 games on the road easier. If you're looking for something that does everything, including play games, then the Case Club Portable Gaming Station is going to be for you. But, of course, this does much more than simply store your console, so it might not be for everyone.
If you're looking for something that offers some serious protection, then Casematix's hardshell offering may be for you. Not only does it have waterproof features, but its rugged case and foam inserts also make it crush and shockproof as well. Ztotop's travel case is also a great choice if you're looking to stay lowkey in your travels, but still want to take some gaming gear with you.
It's hard to go wrong with any of the options on this list. But, unfortunately, when it comes to taking your PS5 on the go, it's not exactly the easiest to do on your own. The system doesn't make for the best travel partner, thanks to its bulky design. However, with some careful planning and the proper case, you'll be able to protect your console and ensure that you'll have one of the best gaming machines in the world with you wherever you go.
Anthony Nash has been writing about games and the gaming industry for nearly a decade. When he's not writing about games, he's usually playing them. You can find him on Twitter talking about games or sports at @_anthonynash.
Android Central Newsletter
Get the best of Android Central in in your inbox, every day!
Thank you for signing up to Android Central. You will receive a verification email shortly.
There was a problem. Please refresh the page and try again.