Best music streaming services 2022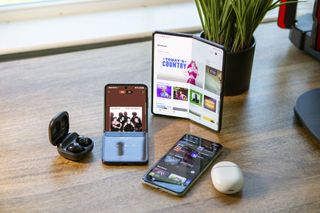 (Image credit: Andrew Myrick / Android Central)
Music is the heartbeat of our lives. It amps us up before a big test or a cardio workout, and soothes us through grief and loss. Because we expect our music to follow us from device to device, from home to car to work to cafe, having one of the best music streaming services that fits your lifestyle is essential. While there are several music streaming services out there, we're going to focus on services available to much of the world.
Best Overall: Tidal HiFi
Tidal was one of the first music services to provide high-quality lossless audio over streaming, even though it launched with a rather bare selection of artists and songs. Since its inception, Tidal has continued to grow its catalog and added some extra goodies, including high-definition music videos. In addition to the high-quality music available, the company offers more than its fair share of artist exclusive releases and was even live-streaming concerts before it was cool.
The feature-set for Tidal is also rather robust since it's available on just about every platform, including its desktop application for Mac and Windows, along with a usable web client. There's smart assistant integration with both Amazon Alexa and Google Assistant, along with the ability to create your own karaoke night with on-device lyrics.
While Spotify used to be our pick for the best overall music streaming service, Spotify has yet to give an actual deadline for when its HiFi tier will actually drop. In comparison, the Tidal HiFi plan allows users to stream audio using the lossless format FLAC up to 1411 Kbps, which is better than the audio quality available at any Spotify tier currently available.
Tidal HiFi
Highest quality music streaming you can get on the go
Lossless audio
Exclusive music video content
Ability to import existing playlists
Smaller library than Spotify
Limited podcast options
Best for audio quality: Tidal HiFi Plus
The Tidal HiFi Plus plan is the best streaming service subscription on the market right now for music listeners who really care about the audio quality of the songs they're listening to. While the HiFi Plus plan is a bit pricier at $19.99/month, it includes all the perks of the HiFi tier and boasts Master Quality audio, Dolby Atmos, and Sony 360 Reality Audio.
As of January 2022, subscribers to Tidal's HiFi Plus plan will also see up to 10% of their monthly fee distributed to their most-listened-to artists, a move that sets Tidal apart from other major streaming services currently battling artists over royalty payouts. Tidal also recently confirmed it has teamed up with more than 100 major and independent labels to develop and grow this new "user-centric payment system." So, if making sure artists are getting paid is important to you, then HiFi Plus is the best plan for you.
Tidal HiFi Plus
Next level music streaming
Highest audio quality
User-centrIc payment system
Ability to import existing playlists
More expensive than Spotify Premium
Smaller music library
Limited podcast options
Best discount: Tidal Student
While Spotify used to be one of the only music streaming services offering a student discount, both Apple Music and Tidal have since added discounted tiers for students. However, Tidal takes things to the next level by offering a 50 percent discount on both its ad-free HiFi and HiFi Plus. Tidal's student discount is also applicable to both high school and higher education students, while Spotify and Apple Music's student discount offer is specific to higher education students at a selection of supported colleges or universities.
Beyond its student discount, Tidal also offers a 40 percent discount on all of its HiFi and HiFi Plus plans to current or former Military personnel and active or retired first responders (EMS, EMT, Firefighters, and Police Officers) in the United States.
Tidal Student
The best plans at discounted rates
Discount applies to high school and higher education students
Discount can be applied to HiFi and HiFi Plus plans
Ability to import existing playlists
Student discount isn't available in all countries
Military/First Responders discount only available in the U.S.
Best versatile music streaming service: Amazon Music
For the last few years, Amazon has been building up its own music streaming service to combat the Spotifys and Apple Musics of the world. There are two different versions of streaming services for you to pick from, and it all comes down to how much music you want to listen to.
Amazon Prime Music is available for Prime subscribers and is included with your monthly or yearly subscription. There are a few limitations, the biggest of which is that the number of available songs to stream or listen to is limited to just two million. However, it's available on all of your potential devices, and you'll still find many of the top hits. If you want some deep tracks, you might want to look into Amazon Music Unlimited.
Music Unlimited has all the features one would expect to find when searching for the best music streaming services. There's a free, ad-supported version that allows you to browse an array of playlists of stations. You can also get on board with the Music Unlimited Individual Plan for around $8 per month, but Amazon offers a 30-day free trial to get your feet wet.
Amazon Music
Perfect for Amazon adopters or those looking for something different
Included in your Prime subscription
Option to upgrade to Music Unlimited
Offers a 30-day free trial
Smaller music library
Less-friendly UI
Best for device-hoppers: Spotify Premium
For the past decade, Spotify has delivered streaming music magic and is undoubtedly one of the most popular subscriptions on the market today. Its vast genre selection, easy-to-understand settings, and useful algorithms ensure that users keep finding new and fantastic music to add to their libraries. While Spotify still offers a free tier, the Spotify Premium plan takes that to the next level with no commercial breaks, unlimited skips, and a larger media library.
Thanks to Spotify Connect and the many, many platforms Spotify makes dedicated apps for — from Android TV to Wear OS and everywhere in between — you'll also be able to listen to your library just about anywhere. Specifically, Spotify offers an easy-to-use web client that doesn't require any downloads or installations to easily use on a managed computer at work or school. Still, there's also a desktop client available for more intense library management and offline playback. While Spotify also doesn't have a device limit for streaming, its five-device, 10,000-song limit on offline content can spell trouble for those who download massive playlists and their entire library for offline listening.
As mentioned above, Spotify continues to be one of the most intuitive streaming services. It also edges out both Tidal and Apple Music regarding music discovery. That being said, the uncertainty surrounding the launch of the Spotify HiFi tier puts it a step behind Tidal when it comes to audio quality. Spotify also hasn't made a strong effort to work with artists to negotiate more fair payouts, which may be an issue for some music fans.
Spotify Premium
Perfect if you switch between multiple devices
Allows you to stream music over Wi-Fi
Works on PCs and mobile devices
Available to all Spotify service plans.
Requires Wi-Fi connection
Limitations on offline listening
Payment isn't user or artist-centric
Best for play music converts: YouTube Music
Now that Google Play Music is gone, it's been replaced by Google's next music venture, YouTube Music. Keeping with the family for streaming content, Google has branded it to YouTube, considering the platform's popularity. YouTube Music features a library of more than 40 million songs and, as you would expect, includes many music videos to sit back and enjoy.
If you're the type who wants to download their favorite playlists to listen back to later on, you won't run into any issues. YouTube Music Premium subscribers can download songs, albums, or playlists right to their phone, so you can still listen to your favorites even if you don't have a stable internet connection. The Premium subscription starts at $10 per month for individuals or $15 per month for families. Students can get in on the fun for just $5 per month, but there's even a free tier if you're willing to put up with some ads. You can also sign up for YouTube Premium for the same $10 per month and get an ad-free experience across YouTube and YouTube Music.
One of the big reasons why Spotify continues to be a fan favorite has everything to do with the algorithms used to provide generated playlists. YouTube Music has a few algorithms of its own, but when pitting YouTube Music vs. Spotify, we noticed some improvement with playlists such as My Supermix, Discover Mix, and others. But as is the case with any music streaming service, the more you listen, the better the playlists will get.
We also finally have a proper YouTube Music app for our Android smartwatches. While the app was initially limited to the Samsung Galaxy Watch 4 and Watch 4 Classic, YouTube Music started rolling out to additional Wear OS 2 smartwatches in late 2021. These included Gen 6 smartwatches from Fossil and Michael Kors, as well as Mobvoi's TicWatch Pro 3 GPS, Pro 3 Cellular/LTE, and E3 models.
YouTube Music
The Play Music replacement
Free to signup
Smart search feature
Ability to turn on audio-only mode
Smaller music library
Only paid subscribers can listen offline
Not available in all countries
Best value: YouTube Premium
Twelve bucks a month for a robust, stable music player with a built-in music locker service (Google Play Music), the best experience on the most popular video platform in the world (YouTube), and a brand-new but slightly buggy music service built atop the biggest music catalog in the world, including fan content and non-commercially-available music (YouTube Music)? Yeah, sign me up.
YouTube Premium is a video subscription that removes ads and unlocks premium features in five apps: YouTube, YouTube Music, YouTube Kids, YouTube Gaming, And YouTube VR. Name another video subscription with that kind of value. No, really, I'll wait.
Once upon a time, you could subscribe to YouTube, YouTube Music, or Google Play Music and get access to premium service on all of them, but recent changes to Google's pricing policies have changed things. Pay for YouTube Music, and you just get YouTube Music. Pay for YouTube Premium, and you get everything.
YouTube Premium
Get the most bang for your buck
Unlocks premium features in six apps
Includes built-in music locker service
Massive music catalog
Steeper price than many platforms
No lyrics feature
Not available in all countries
The best service for you
Why you can trust Android Central Our expert reviewers spend hours testing and comparing products and services so you can choose the best for you. Find out more about how we test.
When it comes to which music streaming is the best, it comes down to what makes a specific music service the best for you and your family. That being said, we think Tidal has made huge strides since it launched and is only becoming more appealing to die-hard music fans who aren't happy with the direction of Spotify. And while Apple Music, Amazon Music, and YouTube Music also have their perks and discounts, Tidal still stands out regarding audio quality and artist support.
Swipe to scroll horizontally
Header Cell - Column 0

Spotify
Amazon Music
YouTube Music
Deezer
Tidal

(opens in new tab)

Apple Music

(opens in new tab)

Android app
x
x
x
x
x
x
Wear OS app
x
❌
x
x
❌
❌
Android TV app
x
x
YouTube app
x
x
❌
Android Auto compatibility
x
x
x
x
x
❌
Web client
x
x
x
x
x
❌
Desktop client
x
x
❌
x
x
x
Chromecast compatibility
x
x
Varies by plan, currently unstable
Varies by plan
x
❌
Google Assistant compatibility
x
Limited
x
x
❌
❌
Max audio quality
320 kbps
3730 kbps (Ultra HD)
128 kbps
320 kbps (Premium), 1411 kbps (Hi-Fi)
9216 kbps
256 kbps
Device limit
Offline only: 5 devices
10 devices
Unlimited
3 devices
Unlimited
10 devices
Songs available
40 million+
50 million+
Unknown
53 million+ (Premium), 36 million+ (Hi-Fi)
50 million+
40 million+
Library limit
10,000 songs
Unlimited subscription music, 50,000 song uploads
Unknown
2,000 songs on desktop, 1,000 on mobile apps
10,000 songs, 10,000 albums
100,000 songs
Playlist size limit
10,000 songs
500 songs
5,000 songs
2,000 songs on desktop, 1,000 on mobile apps
Unknown
varies by platform
Offline limits
5 devices, 10,000 songs
One device at a time
10 devices (4 automatic de-authorization limit/year)
1,000 songs
3 devices, 10,000 songs
10 devices
Algorithm-based mixes and radio stations
x
x
x
x
x
x
Podcasts
x
x
❌
x
x
❌
Music videos
x
x
x
x
x
x
Music documentaries / behind the scenes /
x
❌
x
x
x
x
Gapless playback
Crossfade only (not available when using Spotify Connect)
Device-dependent
❌
Crossfade only (not available on Android)
Device-dependent
Device-dependent
Song lyrics
Limited (via Genius)
Limited
Limited (via YouTube lyric videos)
Limited
❌
Limited
Stable performance on Android
x
x
x
x
x
x

Row 21 - Cell 0

Row 21 - Cell 1

Row 21 - Cell 2

Row 21 - Cell 3

Row 21 - Cell 4

Row 21 - Cell 5

Row 21 - Cell 6

Free services
x
x
x
x
x
❌
Ad-supported
Audio ads
Audio ads
Audio ads
Audio ads
Limited interruptions
❌
Skip limit
6/hour
6/hour
Unlimited
6/hour
Unlimited
❌
Forced shuffle
x
x
Unrestricted
x
Unknown
❌
Repeat/repeat one available
Unknown
Unknown
x
x
Limited (get replays via ad engagement)
❌
Offline listening
❌
❌
❌
❌
❌
❌

Row 28 - Cell 0

Row 28 - Cell 1

Row 28 - Cell 2

Row 28 - Cell 3

Row 28 - Cell 4

Row 28 - Cell 5

Row 28 - Cell 6

Paid subscriptions (per month)
Spotify
Amazon Music
YouTube Music
Deezer
Tidal
Apple Music
Individual Subscription
$9.99
$7.99 (Individual), $14.99 (Family)
$9.99 (does not include Google Play Music)
$9.99
$9.99 (HiFi), $19.99 (HiFi Plus)
$9.99
Family Subscription
$15.99
$14.99
$14.99
$14.99
$14.99 (Family HiFi), $29.99 (Family Hi-Fi Plus)
$14.99
Student pricing
$4.99 (includes basic Hulu and SHOWTIME)
$0.99 for first year, $4.99 after
$4.99 (Student Unlimited)
$4.99 (Deezer Student)
$4.99 (Student Premium), $9.99 (Student Hi-Fi)
$4.99 (Includes Apple TV+)
Other bundles/discounts)
$4.99 (Single Device), $4.99 (Student Unlimited), $12.99 (Duo) $15.99 (Family), $79 (Individual Yearly), $149 (Family Yearly)
$11.99 (YouTube Premium), $17.99 (YouTube Premium family)
$99.90 (Deezer Annual), $14.99 (Deezer HiFi)
$5.99 (Military HiFi), $11.99 (Military HiFi Plus)
$99.99 annual subscription ($20 discount)
$4.99 (Student)
Available Countries
171
50
95
187
61
167
Music is fundamental, and it's still one of the core functions of the best Android phones, smart speakers like Google Home, and our computers. As such, picking the right music streaming service to use on the devices you use every day is a big decision.
While our recent poll saw YouTube Music finish ahead of Tidal, we still think Tidal is the music streaming service to beat. However, one of the biggest issues with the service is that it's only available in 61 countries. That means you might not be able to access Tidal where you live. As such, it's worth pointing out that Deezer is available in more than 100 countries worldwide and is also doing its own experiments with user-centric payouts.
If the sheer size of a platform's catalog matters more to you than audio quality, then YouTube Music, Spotify, and Amazon Music are still solid options for Android users. There's also an argument to be made for the music library hosted by Apple Music, though it doesn't function quite as seamlessly on non-iOS devices.
Credits — The team that worked on this guide
Ara Wagoner Ara Wagoner was a staff writer at Android Central. She themes phones and pokes YouTube Music with a stick. When she's not writing about cases, Chromebooks, or customization, she's wandering around Walt Disney World. If you see her without headphones, RUN. You can follow her on Twitter at @arawagco.
Andrew Myrick Andrew Myrick is a freelance writer at Android Central. He enjoys everything to do with technology, including tablets, smartphones, and everything in between. Perhaps his favorite past-time is collecting different headphones, even if they all end up in the same drawer.
Keegan Prosser Keegan Prosser is a freelance contributor based in the PNW. When she's not writing about her favorite streaming apps and devices for Android Central, she's listening to a true-crime podcast, creating the perfect playlist for her next road trip, and trying to figure out which fitness tracker she should try next. You can follow her on Twitter @keeganprosser.
Android Central Newsletter
Get instant access to breaking news, the hottest reviews, great deals and helpful tips
Ara Wagoner was a staff writer at Android Central. She themes phones and pokes YouTube Music with a stick. When she's not writing about cases, Chromebooks, or customization, she's wandering around Walt Disney World. If you see her without headphones, RUN. You can follow her on Twitter at @arawagco.
Android Central Newsletter
Get instant access to breaking news, the hottest reviews, great deals and helpful tips
Thank you for signing up to Android Central. You will receive a verification email shortly.
There was a problem. Please refresh the page and try again.