YouTube Music vs. Spotify: Which is the better streaming music service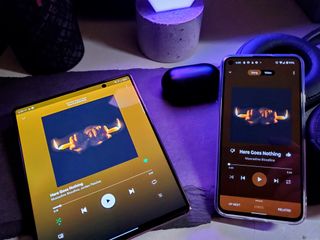 (Image credit: Chris Wedel/Android Central)
Spotify
As one of the longest-running music streaming services, Spotify's popularity has been earned. It has algorithms that do an excellent job building daily mixes and surfacing new content, multiple podcasts to listen to, and high-quality audio if that's what you're looking for.
Spotify
Multiple personalized daily mixes
Expansive podcast library
Excellent student bundle
Higher-quality audio option
Fewer benefits than YouTube Premium
No music video integration
Daily mixes don't auto-download
YouTube Music
YouTube Music is quickly improving and adding features that are found on other streaming services is helping to push YouTube Music closer to being a legit consideration against Spotify. Fixing the bugs that persist when casting audio would go a long way towards its case too.
YouTube Music
More than just officially released music available
Integrated music video option
Auto-updated and downloaded offline mixtape
Now has daily mixes
YouTube Premium subscription gets multiple services
Free tier requires the screen on to work
Usage gets mixed in with primary YouTube
Sporadic bugs when casting audio
While Spotify has become a household name, its place at the head of the table, is getting harder to maintain. In terms of brand recognition, YouTube Music may not be as well-known, but YouTube itself is ubiquitous amongst streamers. A couple of years ago, YouTube Music came back into existence and was barely worth being in the same conversation as Spotify. In the time since the relaunch, however, it has improved vastly and is now a worthy competitor.
YouTube Music vs. Spotify: Plans, pricing, and device limits
If there is a throne to be won in music streaming, Spotify won it years ago. It has a great selection, a great algorithm for recommendations, and even though YouTube Music added a student pricing option, Spotify still manages to hook them into staying long after they graduate. Not even Apple — the name synonymous with music players for the last 20 years — could make much of a dent.
If you're going to try and fight Spotify and become one of the best music streaming apps, you need more than great value, superior selection, and fancy new features — all of which the all-new YouTube Music has. YouTube's brand power and history are far more storied than Spotify's, but can that help YouTube take Spotify's crown?
Swipe to scroll horizontally
| Header Cell - Column 0 | Spotify | YouTube Music |
| --- | --- | --- |
| Pricing | $9.99 single, $12.99 duo, $14.99 family | $9.99 single, $14.99 family |
| Student Pricing | $4.99 w/ad-supported Hulu included | $4.99 |
| Free Tier | Yes, with ads | Yes, with ads |
| Podcasts | ✔ | ❌ |
| Music Videos | ❌ | ✔ |
| Max Streaming Rate | 320 kpbs | 256 kpbs |
| Automated Playlists | ✔ | ✔ |
| Offline Listening | ✔ | ✔ |
| Radio Stations | ✔ | ✔ |
YouTube Music and Spotify both offer free versions and paid versions. Neither service's free version lets you download music for offline listening — and both break up the music with audio ads every few songs — but at least Spotify will let you play music with the screen off. YouTube Music pauses the music when free users turn off the screen or leave the Now Playing window, which means that YouTube Music Free will monopolize your screen and thus your battery while you're listening.
Spotify Premium is $9.99/month for a single user or $14.99/month for a family plan of up to six users at the same billing address (all Spotify accounts must be billed to the same address for a family plan). A $4.99/month Spotify Student plan bundles in a basic (ad-support) Hulu subscription and is just about the best student subscription price in streaming media today. There's also a Duo plan that gets two people living under the same roof premium accounts at $12.99/month. Spotify has a device limit for downloads, which is five devices, each with a download limit of 10,000 songs.
YouTube Music Premium is $9.99/month for a single user and $14.99/month for a family plan of up to six users over 13 years of age (you have to be at least 13 years old to have a Google account). It removes ads and unlocks background playback and offline playback. For an extra $2/month — $11.99 for a single user or $17.99 for a family plan — you get YouTube Premium, which gets rid of ads and enables background/offline playback in YouTube, YouTube Music, YouTube Kids, YouTube Gaming, YouTube VR, and access to YouTube Originals content.
YouTube Music is available right now in 97 countries, whereas Spotify is available in 91 countries.
YouTube Music vs. Spotify: Library and selection
Spotify has over 50 million songs in its catalog. While YouTube Music doesn't give out a hard number for the songs in its catalog, it doesn't matter since that would only count the official songs YouTube Music hosts through its deals with record labels.
And there is so much more to YouTube Music's selection than that.
YouTube Music has official songs and albums from the record labels but it also offers official music videos, live concert videos — both official and fan-uploaded, fan covers, remixes, and mashups. There's also millions upon millions of songs that aren't in YouTube Music's official library, nor any official streaming library in many cases.
Some of this fan-uploaded content is illegal. When copyright holders serve DMCA requests, YouTube pulls that content, but that's a constant game of whack-a-mole that most labels don't have the time or resources to play. Some labels have folded, songs that have partially or entirely lapsed/frozen rights, songs that labels have lost, and much of that music is only available via fan uploads. That means YouTube Music might be the only legitimate streaming service that has a lot of music.
Both Spotify and YouTube Music have lyrics available for some songs. Not every tune on either service will show them, but the latter also has options for viewing the music video for the song. While a song is playing, if available, you can select video at the top of the screen to switch to the exact place in the music you are currently at within the video — then jump right back to the song only with a tap.
In short: Spotify may have more official songs, but YouTube has far, far more music that's actually available to listen to.
Source: Chris Wedel/Android Central
The one caveat to YouTube Music's awesome library right now is that library management is a bit different than most because YouTube Music ties so closely with the video service. Everything you do in YouTube Music shows up in YouTube's main app, from searches to added albums to every song you listen to can clutter up your watch history. However, this can be partially resolved if you set your YouTube history to watch history. You can also choose to hide your likes from YouTube. You'll still see all of your YouTube Music subscriptions in the YouTube primary app subscriptions.
However, there's the news that Google Play Music is going to eventually give its best feature to YouTube Music: its music locker. Google Play Music's free, 50,000-song music locker was something that doesn't really have a rival on the market right now. If a user wasn't able to find a song in Google Play Music's subscription library, they could upload it to their library themselves. That's invaluable, and it's coming to YouTube Music, which will combine the biggest, baddest music subscription catalog on the planet with the ability to patch any conceivable hole in it a user finds.
YouTube Music vs. Spotify: Podcasts - Who's got 'em
These days it seems that almost everyone has a podcast or two, and though there are a lot of ways to get your podcasts, not all are created equal. On top of a long history in the music streaming game, Spotify got into offering podcasts within its app as well a few years ago. Spotify is also the exclusive service to listen to some creators and produces its own originals, too.
Not to be left entirely out, Google does have an app for podcasts, but it doesn't integrate with YouTube Music. It doesn't have any exclusive offerings either. The need to use two apps, one for your music and one for podcasts, is a hassle when a service like Spotify is excellent at both and puts them in a single app.
YouTube Music vs. Spotify: Stations and mixtapes — A battle of algorithms
Spotify is known for its algorithms. From the Daily Mixes that will tweak listening-based stations every day to the much-beloved Discover Weekly, Spotify's recommendations are consistently lauded by tech enthusiasts and music addicts alike. They even break out the algorithm-based Daily Mixes into several different mixes so you can get more rock recommendations without the teeny pop you play for your daughter sneaking in.
YouTube Music's algorithms don't have the pedigree of Spotify's just yet, but they've improved over the last year or so. There are a variety of automated playlists to choose from with — My Supermix, Discover Mix, and New Release Mix. Plus, recently, YouTube Music is taking a page from the Spotify playbook to add seven daily mixes called My Mixes that will improve the more you use the streaming service.
There's also an Offline mixtape that is regularly updated for when a data connection isn't available. In the new YouTube Music, the moods and genre radio stations are in the Explore tab, along with the Charts and New Releases, but a radio station button sits at the top of every artist page. Once you get a station going, Google's stations shine like the diamonds they are.
The Supermix may be a bit diverse in its genres since everything is in one mix, rather than separated by genre/type like Spotify, but it dials into your tastes very quickly. YouTube Music has years of YouTube history to feed its radio algorithms as well as the recommendations that litter the Home feed. Now that YouTube Music has finally added in its own seven daily mixes as well as new mood mixes all on top of the ever-evolving offline Supermix, Spotify's lead is narrowing even more.
If you were a Google Play Music user, as YouTube Music began to take over as Google's sole offering, you could transfer all of your playlists over. To sweeten that transfer even more, it also sent over your listening history and likes. This made the automated lists seem like an old friend in no time.
Then we have Offline Mixtape, one of the features of the original YouTube Music. Offline Mixtape takes the algorithm from Supermix and uses it to create a playlist that is regenerated and re-downloaded daily. You choose how many songs the playlist includes, up to 500, and it presents you with a new mix every day to rock out to during your commute. Offline Mixtape is an auto-downloaded Daily Mix, something that not even Spotify's many mixes can do.
YouTube Music vs. Spotify: Stability and sound quality
YouTube Music is starting to mature, but it is still lacking many features. There are some UI bugs, especially when using the app offline, casting, and at times even trying to manage or browse your own library.
YouTube Music's audio quality right now maxes out at 256 kbps, whereas Spotify offers audio streaming qualities up to 320 kbps via Spotify Premium's "Extreme" audio quality option. YouTube Music has told Android Central that more robust audio quality settings are set for an upcoming update, but they're not here quite yet. Thankfully, each service does offer Android Auto support, something every music subscription service should have in 2020.
For now, YouTube Music sounds fine unless you're an audio snob, and it's a bit buggy. We expect things to improve soon, but we have to compare what we have right now.
YouTube Music vs. Spotify: How it shakes out
Spotify has almost a decade head-start over YouTube Music — a decade to build out its audience but also to smooth out its rough edges and refine its experience. It's also the clear winner for students, as $5/month for Spotify Premium and Hulu is pretty hard to beat. By the time the Student discount ends, most users have too deep a library and history in Spotify to just pick up and move to a new service.
Meanwhile, YouTube Music is still firmly in the growing pains stage of its development. Despite this, Spotify's brand power is still a drop in the bucket compared to YouTube, which is one of the most-visited sites on the internet. YouTube's brand power even extends to music — from the most viewed music videos ever to viral covers from upcoming artists, from mind-blowing remixes to that one song that you can't remember the lyrics to.
Source: Chris Wedel/Android Central
Both have limited free plans. Both don't allow for offline viewing and play ads, but with YouTube, you have to keep the screen on the whole time, which is a battery drain and keeps you from using your phone for anything else.
However, the most compelling reasons for subscribing aren't even in YouTube Music proper. YouTube Premium is $2/month more than Music Premium and is the no-brainer for anyone considering paying for a YouTube subscription. For $2 more, you get offline and background playback on all of YouTube instead of just on YouTube Music content. You get rid of YouTube ads on all of YouTube, and you get access to YouTube Originals, should you need any more freebies thrown in.
Overall, Spotify offers the best deal for most people, especially with its robust podcast selection and well-known algorithms. However, if you are ingrained in the YouTube/Google system or want access to music not typically found on streaming services, YouTube Music will do just fine.
Still the king
The defending champ
Spotify is fantastic for streaming music. From a massive catalog to its eerily accurate auto-generated playlists based on your listening habits. Spotify is making a strong play to own the podcast realm as well.
Most improved
Making a run for the title
YouTube Music is constantly adding new features, and improving its algorithms to better produce automatic playlists. With access to unofficial music through its connection to YouTube, as well as music videos, this music streaming service may well soon earn its seat on the throne.
Get the Android Central Newsletter
Instant access to breaking news, the hottest reviews, great deals and helpful tips.
Ara Wagoner was a staff writer at Android Central. She themes phones and pokes YouTube Music with a stick. When she's not writing about cases, Chromebooks, or customization, she's wandering around Walt Disney World. If you see her without headphones, RUN. You can follow her on Twitter at @arawagco.