From the Editor's Desk: YouTube Music dreams come true, but it's still a nightmare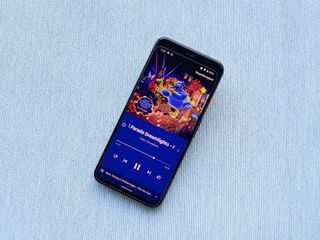 (Image credit: Ara Wagoner / Android Central)
Yes, I know, I'm one of five people who actually likes and uses YouTube Music and before that was a die-hard Google Play Music user since I first came to Android. When YouTube Music first re-launched, I had to start rebuilding my library from scratch, because while I'd spent 7 years building my library in Play Music — and several years before that building my initial library in iTunes — there was no way to bring that library over to the new service.
As such, I'm one of the few who gave a legitimate WOO HOO when I first heard that I was finally going to be able to re-unite my two libraries and access my not insignificant collection of Disney Parks music alongside my more recent obsessions with Panic! at the Disco and Skillet. You can now transfer your Play Music library to YouTube Music, and the process itself is relatively painless.
It's been fun to go through playlists from 5, 6 years ago in Play Music — the infectious cheer of old anime OPs and EDs, the old storylines woven for my characters through songs of the day, the carefree pop of yesteryear — and it's done wonders for my mood after being in a melancholic funk for the last two months. It's not all sunshine and rainbows, though; there are still flaws aplenty with how YouTube Music handles uploaded and purchased music, as well as continued problems YouTube just seems incapable of solving.
No equalizer: If there's one feature every music service in the world should have stolen from iTunes, it was the automatic equalizer that kept everything at about the same volume so that you didn't deafen yourself going from a too-quiet uploaded song to a too-loud YouTube remix video. GPM lacked it, but it's even more noticeable with YouTube Music and its wider array of content from non-official sources.
No editing: Play Music let you adjust the title, artist, album, and other meta data, as well as allowing you to edit or delete the album art. YouTube Music has no such mechanism, which is highly unfortunate as GPM set incorrect art of many of my tracks over the years and I can't get rid of it now without deleting the song and re-uploading it.
No download feature: Play Music's Music Manager for downloading your purchased and uploaded feature has been bugged out for a while now, but at least you still had the option to download your music through the Play Music website. With YouTube Music, there's not mechanism right now for downloading songs from your library, only uploading. So you'll want to back up any purchases or uploads to a secondary location in addition to uploading them to Play Music.
No lyrics or artist linking for purchased/uploaded music: If I bought a Daughtry album back in the day and had it added to my GPM library, when I was playing that song and clicked the Go to Artist option, I still went to the artist's main page where I could see all of their music, not just what I'd bought. If I do this in YTM, I am taken to a list of the other songs by that artist in my Uploads rather than the artist's proper page with the rest of their music.
Casting is still broken AF: Google created the Chromecast and the Google Casting protocols, so how in the actual hell can casting still be screwed up on Google's championed music service?! Casting has been broken since the service debuted at the end of 2015 — so broken in fact that there's not even a Casting option on YouTube Music's website today — and even when you can cast music to a speaker or TV through the mobile app, you lose the ability to repeat or shuffle music. I used to cast music to my speakers all day, but on YTM I have to revert to old-school Bluetooth for a stable experience, and that infuriates me.
I'm still going to keep using YouTube Music. I have to: there's no other system out there that lets me incorporate my curated collection of unofficial Disney Parks music with the latest soundtracks and teeny-bop that I gobble up like candy. At least, there's no other system out there that comes close without investing thousands to swap back to the Apple ecosystem, and even then that experience would be stunted and strained.
YouTube Music could be the best music service in the whole world, if it could just get its crap together and fix the basics before it keeps chasing Spotify for new features.
In other news around the Google and Android world this week:
I really thought we were getting a Pixel 4a announcement this week, but at least we go its really weird-looking wallpapers? The rumor that the Pixel 4a will actually run $350 instead of $400 is tantalizing, but it's hard to see Google turning a profit if it starts at $350 and then invariably gets discounted down to $300 or $275 by the end of the year. And more than ever, Google needs to turn a profit on its phones in 2020 after the Pixel 4's lackluster performance.
Facebook is buying Giphy and I'm going to be very disappointed if I start have to re-curate the Gifs folder of my Google Drive when it is inevitably ruined by its new owners. It's also hilarious that it's being added to the Instagram team because the Insta app has always been terrible for gifs and I don't think Giphy is going to fix that.
I've now been using the Lenovo Chromebook Duet, and while you'll get my full review of the little Chromebook tablet soon enough, what I will say so far is that the battery life is absolutely phenomenal. It took three full days to kill the battery after unboxing, and it's lasted 2-3 days on each full charge since then, though I'll confess that a good percentage of that time was using the Duet at an e-reader for my fanfiction cravings.
Now's absolutely the time to engage in some guilty pleasures to keep your spirits up, and what pleasures have you been partaking in of late as we head into a summer of uncertainty? I've been baking, reading, listening to old favorites, and re-watching old cartoons on Disney+ to help fill the gut-wrenching ending to The Clone Wars.
Get the Android Central Newsletter
Instant access to breaking news, the hottest reviews, great deals and helpful tips.
Ara Wagoner was a staff writer at Android Central. She themes phones and pokes YouTube Music with a stick. When she's not writing about cases, Chromebooks, or customization, she's wandering around Walt Disney World. If you see her without headphones, RUN. You can follow her on Twitter at @arawagco.
Is this US only? Because that transfer button does not exist for me.

US here, and I don't have that button/feature either.

Thanks, so it's probably just Google doing one of its classic trollouts.

I'm in the US, with YouTube Premium - no transfer available yet.

Same in the us and no xfer button yet

QqI want to discover and play music, it works well for what I need. Comes as part of YouTube premium which is what I want. Instead of paying for yet another music service YouTube music does it's job well enough though I'm not a power user uploading my own music etc. I mostly stream directly from YouTube music.

Like the Pixels, of course YouTube music would be a disappointment.

Still using GPM since my only real complaint is how it displays the artwork so zoomed in you can't see half of it. I'll worry about what I'm going to do once Google actually pulls the plug on it. If it's like their other services, they'll keep delaying the sunset date for at least another 6-12 months.

I need some of those Disney World playlists in my life.

There's plenty of them on YouTube! Especially for area music (which is great for listening to while working or doing chores)

This article seems to point all the inferior features of YTM. I will delay moving as long as possible. Usually software providers entice you to move. This is more like a threat.

They still only seem to offer library merging on a limited basis - maybe US only? I also wish there was a way to unlink YTM from YT when it comes to likes, I watch totally different videos on TV vs music and am fed up with them crossing over. It should be easy to offer a toggle to switch this off!

I'm in the US, no transfer tool or merging available. I've been waiting since I read Joe's article May 12th.

Agree on separating the likes on the service

I am in the US and I do not see an option to transfer

Just gimme my new Pixel man, just give it to me.

Would it have been so hard to take YouTube Music's discovery service along with the black theme and add it to Google Play music?

Apparently so? But yeah, that would've been amazing.

And then rebrand it as Google Music

That will be the next music service from Google. Probably announced in 2022, coming soon Google Music a place only for music and not for videos.

I switched to YT music from google play music a few months back.
I think Spotify is still my favorite. Also have free trial for apple music but UI is horrendous. And Amazon music gave me 3 months but don't care for it either. Spotify is offering me another 3 months for $10 and I'm tempted to take it. On family plan with youtube music so love ad free YouTube. As for casting, I've never had issues with it on YT music.

Google Play Music works very well, so it disgusts me that we'll all soon be forced to move to the inferior YouTube music service. I'll hold out until the very end with GPM. No, YouTube music doesn't do podcasts either. How can Google expect to compete with Apple... I'm thinking first time buyers, when they can't get something as simple as a music service working correctly? I prefer Android to Apple... I like the full suite of Google apps... I don't see any value in being a Google app guy on an Apple phone... But like I wrote, for first time phone buyers that must choose Apple or Android.... Why would you not choose Apple? I moved from Apple to Android for the larger phones.... My last Apple phone was the 4S. Music matters... Maybe I should hold off on my next Android device until I see what Google does with music. The iTunes app on Android is awful, and not a serious alternative.

Google torpedoed that the moment they made the Google podcast app

4S? Apple has made some bigger phones since then. ;)

Google play music will die this year and so will my subscription. Just not feeling YouTube music. I gave it a shot and would much prefer GPM

YouTube Music is still missing features that I want/need out of a music service. I can't cast directly out of the YTM app to my Sonos speakers, accessing YTM from within the Sonos app hasn't worked the last couple of months (and nobody on either side can fix it), the way it handles downloads is a mess, casting in general is broken, and the Your likes auto-playlist only shows up to a paltry 5000 songs. There shouldn't be a limit to the number of songs it shows. My GPM Thumbs Up auto-playlist has over 12,000 songs in it. I understand limiting user-created playlists to 5000 songs but not the Your likes one. It stems from an underlying limit in YouTube itself but still, that alone is enough for me to not use a music streaming service. I don't use Spotify because of its 10,000 song library limit (which is a complete joke), I don't use Tidal because it limits the number of songs in My Collection to 10,000 (which I recently found out), I don't user Deezer because playlists (including their auto-generated liked songs playlist) are limited to 2000 songs. Right now it's pretty much Apple Music on my iPhone and Amazon Music on my Note 10+. I would love to just use YTM but the devs have made no intentions of removing the 5000 song limit for at least the Your likes playlist. They're aware of the casting issues as well as a few others but have mentioned nothing about the song limits in at least the auto-playlists.

Is there a YTM replacement for Google Play Music Manager? Need an option to automatically upload music I put in my iTunes library. Anyone know?