YouTube Music gets a transfer tool for people still using Google Play Music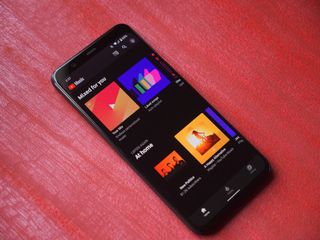 (Image credit: Joe Maring / Android Central)
What you need to know
There's now a transfer tool to bring your Google Play Music library to YouTube Music.
Google is no longer letting new customers sign up for Play Music Unlimited.
Play Music will be completely shut down at some point in 2020.
Google's current offering for music streaming is a bit messy, and it's been that way for a while. Google re-launched YouTube Music back in August 2018 with the ultimate intent to have it replace Google Play Music, but ever since then, both services have continued to exist side-by-side.
YouTube Music has far fewer bugs and a lot more features since that initial launch, and now, Google's ready to start winding down Play Music — kind of.
Starting today, May 12, you'll find a new transfer tool in the YouTube Music app that allows you to move all of your songs, playlists, and more over from Google Play Music to YouTube Music. Simply go to the Library page in the app, tap Transfer, and the following will be ported over:
Music recommendations
Your playlists & many stations
Liked & disliked songs
Uploads & purchases
Albums & songs in your library
All of this is transferred with just one tap, but Google notes that the process could take a few hours depending on how much content/history you have with Play Music. You'll get an email once the transfer is complete, along with an app notification from YouTube Music.
What's especially interesting about this whole process is that it accounts for your history with YouTube Music. If you've been using YouTube Music a lot recently and haven't touched Play Music in years, it'll still bring over your listening preferences while weighing them against what YouTube Music knows about you. Google doesn't want your outdated music tastes to overpower your current ones, so timestamps for all of your listening will be threaded into old songs to balance everything out.
Any music from your Play Music library will show up in your YouTube Music one as if it's always been there, and right on the YouTube Music home page, you'll see a collection of recommended songs and artists based on your Play Music library that was brought over.
There's one more piece to this puzzle we need to address, and that's podcasts. Since YouTube Music doesn't offer podcasts the way Play Music does, you'll find a similar transfer process that moves your listening history and subscriptions over to Google Podcasts. This is done through a simple web page, and it should only take a few seconds.
Source: Google
With tools now in place to bring Play Music users over to YouTube Music without any hiccups, Google's ready to finally start winding down the service. From this point forward, you can no longer subscribe to Play Music Unlimited if you aren't already a customer. Google also says it plans on fully shutting down Play Music at some point in 2020, but that's as specific of a time frame that we have.
There's previously been a lot of resistance from Play Music fans to switch to YouTube Music, and understandably so. YouTube Music had a pretty sloppy launch, but to Google's credit, it's done an admirable job of cleaning things up. Most recently, YouTube Music was revamped with a new playback UI, song lyrics, and an Explore page for more-easily discovering new music.
YouTube Music is still far from perfect, but Google's been making all of the right moves lately to ensure this transition as smooth as possible for folks.
What say you? Are you ready to finally jump ship?
I'm going back to Spotify because YouTube Music still sucks at most things
Android Central Newsletter
Get instant access to breaking news, the hottest reviews, great deals and helpful tips
Joe Maring was a Senior Editor for Android Central between 2017 and 2021. You can reach him on Twitter at @JoeMaring1.
As great as this is, one main feature that is missing from YouTube music is it's ability to cast audio for free subscribers which is one thing that I can do in Google Play Music. Specially when I am streaming my own music, I don't think I should be paying for it.

We need the Recents list like GPM has.

My step by step is a bit simpler.
Step 1: Don't get the YouTube Music app.
Step 2: Go somewhere else.

I'm not seeing it. Guess I have to wait. Glad for the ability to transfer, but hate the fact that I have to do this. GPM should have just been rebranded as YM instead of making us switch apps.

I'm not seeing it yet either.

Me either. It says I'll be notified when it is my turn. Aggravating seeing all these articles acting like anyone can do it now.

They're still trying to integrate listening history between a music service and the YouTube video service. The day Google Play Music shuts down is the day I drop YouTube Premium and switch to Spotify I'd rather deal with ads in YouTube than deal with the garbage fire that is YouTube Music

Already made the switch to Spotify. I don't know why you can't just hit the artist and all your liked songs for that artist appear. I don't want to see the top songs, I just want to see the songs, I like. I loved GPM, sorry to see it go.

oh well, looks like it's time to switch to Spotify.

If you have Google Play Music and activate YouTube Music, does Google Play Music stop working?

no it does not stop working you get both Google play music and YouTube music I am doing YouTube premium and actually like it. And I actually kind of like YouTube music just going to start using it but I was waiting for them to be able to do the transfer tool all newer phones will have YouTube music pre-installed instead of Google play music.

Both will work simultaneously until everybody is transferred to YTM, then GPM will be shut down.

Google has me - even if I don't want to use YouTube Music. Ad-Free YouTube is too valuable for me. Getting a music service out of it is just a bonus.

Why a tool? They're both linked to the same account, do it automatically.

Oh and look at that! What a surprise! The transfer button ISN'T THERE!

If I go into the playstore, browse music and buy something it appears in GPM, will purchases start showing in YTM or do I have to transfer every time / upload it..? Any ideas?

I'm not a fan of YT Music or G Podcasts. Do you have a favorite tool to move G Play Music to Spotify - not just playlists but everything? And what's your favorite podcast app. I'm totally bought into the G ecosystem but unless I think I'm better off going with services that are only music and only podcasts. They aren't pulling this shlt unless they go out of business. Because you know this won't be the last time Google doesn't dump something you've spent lots of effort on.

Is it just the Play Music subscription service that is going away, or will the Play Music *app* go away as well? Hoping the app will remain, as the way to play your own locally stored music, even if stream subscriptions move to YouTube...

YouTube Music has been superior to GPM for at least 8 months. All these writers need to get over it and get with it.

In a stunning development, Google announced something that isn't available for me yet. Google simply cannot do one of these correctly. Oh well, I'll wait ...

Can we still upload our private albums to GPM? Haven't tried in a while. And does YTM have that feature? or will it? Guess I better get going finishing uploads.

I'm willing to move to YTM, but will stick to GPM till it's last day and transfer everything on that last day. It's just IDK if Google will only transfer my content from GPM to YTM that ONE time, or will it allow me to transfer newer content from my GPM multiple times, just to ensure that it has the latest from my GPM playlists? IDK, am I making sense? It makes sense to me in my head, but I don't know if I'm making it come across clearly with my writing.

You can do multiple transfers, there's a Google video on YouTube explaining
Android Central Newsletter
Get instant access to breaking news, the hottest reviews, great deals and helpful tips
Thank you for signing up to Android Central. You will receive a verification email shortly.
There was a problem. Please refresh the page and try again.