YouTube Music is rolling out a new playback screen with lyrics and seamless switching [Update: Finally rolling out to all]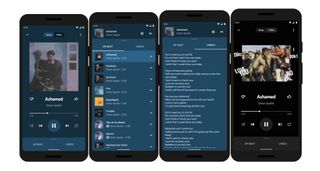 What you need to know
YouTube Music is beginning a roll out of a new playback screen on its Android app.
The new UI puts the repeat and shuffle buttons on the playback screen rather than a queue screen.
It also features the addition of lyrics to supported songs and a bigger, easier to edit queue screen.
The update will roll out to Android over the next few weeks, with the iOS update planned "in the near future".
The YouTube Music interface tweaks that we've seen testing in the last few months are finally beginning to roll out to the general public! This update includes the sharper, more useful playback screen, the rollout of a lyrics tab in the playback menu, and seamless switching between the album and video version of a song is now always visible rather than having to tap the album art to bring it up. You can also access the options to download, share, or add a song to a playlist by single-tapping the album art, which I'm interested to see if that interferes with the double-tap seeking.
Source: YouTube
Lyrics is something that even the Google Play Music app never really got, and I'm pleased as punch that I'll be able to pull up lyrics without having to double back to Google Search for them. The re-positioning of the shuffle and repeat buttons and like/dislike buttons is another welcome change, though I'm sure it's going to take a little getting used to. The playback bar for seeking is a bit smaller, but with double-tap seeking I'm not too bummed about that. What I am bummed about is the cast icon being missing from all of the screenshots in the screenshots YouTube shared today.
For the most part, though, this is a great change and one I've been waiting on for the better part of six months. It comes not even two weeks after YouTube Music finally rolling out the music locker function, and I'm hopeful that this ramp-up of feature updates ahead of Google I/O might mean that the Google Play Music migration might finally be on the horizon. We're getting closer and closer to feature parity between the two apps — though there are certainly still problems in genre browsing, discovery and casting that need to be addressed — and migration of GPM libraries is something we've been waiting on for almost two full years now. My library has been fractured for so long, it's going to be weird and amazing to actually get it back together in one place.
Update: Finally rolling out
It took Google over a month to finish A/B testing this, but reports indicate that it's finally rolling out to a wide range of users. It's a server-side update so you don't need to update your app. It'll probably hit you within the next few hours to days.
Update 2: And it's broken
The YouTube Music update is now widely available for many, but there's only one problem. It seems to be broken. Many users report a truncated version of the UI with no way of reverting to the old version.
https://twitter.com/MkeAllison/status/1257795635241267203?s=20
You can get full functionality back by playing music saved to your offline playlists, but that means having to manually download every song you want to listen to, at least in the short term. Google will probably roll out a fix soon, and 9to5Google reports that they're working on it, but it's going to be more than a little frustrating in the meantime.
Update 3: The fix is in
Google has worked its magic, and the YouTube Music app should now work as intended. Alongside the fixed YouTube player experience, Google is also rolling out the new Explore tab with this update. It's no A/B test. The company says both features should be live for all Android users by the end of the day, while iOS users will only get the latter.
Get it all
YouTube Music is still trying to get good.
Between the music locker finally arriving and the new playback interface, YouTube Music might finally start getting close to migrating Google Play Music over and making a real run at Apple Music and Spotify.
Android Central Newsletter
Get instant access to breaking news, the hottest reviews, great deals and helpful tips
Ara Wagoner was a staff writer at Android Central. She themes phones and pokes YouTube Music with a stick. When she's not writing about cases, Chromebooks, or customization, she's wandering around Walt Disney World. If you see her without headphones, RUN. You can follow her on Twitter at @arawagco.
Not sure why they didn't keep Music in Google Play. Last thing I need is a requirement to have the YouTube service on my Google Account. So glad I switched to iPhone. Once I heard Play Music was going away, I stopped using it immediately and migrated away from it. This is too "video heavy" for a music app, for me, and I just don't want my music to be tied to a social network (which is basically what YouTube is).

You know you can change it to play album music only right

THAT was you're determining factor for moving to iOS?

You do know the operating systems are separate from the music streaming services right? You can have Apple Music on Android or YouTube Music on iOS. 🤨🤦🏽‍♂️

They need to provide a way to turn off your YouTube Music listening history from appearing in your YouTube video history. Thank goodness my video history from YouTube doesn't show in my music history, but the fact that my music history appears in my video history is idiotic, and the fact that I can't turn that off without turning history logging off of both services completely is inexcusable. Any update they roll out prior to that fix is poorly prioritized. They should've stuck with Google Play Music, it was so much better than this YouTube Music silliness.

Seeing as how the previous comments were from March 3. You had to wait 7 weeks for this to start rolling out LOL :P

So why I'm still using Google play music app and I'm waiting for them to be able to let us transfer our music over to YouTube music as well as when connected to Bluetooth for some reason the call paws and or skip when streaming even in a really good area. But does not do it on Google play music. no YouTube music is only for streaming not buying music if you bought you're still going to be buying music through Google play music but it will go to your library which that will then sooner later be just YouTube music. I know they're planning on shutting down Google play music app and only having YouTube music

I thought with the lastest update, it would be more like GPM, I was wrong. You can now choose Artist, but it doesn't show the songs in your library ( liked songs).It just shows "Top Songs" . I loved GPM, but this YTM sucks. I was holding out hope, that they would get their act together, but I was wrong. Oh well, on to Spotify.

Get your facts straight.. The problem has been fixed right after you guys reported it.

Facts seem to be lacking a lot these days
Android Central Newsletter
Get instant access to breaking news, the hottest reviews, great deals and helpful tips
Thank you for signing up to Android Central. You will receive a verification email shortly.
There was a problem. Please refresh the page and try again.