Spotify: Everything you need to know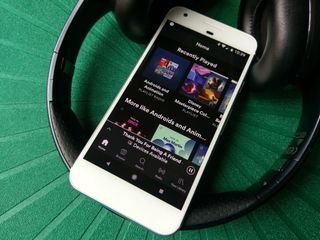 One of the most popular names in the music world today isn't a band or a record label: it's an app called Spotify. Spotify was one of the earliest and most popular music streaming services on the market today. The service is available on almost every platform, from cars to home assistants to high-end speakers to phones, tablets, and computers. Spotify's prowess with data analysis and algorithmic music suggestions have made the service addictive for music-hungry users, and as the first major service to offer student pricing, it's spread like wildfire on college campuses across the country.
Here's what you need to know before and after you dive in with it.
The latest Spotify news
February 8, 2019 — Spotify updates its Terms of Service to immediately ban users blocking ads
As part of an update to its Terms of Service, Spotify now has the authority to immediately ban users it detects blocking ads via modded versions of the app.
Back in March 2018, it was reported that 2 million Spotify users were getting around ads on the free version of Spotify by using mods/hacks. Initially, Spotify would detect this unusual activity, disable the account, and then alert users that they could get reactivated by deleting the modded app and start using the official one.
However, once the new Terms of Service go into effect on March 1, 2019, Spotify will be able to ban accounts completely without any form of warning.
January 16, 2019 — Spotify Android app gets a new 'Car View' mode
Spotify allows you to listen to music no matter where you are, and for a lot of people, the car is one of the most frequent places to jam out to your favorite tunes. To help keep users safe while streaming, the Spotify Android app is getting a new "Car View" setting.
When enabled, Car View will change the UI of the Now Playing screen that hides the album artwork, makes the font larger, and increases the size of all the buttons. The rest of the Spotify app is left unchanged.
Car View appears to be gradually rolling out to users, but I'm already seeing it on my Google Pixel 3. It was turned on by default, and while you can permanently turn it off in the settings, you also have the option of temporarily disabling it for your current ride and then having it come on again the next time you get in the car.
There's currently no way to manually trigger Car View, meaning you're left at the mercy of Spotify detecting that the Bluetooth device it's connected to is your car's audio system. Somewhat surprisingly, it worked just fine with this cheap adapter (opens in new tab) I have plugged into the cigarette lighter of my 2003 PT Cruiser.
Are you seeing Car View in your Spotify app?
November 7, 2018 — Free Spotify users will soon be able to use Spotify Connect
Spotify Premium comes with a host of features to help users get the most for their $9.99 each month, one of which is full access Spotify Connect. Thanks to an update to Spotify's SDK for connected speakers, free users of the service will soon be able to experience the magic of Connect for themselves.
With this SDK update, speaker manufacturers are given the ability to open up Spotify Connect to both free and Premium users. So, while you won't be able to rush out and use Spotify Connect on a free account this very second, we should see updates to speakers in the near future that offer this new functionality.
Commenting on the news, Spotify's Senior Product Director, Mikael Ericsson, said:
October 31, 2018 — Spotify's family plan now comes with a free Google Home Mini
If you live in a house with multiple music fanatics, Spotify Premium for Family is a great value. For just $14.99/month, you get access to six individual Premium accounts so everyone can enjoy their own custom Spotify experience.
Now, as part of a new partnership with Google, all Spotify Premium for Family plans come with a free Google Home Mini.
Both new and existing subscribers can take advantage of this promotion starting November 1, and you'll be able to claim your free Home Mini through December 31.
September 14, 2018 — Spotify is raising its offline limits!!
Spotify's offline limits have been one of the bigger sticking points for Premium users. While Spotify's 10,000 song library limit takes a while to reach, the 3-device, 3,333 song limit for Spotify's offline content has been quite easy for users to hit, especially if they subscribe to any huge community playlists. Well, after years of persistent user complaints, Spotify is upgrading its offline limits to 10,000 songs on up to 5 devices. A Spotify spokesperson confirmed to Rolling Stone:
Being able to use more devices with Spotify's offline content is great news, but the fact that you'll be able to download your entire library on a single device is even better, since most users only use one phone at a time, and want to be able to access all of their music offline rather than just a third of it.
All the big details
Getting Started
Spotify is built to be as easy a listening experience as possible, and for most users, making an account is as easy as pressing one button. From setting up an account to getting your library established, we're here to help you avoid as much pain as possible while you make the switch.
Pick your subscription
There are a lot of subscription styles out there for Spotify, but which one will fit you — and your family members — best? We break down the difference in Spotify subscriptions beyond the price points and show their prices and pitfalls, especially the very tight strings wrapped around Spotify Premium for Family subscriptions.
Play your music everywhere
One of Spotify's perks is that users can play back their music just about everywhere: their watch, their phone, their TV, their car, their smart speakers, high-end speakers, their computer, and just about everything in between. Best of all, connecting to all of these diverse devices uses the same simple UI: Spotify Connect. Here's how this musical magic works and what it works with.
Spotify Connect: What it is and why it's awesome
Settling in with Spotify
Once you've gotten your account up and running, it's time to start mastering Spotify and making it work for you. From library management to offline playback and beyond, there are some simple things you can do to turn your Spotify experience up to 11.
Top 5 tips to make the most of your Spotify subscription
Playlist problems persist...
Playlists are a big part of any music service, but they're doubly important on Android because playlists curated by everyday users can be highlighted by Spotify's search and shared with your friends, family, and followers. There's just one little problem: you can't really edit playlists properly on Android. Or Chromebooks, for that matter.
Spotify has a playlist problem on Android
... but Spotify's playlists have a secret ally
Even if you can't tweak your playlist order, description, and image on Android, it's still possible to build a big, beautiful playlist on Spotify. If you start running out of ideas for additions to your playlists, don't worry. You can leverage the work you've already done and Spotify's algorithms to expand your playlist with Playlist Radio.
Use Spotify's radio to build bigger, better playlists
Queues, subqueues, and frustration
Managing and mixing up your queue on Spotify is a bit of a minefield for two reasons. The first is that rather than showing your listening history by letting you scroll up in your playlist, whatever you're playing is at the top of the queue and what you last listened to is at the bottom if it's visible at all.
The second is that Add to Queue doesn't do what it's called, which can turn an already confusing queue into a vanishing, inconsistent tur-queue-ken.
Spotify's Add to Queue is a lie
Offline mode could use some work
We take our music out for a run, we bring music into the shower, and we always bring music when we travel, be it by plane, train, or automobile. And since we bring our music where our internet sometimes cannot follow, that means that offline modes for our music apps are important. Offline for Spotify is lackluster at best, and that's disappointing for a whole host of reasons.
Offline mode on Spotify sucks out loud
Made For You is made in heaven
Finding something to listen to can be a tricky proposition for any music lover, but Spotify is known far and wide for their algorithmic prowess. And the best example of it isn't the Discover Weekly or the year-end statistics. No, siree, the best use of Spotify's number-crunching genius is a little section in Your Library called Just For You.
Spotify's 'Made For You' is a love letter to music addicts
Spotify vs. Google Play Music
Spotify has a lot of competition, but perhaps the biggest competition they face on Android is convincing people that they're better than the music player that came pre-installed on your phone: Google Play Music. To be sure, both services have their ups and downs, but here is a critical comparison of the two services to help you decide if you want to give Spotify your time, attention, and money.
Spotify vs. Google Play Music: The battle of the bigs
What's your take?
What do you love or hate about Spotify? Let us know in the comments!
Android Central Newsletter
Get instant access to breaking news, the hottest reviews, great deals and helpful tips
Ara Wagoner was a staff writer at Android Central. She themes phones and pokes YouTube Music with a stick. When she's not writing about cases, Chromebooks, or customization, she's wandering around Walt Disney World. If you see her without headphones, RUN. You can follow her on Twitter at @arawagco.
Even though spotify is the best streaming app for music. But it's not available in most of the countries

TIDAL - lossless music vs 320kbps Spotify. TIDAL wins.

Most people can't tell the difference

And more importantly, most people are listening on equipment that won't actually give you the lossless experience.

I can tell the difference but it's not a huge difference to want to pay $10 more.

Listening to lossless music on a phone without a headphone jack.
What's the point? 😏

Because you can use a USB-C adapter that allows you to appreciate Lossless files

spotify's playlist first design sucks.
i listen by album a lot and its so hard to navigate from something to an album.

They also need to provide the 320kbps that they're advertising. Play a song in GPM then Spotify and you'll hear that the GPM version sounds crisper.

Turn off Normalization in Spotify and the difference is pretty much zero.

Back to Google Play Music. One year already passed since the problem with Huawei phones and broken lockscreen support on EMUI and still Spotify was able to mark it as idea. So support is slow and kinda bad. Back on GPM I can enjoy fast updates, great lock screen controls again and the most important thing - I can pre-order and buy full albums again. Spotify offers just pure streaming and not so good support and slow fixes for bugs.

I buy my music from Amazon and put on my phone. Don't need this cloud connected stuff. Just a music player. Certainly don't pay for it, cause I buy less music than the cost over a year and my library is more than big enough for me. They barely carry the type of music I like, anyways. Just the modern junk.

Does Spotify still force you to watch videos?
If so, I would pick any other music app over this and I refuse to reinstall it.

The ads are on the free version. If you subscribe then there are no ads/videos.......

Looks like a Google mini is coming my way, as I have been a family subscriber for a long time. Kudos to Spotify for improving their artist and song radio! Now if they would just add the same playlist management functionality to their Android app that they have for IOS...

Man I just wanna know when they're gonna deliver Hi-Fi service. That is the highest-voted on petition in their community forums and literally the only thing most of us care about.

The HiFi service will probably be the 320kbps that they've been falsely advertising. It was the reason that I've went to GPM/YTM the sound quality is night and day compared to Spotify.

We've been using the Family Plan for a couple of years. The Extreme setting sounds pretty good to me. Plus it doesn't take up as much room on my storage as lossless would. My phone uses an AKM chip set with Dolby audio into my Bose headphones so I'm pretty pleased with the way it sounds on the go.

It would probably be good to note, the free Google Home Mini is available to residents of the United States only. Unfortunately us in Canada can't take advantage of the offer.

Serious question: Does the new car mode automatically switch to landscape mode, or does it force portrait mode?... I purposely have my phone mounted sideways in the car.

For others wondering... Yes, it does work in landscape.

Car mode is superfluous for me, since I use the Android Auto app. Then again, GPM's superior features makes it my go to.

What's Stranger things mode?
Android Central Newsletter
Get instant access to breaking news, the hottest reviews, great deals and helpful tips
Thank you for signing up to Android Central. You will receive a verification email shortly.
There was a problem. Please refresh the page and try again.