How to use Spotify's radio magic to level up your personal playlists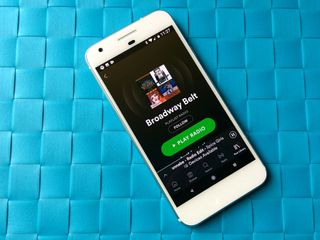 Spotify prides itself on its playlist prowess. There's a reason that Spotify's Home tab is covered in playlists rather than just popular songs and albums like most music apps. A good, long, curated playlist can hit all the right spots even better than Spotify's radio stations, but if you're having a little trouble fleshing out your budding playlists, never fear!
Spotify Radio is here to make your playlists pop.
Spotify offers a few recommended songs at the bottom of every playlist but only five songs at a time, and you really only have three options with these recommendations: tap the song to listen to it; tap the Add button to stick it in the playlist; or, hit Refresh at the bottom to replace them with a new set of five. If you want some real recommendations in some real numbers, you should turn to Playlist Radio.
Playlist Radio will turn your playlist into your own personal radio station, playing more songs from the artists and albums in the playlist as well as pulling in music based on the genres of the playlist. While you listen to Playlist Radio, you can judge how the song will sound alongside your playlist's other tracks, which will occasionally come up in the radio's rotation.
More importantly, you can thumbs tracks up and down as you go to refine both the station's algorithms and the recommendations for songs to add to your playlist. If I'm looking to build a playlist out that's sparse, I'll start up Playlist Radio and rate each and every song that comes up in the rotation. I may not listen to the whole song each time, but I will rate each and every song, see if it's worth adding to my playlist, and then keep going until my playlist seems full enough or I'm out of time.
Another benefit of using Playlist Radio to work your way through recommendations is that you get the full menu of options on the playback window, so an album comes up that you want to further explore, you can View Album or View Artist before you Add to Playlist. If you're looking for more songs to compliment a particular track, you can start a Song Radio and proceed the same way you would with Playlist Radio.
Have you been using Playlist Radio to improve your playlists in Spotify, or do you curate your playlists the old-fashioned way? Have you been perfecting any playlists you're ready to share with the world? Let us hear them in the comments below.
Want to move to Spotify from your current streaming service? Here's how to get started
Ara Wagoner was a staff writer at Android Central. She themes phones and pokes YouTube Music with a stick. When she's not writing about cases, Chromebooks, or customization, she's wandering around Walt Disney World. If you see her without headphones, RUN. You can follow her on Twitter at @arawagco.
The recommendation on Spotify are really bad I rarely get any recommendations that I like. I have been using it for over a year but still the don't know what I like. Maybe it's hard for Spotify cause I listen to a lot of different genres

I haven't tried Playlist Radio in awhile, but last time I did I was underwhelmed to say the least... Whenever I try to do playlist radio with a song, it makes every 3rd song from the same artist for starters...Furthermore, Thumbs Upping or Thumbs Downing also just seems to add more songs from the same artist...Hey If I only want to listen to songs from one artist I will do ARTIST Radio..

Never used it, I'm curious now. Thanks for this!

Ara: please do a Mighty player review. I hate running with a phone... And the mentioned player seems like a good solution. It supports Spotifys offline playlists.

Hmm, seems like an interesting little player. I would worry about buying a player that only supports one music service, but it looks like a nifty little workout buddy. Do you hate the bulk of carrying a phone while you run or just don't want to risk breaking it if you fall?

Both actually 😃 plus my phone is not sweat resistant... At least not as far as smell is concerned :-) I now use an ipod shuffle/Mp3s... But I'm thinking of buying this as im deeply invested in Spotify anyway and dont intend to use any other streaming service in the near future (i like spotifys own and other ppl shared playlists too much 😃 plus release radar is amazing for finding new music) I find it strange that apple didnt release a new ipod which would support apple music. I bet lots of ppl would use it for working out. They could certainly get a few additional subscribers this way :-)

There are some reviews for this gadget already... But they are a few months old... And im wondering if in the meanwhile they were able to fix the quirks with fw fixes. If im not mistaken shuffle is available now for an example while it wasnt initially
Android Central Newsletter
Thank you for signing up to Android Central. You will receive a verification email shortly.
There was a problem. Please refresh the page and try again.