How to get started with YouTube Music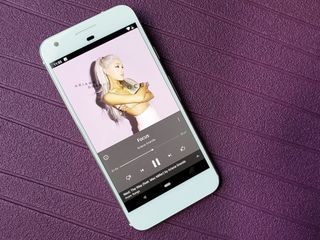 YouTube is one of the most-used video sites in the world, and a great many of the videos that we flock to on the platform center around the music that drives our lives. Whether you subscribe to a music streaming service or not, chances are you've gone to YouTube to find that one song that's stuck in your head, or to check out a cover by some up-and-coming artist, or to watch the latest mind-blowing music video.
YouTube is now leveraging its uniquely unparalleled music and music video selection to offer the completely-revamped YouTube Music, a music app that brings the best music on the most popular video platform in the world together with traditional album and songs from top labels.
And since it's all powered by YouTube, setting it up is almost embarrassingly easy.
First, download it
The new YouTube Music is only available in five countries right now:
U.S.
Australia
New Zealand
Mexico
South Korea
If you're in one of those countries, you can head to the Play Store to download the app and get started using the instructions below.
How to set up YouTube Music
The beauty of YouTube Music is that since it's tied to the same YouTube search and watch histories that you've built up over the life of your Google account — which for most of us is upwards of a decade — YouTube Music doesn't really need to ask you which artists you like or what genres you're into. It already knows. In fact, even if you've never used YouTube Music before, for most users opening YouTube Music for the first time are really only going to be asked a few things:
If you're not already a YouTube Music, Google Play Music, or YouTube Premium subscriber, Google will ask if you'd like to start a free 30-day trial of YouTube Music Premium.
Tap Let's go.
Tap the artists you'd like to follow.
Tap Done.
Regardless of if you're a free or paid user, YouTube will ask to access your location in order to offer up activities-based suggestions, such as energetic music at the gym or calming music at the airport. Tap Allow if you want to get activity-based recommendations on the Home tab of YouTube Music.
You'll immediately be served up a plethora of suggested playlists based on your artist preferences, your YouTube history, your location, and the latest music trends on YouTube. From here, you can select something on the Home tab to play or go search for whatever earworm is stuck in your head right now.
How to search for music in YouTube Music
Search is something Google does better than anyone when it puts its mind to it, and they have certainly put their mind to it in YouTube Music. When you tap that search icon in top bar of the YouTube Music app, you can search for songs, artists, albums, and music videos, but that's really just the beginning.
Tap the microphone at the right edge of the search bar and sing out some lyrics. Singing "Oh, baby give me one more chance" immediately brought up Jackson 5's "I Want You Back".
Ask for a song from a particular movie. Ask for "the song from Big Hero 6" and Immortals by Fall Out Boy will top the search results, with the movie's soundtrack lower in the results.
Search for collaborations by naming the artists. "That song with Lin-Manuel Miranda and Jennifer Lopez" resulted in "Love Make The World Go Round" and "Almost Like Praying", musical team-ups they've done for charity in the last two years.
The one search feature YouTube Music doesn't quite seem to have yet is scatting a melody for it, which is a bummer since sometime we can't remember the lyrics, only the melody. I guess that's what Shazam is still around for.
How to control playback modes in YouTube Music
The playback screens on YouTube Music are a little different from traditional music apps. On the main playback screen, you'll see a toggle in the top bar; this is the toggle that switches between playing video and playing audio only. This allows you to switch back and forth if you come across a video on a station or playlist that you want to watch the video for, like a totally sweet music video or a lyrics video. To the left of the track information is an info icon that will pull up quick links to the artists and album for the song. To the right is a three-dot menu icon, which you can use to add the currently playing song to your library, playlist, or start a song radio station.
Where are the shuffle and repeat buttons, you ask?
Swipe up on the main playback window and the controls will move up to sit on the of the video/audio only thumbnail, revealing the queue below the playback screen. The repeat button will appear between Queue and the currently playing video, along with the shuffle button when listening to a playlist or album. On stations, such as the songs stations that start when you tap a search result, shuffle isn't available since stations are always on shuffle.
No matter what you're listening to, Repeat One or "Listen on repeat", is available, which is great news for those of us that will listen to a song 30 times in a row while learning the lyrics. If you tap shuffle on an album or playlist, you can watch the songs shuffle around with a nice little animation.
How to add a song to your YouTube Music library (add to Liked songs)
If you want a song in your library, adding it to your library is as easy as hitting the thumbs up button in the playback window. Every song you give a thumbs up to is added to your library in the "Liked songs" playlist. If you want to add a song to your library that you're not currently playing, it's easy to do that, too.
Tap the three-dot menu icon next to a song in a search result, list, or album you want to add to your library.
Tap Add to liked songs.
Adding individual songs to your library is good for singles and YouTube videos that aren't part of a traditional album, but if you like multiple songs in an album, you can add the whole album to your library to make them easier to find.
How to add an album to your YouTube Music library
Adding albums to your library is almost easier than adding a song or a playlist, and while album availability seems oddly spotty for some labels right now, we're expecting things to get more consistent as YouTube Music continues to roll out and establish itself.
Tap the album you want to add, either from a search result or an artist page.
Tap the Add to library icon between the album art and the download album icon.
How to follow an artist on YouTube Music
If you like an artist and want to hear when they release new albums or upload new videos, you can follow them, just like any of the music channels you've subscribed to on YouTube over the years.
Tap the artist you want to follow in an album listing or search result.
Tap Subscribe.
Subscribing to an artist will also subscribe you to their channel in the main YouTube app, so you'll be able to keep up with their latest content on either app.
How to create a playlist in YouTube Music
If an album or a station doesn't get quite the mix you want, you can build your own playlist in YouTube Music, and building them is a snap. The playlists you build in YouTube Music are visible in the main YouTube app, and playlists that have eligible videos in them appear in the YouTube Music app. Until YouTube Music's new desktop interface is available, editing a playlist on a computer is only available through the regular YouTube site.
Tap the three-dot menu icon next to a song in a search result, list, or album you want to add to your library.
Tap Add to playlist.
Tap Create new playlist.
Name your new playlist.
Public playlists are visible to everyone and accessible through YouTube and YouTube Music searches. Public playlists are also visible on your public YouTube profile.
Unlisted playlists are only visible to other through the sharing URL. They do not appear in searches or your public YouTube profile.
Private playlists are only visible to you. This is what you'll want to select for your Guilty Pleasures mixtape.
Tap Create to create the playlist and add the first track.
Once a playlist is created, you can add songs, remove songs, and edit the playlist on YouTube Music, YouTube's main app, YouTube's website, and coming soon on the new YouTube Music website.
How to make YouTube Music your primary music service in Google Assistant
Among the many services that Google Assistant can control, music may be one of the most important. Your default music service in Google Assistant will be used every time you ask Google for a song, playlist, or album. If you're going to give YouTube Music a try, you should set it as your default music provider, so you can see how well it responds to your requests and commands, especially with albums and YouTube Music's fancy search skills.
Open the Google Home app.
Tap Menu (the three-line icon) in the top left corner of the screen.
Tap Music.
Tap YouTube Music.
Your turn
YouTube Music is an adjustment from traditional music services, but thanks to the Google's search prowess and downright uncanny predictions and recommendations, getting used to Google's newest music service should be as painless as possible. If you have more questions about new app, ask them in the comments and we'll try to answer them in our continuing coverage of YouTube Music.
Ara Wagoner was a staff writer at Android Central. She themes phones and pokes YouTube Music with a stick. When she's not writing about cases, Chromebooks, or customization, she's wandering around Walt Disney World. If you see her without headphones, RUN. You can follow her on Twitter at @arawagco.
I'm in New Zealand and a paying GPM subscriber using a pixel 2 XL on Android P, yet the new YouTube music app doesn't show up for me. Any chance of an APK for the new app?

The new YouTube Music is a server-side rollout. There was no app update that accompanied it. Sorry!

So there's no way to force the switch? Honestly why is Google so crap at launching products.

Why does this article make it seem like everyone can just all of a sudden get the new YouTube music just by downloading it on the Play store, me and many others are stuck on the old version.

Probably because it's rolling out so it should soon be available to all

Is it coming to everybody? It's taking forever it's like it's gonna arrive in 2019 or something, that may 22 launch date threw everybody off.

Yep. I keep wondering why I keep hearing about the new YouTube Music and yet I still am looking at the old junk.

Exactly I'm so confused, I know the update wasn't pushed to me but it makes me wonder why every single reviewer has it, it's like they skipped me entirely from the list and chose other people

Maybe they have to hand key each of our user names into the new server.

It's not an app update, it's server side. But it should be slowly rolling out to users. There have been sporadic reports of people who didn't get into Early Access seeing it pop up for them, so I think it's a very very slowly stage rollout.

Has anyone actually got the updated app?

I have and like it very much so far!

I got a new version today morning but does not look like this is the one - I still see "Youtube Red" in settings menu.

Just random bug fixes, enhancements, and a middle finger while they snicker at the joke.

Got an app update this morning but still don't have access to YouTube Premium.
I feel like I am back on the window phone platform. This is completely ridiculous and will not help google gain subscribers.

Don't worry. If you were on iOS, Google would make sure it went smoooooth.

Hasn't even launched yet.

All the screenshots look like the old YT Music...

Was thinking the same thing. How do you even tell the difference?

Trending tab changes to hotlist.

I got the update and I'm digging it. Just wished it carried over my GPM playlists and personally updloaded music.

While this may have potential, especially after it receives feature parity with Google Play Music (referring largely to my uploaded music), the one thing that immediately sucks is that you have to pay in order to have background playback. No other music service requires this, including GPM. Nobody wants to leave their screen on all the time to listen to music just because it is part of a video and nobody wants to be unable to open up another app to do something else and have the music stop. That is a totally stupid way of handling music. At the very least, hopefully the same restrictions won't apply to uploaded music you already own. Strangely, I haven't seen any articles complain about this or even bring it up.

I mentioned the background playback bit in my review when talking about what Premium is and why you want it. To be honest, most of the Android bloggers that are covering YouTube music probably already own a GPM/YouTube Red subscription, because they were worth 10 bucks even before YouTube Music came into the picture. It is a definite issue, but considering people have put up with that for listening to music on YouTube for so long already, I think the people determined not to pay are going to put up with it in the new app, too. Though, to be honest, at least YouTube Music's ads seem less annoying than Spotify's so far. ((I'm slumming it in free with a spare account while I write my next article)).

I don't mind a few ads, and I acknowledge that you (and others) mention as a matter of fact that you must have a paid subscription for background playback. I guess I'm just surprised that no one considers this a huge problem if it is going to eventually become Google's only music service. I mean, sure, if I want to watch an occasional music video or three on YouTube I accept that limitation. But if I just want to listen to music while I do something else on my phone or while I'm driving or exercising, that is something that no other traditional music service imposes on its free plan, be it Spotify, Google Play Music, Pandora, Apple Music, Slacker, iHeart Radio, Amazon Music, et al. Even if I was using Premium (and I have had Red for various periods of time in the past and enjoyed being ad free, having offline music and videos (in addition to my own uploaded music for free), and on demand playback of any song on GPM rather than just similar songs) it still seems inherently wrong to not allow music audio to play in the background on the free tier. Again, for other YouTube videos sure - but for music?

Is there an adk out there for this update? If so, I haven't seen it.

Yeah nobody has this yet or the APK would be available everywhere. Google is annoying sometimes but I suppose they have their reasons.

An APK isn't available because this wasn't tied to an app update; it's server side, which is equal parts awesome and annoying.

For the life of me I can't figure how to add/save "stations" under Library. It is grayed out.

I've noticed some content not available in YouTube Music that's in GPM. For example, Sleep Well Beast, the latest album from The National, is in GPM but not YTM.

Until it brings over my huge library and playlist from BPM I'm not going to use it. And yes I have it.

Had it for 3 days now.. Love it so far.
Android Central Newsletter
Get the best of Android Central in in your inbox, every day!
Thank you for signing up to Android Central. You will receive a verification email shortly.
There was a problem. Please refresh the page and try again.