Best Galaxy S20 deals: Save on the Samsung Galaxy S20, S20+ & S20 Ultra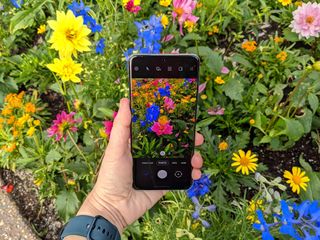 (Image credit: Ara Wagoner / Android Central)
The Galaxy S20 is not a subtle phone. It is a powerhouse, and it's here to make its mark. You had to know Samsung wasn't going to disappoint with its flagship phone, but like every generation before it the one downfall is that all of the S20 models are rather expensive. Read our reviews covering the Galaxy S20, the S20 Ultra, and the S20 Plus. Despite many similarities, the phones do have things that make them unique. Once you have decided on the one you want, come back here. We will have all of the best deals for you so you can see exactly how to cut into those exorbitant prices.
Galaxy S20 Ultra | Up to $450 off at Samsung
Go straight to the source. Samsung has a trade-in program that works with several generations of Samsung phones. They also have a buy-back program and other incentives to help you save on your new phone.
These are beautiful phones, and it'd be a real shame if the high price was the only thing keeping you from picking one up. That'd be understandable, though. It's not pocket change when the base Galaxy S20 starts at $1,000, the S20 Plus jumps to $1,200, and the top-tier Ultra goes for $1,400. And that's just at the basic level. Add things like more storage and the price just keeps climbing.
Luckily, the popularity of these phones means carriers and retailers are very eager to have your business. You'll find quite a number of different and unique ways to save here, whether it's through trade-in programs or extra incentives like free add-ons. We've rounded up all the best savings and will continue to update this page as we find more deals.
Best Galaxy S20 Unlocked Deals
We're breaking this post down into unlocked deals and carrier deals. The carrier deals will honestly be a lot more varied because carriers have a lot of built-in systems like trade-in programs, promotional codes, and things like that to provide you with discounts. However, sticking with a carrier also usually means monthly bills, long-term commitments, and more. If you just want to pay upfront and get the phone all to yourself, unlocked is the way to go. These are the best unlocked deals we can find.
Galaxy S20 Ultra | Up to $450 off at Samsung
Go straight to the source. Samsung has a trade-in program that works with several generations of Samsung phones. They also have a buy-back program and other incentives to help you save on your new phone.
Up to $700 off Galaxy S20 5G at Best Buy
Includes S20+ and Ultra. Save up to $300 if you activate through Verizon, AT&T, or Sprint. Also at Best Buy, you can get $700 off through trade-in at AT&T or get the Galaxy S20 FE for $0 a month through Sprint.
Entire Galaxy S20 lineup | Save up to $850 at Verizon
Verizon already instantly takes $150 off the price. If you're switching to Verizon, you can get another $150 in the form of a gift card. Save another $550 with an eligible trade-in. Plus, you get a free Amazon smart plug and Echo Dot with the purchase.
(opens in new tab)
Any Galaxy S20 phone | $700 trade-in program at AT&T
Pick a phone and sign up on an unlimited plan to save up to $700 via trade-in if you port in your number. If you're not porting in your number, you can save up to $400.
(opens in new tab)
Galaxy S20 lineup | Buy One, Get One at T-Mobile
Join T-Mobile with 2 or more lines of service. Grab one of the Galaxy S20 phones with a second phone on a monthly payment plan. You'll get up to $1,000 off applied to your bill over the course of 24 months.
(opens in new tab)
Galaxy S20 lineup | Save $100 at Boost Mobile
Boost Mobile has an instant savings of $100 on the Samsung Galaxy lineup. You don't have to fulfill any prerequisites that you wouldn't already need just to get the phone.
Best Galaxy S20 Carrier Deals
Sure, you usually have to sign up for a commitment up to 24 months, but depending on the carrier you go with you stand to save a lot of money over that time. If you're a long-term thinker, take advantage of what the carriers are offering and feel good about the deal you got.
Galaxy S20 Price Tracking
The S20 is not exactly difficult to follow. The phone is everywhere. As Samsung's flagship and one of the most popular phones around, every carrier and retailer wants you to know where to go. The trick to tracking prices is really how do you compare all the different little incentives these companies have? What's better, $1,000 as a promo credit over the course of 24 months or $700 off right now with a trade-in? Are you even eligible for the trade-in? Do you want it unlocked instead, and are you willing to pay a lot more upfront for that? What sort of deals can you expect in that case?
So, frankly, we try not to assign too much value to these different deals. They are all good in one way or the other, and there will be some that speak more to your situation than others. We keep an eye on the deals as they arise and drop them all in here for you to decide. The great thing about the Galaxy S20 being so popular is that deals are not rare at the moment. Pick your favorite carrier, make a switch to a new one, or abandon the multi-month commitment altogether with an Unlocked phone. The choice is yours.
Galaxy S20 vs. S20 Plus vs. S20 Ultra: Which one should you buy?
Everyone looking at the S20 lineup asks this question. You have to, right? Unless you plan to buy all three, and who needs that many phones? We've definitely asked this question ourself. Check out how the S20 stacks up to the S20 Plus and how the S20 Plus stacks up to the Ultra. Decide for yourself based on the features.
The regular Galaxy S20 is probably your best bet if you're really more interested in a simple device that will treat you right, and it is one of our favorite phones. It's the best one for one-handed use since it is the smallest of the available options. However, that also means it has the smallest battery. On the plus side, it means the S20 is considerably cheaper. At a minimum you're going to be paying $200 less for a lot of the same features of the S20 Plus or Ultra. It even has the same cameras, so you can still get quality photos and videos with this option.
The S20 Plus of course adds a 12% larger battery and a much larger display. It can also give you more storage than the basic 128GB on the Galaxy S20. The Ultra offers another bump in battery and screen size, but it also has a bump in price. The Ultra also has some extra stuff like more zoom capabilities on the camera, support for 45W wired charging versus 25W, and more. Read more about it in our review.
J.D. Levite has been in the deals game since 2012. He has posted daily deals at Gizmodo, The Wirecutter, The Sweethome, and now for Thrifter. He was there for the first Prime Day and has braved the full force of Black Friday. If you cut him, he bleeds savings. But don't try it for real. That's a metaphor.
I have got an S20+ and it is the biggest disappointment ever. There is so much wrong that it is difficult to know where to start, but I will give it a go. Bixby is useless, very rarely works and how do you get it to speak a response. Even basic commands defeat it. When I read 1 text, it Mark's them all off as read. Arghhhhhhh! For a nearly a grand for this
phone this is basic school boy error stuff.

I look at the price and think
$1,400. I can get a cordless Makita miter saw and the cordless vac, all bluetooth, that will last a decade and have enough to buy a decent budget phone. These prices are nucking futs.

I almost bought one last night onSamsung.com They had the unlocked for $699, which included $400 trade in and another $100 credit for trading my S9. Then, since I work at a university, there was another 10% off, so the phone would have been $629 plus tax. for 2 yrs it was $28 and 3 yrs was 18. I just didn't feel like going through the financing deal, nor pay all of it upfront. I'll just restore my S9 to factory condition as it was fine until 3 months ago. Not sure what app i installed around that time slowed it down.

I just bought the S20+ last night at TMobile with a $500 credit for my iPhone X. They are offering that for several phones. Pretty good deal, I thought. This phone is awesome so far. Glad I switched from Apple (not the first time).

Prices are just too outrageous. The things I need a phone for - making calls, taking snapshots, chatting, and some social media - can all be handled by a cheap phone these days. I'd rather spend US$350 on a phone like a Pixel 4a, and $650 on a camera, than $1000 on a phone.

You're stupid if you're paying full price for ANY phone.

You didnt list probably the best deal I've ever seen. AT&T Samsung Galaxy S20 upgrade $10/month for 30 months. $300 total! No trade in or new line required.
I just did this upgrade.
Android Central Newsletter
Get the best of Android Central in in your inbox, every day!
Thank you for signing up to Android Central. You will receive a verification email shortly.
There was a problem. Please refresh the page and try again.