OnePlus isn't holding back with the Open — the foldable goes up against the best that Samsung has to offer right now, and it manages to come out ahead in several key areas. The Open has a much better design and in-hand feel, a smoother hinge that's touted to be more durable, a crease that's as close to invisible as any foldable today, and larger battery with faster charging tech. The biggest win is a cover screen that's just the right size, and the cameras are the best you'll find on a foldable. To its credit, OnePlus has a lot of nifty multitasking features, but the software is where the Open falters; it just isn't refined, you miss out on basic features, and there are enough issues out of the box that I'd suggest waiting a few weeks (or months) to see if these are sufficiently rectified.
Pros
+

Striking design and build quality

+

Smooth hinge with no visible crease

+

Excellent performance

+

Useful multitasking features

+

Fast charging with stellar battery life

+

Great cameras

+

Four Android OS updates
Cons
-

Software is buggy at launch

-

Scaling issues between screens

-

No wireless charging

-

No stylus integration

-

Games locked to 60fps

-

Missing standard Android features
Why you can trust Android Central Our expert reviewers spend hours testing and comparing products and services so you can choose the best for you. Find out more about how we test.
Foldables are gaining momentum with every generation, but it's still only one brand that's driving a bulk of the sales: Samsung. While Honor, Xiaomi, OPPO, Google, and Vivo make foldables of their own, they don't sell their devices in most countries, and that has allowed Samsung to gain a sizable market share in this burgeoning category.
OnePlus wants to change that with the introduction of the Open, its first foldable. The device is coming to most global markets where OnePlus sells its phones, including North America. That's a big deal as it's only the third foldout-style device to be available in the region, following the Galaxy Z Fold series and Pixel Fold.
The OnePlus Open is the brand's first foldable, but it isn't a solitary effort; the device is identical to the Find N3, which made its debut at the same time. This is by design; OnePlus and OPPO utilize the same engineering teams, and both brands collaborated on creating the Open. So although the foldable uses similar design fundamentals as last year's Find N2, it is considerably bigger and has all-new cameras.
What's particularly impressive is that the Open has a better design than the Z Fold 5, a smoother hinge that closes fully flat, is lighter, and comes with a bigger battery and faster charging. What I like the most is that the outer screen is a sensible size; I'm not a fan of the narrow cover screen on the Z Fold 5, and that's not a problem here.
The most notable achievement is the lack of a visible crease — it makes all the difference in daily use. So should you ditch Samsung and switch to what OnePlus is offering? Let's take a look.
OnePlus Open: Pricing and availability
OnePlus unveiled the Open at a launch event on October 19, and the foldable is now available in global markets. The phone is sold in a single 16GB/512GB variant, and it retails for $1,699 in the U.S. and $2,299 in Canada. Over in India, the phone costs ₹1,39,999 ($1,681), with OnePlus continuing to maintain parity with the U.S. in this regard.
OnePlus is rolling out a suite of offers when you buy the foldable via its website; all purchases come with a limited edition Buds Pro 2 in white, with the number (there will be just 5000 units) engraved on the case. You also get three months of YouTube Premium, six months of Google One (100GB tier), and a $200 credit toward any phone in any condition.
If you want to buy the phone via Amazon, you get a $200 gift card instead with every purchase. If you're thinking of switching from a relatively new device, trade-in offers of up to $1,000 are available — but these are limited to North America. There are no carrier deals, but Best Buy is rolling out $300 to $400 off with new activations.
Before we get started with the review, a few testing notes: I used the OnePlus Open for just over a week as my main phone. It came with OxygenOS 13.2 out of the box (build 13.2.0.90), and made the switch to build 13.2.0.94 with camera and stability tweaks three days ahead of launch; this is the build I used to test the cameras and assess the software.
OnePlus Open: Design
The OnePlus Open is easily one of the best-looking foldables available today. The design is exquisite; from the seamless fusion of metal and glass at the front to the leather back and massive camera island that dominates attention, it's clear that a lot of thought went into this device.
Of course, this isn't an all-new design; the Find N2 featured a similar aesthetic, and that's immediately evident when using the Open side-by-side with OPPO's foldable. But the biggest differentiator is that the Open is considerably larger, and that's down to the larger screens — both inside and out. As much as I liked using the Find N2 last year, I felt that it was too small — particularly the cover screen — and that's not an issue on the Open.
Image 1 of 4
What's commendable is that OnePlus was able to keep the weight low; the Open comes in at just 239g, and that's a full 14g lighter than the Galaxy Z Fold 5. In fact, it's only marginally heavier than the Honor Magic V2, which has the distinction of being the lightest foldable around. While the Magic V2 is thinner, the Open is a smidgen shorter and narrower, and that makes it easy to hold and use the device.
That's the biggest positive in terms of the design; OnePlus absolutely nailed the dimensions and weight, and the Open has the best in-hand feel of any foldable. As for the weight, the Open uses a combination of titanium and cobalt alloys in the construction of the chassis and hinge, and that allows it to be lighter while still being durable.
Then there's the hinge. The OnePlus Open uses the latest iteration of OPPO's Flexion Hinge system, and it is magnificent. The hinge has just 69 parts, is lighter than last year, and closes fully flat. But the biggest achievement is its durability — OnePlus touts a million folds, double that of most foldables.
Image 1 of 2
The hinge is among the smoothest of any foldable, and it stays open at any angle between 45 and 150 degrees, making it that much more versatile. The Open has flat sides, and the matte texture along with beveled edges make it extremely easy to unfold (and fold) the device. It doesn't need as much force to open as the Z Fold 5 or any other foldable, but it still feels durable.
What's particularly great is that there is no visible crease; you still get a thin line in the middle of the inner screen, but it isn't noticeable, and it doesn't affect usability in the least. More than anything else, this is the biggest win for the Open, and the lack of a crease gives the foldable a distinct edge over the Galaxy Z Fold 5 — by contrast, Samsung's foldable feels a few generations behind.
Another positive is the inclusion of the alert slider, a feature that's a mainstay on most OnePlus phones. Of course, the feature is now available on OPPO's phones as well, but that's a good thing. The power and volume button are on the right, and like all foldables, you get a fingerprint sensor that's baked into the power button.
Image 1 of 5
The Open is available in two color options — Emerald Dusk and Voyager Black — I'm using the latter, which has a leather back. The leather feels great to hold, and I prefer it to the glass-backed Emerald Dusk, which is a little heavier. A big talking point is the gigantic camera housing at the back; it takes up a lot of room, affects the weight distribution, and juts out considerably — much more so than other foldables.
The camera island definitely makes the device easily recognizable, but I'm not sure how it would hold up to extended use. Each of the camera modules sits inside a large ring, and you get the Hasselblad logo to the right. I don't like just how big the camera housing is on the device, but I can't deny that it grabs attention.
Rounding out the design, the foldable gets IPX4 dust and water resistance, and while it isn't quite the same as the IP68 standard that you get on Samsung phones, it is a good starting point.
Ultimately, the OnePlus Open ticks all the right boxes when it comes to the design. It has exquisite styling, the size is just right, and the lightweight chassis combined with the invisible crease makes it thoroughly enjoyable to use. I used the Galaxy Z Fold 5, Honor Magic V2, and Xiaomi's latest foldable extensively this year, and I can categorically say that the Open has the best in-hand feel, the best hinge, and a crease that's less visible than any other device.
OnePlus Open: Displays
The best part of the Open is the cover screen; you get a 6.31-inch screen with a 20:9 ratio and resolution of 2484 x 1116, and while it is smaller than what you get on a regular phone, it is fantastic to use. The screen has a normal width — unlike Samsung — and that makes all the difference in daily use. I found myself using the outer screen most of the time, only switching to the inner screen when streaming content, writing emails, or browsing. For shorter interactions lasting up to five minutes, I just defaulted to the cover screen.
That isn't to say the cover screen is bad — far from it. The Open unfurls to a 7.82-inch screen with a resolution of 2440 x 2268, and it is exquisite. Both screens use AMOLED panels and include LTPO tech, which is great to see. The cover screen scales from 10Hz to 120Hz, while the inner screen goes down to 1Hz. I don't really see the benefit of this as you don't get to use an AOD mode on the inner screen, but it lets you conserve battery when viewing static content like photos.
Image 1 of 3
Both screens have a hole-punch cutout for the camera; there's no under-screen tech here, and that's a sensible move. They're also among the brightest screens of any phones I used this year, with both panels able to go up to 2800 nits in HDR content. In regular use, they hit up to 1400 nits, and having used the phone outdoors quite a bit, I didn't see any issues with brightness or visibility under harsh sunlight.
Colors are incredible — as you'd imagine in a phone of this caliber — and you get the usual customization options that let you tweak the color balance; I found the Natural mode to be great out of the box. The inner screen has raised edges on the sides made out of plastic, and there's an ultra thin glass layer over the panel. This layer is thin and doesn't affect usability, and you don't notice it after using the device for a few days.
There's Dolby Vision integration, and you can play back videos shot using the camera or stream shows on Netflix. I don't usually stream a lot of content on my phone, but it was enjoyable on the Open, and other than excessive letterboxing — nearly half the screen real estate is unusable — there were no issues.
The cover screen eschews Gorilla Glass for Ceramic Guard, with OnePlus noting that it is more durable. I wasn't able to test the efficacy of that just yet, but I've only had the device for a week — I'll see how it holds up after a few tumbles and update this section should something go awry.
The Open has four speakers grilles (two on each side), and the foldable has a unique spatial speaker configuration that's meant to deliver immersive sound. There are three speakers on board, and they manage to produce a more detailed sound than any other foldable I've used. They're balanced quite well too, so you get a sense of space — as much as possible from micro-drivers — and it makes streaming videos and gaming that much more engaging.
On the subject of gaming, the Open is locked to 60fps — this is a limitation for all devices running OxygenOS and ColorOS, so even though the hardware is clearly able to deliver high framerate gaming, it's hobbled in the software. That brings me to another software decision that has proved to be infuriating in the time I used the device: lack of home screen customization.
Android has offered the ability to set a 5x5 app grid for a decade now, and that's what I used going all the way back to the Nexus 4. But for reasons I don't quite fathom, OnePlus limits the Open to a 4x4 grid. This has been the single biggest source of frustration with the device, and while it doesn't seem like a big deal, I've had to rework years of muscle memory.
The move inevitably meant that I launched the wrong app by mistake constantly, and while I'd normally just install a custom launcher at this point, I couldn't do so here because you don't get a taskbar if you switch to another launcher. When I asked OnePlus why it decided to not include such a basic feature, here's what the brand said: "It's because of the screen-size, it's relatively pro-sized. We have tried to keep it as close to a Pro screen experience as possible, but it is a real estate limitation. We have folder and recents to make the frequently used apps as accessible as possible." What?
I just don't understand what it means by a pro-sized screen; there are plenty of smaller devices that don't have such arbitrary limitations. The only thing I can think of is design choices; the Open uses a custom resolution on both screens, and it looks like OnePlus wasn't able to scale it to include a 5x5 grid, so they decided to not bother. Last year's Find N2 had a similar limitation, and I'm guessing complacency gave way to user needs here.
This is just the start of the software issues. The Open doesn't do a good job scaling the screen size when switching between the cover and inner screens. There's a handoff mode that lets you seamlessly switch from one screen to the other, but it just doesn't work in normal use; I had to relaunch whatever app I was using because of scaling issues. I didn't see any of these issues on other foldables, so I'm guessing this has to do with OxygenOS.
Overall, I really like the size of the cover and inner screens, but asinine software decisions hold the device back in this area. OnePlus continues to parrot the "fast and smooth" tagline when it comes to its software, but that hasn't been the case for a while now.
OnePlus Open: Performance
Like the best foldables, the OnePlus Open is powered by the Snapdragon 8 Gen 2. It's sold in a single version with 16GB of LPDDR5X RAM and 512GB of UFS 4.0 storage. OnePlus is including Wi-Fi 7 connectivity out of the box, and while I wasn't able to test that out just yet, that's changing soon — I'm switching to the Netgear Orbi 970 shortly.
Swipe to scroll horizontally
| Category | OnePlus Open |
| --- | --- |
| OS | OxygenOS 13.2, Android 13 |
| Inner Display | 7.82-inch 120HZ AMOLED, LTPO 3.0, 2440 x 2268, 2800 nits, Ultra Thin Glass |
| Outer Display | 6.31-inch 120Hz AMOLED, LTPO 3.0, 2484 x 1116, 2800 nits, Ceramic Guard |
| Chipset | Qualcomm Snapdragon 8 Gen 2, Adreno 740, 4nm |
| RAM | 16GB LPDDR5X |
| Storage | 512GB UFS 4.0 |
| Rear camera 1 | 48MP f/1.7 Sony LYT-T808, 1.12um pixels, OIS, Dolby Vision video |
| Rear camera 2 | 48MP f/2.2 Sony IMX581, 0.8um pixels, 114-degree FoV |
| Rear camera 3 | 64MP f/2.6 OmniVision OV64B, 3x optical zoom, 6x in-sensor zoom, OIS |
| Selfie camera (cover screen) | 32MP |
| Selfie camera (inner screen) | 20MP |
| Ingress protection | IPX4 dust and water resistance |
| Connectivity | Wi-Fi 7, Sub-6 5G, Bluetooth 5.3, NFC, dual-band GPS |
| Security | Face unlock, fingerprint sensor |
| Audio | USB-C, spatial sound, AptX, LDAC, LHDC codecs |
| Battery | 4805mAh battery, 67W fast charging |
| Dimensions (folded) | 153.4 x 73.3 x 11.7 mm |
| Dimensions (unfolded) | 153.4 x 143.1 x 5.8 mm |
| Weight | Voyager Black (239g), Emerald Dusk (245g) |
| Colors | Voyager Black (leather back), Emerald Dusk (glass) |
Thankfully, I didn't run into any issues on the hardware side of things, and the Open offers a similar level of performance as the OnePlus 11. Other than the software glitches, I didn't see any lag or slowdowns in daily use, and the foldable did a great job playing demanding titles. While other foldables tend to throttle a little earlier, that hasn't been an issue on the Open — I didn't have any issues during extended gaming sessions, and while the device got a little warm, there was no overheating.
Swipe to scroll horizontally
| Category | OnePlus Open | Galaxy S23 Ultra |
| --- | --- | --- |
| CrossMark (Overall) | 1004 | 1295 |
| Productivity | 1047 | 1185 |
| Creativity | 936 | 1411 |
| Responsiveness | 1094 | 1310 |
| Geekbench 6 (single-core) | 1307 | 1931 |
| Geekbench 6 (multi-core) | 4260 | 4971 |
| 3DMark Wild Life Extreme (score) | 3658 | 3488 |
| 3DMark Wild Life Extreme (FPS) | 21.8 | 20.9 |
Connectivity was rock-solid throughout, and I didn't have any issues over Wi-Fi 6 or 5G. The phone has the same set of Sub-6 5G bands in all regions — 1/2/3/5/7/8/12/20/25/28/30/38/40/41/66/71/75/77/78 — and you get Bluetooth 5.3, NFC, dual-band GPS, AptX HD, LDAC, and LHDC codecs, and USB 3.1 connectivity. OnePlus is usually stingy with offering the USB 3.1 standard — the OnePlus 11 uses USB 2.0 — so it's good to see the Open doesn't miss out.
The x-axis vibration motor is quite decent, and while it doesn't deliver the same level of feedback as the likes of the S23 Ultra or the Xiaomi 13 Ultra, it is better than most other foldables I've used. Where things aren't so refined is biometric authentication — it has a mind of its own.
The fingerprint sensor is a standard module that's used in most foldables, but it is just glitchy. It doesn't unlock reliably when I want to, but whenever I'm walking around holding the phone in my hand, I see that the device is unlocked and my fingers have inadvertently launched the camera, started playing music in Spotify, or even pulled up a message window.
Initially, I thought it was the face unlock module that was at fault; I don't know if it's the way OnePlus implements biometric unlock in OxygenOS, but I was never able to use face unlock on OnePlus phones with any degree of reliability, and that continues to be the case here. But even with the feature disabled, I found that the phone would randomly unlock when I'm just carrying it around in my hand, so it had to be the fingerprint sensor that was glitching out.
Anyway, that's likely a bug that will be corrected with a software update, but given OnePlus' chequered history with these things, I'm not counting on a timely fix. Other than that quibble, I didn't have any issues with the device.
OnePlus Open: Battery life
The one area where the Open absolutely demolishes its rivals is battery life. The foldable has a 4805mAh battery that's split into two, with a 3295mAh unit on one side and a smaller 1510mAh battery on the other half, and it uses 67W charging tech. My charging patterns have changed considerably in recent months, and while I used to leave a phone charging overnight, I now plug it in when needed.
The Open easily manages to last an entire day without breaking a sweat, and this is with heavy use involving navigation over 5G, streaming music and videos, and playing games. There's no battery anxiety whatsoever, and that feels wonderful on a foldable. Even with the Z Fold 5, I used to worry about the device running out of charge before the end of the day, but that just hasn't been a problem here.
As for charging, it takes just under 50 minutes to fully charge the battery, and a 15-minute delivers a charge of over 50%, and that's more significant in daily use. You get an 80W charger bundled in the package, and it can be used to charge other devices as well.
Now, the biggest downside in this area is that there's no wireless charging. I honestly don't know what OnePlus was thinking of when coming up with the foldable, but not having this feature on a $1,699 device feels shortsighted to say the least. Sure, you get fast charging tech in general, but there are plenty of use cases where a wireless charger is just more convenient, but you miss out on it here.
OnePlus Open: Cameras
OnePlus is being ambitious with the cameras on the Open, and it's safe to say that the device has one of the strongest camera packages of any foldable. You get a brand-new 48MP Sony LYTIA-T808 sensor with OIS, and that's joined by a 48MP wide-angle lens and 64MP telephoto with 3x optical zoom. There's a 20MP camera on the inner screen that can be used for selfies and video calls, and the main selfie camera is on the cover screen — a 32MP module.
OnePlus talked a lot about the new Sony sensor and how it allows for significantly higher light intake in a smaller size, and it definitely has a lot going for it. The phone also gets Dolby Vision video recording (up to 4K/30), and that's another differentiator. Like the best OnePlus phones, you get Hasselblad integration here, and that includes a new portrait mode, custom accents in the viewfinder, unique filters and styles, and the leaf shutter sound.
Image 1 of 12
After using the Open for a week, it's evident that this is one of the best cameras on a foldable yet. The main camera takes incredible shots in just about any situation, delivering excellent detail and dynamic range while still maintaining accurate colors. While initial versions of Hasselblad tuning offered colors that were overly saturated (particularly reds), that isn't the case now. You get true-to-life colors in any scenario, and they look great. Of course, you get the ability to switch up the look of your photos with the custom filters.
What I particularly like is how good the auxiliary cameras are on the device; this has been a pain point on foldables, but the Open's wide-angle and zoom lenses manage to deliver standout shots in challenging scenarios. And as you get Flex Form mode, you can shoot with the Open semi-closed, unlocking a lot of interesting angles. And you have the ability to take selfies with the back camera — you get a live preview on the cover screen.
There are no issues in low-light situations, with the Open managing to produce shots with plenty of detail and good highlights management. There's no visible noise as such, and you don't lose out on minor details even in scenes with little to no artificial light — the night mode comes in handy here.
The Open does a brilliant job with video as well, and the introduction of focus lock makes shooting moving subjects a lot easier — nifty when you have a baby in the house. Portraits are great too, but it doesn't quite manage to come close to the Pixel 8 in this regard.
Overall, the Open offers one of the best camera packages of any foldable. It edges out the Galaxy Z Fold 5 in most situations, and that makes it worthy of consideration in and of itself.
OnePlus Open: Software
I'll say this about the software on the OnePlus Open: you get a lot of custom features that take full advantage of the large screen real estate. OnePlus says it worked closely with Google in this regard, and the biggest addition is a taskbar that sits at the bottom of the screen. You get a dock that holds four apps, an app launcher that's quite convenient to use, and it surfaces the last three apps you used.
The best part is that you can have the taskbar be present at all times — just like on the Z Fold 5 — and a minimized version of it sits at the bottom of the screen when you're using an app, giving you quick access to the dock, app drawer, or an app that's in the background. You can even have recent files show up on the taskbar, giving you the ability to access documents or media seamlessly.
Another nifty trick has to do with multitasking; when you're in an app, just hold and drag any app icon from the taskbar to the screen and you'll go into split-screen multitasking. This is one of the best features on the Open, and it makes multitasking a breeze. You can also launch split-screen mode with a swipe down gesture from the top of the screen, and you can select the second app. A nifty addition here is the ability to add a third app to the mix — just hold and drag an icon from the taskbar anywhere on the screen.
There's definitely a lot to like if you want to maximize the utility of the inner screen. And when you run into the inevitable app that doesn't scale correctly, you can set it to launch in a standard 16:9 mode. The Open runs OxygenOS 13.2 based on Android 13 out of the box, and while OnePlus — err, OPPO — put in a lot of work building out these features, the interface has its share of quirks.
The interface is buggy out of the box, and you get the usual app crashes that's standard on any new device running OxygenOS. But because of the foldable form factor, you get a slate of new issues; the app drawer lets you easily navigate via the alphabet row that sits to the right, and this usually works without any hassle. But on the Open, it just wouldn't do anything — hitting on a letter would either not register, or the drawer would scroll down to the end of the list half the time.
Same with the toggles in the notification pane; they would reset after a few days, so I had to go back in and arrange the tiles to my preferences all over again. Combine that with the scaling issues and 4x4 grid, and it's clear that OxygenOS 13.2 needs a bit of work to get to the same level of polish as Samsung.
As for software updates, the Open will get the same number of updates as Samsung's foldables; you're looking at four guaranteed Android OS updates along with five years of security updates. What's annoying is that the Android 14-based OxygenOS 14 update counts as one of those updates, and the phone should have ideally launched with that out of the box.
OnePlus Open: The competition
Any mention of foldables needs to include the Galaxy Z Fold 5, and while Samsung didn't make too many changes this year, it added a few refinements that make it a better phone than its predecessor. That said, you still get a narrow outer screen that's annoying to use, and the Z Fold 5 has the most noticeable crease of any foldable. You'll also have to shell out a premium, and while there wasn't much in the way of an alternative in the past, that isn't the case in 2023.
That brings me to the Pixel Fold. Google's foldable has its share of quirks, and while it is limited to select countries — even more so than the Pixel 8 and 8 Pro — it is available in North America, and you get decent-sized screens, terrific cameras, and unique software features.
OnePlus Open: Should you buy it?
You should buy this if:
You need a foldable with a nearly invisible crease
You want the best hardware and a sleek design
You need a cover screen that isn't narrow
You're looking for great cameras
You want the best battery life and fast charging tech
You shouldn't buy this if:
You want to use a stylus
You need wireless charging
You want hassle-free software
I've been fortunate enough to use all of OnePlus' first-gen products; the manufacturer hasn't shied away from venturing into new categories, so there was plenty to try out in recent years. I used the OnePlus TV Q1 Pro, the OnePlus Band, OnePlus Watch, OnePlus Nord, OnePlus Pad, and the OnePlus Keyboard 81 Pro. A constant theme among all of these devices is that they felt unfinished at launch; it wasn't until several weeks after launch that OnePlus managed to work out all the kinks and they became usable. The only outlier to this is the Keyboard 81 Pro, and that's because it's a rebadged Keychron that doesn't need any custom software.
Given that the launch of the OnePlus Open was pushed back by a few months, I figured OnePlus would take the time to fix any issues and release a device that's trouble-free. However, that is not the case; the Open has the same software foibles and issues that have been plaguing the manufacturer for a while now, and some of these — like the decision to lock the home screen to a 4x4 grid — are self-inflicted.
This isn't a bad phone as such; I used all foldables released this year, and from a hardware point of view, the OnePlus Open is the best foldable you can buy today. The size of the inner and outer screens is just right, the leather back feels great to hold, you get the best hinge articulation of any foldable, there's the alert slider, and terrific cameras with great battery life. All of these combine to create a foldable that is an absolute joy to use, and the lack of a visible crease is a masterstroke. The cameras are better than what you get on Samsung's foldables, as is the charging tech and battery life.
Ultimately, it comes down to the software. I like that OnePlus included a taskbar and several multitasking features, and they make a tangible difference in daily use. But the software still needs a lot of polish, and there are basic features missing that make it annoying to use. The pricing doesn't do the Open any favors either, and the foldable inevitably invites comparison to Samsung.
If you don't mind the software issues and are willing to wait and see if they get sorted out in a timely manner, then yes, the OnePlus Open is an easy recommendation — the hardware really is that good. But if you don't trust OnePlus enough to do the right thing, Samsung is still the de facto choice.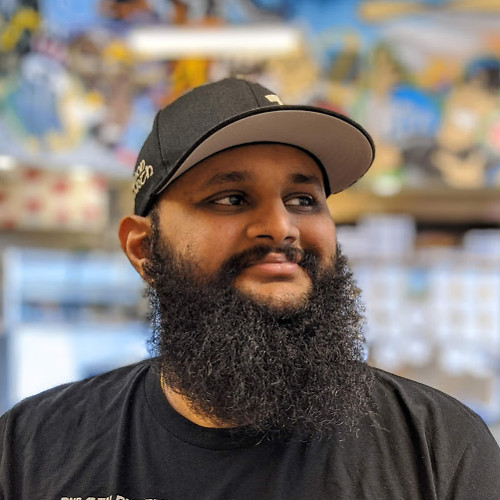 Harish Jonnalagadda is a Senior Editor overseeing Asia at Android Central. He leads the site's coverage of Chinese phone brands, contributing to reviews, features, and buying guides. He also writes about storage servers, audio products, and the semiconductor industry. Contact him on Twitter at @chunkynerd.