The OnePlus Pad has a gorgeous design, and the aluminum chassis combined with the lustrous green color option give it an elegance that's unmatched in this category. The large screen has a 144Hz refresh and is good for streaming content, and you'll find four speakers in total here. Combine that with reliable hardware and a battery that lasts long enough to stream an entire season of a Netflix show, and the tablet covers all the basics. However, there are several problems: the design with the rounded edges isn't comfortable to hold, the software isn't optimized, and the screen tends to be laggy at times. Furthermore, the magnetic keyboard and stylus accessories I was sent were unreliable, and key software features are unavailable at launch. There is a lot of potential here, but as of now, that is unrealized — OnePlus has a lot of work ahead to turn this into a recommendable product.
Pros
+

Gorgeous design at the back

+

Decent MediaTek hardware

+

Good screen with 144Hz refresh

+

Excellent onboard sound

+

Front camera is great for video calls
Cons
-

Isn't comfortable to hold and use

-

Weird lag noticeable when browsing

-

Key software features missing at launch

-

Unreliable accessories
Why you can trust Android Central Our expert reviewers spend hours testing and comparing products and services so you can choose the best for you. Find out more about how we test.
I was very excited for the OnePlus Pad when it was announced back in February. I used the iPad Air as my go-to tablet for the last two years, and while I like most things about it, the lack of a 120Hz panel was a bit of a limiting factor, so when I saw that the OnePlus Pad came with a 144Hz screen, I was thrilled.
That excitement turned into consternation when I actually started using the OnePlus Pad. What immediately ticked me off was the software; it is nearly identical to what you'll find on the OnePlus 11, and while that's not a bad thing, there isn't as much tablet-focused customization as I was looking for. Nevertheless, I was keen on testing out the accessory ecosystem and wanted to see how the keyboard and stylus would hold up.
To call the accessories unreliable would be an understatement. The stylus looks and feels like the Apple Pencil, but I had issues with latency, making it unusable for most of the testing window. And as for the keyboard, while it connected without any issues, it was glitchy from the get-go. It would pull up Google Search for no tangible reason, and it took me over four minutes to enter my email address while trying to sign in to Bitwarden. Sure, I have a long surname, but the issue was that the keyboard was constantly adding random characters; so every time I keyed in the letter n or d, it would throw in a few extras — mostly a and f — for good measure.
I was initially going to use the keyboard to write the entirety of the review, but given how long it took to enter my email address, I think we'd be in 2025 if I followed through on that. So I figured the most sensible thing would be to use another device — one with a working keyboard — so I went back to my gaming rig and got started.
As I couldn't talk about productivity, I thought I'll share what it's like to use the tablet for multimedia. After all, that is the biggest use case for a tablet these days, so I spun up the latest season of University Challenge and sat back. Because of the defective keyboard accessory and the fact that I wasn't sent any other cases, I held the tablet in my hands when streaming the show, and after about 15 minutes, I noticed my hands were fatigued. Now, the tablet is moderately heavy at 552g, but that shouldn't cause any fatigue, and I figured it could be down to design choices and the fact that the weight distribution is all wrong.
While most tablets have the weight spread out over the entire area, the OnePlus Pad feels heavier on the sides, and that makes it uncomfortable to hold and use for an extended use. So if not for entertainment, what else can I do with this tablet? Key software features are missing at launch, so that's not something I can be enthused about, and while I like the Dimensity 9000, it isn't optimized for the tablet, so it feels weirdly slow and laggy at times — even with that 144Hz screen.
And just as I finished taking the product shots and was about to publish the review, the keyboard started working, so I'm chalking this one up to unreliable hardware on the initial batch of units that were sent out to reviewers.
But the bigger issue still remains; OnePlus has gotten into an annoying habit of releasing half-baked products — go through my reviews for the OnePlus Band and OnePlus Watch to see what I'm talking about — and the OnePlus Pad falls into the same category.
Don't get me wrong; there is potential for this tablet to be good, but that isn't the case at launch. It will take several months and a few software updates to iron out all the kinks, and if you're willing to put up with the hassle, then yes, you should buy the OnePlus Pad. Otherwise, you're better served by one of the choices on our best Android tablets list.
OnePlus Pad: Pricing and availability
The OnePlus Pad was announced back in January at the Cloud 11 event in New Delhi — alongside the OnePlus 11 and the OnePlus TV 65 Q2 Pro — and it is now up for pre-order in several countries, with sales kicking off in May.
The tablet is sold along with three accessories: a stylus called OnePlus Stylo, folio case, and a keyboard case that attaches magnetically to the tablet. OnePlus is rolling out the tablet in a standard 8GB/128GB configuration in most global markets, but users in India will also be able to pick up a 12GB/256GB edition that's exclusive to the country.
Here's what you'll end up paying for the OnePlus Pad and its associated accessories in various regions:
OnePlus Pad (8GB/128GB): $479 / £449 / ₹37,999 / $649 CAD
OnePlus Pad (12GB/256GB): ₹39,999
OnePlus Magnetic Keyboard: $149 / £149 / ₹7,999 / $209 CAD
OnePlus Stylo: $99 / £99 / ₹4,999 / $139 CAD
OnePlus Folio Case: $39 / £39 / ₹1,499 / $57 CAD
To incentivize the launch of the tablet, OnePlus is throwing in a free keyboard or stylus to those purchasing the Pad in North America, and is offering the folio case for free for users in the U.K. and India.
And as is usually the case for OnePlus, the Pad and its accessories are affordable in India than other regions, with the base version coming out to the equivalent of $464. The keyboard accessory comes out to $97 (versus $149 in North America), the stylus is $61, and the folio case is the equivalent of $18. Clearly, OnePlus is betting on the tablet and its accessories selling in decent numbers in India, but it is going up against stiff rivalry from the likes of Samsung, Xiaomi, and Lenovo.
OnePlus Pad: Design
The obvious highlight on the design front is the back; thanks to a vibrant green finish and brushed metal look with the camera positioned in the middle, the OnePlus Pad looks gorgeous. The metal finish feels good to touch and doesn't leave too many smudges, and I like the minimalist design and the all-metal chassis.
While the design is distinctive and immediately makes the tablet stands out, like a Fabergé egg, this tablet is better admired from a distance than actually holding it in your hands. The main problem is weight distribution; the tablet feels unnaturally heavy on the sides, and as a result, you can't hold it comfortably for more than a quarter of an hour.
Then there's the issue of the design itself; three sides of the tablet are curved, and one side is flat — to accommodate the stylus accessory that attaches magnetically — and this asymmetry makes me question who signed off on this particular design choice. It clearly isn't the same individual who suggested putting the camera in the middle to create "Ultra Symmetry."
I don't like flat sides on phones as it makes using them unwieldy, but they make much more sense on a tablet — I can attest to that after using two generations of the iPad Air. OnePlus should have gone with a similar design with flat sides as it would have led to a cohesive design and made using the tablet more comfortable. There's a reason most tablets today feature flat sides, and that's for the sake of usability.
On that note, the company could have done a better job hiding the antenna bands at the back. There's a clear dichotomy in the design language, and it feels like OnePlus spent all of its time and attention figuring out what color and pattern to use at the back, and then phoned in the rest of the design.
Image 1 of 4
Rounding out the features, you'll find a quad speaker array with two speakers on either side of the tablet, and there are pogo pins on the side where it's meant to be connected to the keyboard accessory. The USB-C charging port is at the bottom, and you'll find the power button at the top and the volume buttons to the right.
Yes, the green color at the back and the metal chassis make the OnePlus Pad look good, but this is a classic case of a brand prioritizing aesthetics over usability.
OnePlus Pad: Display
The OnePlus Pad has a 11.61-inch IPS LCD display with 144Hz refresh rate, and it has an unusual resolution of 2800 x 2000 with a 7:5 ratio that's a little more conducive to reading text. But you know what would have been useful? The dedicated reading mode that was a mainstay in legacy versions of OxygenOS. The feature would turn the screen monochrome, and it was great for reading text. Of course, it went away when OxygenOS merged with ColorOS two years ago, but it would have made a difference here.
The screen goes up to 500 nits in auto mode, and while that isn't anywhere as high as what most modern phones are able to achieve, I didn't see any issues in this area. The panel itself is decent for the most part, and you get good colors. Of course, it isn't the same as an AMOLED panel, but going that route on a device this size would have increased the cost by a significant margin — that's one of the reasons why Samsung's Galaxy Tab S8+ retails for nearly $900.
Regardless, the panel is more than adequate for streaming TV shows and movies off your favorite streaming services, and the star of the show here is the onboard audio. With four speakers — two on either side — the OnePlus Pad gets incredibly loud, and the overall balance is quite good. There is some distortion when you crank the volume all the way up, but other than that, the built-in audio is highly enjoyable for multimedia.
When it comes to playing games, the Dimensity 9000 does a great job in its own right, but just like OnePlus phones, the tablet is limited at a hardware level to 60fps. So even if a game is able to leverage high refresh rates, that's not possible here. This isn't a new phenomenon, and it's unlikely OnePlus will change stance anytime soon.
There's no 3.5mm jack here, and that feels like a nonsensical omission; there's clearly room on the tablet for the jack. This is a moot point as most brands have moved past the analog port, and if you need to plug in a wired headset, you'll need to go the dongle route.
There's also the fact that you only get 144Hz in select whitelisted apps — including Chrome and select first-party utilities — and the screen switches down to 120Hz in daily use. Even with the refresh set to High in the settings, it will switch between 30, 60, 90, 120, and 144Hz based on the content on the screen to save battery life.
Building on this, my biggest issue with the screen is that it's laggy at times, and that shouldn't be the case on a device with this caliber of hardware. It could just be down to poor optimization, but I noticed a few instances of infinitesimal lag while browsing in Chrome and scrolling through an e-book. Otherwise, the display is quite good, and OnePlus did a decent job with the size of the bezels on all sides.
OnePlus Pad: Performance and battery
The OnePlus Pad features MediaTek's Dimensity 9000 platform, and it offers one Cortex X2 core clocked at 3.05GHz along with three Cortex A710 cores at 2.85GHz and four Cortex A510 cores at 1.8GHz.
There's also a Mali-G710 with ten shader cores, and the tablet is available in two configurations: a base model with 8GB of RAM and 128GB of storage, and a high-end version with 12GB of RAM and 256GB of storage. While the best Android phones have UFS 4.0 storage modules, the OnePlus Pad runs UFS 3.1 on both storage variants.
Swipe to scroll horizontally
| Category | OnePlus Pad |
| --- | --- |
| OS | OxygenOS 13.1 based on Android 13 |
| Display | 11.61-inch 144Hz 2800 x 2000, 7:5 ratio, Dolby Vision, 500 nits |
| Chipset | MediaTek Dimensity 9000, 1 x 3.05GHz Cortex X2, 3 x 2.85GHz Cortex Z710, 4 x 1.8GHz Cortex A510, Mali-G710, 4nm |
| RAM | 8GB, 12GB (India-only) |
| Storage | 128GB, 256GB (India-only) |
| Rear camera | 13MP, EIS, 4K at 30fps |
| Front camera | 8MP fixed focus, 1080p at 30fps |
| Connectivity | Wi-Fi 6, Bluetooth 5.3 |
| Audio | Quad speakers, AptX HD, LHDC, LDAC codecs |
| Ingress Protection | None |
| Security | Face unlock |
| Battery | 9510mAh battery, 67W wired charging |
| Dimensions | 258 x 189.4 x 6.5mm, 552g |
| Colors | Halo Green |
I used several phones with the Dimensity 9000, and it is a reliable workhorse with plenty of potential for gaming and daily use. But as I stated above, I noticed the occasional lag while browsing on the tablet, and games took longer to load than usual. Other than those oddities, it was smooth sailing on the OnePlus Pad, and the hardware should hold its own for several years to come.
On the connectivity side of things, the OnePlus Pad has Wi-Fi 6 and Bluetooth 5.3, and you get the usual suite of AptX HD audio codecs in addition to LDAC and LHDC, so you can use the OnePlus Buds 2 Pro without any issues with this tablet. In a puzzling omission, there isn't a fingerprint sensor on the device, and the only biometric authentication is face unlock.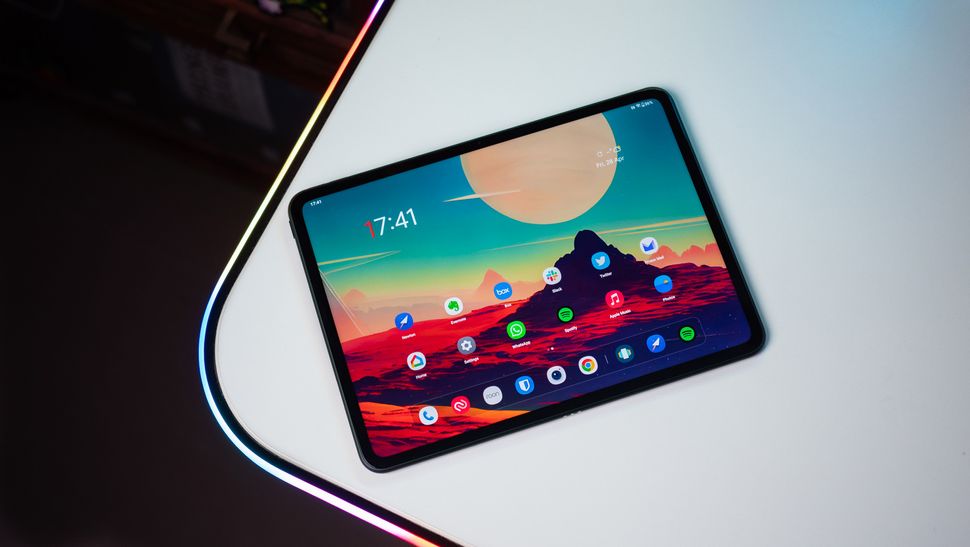 Thanks to a massive 9510mAh battery, the OnePlus Pad posts stellar figures in this particular area. I got just over ten hours of video playback on a full charge, and that should be more than adequate for most users. When it comes to charging, there's 67W wired charging, and you get a 67W charger in the box.
Because of the size of the battery, it takes just under 90 minutes to fully charge the tablet, and that's also not a problem considering you're likely to leave it for charge overnight. There are the usual safeguards for extending battery longevity; there's a Wise charging feature that cuts off charge at the 80% mark, and charging is resumed at a later point so that it hits 100% just before you take it off the charger. This is based on your usage patterns and works reliably when left overnight.
OnePlus Pad: Accessories
I wasted a decent chunk of time getting the Magnetic Keyboard to work over the first two days I used the OnePlus Pad, but I didn't make much headway. I even updated the firmware out of the box, but it wouldn't recognize keystrokes and instead add a stream of random characters.
And then suddenly, it started working mere moments before I published the review, so I'm going to share initial findings of the accessory. Clearly, there are hardware issues to be sorted out, but for now, I'll focus on what it's like to use.
The build quality feels good for a keyboard case that costs $149, and I like that it uses a similar shade of green as the tablet itself. The keyboard attaches to the tablet securely via the magnetic connectors, and the only drawback is that there's no way to adjust the angle — unlike the Magic Keyboard.
There's enough separation between the keys that you don't feel congested using the keyboard, and key travel is quite good — for a portable keyboard accessory. The downside here is that there's no backlighting — making it useless in a low-light environment — but other than that, it's a decent showing.
There are custom shortcuts for launching the browser and useful navigation aids, and the built-in trackpad at the bottom unlocks a cursor — albeit one that's fairly limited in what it can do.
As for the Stylo, it has the same visual aesthetic as the Apple Pencil. But it isn't as comfortable to hold, and I noticed higher-than-usual latency when using the stylus in the Notes client. Thankfully, that was resolved after a full charge, and while this is a decent stylus, it doesn't have the same feedback or pressure sensitivity as the Apple Pencil.
OnePlus Pad: Cameras
There's very little to talk about on the camera side of things. The tablet features a 13MP camera at the back, and you get an 8MP camera at the front that comes in handy for video calls. The camera interface is a stretched-out version of what you'll find on OnePlus phones, and the only interesting thing that I can think of is that because of the centered positioning, you don't have to awkwardly maneuver the tablet to take photos.
Of course, you shouldn't be taking photos with this thing at all; even mid-range phones these days have camera systems that run rings around what you'll find on this tablet, but if you're insistent on using the Pad for taking images, know that you'll get usable shots in daylight conditions. The camera can also shoot video at 4K/30fps, but the lack of stabilization means you'll get shaky footage.
The front camera has a fixed-focus lens, and it is serviceable in daily use. There's a selfie mode that is similar to the portrait mode on a phone, and it tries to blur the background when taking selfies. It isn't anywhere as effective as a phone, but again, it is passable.
OnePlus Pad: Software
The OnePlus Pad runs OxygenOS 13.1 based on Android 13 out of the box, and the software is virtually indistinguishable to that of the OnePlus 11. OnePlus says this is by design, and that it wanted to emulate the same visual style for its tablet as well.
The same irritations in the phone version of OxygenOS are carried over. For instance, there's no way to disable the Google Discover feed on the -1 page, and pulling down on the home screen surfaces global search by default. Thankfully, you can change this by heading into the settings. Battery management is also on the aggressive side, and you'll need to manually disable optimization if you don't get push notifications for an app.
That said, you do find a few useful features on the software side of things. There's a taskbar at the bottom that surfaces recently closed apps, and you get a split notification pane with the toggles to the left and notifications showing up on the right. My favorite software feature is a two-finger gesture that automatically launches split-screen multitasking. When you're in an app, just swipe down from the top of the screen to enter split-screen mode. It works reliably, and does a good job leveraging the screen real estate.
In a similar vein, you get flexible windows and smart sidebar — mainstays on the phone version of OxygenOS — and there's a Limelight feature that ensures you're in the center of the frame when making video calls. This feature is disabled by default, but you can toggle it with relative ease, and while it isn't as intuitive as Center Stage on the iPad, it doesn't have to work as hard as the camera is positioned in the correct area to start with.
The biggest issue is the lack of notable software features at launch. There are three key features to talk about here: Auto connect, Cellular Data Sharing, and Cross-screen Transmission. They're all geared at seamless connectivity between your phone and tablet, and the big caveat here is that they only work with select OnePlus phones. Furthermore, OnePlus notes that the Auto connect feature will not be heading to European markets at all, and the Cellular Data Sharing feature will not debut in Germany.
Cellular Data Sharing in particular sounds very interesting as it lets you share the data connection of your phone and make calls or receive texts — all without needing a SIM card on the tablet itself. Of course, this is all a moot point as none of these features are live — OnePlus sent over an internal document outlining its OTA schedule, and the current timeline suggests sometime in May for Auto connect and Cross-screen Transmission and July for Cellular Data Sharing.
Given the brand's history in this area, I wouldn't suggest holding your breath for these features to go live anytime soon. On the subject of software updates, the OnePlus Pad will pick up three years of Android OS updates and four years of security patches, so while it isn't on par with the OnePlus 11, it will at least get to Android 16 once that rolls out down the line.
OnePlus Pad: The competition
The Xiaomi Pad 5 is the obvious alternative, and it offers a 11-inch IPS LCD panel with 120Hz refresh and features the Snapdragon 860. It has a smaller 8720mAh battery, and has similar issues on the software front, but the upside is that it is much more affordable at £349 ($435) in the U.K. and ₹26,999 ($330) in India.
Any conversation in this category inevitably turns to the iPad, and for good reason. The 10th-gen iPad costs $449, and while it comes with a paltry 64GB of storage, it has much better software features. I'm not saying that it is a perfect device — far from it. iPadOS has inherent limitations that continue to be bothersome, and I still can't figure out why we can't get decent file management on these things. Regardless, the software ecosystem combined with the feel of the hardware and the power on offer makes the iPad a great alternative.
If you need an Android tablet mostly for consuming media, Lenovo's Tab P11 Pro Gen 2 is a solid alternative. It has a large 11.2-inch OLED panel with 120Hz refresh and Dolby Vision, and while the internal hardware is dated at this point, it is reliable in daily use. The battery life is decent as well, and while it uses a plastic chassis, it is more affordable at $399.
The Galaxy Tab S7 FE is starting to show its age, but it's still the best overall choice if you want an Android tablet for $500 in North America.
OnePlus Pad: Should you buy it?
You should buy this if:
You want a tablet with a 144Hz screen
You want hardware that holds up well for gaming
You're looking for a tablet with excellent battery life
You need an elegant design
You shouldn't buy this if:
You need refined software that's glitch-free
You need an accessory ecosystem that works out of the box
You're looking for a tablet that's comfortable to hold
Android tablets have seen a renaissance over the last 18 months, and that's down to Google finally realizing that tablets as a form factor actually make sense. Like a phoenix rising from the Nexus graveyard, we got a slate of tablets that were much more polished than their predecessors. The downside is that most of these tablets aren't sold in North America; that's why there was an oversized interest when OnePlus revealed that the Pad would be debuting in the region.
Although OnePlus did a good job on the hardware side of things, the software needs a lot of work, and the design isn't comfortable. Similarly, I see a lot of potential for the accessory ecosystem, but the brand will need to iron out unreliability issues first.
Right now, the screen is good for streaming content and the onboard audio is stellar, but the software misses out on optimization to take full advantage of the hardware, and key features that enable seamless connectivity between the phone and tablet aren't launching for a few months.
If you're in the market for an Android tablet, my suggestion would be to wait; the Pixel Tablet is on the horizon, and OnePlus will eventually get around to fixing the issues on the Pad. Until that time, Samsung continues to be the best choice in North America. Everywhere else, the Xiaomi Pad 5 is a good alternative if you need something immediately.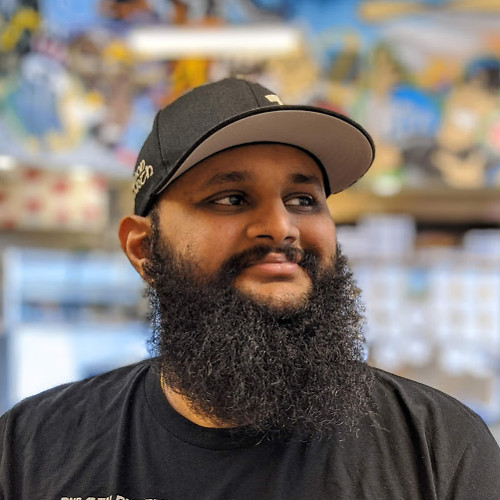 Harish Jonnalagadda is a Senior Editor overseeing Asia at Android Central. He leads the site's coverage of Chinese phone brands, contributing to reviews, features, and buying guides. He also writes about storage servers, audio products, and the semiconductor industry. Contact him on Twitter at @chunkynerd.
I was really hoping to get one of these for my wife as the color matches her OnePlus 8t. However, the best features won't work with that phone. Given this review, I guess I'll wait and see what else is available.

Reply