Best Note 20 deals of August 2021: $250 off Note 20 Ultra, trade-in deals, and more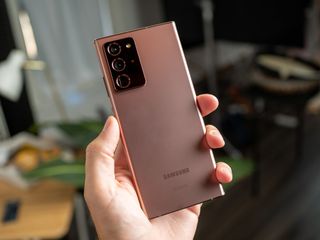 (Image credit: Andrew Martonik / Android Central)
The Galaxy Note 20 series are two of the best Android phones right now. If you're already a fan of the Note lineup, then you'll have a lot to be excited about with the new generation. If you aren't a fan, you should be. The phones have all the latest from Samsung, including a powerful Qualcomm Snapdragon 865+ processor, a triple camera setup, 5G connectivity, and a new and improved S Pen stylus.
Being brand new, these phones are going to set you back a penny or two, but we're on top of that. We've got every place you can find the Note 20 (or the Note 20 Ultra) and every deal available right now.
The Note 20 starts at $1,000 and the Note 20 Ultra starts at $1,300. The more you add, like extra storage, the more you're going to pay. Obviously investing in a new phone, especially one as advanced as the Note 20, is not a super cheap proposition. Given all the features on these phones, though, it's tough to imagine there's anything but that high price holding you back.
You can cut into both of those prices by finding the right carrier, making a switch to save some money, or even trading in your older phone for a few bucks off your new one. One thing to look out for is bundled deals. Samsung released a lot of other new products, like the Galaxy Buds Live true wireless earbuds, alongside the Note 20. It would not be surprising to see the smartphone bundled with the earbuds at a discount eventually.
Best Note 20 Unlocked Deals
Between unlocked and carrier deals, the former tend to have a lot more options just because carriers have lots of ways to save between sending you gift cards, offering trade-in programs, and doing "buy one, get one"-type discounts. Carrier deals often mean long-term commitments and monthly bills, though, too. If you'd rather avoid that and just pay for everything upfront, these are the best unlocked deals available right now.
Best Note 20 Carrier Deals
Carrier deals generally require a commitment between 18 and 36 months (most often just 24). The "savings" also usually come in the form of a promo credit applied to your monthly bill over the course of that commitment. So these deals tend to be a bit more long-term than other deals, but you also have the potential to save a whole lot more over that time period. If you're a long-term thinker, you should feel good about the opportunities for saving here.
Note 20 Ultra | Up to $450 off via trade-in at Samsung
The Note 20 Ultra is currently up to $450 off at Samsung when you trade-in an eligible device to save. Even devices with cracked screens can earn you up to $293 off, though if you have no device to trade in, there's still an instant discount of $150 off. You'll also receive $50 Samsung Credit to use towards accessories and select items like Samsung TVs and the new Galaxy Watch 4.
(opens in new tab)
Note 20 | Up to $700 off at Verizon
Verizon is offering up to $700 off the Note 20 or Note 20 Ultra when you switch to Verizon and trade-in an eligible LG device for a limited time. You must add a line of service and bring over your current number as well to score this discount. You can also save $300 on a Samsung Galaxy tablet with the purchase, or $150 on a Galaxy Watch, or $300 on a Montblanc smartwatch.
(opens in new tab)
Note 20 Ultra | Up to $800 off with trade-in at T-Mobile
T-Mobile is offering the Galaxy Note 20 Ultra for just $400 when you trade-in an eligible device and activate a line on the Magenta MAX plan. You can also save up to $800 on the Samsung Galaxy S21 5G series or Galaxy S20 series with this deal.
Note 20 Price Tracking
The first deals we'll see on the Note 20 are incentive deals. The "We know you're going to buy it, so buy it here" sort of deals that probably won't save you a whole lot but will be designed to make you pick Place A over Place B. You also can expect to see major carriers offering deals that don't really save you money on the phone but could save you money in other ways, like if you buy one Note 20 you can buy another Galaxy phone and get that one discounted (sometimes up to $1,000 off). The trick to tracking prices is really how do you compare all the different little incentives these companies have? What's better, $1,000 as a promo credit over the course of 24 months or $700 off right now with a trade-in? Are you even eligible for the trade-in? Do you want it unlocked instead, and are you willing to pay a lot more upfront for that? What sort of deals can you expect in that case?
All of these deals are good in one way or the other, and there will be some that speak more to your situation than others. We keep an eye on the deals as they arise and drop them all in here for you to decide. The great thing about the Galaxy Note 20 being so popular is that deals will not be rare. Pick your favorite carrier, make a switch to a new one, or abandon the multi-month commitment altogether with an Unlocked phone. The choice is yours.
Note 20 vs. Note 20 Ultra: Which one should you buy?
Why you can trust Android Central Our expert reviewers spend hours testing and comparing products and services so you can choose the best for you. Find out more about how we test.
Despite being a part of the same lineup, these two phones actually have a lot of differences. Despite having the same Qualcomm Snapdragon 865+ processor, AMOLED displays, a few extras like 5G connectivity, and similarities in the design and aesthetics, the Note 20 Ultra brings a lot more to the table. In particular, the Ultra has a resolution of 3088 x 1440 with a 120Hz refresh rate compared to the Note 20's 2400 x 1080 pixel resolution and 60Hz refresh rate. The Ultra has a much more advanced triple camera system and a larger battery. Of course, as should be expected, it also costs more. The deals will probably favor the Note 20 more overall, too.
Android Central Newsletter
Get instant access to breaking news, the hottest reviews, great deals and helpful tips
J.D. Levite has been in the deals game since 2012. He has posted daily deals at Gizmodo, The Wirecutter, The Sweethome, and now for Thrifter. He was there for the first Prime Day and has braved the full force of Black Friday. If you cut him, he bleeds savings. But don't try it for real. That's a metaphor.
The main problem is that the note in Europe and the Middle East comes with Samsung's poor Exynos 990 processor Thanks but NO thanks

Like you will ever notice the difference.

In the US you can't unlock the bootloader for rooting or flashing custom ROMs on Samsung phones so they're actually arguably worse than the European and Middle Eastern models despite having Snapdragon processors. OneUI comes with a ton of bloatware and even pushes ads as notifications. I will never buy another Samsung smartphone until they allow US customers to unlock their bootloader out of the box.

I may have to take advantage of that trade-in offer this time around.

The $1000 off at AT&T includes a way larger selection of phones than I expected. My 3 1/2 year old S8+ is eligible, and it'd only fetch $250 on the most generous trade in offer I can find otherwise.

No word on T-Mobile or Sprint huh?

Beginning August 7th, 2020 for a limited time, get up to 50% off via 24 monthly bill credits with trade-in. That's what T-mobile is offering

I was planning on upgrading, i received my Note 20 ultra, Which looks like my Note 10 plus except for the Huge camera bump on the Back.
OS is the same ui is 2.5 instead of 2.1 i see no real difference. As an Avid DSLR user i was hoping the camera would replace a lot of the shots i made with a dslr. But as with all cellphone camera's when outside in daylight the screen is washed out or not able to be seen clearly. So that's no more improved than any cellphone camera ever. As for the any other comparisons it wasn't enough for me to keep the Note 20 ultra. It to me is not worth the Big Bucks. So i will stick with my Note 10 plus and My Nikon DSLR's and as a side note that huge camera it going to be an issue if dropped . even with heavy duty case's. Your mileage may differ. Maybe Google will get their head out of Apples A$$ and go back to developing devices Like the Path they were on with the Nexus Line ( Hauwie designed ) It was one of the best devices i ever owned. As for Samsung I am also fed up with all the pop up ads. and if you are A Verizon user it is compounded by all their bloat. And with all of Samsung Discounts and trade in i would have paid 500.00 For the Note 20 Ultra to me still not worth it.

This is good feedback. Thanks for sharing!

This is just your opinion, stop passing off your opinion as facts, Smartphone cameras are more than good enough to replace a proper camera now and Samsung has one of the best cameras on a smartphone with the Note 20 Ultra.

I'll take Gary's words over yours every single day of the week

Smartphone cameras are good, but hardly a replacement for a proper camera.

I got a decent deal with trade in. I knew coming from note 10 plus it would be a small difference. Not disappointed at all but this will probably be my last yearly upgrade.

Do any of you have the 5G versions and can speak to the quality of speed? Is it significant from LTE to 5G?

I traded my V40 in at AT&T and got the $1000 off on the Note 20 Ultra. Really liking the phone so far, and having the S-Pen is great for adding dimensions to pictures, that I use for mechanical design. I wanted to go through Costco, as they had an additional $200 for new customers, but they wouldn't take the V40, even though AT&T said it counted on their website. I got a "Well, it's not on our list, so we can't." answer. Oh well, still got a good deal. I haven't taken a ton of pics with it yet, but the ones I have done look pretty good, and the camera pops up quick, and there's almost no lag to snap a pic. My V40 was good, but this thing is just seemless with so much RAM.

Won't be buying any phone with an inferior processor... My Huawei Mate 20x still better than any Samsung phone... EMUI is better than One UI too... Will be looking to upgrade to the Mate Xs or Mate 40 Pro...

Huawei? Obviously not U.S., where from Iran? North Korea? Syria?

Just get an s21 with the pen for about the same price.

The problem with the deals that get the price WAY down, is you get locked into a carrier contract for 24-30 months. In the old days, they use to just give you $X off the phone of XX month contract, now they structure it so basically you get the discount over time via discount on your monthly phone or service payment. I have a 5GB Data Plan Unlimited Calls/Text on Verizon's reseller, US Mobile. Service is great. $19/month including all taxes. If I got the Note 20 Ultra for $350, I'd be locked into Verizon directly for 30 months and have to pay at least $60/month for their service, paying $40 a month extra for a service plan I don't need. Times 30 months, that's $1,200 I just paid extra that I don't need to pay. I can get Unlimited Data on reseller carriers also for less than $50/month. So basically the rock bottom prices are offset by you paying a premium for an expensive monthly post-pay service plan directly from the Carrier. So sure, they'll be happy to give you the phone for dirt cheap. Most people, especially younger people these days, basically budget $50-$100 a month for their cell phone and service and never actually buy a phone outright. They are perpetually leasing/financing a phone. So they don't really care they are overpaying in the long run, as long as they get the fancy phone they want and they don't have to pay more than their monthly payment budget when they can save thousands, yes thousands of dollars over the course of their lifetime if they buy last year's model outright (unlocked) and go with a reseller carrier.

I would rather stick a metal rod in my urethra than ever purchase another Samsung smartphone. OneUI is filled with bloatware and ads and if you're in the US you can't even unlock your bootloader to root or flash custom ROMs. One of the worst companies in the smartphone market.

Sammy has been running their so called promo on the Note 20 Ultra for some time as I've been checking. Nothing new here!
Android Central Newsletter
Get instant access to breaking news, the hottest reviews, great deals and helpful tips
Thank you for signing up to Android Central. You will receive a verification email shortly.
There was a problem. Please refresh the page and try again.