Best Samsung Galaxy S9 & S9+ Deals and Promotions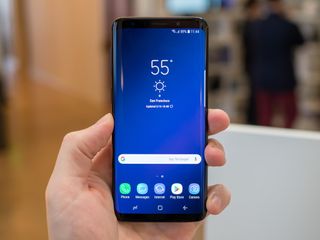 The Galaxy S9 and S9+ are now available to purchase in many countries around the world. Carriers are falling over themselves to give you a good deal on an early purchase of Samsung's latest phones. Here are all of the latest deals from the top carriers and retailers.
U.S.
Why you can trust Android Central Our expert reviewers spend hours testing and comparing products and services so you can choose the best for you. Find out more about how we test.
Amazon
Amazon matches every other retailer with U.S. unlocked pricing at $719 and $839, with all three colors of both sizes of the phone available. When shopping at Amazon, be sure to get the proper U.S. model rather than the international models that can also be found from third-party sellers — buying an international model may be a tad cheaper in some cases, but won't come with a warranty.
See at Amazon (opens in new tab)
Verizon
You can pick up the Galaxy S9 for $33.33 per month and the Galaxy S9+ for $38.75 per month. Both of those are the prices over 24 months, meaning you'll ultimately pay $799 for the S9 and $929 for the S9+. Ouch. To help reduce those costs, you can trade-in an eligible phone on Verizon and take up to 50% off. The exact details are as follows:
Galaxy S9 for $16.66/month: Trade in iPhone X, iPhone 8/8 Plus, iPhone 7/7 Plus, iPhone 6S Plus, Pixel 2/2 XL, Pixel/Pixel XL, LG V30, LG G6, Moto Z2 Force, Moto Z Force, Galaxy Note 8, Galaxy S8/S8+, Galaxy S7 Edge.
Galaxy S9+ for $19.37/month: Trade in iPhone X, iPhone 8/8 Plus, iPhone 7/7 Plus, Pixel 2/2 XL, LG V30, Moto Z2 Force, Galaxy Note 8, Galaxy S8/S8+.
Galaxy S9 for $21.66/month: Trade in iPhone 6/6 Plus, iPhone 6S, HTC 10, LG V20, LG G5, Moto Z2 Play, Moto Z Droid, Galaxy S7, Galaxy S6/S6 Edge/S6 Edge+, Galaxy Note 5.
Galaxy S9+ for $25.18: Trade in iPhone 6S/6S Plus, Pixel/Pixel XL, HTC 10, LG V20, LG G6, Moto Z Force, Moto Z2 Play, Galaxy S7/S7 Edge, Galaxy Note 5.
Galaxy S9 for $25.00/month: Trade in iPhone SE, HTC One M9/M9+, LG V10, LG G4, Moto Z Play, DROID Turbo 2, Galaxy S5, Galaxy Note 4, Galaxy Note Edge.
Galaxy S9+ for $29.06/month: Trade in iPhone 6/6 Plus, iPhone SE, HTC One M9/M9+, LG V10, LG G5, Moto Z Droid, Moto Z Play, DROID Turbo 2, Galaxy S6/S6 Edge/S6 Edge+, Galaxy Note 4.
AT&T
AT&T has upped the price for the phones beyond what you'd pay unlocked or from T-Mobile. The carrier is advertising $26.34 per month for the GS9 and $30.50 per month for the S9+ – but that's over 30 months, so the full price comes out to $790 and $915, respectively.
For a limited time, though, AT&T is offering 50% off the S9 or $395 off the larger S9+. You must purchase the phones on AT&T Next, start a new line of service, and sign up for a DirecTV or Internet plan.
Those are a lot of hoops you need to jump through, but if you were already planning on getting the S9 or S9+ on AT&T, you might as well look into this.
See at AT&T (opens in new tab)
T-Mobile
T-Mobile is matching the unlocked pricing of $720 for the Galaxy S9 and $840 for the S9+. T-Mobile says that the S9 series plugs into its new 600MHz spectrum, which offers more coverage in rural areas.
The Un-Carrier is currently running a BOGO promotion where you can buy one Galaxy S9 and get another for free or $720 off the larger S9+.
Both phones must be purchased on monthly installment plans in order to be eligible, and you'll need to either active two new lines for new customers or add at least one new one if you're an existing subscriber.
See at T-Mobile (opens in new tab)
Sprint
On Sprint you'll pay $792 for Galaxy S9 and $912 for Galaxy S9+, but they're also available through Sprint's Galaxy Forever lease program, which allows you to upgrade to the newest Galaxy after 12 months, for $33 per month for S9 and $38 per month for the S9+.
There aren't any deals for buying the S9 series outright from Sprint, but you can save quite a bit with the Galaxy Forever program right now.
Instead of $33/month for the S9 and $38/month for the S9+, you'll spend just $16.50/month for the S9 and $21.50/month for the S9 Plus. No trade-in is required for this promotion, but you will need to add a new line of service.
Once the order is made, you should see your monthly bill credit applied within two billing cycles.
Best Buy
You can buy the carrier versions of the Galaxy S9 and S9+ for Verizon, AT&T and Sprint, plus the unlocked version (we recommend that one) at their usual prices. Best Buy runs its own trade-in program, and also typically matches whatever the carriers are offering directly in terms of incentives. Best Buy also offers 24-month no-interest financing if you have a Best Buy credit card.
See at Best Buy (opens in new tab)
Samsung
If you prefer buying your phones directly from the manufacturer (consider it!), without all the bloatware and potential SIM locking, Samsung is offering both the S9 and S9+ unlocked. In the U.S., you'll pay $719 for the Galaxy S9 and $839 for the Galaxy S9+, but both are available with Samsung's financing program if you'd prefer to pay over several months.
Samsung also sells the carrier variants of both phones, matching the pricing you'd find from the carriers but not necessarily any of the other incentives above and beyond that.
One big advantage Samsung has over everyone else is that it's the exclusive place you can buy the 128GB and 256GB configurations for the S9 and S9+. You'll pay $50 more per each storage upgrade, resulting in the following pricing:
Samsung Galaxy S9 w/ 128GB – $769.99
Samsung Galaxy S9 w/ 256GB – $819.99
Samsung Galaxy S9+ w/ 128GB – $889.99
Samsung Galaxy S9+ w/ 256GB – $939.99
Samsung's got a couple killer deals right now, one of which gets you an instant $350 trade-in credit when you purchase an S9 through the Samsung Upgrade Program. Buying the S9 or S9+ through Samsung will also allow you to purchase the Power Bundle for $49 or the Upgrade Bundle for $99.
The Power Bundle comes with a fast wireless charger, 5,100 mAh battery pack, and adaptive fast charging car charger. On the other hand, the Upgrade Bundle inlcudes a fast wireless charger, Samsung Gear VR, and AKG Y50BT wireless headphones.
See at Samsung (opens in new tab)
Canada
Rogers
It shouldn't come as much of a surprise that Rogers has the Galaxy S9 and S9+. The amount you pay depends on which plan type you choose, with the pricing working out as follows:
Premium+ Tab: $249 for the Galaxy S9 / $379 for the Galaxy S9+
Premium Tab: $449 for the Galaxy S9 / $579 for the Galaxy S9+
Smart Tab: $599 for the Galaxy S9 / $729 for the Galaxy S9+
Talk & Text or No Tab: $999 for the Galaxy S9 / $1129 for the Galaxy S9+
If there's a Rogers store near you, you can grab the Galaxy S9 for $0 (that's right, $0) when you purchase it on one of the carrier's Share Everything plans after completing an eligible trade-in.
For online shoppers, Rogers is giving out a coupon for 15% off select accessories when you actvate a device from its website and waiving its $30/line Connection Fee.
See at Rogers
TELUS
In addition to Rogers, you can also get the Galaxy S9 through TELUS. The regular S9 costs between $250 and $450 upfront depending on which plan you choose, with the same holding true for the S9+ that varies at $380 and $580.
See at TELUS (opens in new tab)
Bell
Bell is selling the S9 and S9+ for $250 on a 2-year term with an $80/month contract, or $450 for a $70/month contract. It's $1019 outright. The S9+ costs $380 and $580 in the same configurations. As with all other carriers, the phone comes in either grey or purple.
If you're interested in the smaller Galaxy S9, Bell's letting you pick it up for $0 if you trade-in an eligible device and sign up for a 2-year Premium Plus plan with data.
For this offer, you'll only be able to redeem it at one of Bell's physical retail stores.
Unlocked
In Canada, Samsung is selling the Galaxy S9 and S9+ unlocked, starting at $960 for the smaller phone and moving up to $1100 for the larger one. Both phones remain unlocked once you put a SIM card into them, but they download (and keep) the carrier details from the first SIM that was inserted into them, much like their carrier counterparts. In Canada, Samsung is offering only the Lilac Purple and Titanium Grey models.
See at Samsung (opens in new tab)
UK
O2
O2 in the United Kingdom is selling the Galaxy S9 for £49.99 upfront and then £56 per month for 24 months. If you want the larger and more impressive Galaxy S9+, you'll pay the same £49.99 upfront cost but a more expensive £61/month charge.
If you buy a Galaxy S9 or S9+ from O2 right now, the carrier will give you the Samsung Galaxy Tab A 10.1 absolutely free. This offer is good until July 11 and the tablet should ship out 14-40 days after your purchase is made.
See at O2 (opens in new tab)
Vodafone
Vodafone is also offering the Galaxy S9 series in the UK, and for the regular S9 you'll pay £29 upfront followed by £59/month. If you want to step up to the Galaxy S9+, you'll pay a bit more ay £49 upfront and then £69 per month.
You won't get any freebies when purchasing the S9+, but if you pick up the regular S9, Vodafone will give you an extra 10GB of monthly data.
See at Vodafone (opens in new tab)
EE Mobile
For EE Mobile customers, the Galaxy S9 regularly sells for £58 per month and the S9+ for £68 per month. The former comes with 64GB of storage while the latter has 128GB, but no matter which you choose, you'll be able to get the phones in either Lilac Purple, Coral Blue, or Midnight Black.
If you act fast, however, EE Mobile's offering its lowest price ever on the two phones — £43/month for the S9 and £53/month for the S9+.
Also, if you trade in a Galaxy S7, you can get the S9 for £28/month and the S9+ for £33/month.
See at EE Mobile (opens in new tab)
India
The Galaxy S9 and S9+ are now available for purchase in India, with prices starting at ₹57,900 ($890). Both devices are on sale direct from Samsung India (opens in new tab) as well as Flipkart (opens in new tab) and Paytm Mall, and will be heading to thousands of retail stores across the country.
Both the 64GB and 256GB storage configurations are available in India, but if you're interested in picking up the 256GB model, you'll have to buy from Samsung India's store (opens in new tab). Samsung is rolling out a ₹6,000 ($90) cashback to those picking up the phone via Paytm, and HDFC credit and debit card users can also get ₹6,000 off on either device. Here's how much the Galaxy S9 and S9+ cost in India:
64GB Galaxy S9: ₹57,900 ($890)
256GB Galaxy S9: ₹65,900 ($1,000)
64GB Galaxy S9+: ₹64,900 ($1,015)
256GB Galaxy S9+: ₹72,900 ($1,120)
See at Flipkart (opens in new tab)
Update, June 19, 2018: Added new deals for T-Mobile, Samsung's online store, O2, Vodafone, and EE Mobile.
Android Central Newsletter
Get instant access to breaking news, the hottest reviews, great deals and helpful tips
Daniel Bader was a former Android Central Editor-in-Chief and Executive Editor for iMore and Windows Central.
$480 for the S9+ with my S7 mint condition trade in? Not bad 🤔

Well the V20 has been a very nice and serviceable phone but I'll be upgrading to the S9+ this year. At $839 on T-Mobile it's an absolute steal if you ask me.

$1000 is outrageous....too bad the people will still support this by agreeing to pay it. I'm not saying this because I can't afford it. I can. I just don't see a need to that much for a device..... That's only going to be worth 350 trade in next year.

Yeah T-Mobile is once again, a better value.

Well if you have a S7 or similar it's really only 360 for the S9 on T-Mobile. That seems reasonable. And has me considering the trade in. Looks like it will also support the new 600 spectrum.

Who has a brain to give up any phone less than a year old, for the S9?

No Pixel 2 trades? Worth $0?

Sell it on Swappa... You'll get much more for it there

It is listed. Look under Verizon since they sell it.

I'm not interested but if I were I would wait for the next Note

Highly recommend people wait. There were some major deals last year including BOGO. Considering these prices, I'm expecting the same thing.

For those that can, I would also check out Best Buy. They claim they are offering $100 off. I'll wait till March 2nd when I can actually pre-order (if I decide to). They did the same thing last year for the s8 and s8+ and it was a much better deal than AT&T and Verizon.

Will WiFi calling work for AT&T if I buy directly from Samsung?

Probably not. AT&T blocks phones not purchased from by the IMEI number.

Wonder how this works with Jump on TMobile. Probably no trade in credit.

Is very interesting how Tmobil is doing it. Because I ordered through JOD. And some how, I'm paying the same as my Note 8. Going to call customer service and have them check on it.

I want to know if I am buying unlocked, after inserting say a Verizon SIM initially, if I place a ATT or other SIM, the Verizon stuff stays? IS this permanent? Buying unlocked generally means faster updates and no carrier bloat right?

First of all. Verizon support all SIM cards except some sprint special ones. So yes you can use your att card inside but the Verizon software won't disappear. Secondly. Unlocked versions are basically not as fast as the carrier versions about software updates.

O2 uk only offering £100 trade in for s7 edge, thats really bad.

I believe Samsung.com has the best deals.

Samsung.com has the best deals and the best trade in values also

I got the S9+ on T-Mobile and I traded in my S4. It was a bit confusing since although the S4 is LISTED as eligible, the website form doesn't allow it to be submitted for anything beyond their market price, which is $6. Eventually I contacted them on Twitter and they did an override for me.

Can you finance through your carrier when you buy through Samsung.com?

but they DO offer 0% for 24 mos at Samsung.com

Nope, but Samsung offers its own 24-month financing.

It seems that the carriers are charging a premium for what is basically a software liscense. For at&T, buying their version gives you access to advanced LTE services such as WIFI calling, advanced messaging and HD voice. T-Mo takes the edge here for value.

I love that T-mobile gave me $200 for my piece of **** old and used S5. Traded it in for the S9 and got free 2 day shipping. So I'm getting the S9 for $520.
And before anyone decides to **** all over my comment, I love T-mobile and it works great for me in my area AND I really need to get a new phone so this is a sweet sweet deal and great timing for ME.

Sometimes loyalty is a good thing! I've been a Sprint small business customer since the days of Sprint PCS. Have a grandfathered plan that still gets me subsidized phones in exchange for a two year contract extension. Unlimited (and, as far as I can tell, unthrottled) data, unlimited texts, and more minutes than I come close to using. Called my business rep yesterday to see what she could do for an upgrade to an S9+. Started off saying $410, and she could give me a $150 bill credit on top of that, so total price of $260. But when she put it in the computer, it came upas $450, instead of $410, so she said she'd up the bill credit to $250. Not sure if she's bad at math, or just being nice to a long term customer, or rewarding me for asking about her day, but that brings the price to $200. For a brand new S9+. Can't complain about that, so I told her put the order through. When she was done, she tells me, "I gave you a $300 bill credit." Final price, $150. Even get free overnight shipping. Yeah, that locks me in for another two years, but a 2 year payment plan pretty much does the same thing. If I cancel early, I either pay an ETF or pay off the phone. And my ETF is actually cheaper than the monthly phone payments.

My first Samsung product is the Note 8. But it is definitely going to be my last. Releasing the S9 with Oreo. Before my thousand-dollar Note 8 gets Oreo. Is an insult and $1,000 phone shouldn't be outdated in six months goodbye and good riddance!!! "Samsung"

What does Oreo have that is so critical in your day-to-day use of the phone???

do unlocked phones work with every carrier? like verizon?

In this case, yes they do.

Hmmm the TMobile deal kind of makes paying for Jump! less of a value.

Why wasn't AT&Ts trade ins listed?
I upgraded from S7 and I got 350$ either towards the phone or as a bill or merchandise credit even with a crack in the case.
Was going to buy direct from Samsung but they told me the crack kept me from getting the full 300$ trade in value...

If you buy it direct from Samsung they appear to have the best deal for the plus at 839.00. Cheaper than most carrier's!

I don't see the special on AT&T that you have advertised in this article.

Furthermore, it's only good for NEW lines, or ADDED lines, not upgrades. So that's disappointing.

No, it wasn't but the deal I took advantage of was for pre orders only and ended on the 15th. It was good at the time of my posting.

The best place to get the galaxy S9 is through Samsung the unlocked version that isn't locked down to a network with all the network's crap.... I got my phone on 3/14/18. This phone is amazing...

Just upgraded to the S9+ from a S7 on Sprint's Galaxy Forever.
No money down, no upgrade fee, and $200 off the purchase price.
Last month was my last lease payment before I had to pay the $150 bubble payment at the end. I upgraded now I don't have to pay that and I get $200 off on a s9+.
Gotta say I'm sticking with this lease program.

Verizon is running a BOGO right now. You can also get the same thing on a Verizon S9 at Samsung.com. Of course, per usual VZW deals, this is on a Verizon Device Payment Program $66.67/mo for 24 mo at 0% APR; $1599.98 totalδ
$0 Down (for qualified customers). Excludes taxes and shipping.
For Verizon offer only: Buy one Galaxy S9 or S9+, and get one Galaxy S9 free. Device payment purchase per device req'd. 2nd phone of equal or lesser value: $799.99 promo credit applied to account over 24 mos. & starts within 1–2 bill cycles; promo credit ends when balance paid or line terminated/transferred; 0% APR. New line of service required. Activation/upgrade fee/line: $30. I copied the details straight from the payment option at Samsung.com If you don't mind getting your credit over 24 months, not a bad deal.

I for one am upset that the carriers are not allowing the Unlocked phones access to the hd calling, more important ..Visual voicemail, AT&T wont offer the VVM app as was with the S7.. I pay the same for the service.I think Samsung needs to put pressure on the carriers..Even this article is recommending Unlocked..
Thanks, Dave

$300 off Verizon version at Best Buy right now. Not through 24 statement credits either.

Nice deal. Would have definitely jumped on that deal had I not managed to pickup two Verizon S9 Pluses for $639 each last week from Samsung.com. No need to get a new line. Just an upgrade to my Note 4 and the wife's S5 already on VZ. Also picked up two of their wireless docks (2018 version) for $39 each. Decent deals there...and the upgrade process was fairly straightforward.

Seen it for £499 in UK.
Haven't a clue if it's good. https://dcdigitaltv.co.uk/product/samsung-galaxy-s9-dual-sim-64gb-midnig...

Costco has the T-Mobile S9 and S9+ for $100 off plus $100 Costco card. No need to add another line. http://membershipwireless.com//content/mvm?in_loc=OFFERS&in_type=BANNER&...

Or you can go to Walmart and just buy the Verizon s9 for 636$ without a trade in and 26$ a month payment
Android Central Newsletter
Get instant access to breaking news, the hottest reviews, great deals and helpful tips
Thank you for signing up to Android Central. You will receive a verification email shortly.
There was a problem. Please refresh the page and try again.