CES 2020: The biggest news and announcements so far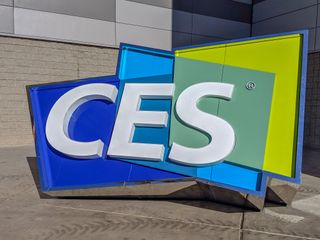 (Image credit: Android Central)
January is a significant month. It marks the start of a new year, new goals, and — most importantly — new tech. The beginning of the month is always home to the annual Consumer Electronics Show in Las Vegas, more commonly referred to as CES.
CES 2020 is upon us, and as with every year, it is chock-full of announcement after announcement. Some are more interesting and important than others, and with this guide, we're rounding up the best of the best so you can stay up-to-date on what matters the most.
We'll be regularly updating this as new gadgets and gizmos are unveiled, so be sure to check back often throughout the next few days.
Samsung Galaxy S10 Lite and Note 10 Lite
CES usually isn't a big showcase for Android phones, making it that much more surprising to see Samsung bring the Galaxy S10 Lite and Note 10 Lite to the show. We don't have any word on a release date or pricing, but both are shaping up to be affordable entries into the Galaxy ecosystem with powerful specs and enticing features.
Galaxy S10 Lite & Note 10 Lite hands-on: The best of Samsung for less
OnePlus Concept One
Leading up to CES 2020, OnePlus teased that it would be showing off its first-ever concept phone — the Concept One. We've now seen the Concept One in-person, and holy moly is it something else. You'll find genuine leather on the back of the phone, along with a triple rear camera system that can be hidden from plain sight using "electrochromic technology." Unfortunately, you probably won't ever be able to buy a Concept One for yourself.
OnePlus Concept One goes beyond branding, leverages McLaren leather and glass tech
TCL 10 5G
TCL is using CES 2020 to make a big push into the smartphone market, and while the company has announced a few different models, the most interesting is the TCL 10 5G. It's using a Snapdragon 700 series processor, has four rear cameras, and a hole-punch display, but the real draw here is the fact that it supports 5G connectivity while maintaining a price tag under $500. All 5G phones prior to this have cost well over $1000, making the TCL 10 5G a clear indicator that the technology can be offered at a reasonable price.
TCL's first 5G phone will be under $500, run on Snapdragon 765
Nextbit Robin 2
Looking back at the 2010s, one of the most unique-looking smartphones to come out of the decade was the Nextbit Robin — the Kickstarter-backed Android phone that touted itself as being the first cloud-based smartphone. Nextbit was eventually acquired by Razer to create the Razer Phone and Razer Phone 2, but at CES 2020, we had the opportunity to see the Nextbit Robin 2 that never came to market.
This is the unreleased Nextbit Robin 2
Samsung Galaxy Chromebook
Premium Chromebooks aren't nearly as popular as their more affordable, education-focused siblings, making us that much more excited about Samsung's new Galaxy Chromebook. It's expensive with a starting price of $1000, but it promises to deliver a gorgeous 4K AMOLED display, rock-solid aluminum design, and ample performance. There's even a built-in stylus for note-taking and drawing!
Samsung's new Galaxy Chromebook is the Pixelbook 2 Google won't make
Lenovo Duet & Flex 5 Chromebooks
Lenovo has announced two new Chromebooks at CES, including the Duet (pictured above) and the Flex 5. The Duet is especially interesting as it's one of the few Chromebook tablets that exists. It also comes with a keyboard dock, turning it into a traditional laptop form factor. Then there's the more normal Flex 5, featuring a 2-in-1 design and built-in stylus.
Lenovo Duet Chromebook tablet and Flex 5 Chromebook debut at CES 2020
Lenovo Smart Tab M10 FHD Plus
Devices like the Nest Hub have become quite popular, but they all have one issue — they're not portable. Lenovo is looking to solve this conundrum with the Smart Tab M10 FHD Plus. At first glance, it might just look like a typical Android tablet. And in a sense, it is. However, you can put it in the included dock to transform the M10 into a Google Assistant-powered smart display — complete with a special UI designed primarily for voice commands.
Lenovo created a $190 Android tablet that's also a Google Assistant display
Skagen Falster 3
Wear OS as a whole is in need of some sort of overhaul in the near future, but until then, companies have to work with what they've got. One of the latest Wear OS contenders is the Skagen Falster 3, and it just may be one of the best we see in 2020. It has a well-sized 42mm case, improved lugs/crown, and a super comfy watch band. You also get the latest Snapdragon Wear 3100 processor, 1GB of RAM, 8GB of storage, NFC for Google Pay, and a heart-rate monitor. The best part? You can buy it right now for $295.
Skagen Falster 3 hands-on: Bigger, smarter, and way more comfortable
Amazfit T-Rex
Amazfit's latest smartwatch offering was unveiled at CES 2020, and it takes the shape of the Amazfit T-Rex. As the name suggests, the T-Rex is a rugged smartwatch with a MIL-STD810G durability rating, along with 5ATM water-resistance. You can expect 20-day battery life, there's a 1.3-inch AMOLED display, and built-in GPS for outdoor running/biking. Right now, it's unclear how much the Amazfit T-Rex will cost or when it'll be available.
Amazfit T-Rex preview: A great rugged smartwatch for everyone
Suunto 7
Suunto may not be a name you immediately recognize, but it's one of the leaders in regards to legitimately good fitness tracking gadgets. The Suunto 7 is the company's first-ever Wear OS smartwatch, and it looks to combine Suunto's unmatched tracking with all of the goodies Wear OS has to offer. The $499 asking price is hefty, but for serious fitness folks, the Suunto 7 aims to deliver where other watches fall short.
Suunto 7 hands-on: A Wear OS watch with serious fitness skills
Diesel Fadelite
Diesel has been known to create Wear OS watches with bold, distinctive designs, and that's exactly what we're getting with the Fadelite. The Fadelite has a slimmer case size at 43mm compared to what we usually see from Diesel, along with bold color options and a translucent case that just screams 1980. The 512MB of RAM is a bit disappointing, but for some folks, the aesthetic may make up for the lacking performance.
Diesel Fadelite smartwatches feature bold colors and clear cases at CES 2020
Withings ScanWatch
Another smartwatch that's caught our attention is the Withings ScanWatch. This is more of a hybrid watch instead of a fully-fledged smartwatch, but it has two really unique tricks of its sleeve — it can take ECG readings and detect sleep apnea. Add that together with a classy design, robust exercise tracking, and 30-day battery life, and we can't wait for the planned Q2 2020 release.
Withings announces new ScanWatch with AFib and sleep apnea detection
Razer Kishi
Mobile gaming had a big year in 2019, and going forward into 2020, it should only get even more popular thanks to the rise of streaming services like Stadia and xCloud. To make sure you can perform at your best while gaming on the go, the new Razer Kishi effectively turns your phone into a Nintendo Switch and promises low-latency gameplay whether you're using Android or iOS.
Razer announces new Razer Kishi mobile gaming controller at CES 2020
PopPower
PopSockets are a great way to get a comfortable, ergonomic grip on your phone. However, as much as we love them, the fact that they make wireless charging impossible has been a non-starter for some users. That is, until today. At CES 2020, PopSocket announced PopPower — a wireless charger that's specifically designed to work with phones that have PopSockets attached to them. It's a dream come true.
PopPower from CES 2020 lets you charge wirelessly with your PopSocket on
Belkin Soundform Elite
Have you ever wanted to combine a Google Assistant speaker and wireless charger into one package? That's exactly what you get with the Belkin Soundform Elite, and it looks like one of those gadgets I never thought about but I now absolutely need. The Soundform Elite touts high-quality audio thanks to a partnership with Devialet, along with 10W fast charging speeds for your smartphone.
Belkin Soundform Elite packs Google Assistant and 10W wireless charging
Jabra Elite Active 75t
The Jabra Elite 75t are among the best true wireless earbuds on the market, and the Elite Active 75t are exactly what the name implies — a more ruggedized version of those earbuds that are better suited for people with active lifestyles. While they look almost identical to the regular Elite 75t, the Active model adds full IP57 water-resistance a grippier in-ear fit.
Jabra's Elite Active 75t are the waterproof true wireless earbuds you've been waiting for
Audio-Technica ATH-ANC300TW
Audio-Technica, one of the most recognizable and and respected audio brands, is finally getting into the world of true wireless earbuds. The Audio-Technica ATH-ANC300TW feature full active-noise canceling (just like Apple's AirPods Pro), 4.5 hours of battery per charge, and an extra 13.5 hours thanks to the included charging case. Audio-Technica is also promoting the use of Qualcomm TrueWireless Stereo Plus, which should allow for a super-reliable connection with minimal interruptions. You'll be able to get your hands on the ATH-ANC300TW this spring for $249.
Audio-Technica ATH-ANC300TW preview: Ears on with the most impressive earbuds at CES 2020
Mobvoi TicPods 2 and 2 Pro
Mobvoi's TicPods Free were one of the best underdog true wireless earbuds from 2018, and now for 2020, the company is returning to the audio market with the TicPods 2 and 2 Pro. The former costs $99 with the latter going for $139. The TicPods 2 Pro are the more powerful and interesting option of the two, with Mobvoi touting that the earbuds have new AI-powered features and head gestures.
You can nod your head to accept calls on Mobvoi's new TicPods 2 Pro earbuds
JBL LIVE 300TWS and TUNE 220TWS
Source: JBL
JBL's also doing what it can to take a bite out of the true wireless earbud market, with the company's latest options being the LIVE 300TWS and TUNE 220TWS. The 220TWS promises to offer "thumping JBL Pure Bass" sound for your tunes, along with a variety of fun colors. The 330TWS has a more generic design, but benefit from built-in Alexa and Google Assistant integration.
JBL's new AirPods alternatives cost $100 and come in six different colors
Amazfit ZenBuds and PowerBuds
After building a name for itself with affordable, high-quality smartwatches and fitness bands, Amazfit is now getting into the audio game with its ZenBuds and PowerBuds. The ZenBuds are the most interesting of the two, as they're designed to be worn to bed and help you get a perfect night's sleep. The PowerBuds are more traditional true wireless earbuds, offering IP55 water-resistance and eight hours of continuous music playback.
CES 2020: Amazfit ZenBuds will soothe you to sleep then take a nap
Aukey Omnia Chargers
Chargers may not seem like an exciting thing to talk about, but Aukey's doing something impressive with its new Omnia Series. There are a few different options to choose from, including two 100W models. Aukey touts that the chargers are up to 66% smaller than the one Apple includes with its 13-inch MacBook, with the fast charging speeds and compact size being possible thanks to the use of gallium nitride.
Aukey's new chargers from CES 2020 are more power and less brick
Samsung Galaxy Home Mini
In Q3 2019, Samsung unveiled the Galaxy Home Mini — a compact smart speaker with AKG audio tuning and Samsung's Bixby virtual assistant. It was a surprise announcement with little fanfare, and Samsung was tight-lipped about its release. Now, the company has confirmed that the Galaxy Home Mini will finally be launching in "early 2020" for an unknown price. As for the full-sized Galaxy Home announced in August 2018, we still don't know 🤷‍♂️.
Samsung's Bixby-powered Galaxy Home Mini smart speaker will go on sale early this year
Lenovo Smart Frame
Smart displays, like the Google Nest Hub and Amazon Echo Show, have found themselves acting as digital photo frames for the modern era. Lenovo's taken that idea and cranked it up to 11 with the Smart Frame — a 21-inch display that's built into a picture frame to showcase your favorite photos anywhere in your home. We aren't sure how many people will bite on the $399 price, but I already want five of these in my apartment.
Lenovo Smart Frame is a 21-inch modern and beautiful digital picture frame
Ring Access Controller Pro & smart lights
Source: Ring
Ring's made itself well-known for its smart video doorbells and cameras, and now the company's extending its smart home reaches with the Access Controller Pro — a smart control system for your home's electronic gate. The company's also getting into the smart lighting game for the first time, offering A19 and PAR38 threaded bulbs, along with a variety of solar lighting solutions.
Ring announces gate access control and smart light bulbs at CES 2020
Arlo Pro 3 Floodlight Camera
Arlo's lineup of smart security cameras is growing, with the company using CES 2020 to unveil the Arlo Pro 3 Floodlight Camera. Arlo says this is the market's first wire-free floodlight camera, and some of its highlights include 2K video capture, powerful LED lights that can cover a wide area, color night vision, and more. The company's targeting a release in Spring 2020, along with a retail price of $250.
Arlo has unveiled the market's first wire-free floodlight camera
GE Appliances Kitchen Hub
By design, microwaves aren't very interesting. You pop your frozen food in them, it heats it up, and that's it. GE wants to make the microwave more exciting, and it's doing that with the GE Appliances Kitchen Hub — a microwave that has a 27-inch touchscreen and can run apps like Netflix and Spotify. Yes, it's ridiculous, but it's also one of those gadgets you expect to see at a show like CES.
This 27-inch touch screen microwave with Netflix is peak CES
Nreal Light
Ever since Google Glass, we've been longing for more and more mixed reality glasses that can augment the real world with helpful info and tools. The latest pair to enter the market is the Nreal Light, and it looks pretty impressive. The glasses need to be tethered via a cable in order to work, but when it's all set up, you can use any Android app you want in mixed reality. The early stage of Nreal Light is already really impressive, and even more exciting is the fact that it should be available soon for $499.
Nreal Light is the first set of Mixed Reality glasses actually worth buying
Waverly Labs Ambassador
Traveling to a country in which you don't know the native language can be quite duanting, but it doesn't have to be thanks to the Waverly Labs Ambassador. This is a real-time translator you wear on your ears, and it's designed with hygienic sharing in mind. 20 languages and 42 dialetcs are supported out-of-the-box, and four translators can be synced up with each other at once.
Waverly Labs brings Ambassador, a real-time interpreter, to CES 2020
LG Signature R
At CES 2019, LG made headlines for showing off its crazy rollable TV. There's a giant box, a TV display rolls out of it when you want to watch your shows, and when you're done, the panel rolls back in the box for safe-keeping. It's called the LG Signature R, and LG brought it back to CES 2020. The big news this time around is that the Signature R is finally being made available for purchase later this year. That is, if you have $60,000 burning a hole in your pocket.
LG's Signature R is a rollable TV that'll cost you a whopping $60,000
Vizio OLED TVs
OLED TVs are all the rage right now, and now Vizio is throwing its hat into the ring. We don't know much about the company's OLED televisions, other than that there will be 55-inch and 65-inch sizes, 4K support, and thin bezels measuring in at just 4mm.
Vizio TVs get bigger and better in 2020, with its first OLED TV, an 85-incher, and new procesors
MediaTek Dimensity 800
Similar to the TCL 10 5G that proves 5G can be offered at reasonable prices, MediaTek is also trying to do the same thing with its newly-announced Dimensity 800 chipset. The Dimensity 800 will be used in upcoming mid-range smartphones, with its biggest draw being the fact that it comes with 5G support by default. MediaTek is also touting that the Dimensity 800 can handle quad-cameras and 90Hz displays.
MediaTek announces new 5G chipsets for more affordable phones
Qualcomm Snapdragon Ride
If you have an Android phone, chances are it's powered by a Qualcomm processor. In addition to mobile chipsets, the company also dabbles with 5G radios, smart home technologies, and more. CES 2020 is where Qualcomm announced its new Snapdragon Ride platform, which will be used to assist with self-driving cars. Qualcomm says Snapdragon Ride will be able to help with things like automatic braking and autonomous driving in urban settings.
Qualcomm announces Snapdragon Ride at CES 2020 — its new autonomous driving platform
Bluetooth LE Audio
The Bluetooth standard is getting a big upgrade in 2020, as the Bluetooth Special Interest Group has announced "Bluetooth LE Audio." The new platform promises to reduce power consumption, improve sound quality, allow for audio sharing between multiple users, and works better than ever with hearing aids.
Bluetooth LE Audio FAQ: A new standard for headphones with better sound quality, longer battery life
Charmin Rollbot
You know what sucks? Being in the bathroom and realizing you've run out of toilet paper. You know what doesn't suck? Having a dog-faced robot that can bring you more toilet paper. That's a future Charmin envisions us living in with its "Rollbot" concept device, and even though it likely won't ever come to market, it's so hilarious and also kind of ingenious that we wish it were a real, sellable product.
Charmin used CES 2020 to show off a toilet paper delivery robot
Samsung NEON
Over the last few years, we've become comfortable talking to digital helpers like Google Assistant and Amazon Alexa. Where do we go from here? According to Samsung, the next step is artificial humans. Yep. NEONs differ from digital helpers as they have unique names, personalities, and feelings. They can speak any language, learn more about you the more you interact with them, and Samsung envisions a future where NEONs can be used as financial consultants and healthcare providers. This is more of a proof-of-concept than anything else right now, but it's still pretty bonkers.
So...Samsung's apparently made artificial humans for CES 2020
Samsung SelfieType
From C-Labs, Samsung's incubator for creating experimental products and services, we have SelfieType. The goal of SelfieType is to remove the need for a physical keyboard by using your phone's selfie camera to analyze and track your finger movements, allowing you to tap your fingers on a table, desk, or other hard surface and translate that to actual text input. Chances are it won't see a public release anytime soon, but it's still pretty impressive.
Samsung shows off SelfieType, its magical invisible keyboard, at CES 2020
Impossible Pork
At last year's CES, Impossible Foods (surprisingly) stole the show for a lot of people with its unveiling and testing of Impossible Meat 2.0. Impossible Foods returned to CES for 2020, this time showcasing a brand-new creation — Impossible Pork! Impossible Pork is healthier than regular pork across the board, and not only that, it tastes incredible.
Impossible Foods just guaranteed I'll never eat real pork again
Get the Android Central Newsletter
Instant access to breaking news, the hottest reviews, great deals and helpful tips.
Joe Maring was a Senior Editor for Android Central between 2017 and 2021. You can reach him on Twitter at @JoeMaring1.