Jabra's Elite Active 75t are the waterproof true wireless earbuds you've been waiting for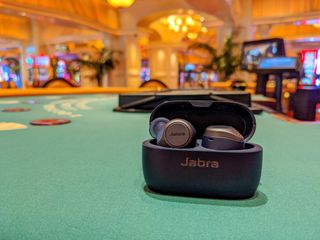 (Image credit: Daniel Bader / Android Central)
What you need to know
The Jabra Elite Active 75t is a new take on the already-excellent true wireless earbuds.
Jabra is promoting better durability with the Active model, along with it being 22% smaller than the Elite Active 65t.
In Q2 2020, Jabra MySound is launching as a new software experience for optimizing Jabra audio products for people's individual ears.
I've written many times about how it wasn't the AirPods that turned me into a true wireless earbud fanatic, but the Jabra Elite 65t. That relegation didn't happen until January 2019, months after the product was released too much acclaim. At the time, I still vacillated between form factors for specific tasks: AirPods for listening to podcasts and phone calls while walking the dog (read: casual listening), neckbuds like the OnePlus Bullets Wireless for music listening on the go, and noise-canceling wireless headphones for commuting and flights. It all felt a bit unsustainable.
The Elite 65t cured me of that irritation, extricating me from the burden of choice. They were by no means perfect, but they did everything well enough that I rarely felt wanting a different form factor. (The consequence, however, of my unbridled love of the Elite 65t was a full-blown earbud addiction.)
Late last year, the 65t's sequel graced my testing lab, and I fell in love all over again. The diminutive earbuds fixed the most glaring issues of their predecessor (mainly the Micro-USB charging and lack of magnetic case latch) while extending the uptime and, thanks to a redesign, becoming more comfortable for long listening sessions.
Now Jabra is introducing a workout-friendly variant of the Elite 75t, aptly called the Elite Active 75t, and though they look almost identical to their cheaper counterparts, they add a couple of important upgrades for anyone who regularly sweats.
Whereas the Elite 75t are IP55-rated, meaning they're resistant to dust and can take some water ingress, the Elite Active variant is IP57, making them completely sealed against liquid. And unlike the regular version, both the case and the buds themselves are covered in a non-slip rubberized coating that's really comfortable to use.
I've been using a non-final version of the Elite Active 75t for a week or so, and while functionally identical to the ones I reviewed in November, the extra grip has kept them from slipping out of my dead-of-winter-cold hands more than a few times. I've also spent a few hours running and cycling with them in my ears, and they've held up remarkably well.
Jabra notes that the earbuds are not just more water-resistant than the regular Elite 75t's, but the IP57 rating is considerably more robust than the IP56 achieved on the Elite Active 65t's, which were released alongside the Elite 65t's in 2018. The new buds also have a two-year warranty.
Neither version of the 75t series has active noise cancellation, but the exemplary fit isolates enough noise passively that but for a couple of plain trips I've rarely wanted for additional seclusion. Your mileage may vary on this point, though.
Alongside the new pair of earbuds unveiled at CES 2020 (the excellent over-ear Elite 85h headphones were announced at the conference a year ago), Jabra is making some improvements to its software that users of all modern headphones in the company's lineup should look forward to in April.
The first is called MySound, which purports to personalize a headphone's sound signature by playing a set of beeps that users have to respond to. This builds a unique equalization profile that should improve sound quality across the company's diverse wireless headphone range.
Jabra isn't the first company to employ this method: Jaybird has been using a similar method of personalization for a while now with its Tarah and X-series workout headphones, and recently Soundcore introduced its own in-app self-equalization solution for its earbud lineup. MySound will be available through the Jabra Sound+ app sometime in Q2.
Jabra is also addressing criticism that its earbud controls are not configurable with a new feature, MyControls, also debuting in Q2. Until now, the Elite 65t and 75t series have been limited to using the right earbud for mono listening sessions, largely due to the fact that play/pause controls are tethered that one side. MyControls will make it possible to alter those defaults, allowing listeners to use just the left earbud, with optional play/pause controls, if desired.
The Elite Active 75t will debut in February for $199/€199, a $20 premium on the regular Elite 75t. Initially available in three colors — Navy, Copper Black, and Titanium Black — by April there will be six colors, including Grey, Sienna, and Mint.
As good as it gets
(opens in new tab)
A true wireless upgrade.
The Jabra Elite 75t are excellent true wireless earbuds that do everything really well. They're small, comfortable, and sound great, and have fantastic and useful features like auto play/pause.
Daniel Bader was a former Android Central Editor-in-Chief and Executive Editor for iMore and Windows Central.
Unless they fix the problem with the left earbud going out every time you move your head there is no way I'm purchasing another set of these. I just sent my set of the 75t back to amazon for this very reason.

Sounds like a faulty unit, or firmware upgrade required.
These are premium devices with excellent connectivity in my daily use.

Didn't you face call quality issues? I returned my 75T due to poor call audio quality on the receiver's end.

I agree with mobilem1 that I had the same issue and even contacted Jabra for a replacement unit and still even with a firmware update had connectivity issues. More so I learned by listening to these earbuds that the sound is artificial and reproduced. I returned these and went to Master & Dynamics earbuds. Those did sound better but wasn't loud enough for my liking so I returned them too. I finally went to Sennheiser Momentun and even with their shortfalls the sound is so much better than anything out there and is loud with no distortion in any music genre. I'll keep these around for a little while until there's something better since I replace earbuds/headphones at least once a year with new and improved technology like an iPhone.

This could have been the best TWS earbuds in the industry, BUT: I have returned the product. My feedback below starting with deal breakers: 1. Main issue - call quality is extremely poor where the receiver at the other end listens to my voice as if I am talking from a hall or something. 2. While using hear through mode - the left and right earbuds keep getting isolated with a heavy lag. 3. Left ear bud kept disconnecting (like 3 times in 15 minutes). 4. Jabra Sound+ app stopped recognizing my 75T after third time when I wanted to check the battery status and equalizer controls. POSITIVES:
1. Amazing sound profile with good equalizer and other audio controls including hear through mode (with customizable range), audio presets, and more. 2. Perfect design that looks classy compared to any TWS earbuds in the market. 3. In ear type could be slightly uncomfortable for some but it could be ok in the longer run. 4. A treat for the bass lovers. If Jabra can fix the CALL QUALITY + JABRA SOUND+ APP ISSUES + DISCONNECT ISSUES OF LEFT EAR BUDS - the product will be a success. As of now I RETURNED the product.
Android Central Newsletter
Get the best of Android Central in in your inbox, every day!
Thank you for signing up to Android Central. You will receive a verification email shortly.
There was a problem. Please refresh the page and try again.