TCL's first 5G phone will be under $500, run on Snapdragon 765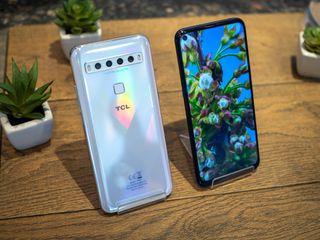 (Image credit: Andrew Martonik / Android Central)
TCL is known for its TVs, but it's trying to leverage that new-found brand recognition to push hard into smartphones. For early 2020, it has three new phones under the "TCL 10" series — they're frankly forgettable mid-range offerings, but the one that's interesting is the TCL 10 5G, which introduces 5G to a very affordable price point.
Though it isn't yet revealing full pricing for the lineup, we know the TCL 10 5G will be under $500 (or equivalent), which is dramatically lower than the current crop of 5G phones. The much lower price is due in part to TCL using Qualcomm's new chip, the Snapdragon 765, to bring 5G but also with a feature set that leads to an overall more affordable chipset. (TCL won't actually say which processor the phone's running, for whatever reason, but considering it has 5G and is confirmed to have a "700 series" processor, it has to be a Snapdragon 765.)
Image 1 of 4
Even if the phone itself isn't that interesting, it's the perfect example of what Qualcomm and its partners were promising at the end of 2019: most phones going forward will just have 5G, and you won't have to pay a discernible premium to get it. The TCL 10 5G is one of countless phones that will come in 2020 with 5G in the sub-flagship price range. Up to this point, in the U.S. your cheapest entry into the 5G world was still hundreds more.
TCL isn't actually announcing any other details on its new phones, but we will know everything come late February at the MWC 2020 trade show. And I promise you that Android enthusiasts won't be clamoring to get a TCL 10 5G because its hardware or design are particularly groundbreaking. But it's a perfect example of how 5G will quickly become something that you just get, not search out and pick a phone based on whether it has the connectivity option.
Get the Android Central Newsletter
Instant access to breaking news, the hottest reviews, great deals and helpful tips.
Andrew was an Executive Editor, U.S. at Android Central between 2012 and 2020.
All cool but mobile phone is only half of the story. 5G networks are not ready yet. Maybe in two years. I hope I am wrong but talking to my friends working on fibre networks for telecom providers in the UK it looks like 2 years is reasonable time frame... So 5G phone for me id the next one (in two year time), this year 4G is still very good option...

For those looking to upgrade their device 'soon' - within the next year - this, or other 5g competitors, are going to be worth looking at for those not going the flagship route. People who go for flagship phones tend to upgrade much more often (at least every 2 years, generally annually, and in some cases even more frequently) so may be better served waiting, but the mid-range device market caters more towards those who keep their phones longer. If one plans on buying a mid-range phone in the next year with the expectation it will still be fully relevant for the next 2 1/2-3 plus years, a 5g-compatible model seems the better option than any 4g device for markets where 5g has already begun its initial buildout.

Good points, plus, contrary to the authors remarks, you can be a android enthusiast, without buying anything near a flagship. This phone seems to have the hardware for almost any "Hard-core" enthusiasts. After 6 months into my warranty, I root. That's when the fun begins, and things you don't like about your phone, you fix(except, obviously build quality). For $500, with the right hardware, you can do wonders, and close the gap between flagship, and midrange phones. A real enthusiast will work with whatever.