Samsung's new Galaxy Chromebook is the Pixelbook 2 Google won't make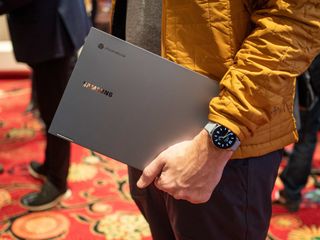 (Image credit: Android Central)
Samsung certainly isn't the biggest player in Chromebooks, considering it has released so few models, but it still manages to release laptops with the operating system relatively frequently. The latest is the Galaxy Chromebook (opens in new tab), a true high-end machine that has Google's full support as the flagship Chromebook of the moment.
There's no question about it: this is Samsung's best-ever Chromebook by a longshot, and an exceptional piece of hardware and design regardless of operating system. And starting at $1000, Samsung has it priced to match — but for that money you're getting a whole lot.
Image 1 of 6
As expected, Samsung nails it with the display; the 13.3-inch panel is the first 4K AMOLED screen in a Chromebook, and it looks wonderful. It's bordered by sub-4 mm bezels, is a touch screen and also works with a stylus that silos in the side of the laptop.
The rest of the hardware keeps up with the price. The 2.3-pound aluminum build feels solid, is under 10 mm thick, and is sleek and chiseled in all the right places. It's a relatively simple and understated design that focuses on swaths of flat surfaces and tight angles, but you'll absolutely stand out if you go with the red color option (with two-tone silver sides) over the subdued grey most will buy.
The hardware is also filled with the specs and little extras you expect for the money. A 49.2Wh battery should provide great longevity, the keyboard is backlit (although it was very soft in my short time with it), there's a fingerprint sensor, and the trackpad is huge and responsive. You get 8GB of RAM (16GB is optional), a 10th-gen Intel Core i5 processor and up to 1TB of storage.
Image 1 of 4
With specs, design and a price like this, you could throw a Google logo on this laptop and it would fit in perfectly as a Pixelbook replacement. But it distinctly isn't a Google laptop — and going a step further, Samsung has chosen its most important brand name, Galaxy, for this Chromebook. And yet Google's fully behind it to promote the Galaxy Chromebook as the top-end Chromebook of the year.
Speaking with Google's Kan Liu (Sr. Director of Product Management for Chrome OS), he was very candid about where Google sees its own Chrome OS devices compared to partners. For him, working with Samsung to make sure the Galaxy Chromebook was the best possible laptop to carry the high end of the Chromebook market was more important than Google pushing to release its own Pixelbook 2. The Pixelbook outsold Google's expectations (opens in new tab), but even still it was never going to get the sort of traction that a laptop from an incredible brand like "Samsung Galaxy" will.
Yes there's something special about a Google Chromebook, but the Galaxy Chromebook is by all indications an excellent spiritual successor to the Pixelbook in terms of build quality, design, specs and capabilities. And considering the way Chrome OS is managed and updated, you're not missing out on any Google-specific features or traits by getting a Samsung. But you are getting a really nice piece of hardware and set of specs that will make Chromebook fans drool.
Get the Android Central Newsletter
Instant access to breaking news, the hottest reviews, great deals and helpful tips.
Andrew was an Executive Editor, U.S. at Android Central between 2012 and 2020.
Why in the hell would anybody spend that much money for a Chromebook??

if it had a CPU fan so it could actually run the Linux programs I would want it to, or a 3:2 display I might. But I'm stupid like that.

Because there is hardware, and there is software. Just because you think the software is insufficient for your needs, doesn't change the quality of the hardware. If you can get everything you need to do, done in ChromeOS, why does that mean you should get cheap hardware to run it on. Decent hardware generally comes with great screens, pen/touch support, good back-lit keyboards, great battery life and performance, build quality, longevity, and more cost, regardless of what OS is on it.

"Ok, Google...translate:" The , but even still it was never going to get the sort of traction that a laptop from an incredible brand like "Samsung Galaxy" will.

At that price I hope the specs live up to it, maybe it's competing high end macs.
I am glad Samsung still put their hand in everything and this may be the best Chrome. Still iffy about the price, but we'll see.

No one's going to buy it at that price, especially since that's the *starting* price. It's pretty, and it's powerful, but it's beyond overkill for what 99% of Chromebook users need from their device.

This is interesting because using that same argument one could assume Google could take the same approach with Pixel phones...because even if Pixels outsold Google's expectations there is absolutely the fact that Pixels don't sell anywhere near in the volume of Samsung Galaxy Phones...