Google Pixelbook: Everything you need to know!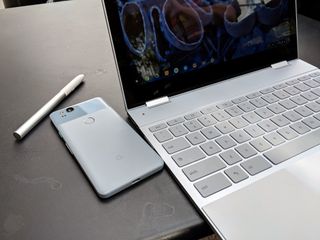 (Image credit: Jerry Hildenbrand / Android Central)
Google has been tinkering with Chrome as an operating system since 2010, and in 2013 released the first Chromebook Pixel. The Chromebook Pixel was everything that was loved about the simple operating, but with a fantastic, high-resolution display and premium aluminum body. The Chromebook Pixel was refreshed in 2015 with new USB-C ports and updated internals.
In early 2017, Google announced their line of laptops would not be refreshed, but that turned out to not be true. In October 2017, Google announced the Pixelbook: a new kind of Chromebook for a new age of Chrome.
Here's everything you need to know about the Pixelbook.
The basics
At its core, the Pixelbook is a convertible laptop: the keyboard flips all the way around so the device can be a tablet, and there's an optional stylus available for an additional $99. Convertible laptops aren't new, even in the Chrome world, but this is Google's first laptop of this form factor.
The Chromebook Pixel line was always (partially) meant to give developers a great device to use for building applications, and Google's attempting to do the same with the Pixelbook, particularly now that the Play Store is part of Chrome OS.
Android apps run really well
The list of Chromebooks with Android apps has steadily grown over the last year, but there was always a beta tag attached to the experience. Even when used in the stable channel of Chrome OS, Android apps still had issues crashing and not behaving correctly.
On more recent builds of Chrome OS, that has changed: launching an Android app on Chrome OS is just as natural as launching a Windows Store app on Windows 10: it looks and acts like a native application because it is a native application.
More: These are the Chromebooks that can Android apps from Google Play
The hardware is gorgeous
Samsung and Asus have both put out fantastic Chromebooks this year, but the Pixelbook is on a whole 'nother level. Rather than using the tried and true generic slab of silver aluminum, Google took a lot of inspiration from their own Pixel phones: there's a big glass window on the back of the lid to allow Wi-Fi and Bluetooth to pass through without obstruction, the trackpad is surrounded by grippy, white silicone that will hopefully hold up to the test of time, and the entire design doesn't look like any other laptop.
More: The Samsung Chromebook Plus might be the best place to try new Android features
The internals are plenty powerful, with a price to match
The internal hardware is a bit overkill for Chrome OS as it is at the end of 2017, but with time developers may build great applications to take advantage of that extra horsepower. The base configuration includes a fanless seventh generation Intel Core i5 processor, 8 gigabytes of RAM and 128 GB of storage. If that somehow isn't enough, the middle configuration uses the same processor and RAM but with 256GB of storage. Finally, there will be a monstrous configuration with a fanless seventh generation Intel Core i7 processor, 16GB of RAM and a whopping 512GB of NVME storage.
Chrome OS really shines on low-cost devices, but the Pixelbook is not a low-cost device. The stunning design and powerful internals come with a commensurate price, starting at $999 for the i5/8GB RAM/128GB storage model. That increases to $1,199 for the 256GB model, and to an eye-watering $1649 for the i7/16GB RAM/512GB storage model. That's a lot for a Chromebook, and the Pixelbook won't be drastically faster than cheaper models.
More: Pixelbook with Core i7 and 16GB RAM now on sale at Google Store
The pen is not included
The Pixelbook pen includes a button for activating Google Assistant, as well 2,000 levels of pressure sensitivity and a 10 millisecond response time to make it feel like using an ink pen on paper. Note taking apps such as Google Keep and Evernote already work with the Pixelbook pen, with more surely to follow.
Unfortunately, the pen is sold separately and costs $99. Even more unfortunately, there aren't any magnets to keep the pen attached to the Pixelbook when it is not in use.
Google Pixelbook hands-on: Who wants this?
The keyboard has a new layout
Chromebooks have been using the same keyboard design and layout since the very beginning, but the Pixelbook changes that up. First, the search button on the left (where Caps Lock resides on Windows laptops) now uses a dot in place of the previous magnifying glass icon, while there is now a Google Assistant button between the left Ctrl and Alt keys.
Along the top, there is now a dedicated screenshot button and finally, a settings button in the upper right of the keyboard. We expect this keyboard layout to become available on new Chromebooks soon.
This is the first Chromebook with Google Assistant
Speaking of Assistant, the Pixelbook is the first laptop to have Google's AI feature built in. Assistant can understand voice or typed queries just like it does on any other device, and if you type your request Google will give you an answer without blasting it through the speakers.
With the Pixelbook pen, you'll be able to highlight a picture or some text on screen and have Google provide a result from that. We expect Assistant to roll out to other Chromebooks in the future.
More: How to set up and customize Google Assistant
There are plenty of great sleeves
If you're buying a Pixelbook, you're already spending a lot of money. Make sure to spend a little more and get a nice sleeve or case to protect it while you're on the go. There are plenty of great options as low as $20, so it'd be foolish not go get a sleeve. If you don't like any of the official Pixelbook sleeves, check out ones made for Microsoft's Surface Pro since that device has similar dimensions.
More: Best Sleeves for Google Pixelbook
Tablet mode is going to be great... in the future
For the longest time, using Android apps on a Chromebook felt a bit clunky. They worked, but it wasn't as nice of an experience as using those same apps on an Android tablet. That's going to change in the future: users will soon be able to run multiple Android apps at once on their Chromebook screen. This may seem trivial, but it'll go a long way to making users more productive when using a Chromebook.
On another note, users will soon be able to split their web browser in tablet mode, rather than being forced to use it full screen. This is only for the web browser, not Android applications (yet). As time goes on, we expect more improvements for tablet mode on Chrome OS.
More: Pixelbook will soon do split-screen multitasking in tablet mode
It probably isn't for you, and that's okay
As pretty and powerful as the Pixelbook is, there's not a whole lot it can do at release that other, less expensive Chromebooks can't do just as well. The biggest software feature of the Pixelbook is Google Assistant, but Google will want to get that on as many Chromebooks as possible to keep making their knowledge graph that powers Assistant better and better. The Pixelbook is definitely a halo device, but if it tickles your fancy there's nothing wrong with buying one.
More: Why I pre-ordered the Pixelbook
Any questions?
If you have any other questions you need answered, let us know down below our check out our Pixelbook forums!
Android Central Newsletter
Get instant access to breaking news, the hottest reviews, great deals and helpful tips
Tom, Can you check to see if Apple music's playstore app works on the pixelbook????

Unfortunately, Apple Music isn't currently compatible with any Chromebooks. This is something Apple will need to enable.

Yes....I hope they do soon. That is the one thing stopping me from moving to Chrome. I have office on there, polarr, and everything else I need and then some....just I use apple Music for my music and NEED it on there.

My past experience with Chrome OS was wonderful, and found myself using my Chromebook a lot alongside my XPS 13 just because of how fast and simple it was to get to my email, Google Docs, etc. It ran well enough, even on hardware significantly inferior to this. That being said, I'd love to use the Pixelbook just because of how nice the hardware is, but can't justify that price tag. If I wanted a premium Chromebook I'd probably go for the Samsung Chromebook Plus/Pro, or the new Asus Chromebook Flip, although the most I'd be willing to spend on a Chromebook is $400. Awesome hardware though.

The Samsung Chromebook Plus/Pro will give you about 85% of what you get in the Pixelbook for 60 less in price so you'll be happy with the Samsung. That being said I would get the Pixelbook if I had an extra $1,000 lying around for tech.

Man I was excited about this until I saw the price. I was thinking it would be around $500.00...

Mine arrived today. Very beautiful hardware

Mine arrived today too, typing on it right now. God, I can't even get over how NICE this keyboard feels to type on! And everything is super smooth, as expected. I'm loving this.

Chromebooks have convinced me that they're great laptops and the fact that it can run Android apps well is a great bonus. Will start saving up for the next great Chromebook.

Hey guys, I've got a Pixel C for entertainment/social purposes and an HP Spectre x360 for MS Office (for work). I don't like using Windows 2-in-1s for entertainment cause they just don't work that well for it. I'm thinking of selling both and getting the Pixelbook, the only thing that worries me is that my company sends out very large Excel files that I need to load quickly every morning. Do you think the Pixelbook would be capable of handling those? I know it would be more than capable of replacing the Pixel C, but I would really like to have a device that can replace both. Thanks!

Don't worry. It is great machine and downloads are limited by your connectivity only.

I am in the same situation I bought the pixelbook and was thinking of selling the Pixel C. However I decided to keep it. Its much easier to handle as a tablet then the pixelbook, the screen is much sharper & brighter and the speakers are much better on the pixel C. If google would keep updating the pixel C with the latest version of android, that would be awesome. Thank the customers who paid extra for this tablet, instead of purchasing lower cost options. I love my pixel C, the keyboard cover has not showed any wear or tear, the keys have not faded at all. The Pixel C keyboard I feel is a bit more durable then the pixelbook keyboard as well. Pixelbook does it a bit better however, trackpad is awesome and easier to multitask. I remote into my desktop to code in Visual studio and I really like having some of the keys that were missing on the Pixel C keyboard. Since I paid for the Pixel C, I think its worth keeping. Great to take on vacation and read magazines by the beach! Imagine holding a laptop on the beach in tablet mode lol. Damn living in Canada is cold!

Overpriced pile of garbage. No thank u.

Stop talking about the macbook like that...it's ok....

I wouldn't buy a MacBook either...

Well I will agree that it is overpriced, it is far from a pile of garbage.

Expecting news on some new chromebook hardware next week from CES.

"... the trackpad is surrounded by grippy, white silicone that will hopefully hold up to the test of time..." This is what is holding me back right now. At Best Buy, the white looked grey from all the dirt and oil from people trying it out. Clearly for personal use it shouldn't get dirty that fast, but man, that is just one thing I never had to think about with my Macbook Air.

Took one look at the price and went back to looking at the Galaxy Book...

Will the android version everr get updated beyond 7.1.1. I would love to use my pixelbook for work but it requires android 8.1
Android Central Newsletter
Get instant access to breaking news, the hottest reviews, great deals and helpful tips
Thank you for signing up to Android Central. You will receive a verification email shortly.
There was a problem. Please refresh the page and try again.