Samsung Chromebook Plus vs. Pro: The Differences and Which Should you Buy?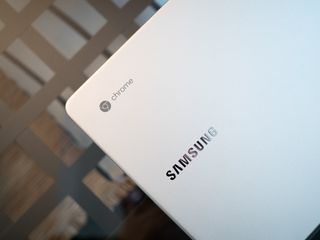 (Image credit: Android Central)
Samsung introduced a pair of great Chromebooks with the unveiling of the Pro and the Plus. In addition of the Chrome OS features we've been using like built-in security and the best web browsing experience you can get anywhere, Samsung and Google have introduced pressure sensitive drawing using a familiar Samsung Pen. And everything is wrapped up in an awesome package no matter which model you choose.
Most of us won't be buying both models, so the natural questions are what's the difference between them and which one should I buy? We're going to have a look and help you get the right answers.
Chromebook Plus at Amazon (opens in new tab)
Beautiful and light
That's going to be your first thought no matter which model you are looking at. Both models are built the same using identical parts — on the outside.
Checking in at just 0.5 inches thick and 2.38 pounds, these 12.3-inch laptops use the same Samsung design language as their high-end Windows counterparts. Built with a brushed magnesium-alloy body paired with a 2400 x 1600 LED display, both models are not only good looking but sturdy and great for carrying all day long. We especially loved the bright and crisp display.
The keyboard and trackpad aren't the best we've used but they're not bad, either. The omission of backlighting was a bit disappointing, but in the end, we were more than satisfied with both keyboard and trackpad even if we couldn't give either the level of praise we have for the screen or the materials used.
The screen rotates and flips to turn the Chromebook into a large tablet, and also allows for a "tent" or "easel" configuration to stand the screen without the keyboard area extending. This is a great way to watch a video or full-length film on the display.
The spotlight feature of both devices is Samsung's S Pen. We'll see stylus input in future Chromebooks, but Google partnering with Samsung to build the first models was the smart move. The Pen is the same S Pen you'll find for Note phones and tablets, and Chrome has been tailored to make the stylus an excellent tool for annotating screenshots, taking notes and drawing. The Samsung Chromebook folded into a 12-inch tablet makes for a great canvas for any digital artist.
We give both models high marks on looks, durability, function, and ease of use. These are great laptops.
Where to buy the Samsung Chromebook Pro and Plus
What's inside
Here is where you'll find the differences between the Plus and the Pro. Both come with the same 4GB of RAM and 32GB of storage configuration, but the processor arrangement and electronics for wireless radios define the price points.
Swipe to scroll horizontally
Category
Chromebook Pro
Chromebook Plus
Display
12.3-inch 2400x1600 (3:2) LCD
12.3-inch 2400x1600 (3:2) LCD
Processor
Intel Core m3-6y30
Rockchip RK3399 ARM hexacore CPU
Memory
4GB LPDDR3
4GB LPDDR3
Storage
32GB
32GB
Audio/Video
720p webcam
Stereo 1.5W speakers
720p webcam
Stereo 1.5W speakers
Ports
USB-C (2), headphone/mic, microSD card
USB-C (2), headphone/mic, microSD card
Connectivity
Wi-Fi 802.11ac dual-band, Bluetooth 4.0
Accelerometer, gyroscope
Wi-Fi 802.11ac dual-band, Bluetooth 4.0
Accelerometer, gyroscope
Input
Touch screen
Pressure-sensitive stylus
Keyboard, trackpad
Touch screen
Pressure-sensitive stylus
Keyboard, trackpad
Battery
39 Wh (5140 mAh)
USB-C charging
39 Wh (5140 mAh)
USB-C charging
Dimensions
280.8 x 221.6 x 13.9 mm
2.38 pounds
280.8 x 221.6 x 13.9 mm
2.38 pounds
With most things being equal between the two, the processor and extra horsepower that comes with the Pro is the only real hardware difference.
On paper, it makes quite the difference. The Intel m3 in the Pro has the potential to render web pages twice as fast as the Plus' ARM chip. You'll find plenty of Octane browser benchmarks that show this in a convenient number. In real-world use, the Pro model will let you keep more browser tabs or apps running before things start to slow down. Benchmark differences in rendering web pages may be significant, but you have to factor in that the ARM CPU in the Plus model is plenty fast enough and you won't see any actual difference when rendering a single web page or opening an app.
The Pro is clearly a more powerful machine on the hardware front, and we shouldn't dismiss that. But the Plus offers a more than satisfactory experience for the majority of Chrome users.
Software differences
Both models have essentially the same software with Chrome OS being universal across most every Chromebook. The one difference may be a deciding factor — Android apps through the Google Play Store.
The Play Store will be available for both models, and the majority of apps you can use on a Chromebook will work well on either. But the Intel processor that gives the Pro an edge in hardware also holds it back a bit when it comes to app compatibility and user experience. You can use Google Play on the Chromebook Plus and have a great experience, but the Pro is still rough around the edges.
This is mostly a function of Android itself and not a fault of the hardware. A developer can build a universal application for Android that runs using the same instructions on most any processor architecture. That means an Android app is the same on any device. But certain apps that use specialized code will be less than ideal on the Intel chip. Most notable are graphic intensive apps and games, and while most will install they just don't run as well. Great developers will step in and rectify this by supporting the Intel CPU better, but Google Play's relaxed nature means developers aren't forced to do so.
Which should I buy?
Sometimes this is a difficult question to answer, but this is not one of those times. Most people are better served with the Chromebook Plus.
A Chromebook is best as a secure and fast computer built to bridge the gap between your phone and a desktop PC. Mobile apps through Google play round out the software needs and for all but the most demanding users, the $100 difference between the two isn't worth the upgrade. If you rely on Android applications, right now the faster Intel chip is actually a weakness compared to the tried and true ARM configuration in the Plus.
For the power user: web developers or those looking for an alternative OS for their Chromebook, the Pro was made for you. The extra oomph from the Intel m3 CPU will make a difference and the Chromebook Pro is an excellent machine for developing and testing web applications. The extra money is well spent and you'll have a more pleasant experience when you're in the zone with 25 tabs and a text editor open.
It's great to see two simple and great choices from Samsung on the high-end, and anyone's needs are well covered.
Chromebook Plus at Amazon (opens in new tab)
Note: The Chromebook Pro has been delayed past its initial release date of the end of April. We will update this post when we have links to purchase the laptop.
Updated July 2017 to add more information about the availability of the Pro.
Android Central Newsletter
Get instant access to breaking news, the hottest reviews, great deals and helpful tips
Senior Editor — Google Ecosystem
Jerry is an amateur woodworker and struggling shade tree mechanic. There's nothing he can't take apart, but many things he can't reassemble. You'll find him writing and speaking his loud opinion on Android Central and occasionally on Twitter.
I'd go with the new Asus for the better keyboard feel and layout (+backlighting).

Are you talking about the new Asus Flip for $499?

I would go with a product that has 64GB of internal memory, if I was concerned about running Android Apps. As of now, the Android subsystem has problems addressing the micro SD card in beta test. Maybe this situation will improve (hopefully) but who knows? In other words, I would go for the ASUS c302CA models with 64GB or more!

I was on the fence between these and the Asus Flip c302. I got the Flip. Couldn't be happier with my purchase. It came down to the feel of the keyboards and trackpads on the the Sammys. I hated it.

I tried the Plus variant a while ago, didn't hate it, didn't love it. I wanted something to replace my aging Note Pro, which I love a lot. Here are the issues: 1) No S Note Support at this time, I tried sideloading and everything, 2) The S Pen doesn't have a button on it, so if you use an S Pen from another Note product (like the Note 4 or Note Pro), the button doesn't work. Though it does come with Art Canvas which is a terrible and crappier form of an art program. 3) No Bluetooth controller support and bluetooth implementation at this time is kind of broken. I tried my BT speaker on it (which for whatever reason shows up as a keyboard), wouldn't accept it, though my phone and tablets don't have an issue playing sound through it. 4) That keyboard, not terrible, but uncomfortable. Especially that messed up backspace and overly long bottom control button. I wish there was someone out there via a hack making an AOSP for it, since I think Android on this tablet (not emulated) would be great. Like a RemixOS type variant. At this time, Chrome Apps just suck.

Do we have an ETA on the Pro yet?

I still haven't owned a chromebook but I think I would grab the pro. Android apps aren't a big deal to me, if I get one its mostly going to be for web browsing, and I feel the Pro would hold up performance wise for more years.

Got the plus a few weeks ago and we're loving it. It handles all the regular web browsing we can throw at it and my wife loves having the Android apps on it. For the average laptop user this would probably exceed their needs. It's fast and has great battery life too.

It's definitely be interested, if they were sold in the UK.

It's kind of a silly comparison...since the Chromebook Pro doesn't actually exist. "You could either buy the Chromebook Plus...or do without." Those are your choices right now.

I was very close to buying a Plus but decided to get an Acer R11 with 4GB RAM as it was half the price of the Samsung - I just wasn't sure I would ever need the extra power for what the device will be used for...

Does anyone else notice that the Samsung website no longer makes any reference to the Pro model at all? Only the Plus and the Chromebook 3
https://www.androidcentral.com/e?link=https2F2Flink...

The Samsung Pro is not for sale yet, this article is premature.

Is there a reason why they went with a Rockchip instead of an Exynos?

Seems like Chromebooks have a big issue...the os runs great on the better processor but the apps run best on ARM....and Google has had a year to figure this out and still hasn't. I'm a huge fan of Chromebooks but Android apps have been a disappointing promise so far and Google can't seem to deliver.

Agreed. This is a big issue. I think there is something inherent in the Intel architecture that just doesn't play nice with Android. Arm chromebooks work better, but aren't problem-free either. I wish Google would figure this out. So far, with regard to Android integration, they have over promised, and under delivered.

I agree, Microsoft have this problem but the other way round. They have an x86 OS that can run the vast majority of software and an ARM version that can't.

Would an Intel chip make putting Linux on this Chromebook any better?

Thanks for the comparison Jerry! Do you like the Plus compared to say, the Flip for utilizing Android apps?

Would love to see high end arm processors come to Chromebook which would be close to the performance of the core m processors or better.

The only clear advantage over the Asus c302ca chromebook that Samsung brings to the table is its gorgeous displays on the Plus and Pro chromebooks. Others might mention the pen, but, I think Samsung missed an opportunity to optimize the pen interface and make it a "must have" accessory, so to my mind, the pen isn't enough of an advantage. While the display is important, the Asus display is still good, and Asus outshines Samsung in other areas​ that matter, like internal storage, battery life, and keyboard layout. Samsung worked with Google on Android app integration, but there are still hiccups. There are hiccups with Android on the Asus, too, but the Samsung-Google alliance was supposed to create an advantage that has yet to be realized. So, I'll take the Asus over the Plus, even though Asus is $50 more, and I'll still take the Asus over the Pro, especially since it's $50 less, and brings more to the table than either the Pro or the Plus, at the end of the day.

I own the Chromebook plus some weeks now and i have to say it suffers a lot from it's very slow arm chip.
Encountering typing lag in any kind of office, android, or chrome, google docs, or android office apps its just disappointing and a very sad experience to use. The stylus is bad compared to the stylus of my nice note 12.2.
The lag makes the plus just unusable for people who just want more than use it for browsing the web.
The screen is the best thing, it's really great, the keyboard feels somehow off and if you press the space between the keys, it doesn't feel sturdy at all, the trackpad is ok.
I think most of the reviews of the plus are sponsored by samsung and the delay of the pro is just marketing.
I will return the plus and waiting for the pro, because i like the 3:2 formfactor very much and something like a stylus.

The surface is better and should be because it costs more. Still I haven't had the lag you talk about on my plus. It's not the fastest, but seems fine to me. The keyboard is meh, but useable as is the trackpad.

I got the Plus. 6 months earlier
$100 cheaper
Better color
Plays better with Android apps.

I got discounts and promo's so my final price wasn't too bad and it was a trade up from my Asus flip book 1st Gen - I would have liked to see more RAM! Omg more RAM - the apps I use are productivity based so I dont play games - screen is fab - keyboard I adjusted to - I thought the black would look better but the silver hinges throw it off for me so no go - the m3 and the o1 processors performance really are negligible in day to day - pro? A processor? And color swap - ha that is an expensive paint job - double the ram - double internal storage - otherwise nothing pro about it

I have the plus. I like Android apps, but some issues. Plex is unusable for example. AND the fit and finish is not great. Have five dents already and I have no idea how. It's in a bag or on its own. Also scratches and a piece of the silver finish came off. Seriously I am careful with my tech. Have to be compromises for the price I guess. Iove the screen, battery life and instant on. I also like the 3:2 aspect ratio. Compared to the surface though the pen is trash and their are no writing or drawing apps really. So a.bit of mixed bag, but more positive than bad.

Have you tried Squid? It is fantastic and I use it all the time on my Samsung Chromebook Pro for handwriting notes and simple drawing. For a web app, Google's autodraw works nice as well. J

Neither item us available in the UK in mid July! Six months after CES. Apparently the keyboard is cramped and not Backlit. The Asus keyboard is far better. Google STILL haven't got Android apps running properly on Chromebooks. To be honest, ALL of the above have just stopped me buying any chromebook. I reluctantly feel, that both Google and Samsung are dragging their feet disgracefuly. They may possibly be asleep at the wheel. Or perhaps they went fishing, got drunk & fell in the blasted river and drowned. If this was unusual I could forgive them, but its just normal practice.

Samsung pulled out of the UK PC/laptop market in 2014. So I wouldn't be expecting either of these Chromebooks to ever be sold in the UK.

Yes. I read that. Personally I feel it's a good reason NOT to buy their other products.
Anyway, Google still haven't got Android on Chromebooks working properly. Which means I still use Windows.

Was interested in these but after my Recall debacle with Samsung, never again. As much as I want Android apps on my Acer Chromebook, I'm fine waiting however long it will be.
Android Central Newsletter
Get instant access to breaking news, the hottest reviews, great deals and helpful tips
Thank you for signing up to Android Central. You will receive a verification email shortly.
There was a problem. Please refresh the page and try again.