Impossible Foods just guaranteed I'll never eat real pork again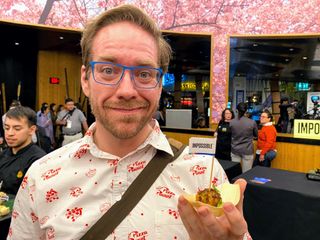 (Image credit: Android Central / Russell Holly)
A few months ago, a new rule in the US drastically changes how the Pork Industry was regulated. The new rules are seriously problematic, leaving inspectors warning people the pork you buy in stores is potentially unsafe. I immediately stopped buying most forms of pork for my house. Still, if I'm honest, I miss it. I can make some tasty things with pork in my kitchen, but it just wasn't worth the risk.
Fortunately, with Impossible Pork on the way, I likely never need to worry about it again.
Like its faux beef counterpart, Impossible Pork is a ground meat substitute aimed at meat-eating people. The entire point is to make something just as tasty as the real thing and offer everyone a genuinely viable alternative. This is accomplished with the use of what Impossible Foods calls "Heme," which is a protein grown to accurately simulate the most delicious parts of the real thing.
To show off its new food, Impossible took over a restaurant in Las Vegas and filled it with pork-based Asian dishes. Dan Dan Noodles, Pork Katsu, Bahn Mi, and several others filled the list of things that not only tasted just like pork when you ate them, but were fantastically delicious. A more public demonstration of this pork substitute is also happening at select Burker King restaurants right now, with the limited release of a breakfast sandwich complete with Impossible Sausage onboard.
Impossible Pork doesn't just taste close enough to the real thing for just about anyone to enjoy; it's healthier for you than regular pork.
Swipe to scroll horizontally
| Category | Impossible Pork | Regular Pork |
| --- | --- | --- |
| Serving Size | Four Ounces | Four Ounces |
| Calories | 220 | 350 |
| Saturated Fat | 7g | 11g |
| Protein | 16g | 17g |
| Iron | 3mg | 1mg |
| Cholesterol | 0mg | 11g |
During the demo event, I sampled Impossible Pork made several different ways. It was steamed in Shumai, grilled in a Char Siu Bun, and fried in a Katsu dish. It was also served over noodles, offered up standalone as a meatball, and also pressed into a thick slice of protein in between two big slices of bread to make a Bahn Mi sandwich.
Source: Android Central / Russell Holly
There was more variety presented here than in the Impossible Beef presentation from last year. It shows Impossible Foods' confidence in not only the product, but it also showcases how much has been learned about how to cook with this meat replacement in the last year. It's a fascinating evolution to see in such a short period, and it gave me a ton of confidence to experiment with this product in my own home.
One obvious question from my fellow carnivores, and indeed myself, is "what about bacon?" from Impossible Foods. Having done quite a bit of research in my own lab, I can safely say Impossible Foods is only trying to replace ground pork right now, and you will not see a bacon replacement from the company anytime soon.
You can check out the Impossible Sausage Croissan'wich at select Burger King locations for the next couple of weeks, but there's an important caveat for vegetarians looking to try this new food. Burger King has publicly stated it does nothing to avoid cross-contamination with the real beef and sausage products it makes in its kitchens. While you are ordering a veggie-friendly dish (not a vegan-friendly dish because the bread is still also not vegan), there's a reasonable chance it was cooked in the same place real meat was.
For those of us eager to try Impossible Pork in our own kitchens, there's going to be a bit of a wait, but you can expect this ground meat replacement to show up in a lot of the same places you currently see ground Impossible Foods products before the end of the year. But in the meantime, it is truly fascinating to see how Impossible Foods has once again taken over a tech show with mind-blowingly good food.
Get the Android Central Newsletter
Instant access to breaking news, the hottest reviews, great deals and helpful tips.